Peggy Delaney and Betty Mathews were instrumental in starting Pies for God's Sake which has become a significant fundraiser for Grace United Church in Gananoque, ON.
Betty, the chairperson of the Ways & Means Committee, knew Peggy had been making pies for various organizations, so she asked Peggy if she would be interested in organizing pie making for Grace United Church – thus it began.
In 2011 – at the beginning of "Pies for God's Sake" project, someone said they should call it "Pies for God." However, Peggy said, "No, let's call it "Pies for God's Sake." And it has become a perfect name for a terrific community project.
Then in 2012, the Church purchased a convection oven that could bake 15 pies at a time – and these were baked as part of the annual Rotary Club and Lion's Club's Rib Fest in Gananoque. In reality, the ladies never stopped baking.
In the beginning, the pies were stored in parishioners' home freezers, but now in 2022, the Church not only has a large and well-equipped kitchen they have seven freezers to hold the baked goods. They come prepared but not baked, which is left to the purchaser to do when they want a freshly baked hot steaming pie out of the oven!
Of course, this takes more than flour and baking ingredients to make this project a success. Volunteers remain the key. A cohesive group of 12-20 – both women and men – from Grace United Church as well as volunteers from other local churches, assist. During busy times they meet twice a month and make about 50 pies at a time. These sessions have become more than "pie making" because of the camaraderie, friendship and fun everyone enjoys.
The famous Rotary and Lion's RibFest became their most lucrative event as well as the event that makes the most work. Volunteers working in the kitchen first, actually baking all the pies, and then there are all those who set up in at the venue with tents, tables, chairs, a refrigerator, and of course, moving the pies from the Church.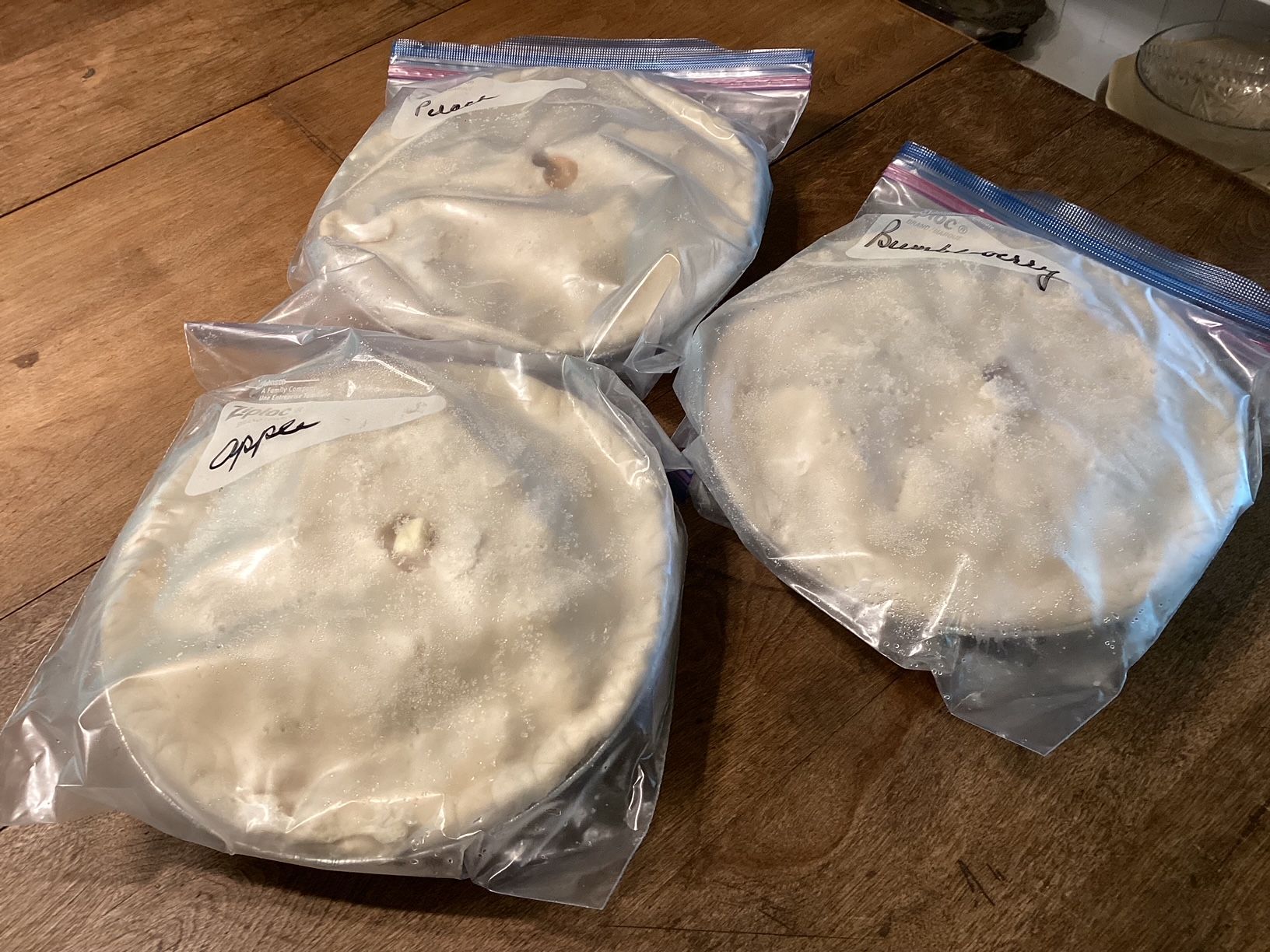 Now, about the Pies!
Products used are fresh frozen fruit is used, although in the beginning, many trips were made to the apple orchard. Usually, the men would peel, cut, slice, and freeze the bushels purchased.
Rhubarb is always donated by one of the congregation members, whose husband's grandmother had a large patch! And best of all, they continue receiving product and financial donations throughout the year.
Today, Pies for God's Sake are sold at several church and community events.
Schedule
The pies are available all year. However, the next preparation date will be August 15th, so Islanders can take advantage before the summer is over.  Then the next big sales will be for Thanksgiving and Christmas; although pies are available all year.
And what type of pies you ask?
How about: apple, apple crumble, blueberry, bumbleberry, cherry, peach, rhubarb, strawberry, and strawberry rhubarb? At Christmas time, they add mincemeat and raisin pies to the mix.
Order a pie today
• To order, call: Laurie at Grace Church 613-382-2161 or Carol Currie (613) 382-4376.
• Cost of pies $15.00
• They are also planning to sell Raspberry Pies for $20.00
• Payments: etransfer, grace.gan@outlook.com; Cheque or Cash
• Pickup times will be arranged when you call.
By Susan W. Smith with the help of the baking committee.
[Author's note: Ha, I don't have to wonder what to serve to guests for I just go to my freezer and pick out a pie from Pies for God's Sake! I pop it in the oven and bingo! I highly recommend these delicious creations and the best part is I did not have to buy the fruit, make the crust, and most of all - clean up!]
Posted in: Volume 17, Issue 8, August 2022, News article, People
---
---
---