Editor's Note:
Editor's Note: You probably pass the 1000 Islands History Museum in Gananoque in your car or in your boat several times each summer. I do – but I am biased since I'm a member of the board of the Museum, and I have been visiting the museum since its beginnings in 1995.
Mind you, the Museum has grown over the years, with each Executive Director bringing a different dynamic. Joanne Van Dreumel is the current Director, and she has great experience and imagination, which combined, makes the place special indeed.
Joanne brings in a temporary exhibit from one of the major Canadian museums each summer. This summer, the display is from Ottawa's Air and Space Museum, and is called "Eyes on the Skies." In addition, each summer the Museum holds an annual Summer Gala. And this year is going to be an amazing night!  
TI Life asked for details and we are happy to share them now.
---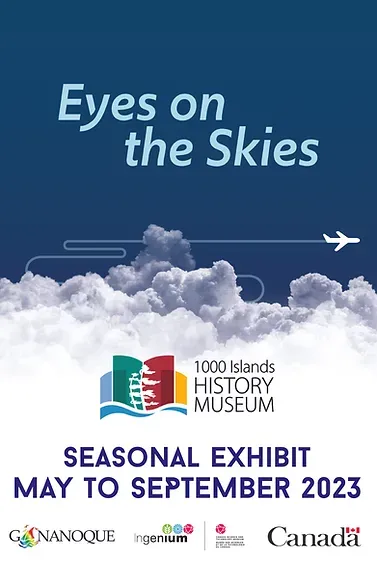 On May 12, this year's exhibit titled "Eyes on the Skies: Managing Air Traffic Control in Canada," a traveling exhibition from Ingenium, arrived at the Museum. Over the next week, staff worked diligently to unpack the 13 crates and assemble the display for members to view at an exclusive exhibit preview hosted on May 18th. The following day, the exhibit was open to the public, and in its first three weeks, "Eyes on the Skies" has already been seen by 2,488 local and international visitors.
Through exploring the interpretive panels and interactive displays, which are available in both English and French, guests are invited to examine the advancements of Canada's air traffic management and control, including some of the influential people, systems, and technologies that keep our skies safe.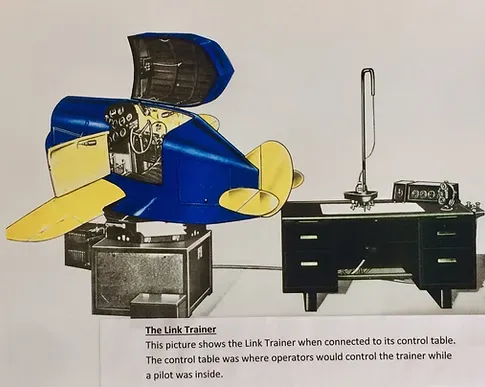 Additionally, the exhibit features artefacts from the Town of Gananoque Civic Collection, which demonstrate local connections to developments in flight, especially from the World War II era.
"Eyes on the Skies" will be available in Gananoque until late August. Be sure to stop by and check it out for yourself! Admission is by donation, and the Museum is open daily from 10AM to 4PM.
[Special thanks to the Town of Gananoque, Government of Canada, and Museum members and donors for their ongoing financial support to make this and past years' seasonal exhibits possible.]
Summer Evening in the Islands
The Summer Evening in the Islands fundraiser Gala is an annual event hosted by the Museum to raise funds that support their mission of integrating the past and present, to preserve and make the vast history of Gananoque and the 1000 Islands accessible. This year's gathering is set to be the event of the summer. With record breaking ticket sales already, you won't want to miss it!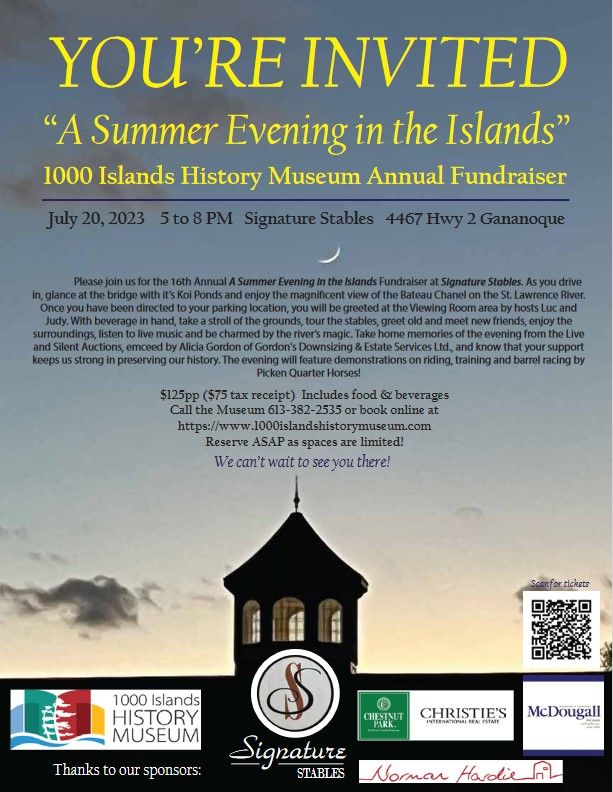 On Thursday July 20, 2023, Luc and Judy Pilon will open the doors to Signature Stables, located west of Gananoque (4467 Highway 2), to offer a one-of-a-kind opportunity to view the equine world.
The event will feature riding, training, and barrel racing performances by Picken Quarter Horses. Throughout the evening, guests will enjoy stable tours, refreshments, appetizers, and live music.
Attendees will also have a chance to place bids on a variety of exciting silent and live auction items and experiences, generously donated by individuals and businesses from near and far. Keep your eyes on the Museum's social media page, @1000islandshistorymuseum, to see what items are "up for grabs" as donations will be showcased during July, leading up to the Gala itself.
The fun all starts at 5 PM and will conclude at 8 PM. Tickets are $125.00 per person, with a $75 tax receipt. Book yours today via the following this website link or by calling the Museum at 613-382-2535. This year's event is sure to be a sell out!
The Museum extends its sincere gratitude and appreciation to Luc and Judy for hosting, and to Chestnut Park: Christie's International Real Estate, McDougall Insurance Brokers, Norman Hardie Winery, Fox Run, Gananoque Chevrolet, and Signature Stables for sponsoring the event.
Questions can be directed to the Museum via email at office@1000islandshistorymuseum.com.
By: Julie Woods (Community Outreach)
Originally from and still living in Gananoque 26 years later, Julie Woods graduated from the Honours Bachelor of Behavioural Psychology Program at St. Lawrence College in 2020. Julie first became involved with the 1000 Islands History Museum as a Summer Student from 2017 to 2019. She then became a volunteer, coordinating the Museum's social media from home before returning to work with them part-time in Community Outreach in August 2022.
[Editor's note: Of course, if you like what you see, you can support the Museum in its efforts to continue offering year-round exhibits, community events, programming, and more, by making a donation, becoming a member, or buying a ticket to this year's fundraiser.
If you are unable to attend the event in person but wish to donate, you will receive a tax receipt for the full amount and your gift will be matched by the Museum's volunteer Board of Directors.]
Posted in: Volume 18, Issue 6, June 2023, Places, History, Architecture, event
---
---
---