This summary applies to typical situations that apply to most private boaters crossing the border. Generally, the requirements for Canada and the US are similar and apply in the same way to US and Canadian boaters, but they do differ in some significant aspects.
Compliance with cross-border reporting requirements is serious business. For example, failure to report to the Canada Border Services Agency (CBSA) may result in detention, seizure or forfeiture of your boat and/or monetary penalties. The minimum fine for failing to report to the CBSA upon entry to Canada is CAD$1,000. Perhaps most importantly, the offense is retained in your electronic record and may complicate border crossings for you in the future.
When crossing the border by boat, consider bringing a healthy measure of patience. When you call to check-in, you should expect to be placed on hold. This is the boating equivalent to long lines at border control kiosks in international airports or long lines of cars approaching border control booths.
(Sometimes the hold time can exceed an hour, and when it's a hot summer day on your open boat in the blazing sun, wiggly grandchildren on board can add to the discomfort.)
Note also that a mobile smartphone (i.e. video capable) is required to check into the US from the water, and a mobile phone can be helpful when checking into Canada. The mobile phone must be with you, be charged or capable of being charged (watching your battery "bars" decrease while on hold should not be an added source of stress), and have the right international calling plan.
Border crossing requirements continuously evolve, so consult the Canada Border Services Agency (CBSA) and US Customs and Border Protection (CBP) websites directly for the latest details. The ordeal becomes easier with practice, and in some ways, makes its successful completion seem like a good omen for your boating adventure abroad.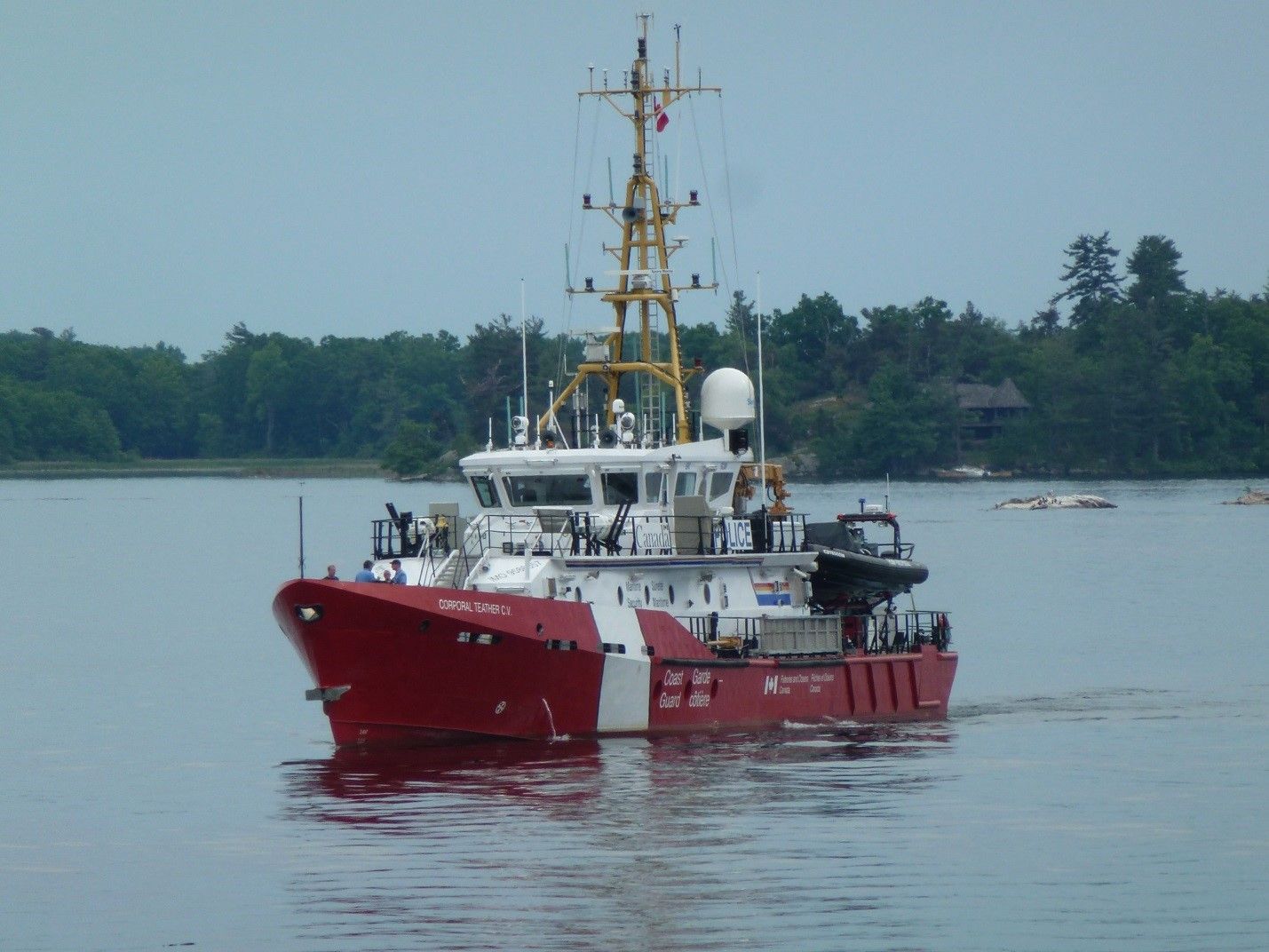 Before Crossing the Border
Prepare to have the documents and the answers to questions you are likely to be asked by CBSA or US CBP officers:
• Boat registration number, owner and boat name (if any).
• Boating operator license (Pleasure Craft Operator Card from Canada or the equivalent from a state in the US.)
• Full legal name, date of birth, country of citizenship, address, travel document number, type  (e.g. passport, NEXUS card, etc.) and expiry date for each person on the boat.
• (US Only) "BR" numbers from the NEXUS cards for crew and passengers, if you are crossing into the US using the NEXUS program.
• Point of disembarkation.
• (Canada Only) Name and location of the CBSA Telephone Reporting Site (TRS).
• The destination, purpose of the trip and length of stay for each passenger.
• (Canada Only) Length of stay in Canada, in days, and the date of departure from Canada. You may be asked for one or the other or both.
• Cash - There is no limit to the amount of money that can cross the border, but amounts valued at CAD$10,000 or more must be reported to the CBSA using form E667, and amounts exceeding $10,000 must be reported to US CBP on form FinCEN 105.
• (Canada Only) Goods to declare - If you are a resident of Canada, you may qualify for a personal exemption when returning to Canada. This allows you to bring goods up to a certain value of goods into the country without paying regular duty and taxes after a specific length absence. For example, you can
claim goods worth up to CAD$800 after a minimum absence of 48 hours from Canada including 1.5 liters of wine, 1.14 liters (40 ounces) of liquor, or 24 cans or bottles (8.5 liters) of beer, as well as 200 cigarettes, 50 cigars, and 200g of loose tobacco.
• As a visitor to Canada, you may bring, free of duty and taxes, one of the above mentioned amounts of alcohol and all of the listed tobacco products.  All goods must be reported. If you do not declare goods, or if you falsely declare them, the CBSA can seize the goods.
• (US Only) Goods to declare - Duty free limits per adult crossing over into US, are generally up to $800, 1.5 liters of alcohol (this means pure alcohol, so the amount of liquor, beer, and wine must be calculated to fall within this limit), 1 carton (200) of cigarettes, 100 cigars, and $800 of items intended for personal use or as gifts.
• Items on board, including firearms, explosives, fireworks, food, plants, animals, health products, drugs, etc. Despite the fact that cannabis (marijuana) is legal and regulated in Canada, it remains illegal to take cannabis across Canada's national borders, whether you are entering or leaving Canada.
Crossing the Border from the US into Canada
An owner/operator of a private boat entering Canadian waters, carrying 29 people or fewer, must report arrival to the Canada Border Services Agency (CBSA) if you will land on Canadian soil or anchor, moor, or make contact with another conveyance while in Canadian waters.
You may cruise or fish across the border without checking-in. (This applies equally to US visitors to Canada as well Canadian residents returning to Canada from the US.)
You must report to the CBSA if you anchor in Canadian waters. However, you are permitted to do so by calling the TRC (Telephone Reporting Center) using a mobile phone from your location in Canadian waters if you meet all of the other conditions for an exception.
There are two alternative ways to report in the Thousand Islands area:
1) CBSA Telephone Reporting Center: Go directly to a Telephone Reporting Site-Marine (TRS/M) and tie up to the dock. There are roughly 42 TRS/M and NEXUS reporting sites in the Thousand Islands region. A detailed listing of these sites is available on an interactive map:  https://www.cbsa-asfc.gc.ca/do-rb/services/trsm-sdtm-eng.html (TRS/M) or https://www.cbsa-asfc.gc.ca/do-rb/services/nexusmarine-nexusmaritime-eng.html (NEXUS).
Contact the CBSA Telephone Reporting Center to request clearance to enter Canada, using the phone provided by the marina for that purpose (Toll free: 1-888-226-7277). Only the Captain can leave the boat to make the call using the public phone, so the Captain must bring the required information, a means to record the entry report number, and a credit card if you expect to pay duties/taxes. Personal cell phones have also been used successfully in the past to check-in when boats are tied-up to the TRS/M dock. Passengers must remain on-board. Reply to the questions and receive your report number.
NOTE: All boats are subject to inspection, and if you are selected, you will be told to remain at your location or will be directed to another location for inspection. You will receive your entry report number upon conclusion of a successful inspection.
2) NEXUS: All persons on board must be NEXUS members in order to take advantage of NEXUS reporting procedures. Call the NEXUS Telephone Reporting Centre (TRC) at 1-866-996-3987 at least 30 minutes (minimum) and up to four hours (maximum) prior to arriving in Canada. The Border Services Officer will ask questions pertaining to the topics listed earlier. In addition, the boat master must provide the name and location of the landing site of arrival (in Canada, it must be a "designated site") and an estimated time of arrival. Ensure that all passengers have photo identification and proof of citizenship, permanent residence status and/or other immigration status documents when applicable or required.
It is important to know that you receive your reporting number during the call, while you are in the US or in transit, but you are still required to arrive at designated site near the estimated time of arrival (ETA) to be available for inspection. The CBSA must be notified in advance of your arrival if your ETA changes by more than 30 minutes, or if there are any changes to passenger information or declarations. If no officer arrives to inspect you, then you may depart and proceed to your destination in Canada.
The CANPASS Private Boats Program has been discontinued, but current members will be able to maintain privileges until their membership expires. Check to see if you are eligible to join NEXUS instead, as it offers similar or even greater benefits when travelling across the Canada-U.S. border.
Boaters can also report directly in-person at one of seven Direct Reporting Sites for Marine Private Vessels (DRS/M), which are CBSA staffed marine ports of entry. However, there are no DRS/M's in the Thousand Islands area.
You can facilitate the entry process by providing the full legal name, date of birth, travel document number, type (e.g. passport) and expiry date for each person on the boat by email at least 24 hours in advance of your border crossing to: trc_preregistration_inscriptionprealable_crt@cbsa-asfc.gc.ca
(Be aware of the security risks inherent with email communications such as this.)
Crossing the border from Canada into the US
The CBP reporting requirements in the US are similar to the CBSA requirements in Canada. You must report your arrival to the US Customs and Border Control (CBP) if you will land on US soil or anchor, moor, or make contact with another conveyance while in US waters.
You may cruise or fish across the border without checking-in.
There are four alternative ways to report:
1) CBP ROAM (CBP Reporting Offsite Arrival – Mobile) App:  The CBP ROAM app is a free mobile application that provides an option for pleasure boaters to report their U.S. entry to CBP via their mobile devices. The ROAM App can be downloaded to your mobile device via the Google Play Store and Apple App Store. There is no application process or pre-registration requirement to use the CBP ROAM App. Once downloaded, travelers input their biographic information, conveyance and trip details, and then submit their trip to CBP for review. A CBP officer may then initiate a video chat to further interview travelers. Once the CBP officer reviews the trip, travelers will receive a push notification and an email with their clearance status and next steps, if applicable.
Your mobile device must be capable of video transmissions and you must have access to the internet, via broadband or WiFi. Some public marinas and businesses will have an iPad that you can borrow to access ROAM and check-in. For example, there are 3 locations in Clayton, NY where "ROAM iPADs" are available to borrow: Clayton Municipal Dock, the Antique Boat Museum, and the 1000 Islands Harbor Hotel. A complete listing of locations with ROAM iPads is not available.
The CBP ROAM replaced the Small Vessel Reporting System (SVRS) and the Videophone Inspection Stations in 2018 on the St. Lawrence River, such as the ones formerly located in Clayton, NY at the Municipal Dock.
2) NEXUS – The NEXUS reporting procedure in the US is the same as described for Canada, with one important exception. Once you receive your reporting number, you can proceed on your way without stopping at a designated landing site in the US, unless you are specifically instructed to do so.
3) Canadian Border Boat Landing (I-68) Program - Persons who are not U.S. citizens or lawful permanent residents of the United States may use Form I-68 for visits, not to exceed 72 hours, to visit within 25 miles of the shoreline along the U.S. border with Canada. Each person on board your boat, including children, must be registered and possess an I-68 form. For I-68 reporting, call 1-800-827-2851 in the St. Lawrence River.
4) Face-to-face inspection at a designated reporting location. In northern New York, these are:
Heart Island Open: 9:30 a.m. - 6:30 p.m. May to October
Cape Vincent Open: 8:00 a.m. - 8:00 p.m. May to October
Ft. Covington Open 24/7                           April to November
It's complicated!
Even for the boater who crosses the border frequently, these requirements are tricky, and they are even more so, since they change over time. But it is best to be prepared by knowing the requirements and having the appropriate documents and information at hand.
Consult the Canada Border Services Agency (CBSA) and US Customs and Border Protection (CBP) websites directly for the latest details.
---
The author would like to acknowledge Michael Niezgoda and his colleagues at U.S. Customs and Border Protection, Office of Public Affairs, Media Relations, and Joe Ulicki and his colleagues at the Canada Border Services Agency, Programs and Operations, Strategic Policy Branch for their review and suggestions for this article.
---
By Dane Zabriskie
Like many of us, Dane Zabriskie was shaped by his family, education, profession, and the St. Lawrence River, where he has summered annually for more than 45 years.
Dane also is put to work each month as one of our loyal proof-readers! His work is much appreciated!
Posted in: Volume 14, Issue 4, April 2019, Sports, News article
---
---
---