Mid- August and this editor is still not happy... We are back on our island but so many are not. I miss my American friends and neighbors, and I know the US stores miss all of their Canadian customers coming in the door. What is amazing is the number of boats, jet skis (all going fast) and paddleboards. Ask the marina operators and they will say the River is busy. Also island sales are at a record high.
So my friends, if you are lucky enough to be on the River, be safe, remember the COVID rules by wearing a mask, social distance and most of all shop local on both sides of the River. Museums, public events and theaters are not all closed, and each one has found ways to interest and involve their members. Please support each one. Together we can get though this, I promise.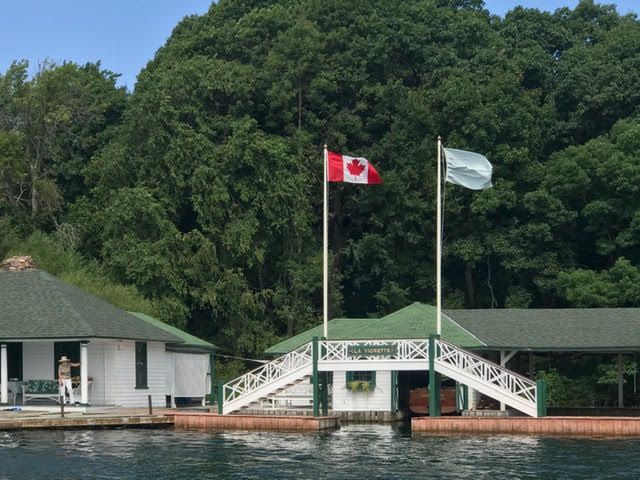 Sad News
Karen Matthews Salisbury
Sharing a life together is a joy and a privilege. That is just what Karen Matthews Salisbury and Will Salisbury had for many years.  We learned this week that Will lost his wife to cancer on August 3, 2020, and tributes are coming from far and wide. Karen was an island girl, having grown up in Alexandria Bay. She and artist/sculptor, Will Salisbury, married at Densmore Church on Wellesley Island. In January 2014, when I profiled Will in TI Life's "Will Salisbury Making Waves" I wrote, "then there is  the personal life. Will and his wife Karen Matthews Salisbury were  married in 1984. He had planned to live on Grindstone Island year-round,  but Karen, as he put it, 'informed me I was in error (as usual) and we would get a place on the mainland too.' ...  Will Salisbury's work is being exhibited at the Thousand Islands Arts Center beginning on July 18 to August 29. I think you can tell who helped build Will Salisbury's success.  
David Ray Fairbairn
David Ray, as he was known to TI Life readers, was a great friend to this editor. He joined our TI Life crew soon after I began in 2008. He loved to rewrite my poor writing and he did so with great wit and enthusiasm.  David died July 19, 2020, at Kingston General Hospital. His family wrote, "Known as 'Big Guy' to many, he was adored for his big heart, keen intellect, sense of humour, unapologetic honesty and presence."  A perfect way to remember this great man, we at TI Life will miss him!
Thousand Islands Association's [TIA] Successful Meeting  
Each summer, Island residents from both sides of the border look forward to having a fisherman's breakfast at the Thousand Islands Playhouse in Gananoque to attend the TIA Annual General Meeting.  This year was no exception, but instead of meeting over bacon and eggs, we met over Zoom. Over 120 checked in at 9:00. Thanks to the expert technical help by Rene Carver  the meeting began in two Zoom chat rooms; Georgia Ratcliff, on Champagne Island and Barbara Butts, usually Smoke Island, but this year in a rented cottage in the US. After informal chats, Peter Fitton, President, opened the meeting to everyone paying tribute to the late Ian Coristine. Ken White then introduced two excellent presentations; Charles Smith, "What Good are Grasslands?"  and John Street, "Photography: My Personal Gateway to the Thousand Islands.  Final outcome... Certainly missed the handshakes and hugs, but this was next best and we thank TIA for making it happen.
Great News for Summer Reading
Grenell 1893, the second in Lynn McElfresh's pledge to write nine novels about the Thousand Islands, has arrived.  It is available in several places: (buying local is what we like) in Clayton....at Raks, Ringers, ABM, and Spicer's Gallery, in Fishers Landing at Chalks Marina, and at the Post Office on Murray Isle, as well as the Grenell Island Post Office, and from the McElfresh house at Rum Rock. (Psst... The third novel, Grenell 1904, is at the printer... so not too long to wait for it!)
This Issue:
Nature: Lynn McElfresh: The Fawn that Came in out of the Rain; Paul Hetzler: Simply Great; Gerry Smith: Hard Times
COVID Story: Carolyn Pratt and Benjamin Stuchbury: A COVID-19 Convocation
Essays: Cary Brick: More than a $tamp on an Envelope; Dan Mack: Wooden Bridge; Patrick Metcalf: A Sailboat for My Son
Writers, Artists, Photographers and Poets: Thomas Pullyblank: The Long Way Home: Writing "Ariel's Gift"; Susan W. Smith: Richard E. Armstrong, Artist; Jim Montanus: NEOWISE (Near-Earth Object Wide-Field Infrared Survey Explorer); Patrick Metcalf: Only the Tower Remains.
Communities:  John Kunz: Chippewa Bay Review
And a killer Sudoku by Dan LeKander!
Don't Forget... as always...
If you are on the River, or on the shoreline this month, please take photographs for TI Life. By now, your fish stories are well rehearsed, and what about Social Distancing ideas to meet with family and friends?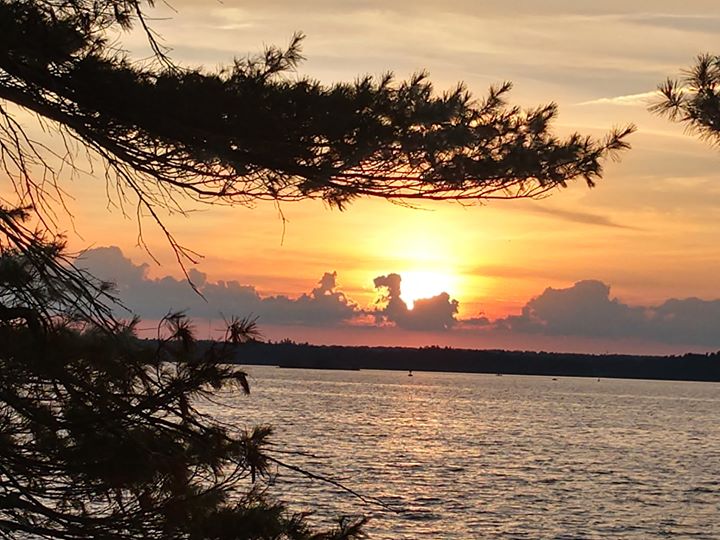 Volunteers?
There are 22 Communities that make up the Thousand Islands! Each community has its own history and personality. When we created TI Life we made a section: THE PLACE, and under this heading you will find descriptions for each one. These were written a decade ago, and this year we want to update them.  So, please review the list and if you can help, contact info@thousandislandslife.com. Our first re-write is by John Kunz, from Chippewa Bay, NY.]
Donation Button
Yes, there is a button at the top of this page which I hope you will
hit... and donate a cup of coffee or a tank of gas to TI Life. It helps with updating software and supports our mailing program.
[and it was just pointed out that the donate button has gone from our page... so here are the links:
US residents: https://www.paypal.com/donate/?cmd=_s-xclick&hosted_button_id=X3E5336QH4TAU
Canadian residents:  https://www.paypal.com/donate/?cmd=_s-xclick&hosted_button_id=SVMPAH4CA4MLA
By Susan W. Smith, Editor info@thousandislandslife.com
[Special thanks to the team that makes TI Life happen.  This month Bill Stallan, our "comma policemen," as I call him who has worked on every issue of TI Life as far back as I can remember, took seriously ill and is still in the hospital. Bill, I want to express my personal thanks for your enthusiastic work on each and every TI Life issue. Your ability to catch so many of my mistakes, and most of all, your infectious personality has made my work as so-called editor, very easy.  I miss you, for sure... Get Well and Hurry Back!  
Bill has been joined by proofreaders, Rick Taylor, Dane Zabriskie, Georgia Barker, and new member editor, Elspeth Naismith. They all make every issue great. Thanks gang.]
Posted in: Volume 15, Issue 8, August 2020, From the editor, People, Videos
---
---
---