Good news! Santa Clause is coming back to Alexandria Bay! Doug Tulloch, (elf par excellence) reports planning is underway for the 5th annual 1000 Islands River Santa Festival. After missing the 2020 event due to Covid the Committee is very excited to have the planning well underway for this year's event.  
• Saturday, December 18th, 2021.
• 10 AM to 1 PM
• Santa Claus arrives by boat at the Upper James St., VPostsillage dock at 11 AM. Santa will be escorted in by the United States Coast Guard Alexandria Bay Station for the 5th straight time.
• All Children ages 12 and under will receive a Christmas gift and All children who believe in Santa are welcome. Year round and summer residents are all invited, too.
This event is 100% donation-funded. Fundraising is essential for this charitable event to succeed, and to provide gifts for each child, as well as supporting the Backpack Program. The Backpack Program helps to feed children in need. Sponsorship opportunities are available. Donations are being solicited to fund this event and can be made by check to the Alexandria Bay Chamber of Commerce, 7 Market St., Alexandria Bay, NY, 13607, Attn: River Santa.
There is a GoFundMe page for this event. Please follow 1000 Islands River Santa Festival on Facebook for that information. Donations are now being accepted at https://www.gofundme.com/1000islandsriversanta2021
Companies or individuals interested in becoming event sponsors can still contact info@alexbay.org or dat@xmission.com for more information.
Borders are Open
The Borders are open! Anyone who has received an email from me may have noticed my automatic signature, hoping that the US border would open. It did so on November 8th – so we can now cross over from Canada to visit family and friends. However, I have to get the PCR Covid test (expensive one) within 72 hours of crossing back into Canada, so now I am hoping that Canada changes that restriction. It seems simple enough to me. If I get the test in Canada before I go, and I stay for the day and then cross back the Canadian Border Services has no idea if I am still Covid free, all they know is that I have had a test within 72 hours of crossing. Not scientific or worthy of good public health. However, having the borders open is a very good start to getting back to normal.
Congratulations to Justin Taylor
Justin Taylor was named Clayton Chamber of Commerce's 2021 Citizen of the Year! His list of accolades is long such as serving for over four decades as a volunteer firefighter for the Clayton Fire Department, as well as a former town supervisor. He also is a big supporter of many community organizations always attends events and helping in his friendly way. Congratulations Justin, well done, well done indeed!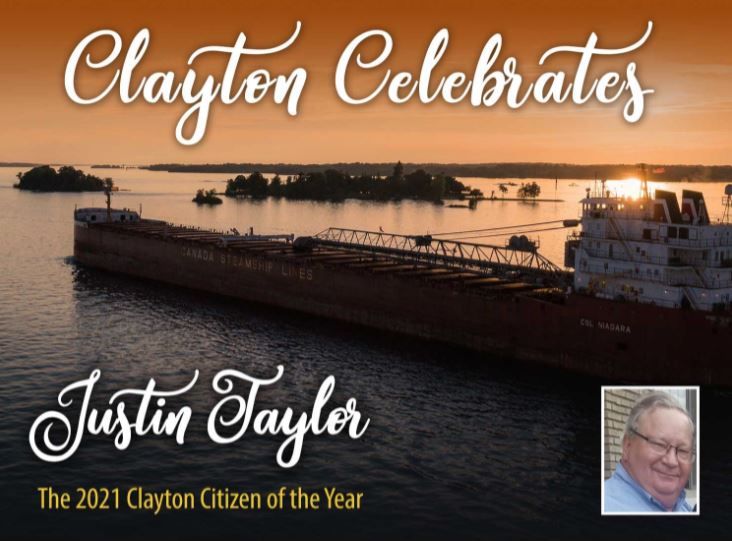 Sad news - Michael Bedford Jones (1942-2021)
This summer the Bedford-Jones families on Mudlunta Island and the Gananoque and Kingston communities lost a good friend as the Rev. Michael Bedford-Jones succumbed  to COVID 19 in August.
In the Admiralty Islands, Michael was known as a true River Rat, having grown up on Mudlunta island and always returning throughout his lifetime. Many will recognize Michael as the speaker and leader of Half Moon Bay services on Sundays, and for the many family christenings, weddings, and memorial services he performed.
Michael was ordained in 1968 and served in several Toronto parishes and as executive assistant to the bishop of Toronto. He was dean of St. George's Cathedral in Kingston, located in the diocese of Ontario, from 1991-1993. Elected bishop suffragan in the diocese of Toronto in 1994, he first served as area bishop of York-Scarborough from 1994-2006, then as area bishop of Trent-Durham.
We who knew Michael as a neighbour and friend will always have fond memories of him, and luckily those memories will last a lifetime.
How about this for next summer?
Please do not forget
Want to support TI Life by donating the price of a cup of coffee or a tank of gas? Donations help us with updating software and support our mailing program.
US residents: Support Link and Canadian residents:  Support Link.
By Susan W. Smith, Editor, info@thousandislandslife.com
Special thanks to the TI Life team, proofreaders this month include Georgia Barker, and Rick Taylor, the real editor, Elspeth Naismith,  and Social Media team Jennifer Caddick and Beth Lavos. We also welcome and thank the newest member, Marie-Anne Erki who joins as the official TI Life Illustrator!
Posted in: Volume 16, Issue 11, November 2021, From the editor
---
---
---