Mid-January, and the weather has finally hit home. Those of us who are in the North Country and across the border in Canada can only wonder what it was like back in July when we were complaining about the heat!
Even though the weather is on our minds, making sure family and friends stay safe from Omicron, with its dramatic chokehold around the world, is our most important task.
Nonetheless, life is going forward, and we have lots to keep us busy this winter. This month's TI Life has a dozen articles to enjoy.
Sad News with Appreciation
Have you ever realized that you came "this close" to something special? (This expression means you raise your hand but leave a scant half inch between your thumb and forefinger)  Well, I came that close when I saw the obituary of Dr. David A. Kendall, who sadly died on January 1, 2022, in Pennsylvania's Hershey Medical Center, at age 84.
Reading his obituary, you will see that this man had an accomplished well-lived life. But I remember him as the author of a small book I purchased on my kindle a few years ago. I was reminded of that book this month when I posted Manley Rusho's new January article. For Manley is doing precisely what David Kendall wanted us to do: record our memories for future generations.
I am incredibly sorry that I did not meet or interview David Kendall when he first published: When Descendants Become Ancestors, the Flip Side of Genealogy in 2014. From the introduction forward, readers are encouraged to write about themselves for the generations to come.
Seventeen years & counting. . .
Yes, David Kendall, who grew up in Clayton and spent many years returning to the River, leaves us with much for which to be grateful. Reading parts of that book over again now, in 2022, certainly made me sit up and notice. Why? Because this is our 17th year of publishing Thousand Islands Life.com and throughout those years our authors, over 300 of them - have captured history, memories and photographs of our  St. Lawrence River, all for our enjoyment.  
I want to thank those authors; plus our TI Life editorial team; and I want to thank Paul Malo, TI Life's creator and Ian Coristine, photographer and amazing team captain. Both are no longer with us, but we have them to thank for their mentoring - together we have recorded so much of our Thousand Islands life for you to enjoy.
Boat Shows Cancelled
Both the NY Boat show and Toronto's Boat Show in-person events are cancelled this year. Kara Lynn Dunn gives us four alternatives for those planning on attending the NY Boat Show in her article:  . (see ) and the Toronto Boat Show website provides a number of great ways to starting thinking summer 2022.
The Toronto International Boat Show will be Virtual again. Dates are January 26 – 30, 2022. Show Hours: Wednesday – Friday: 11am – 7pm; Saturday & Sunday: 9am – 5pm (Eastern Time) Watch their website for details. For information & questions: Email: Torontoinfo@canadianboatshows.com
Winter in the Thousand Islands
Want to see the month go by faster? Make sure you join 1000 Islands River Rats Now and Then Facebook page.  You will see many wonderful photographs and postings. We are proud to present just a few: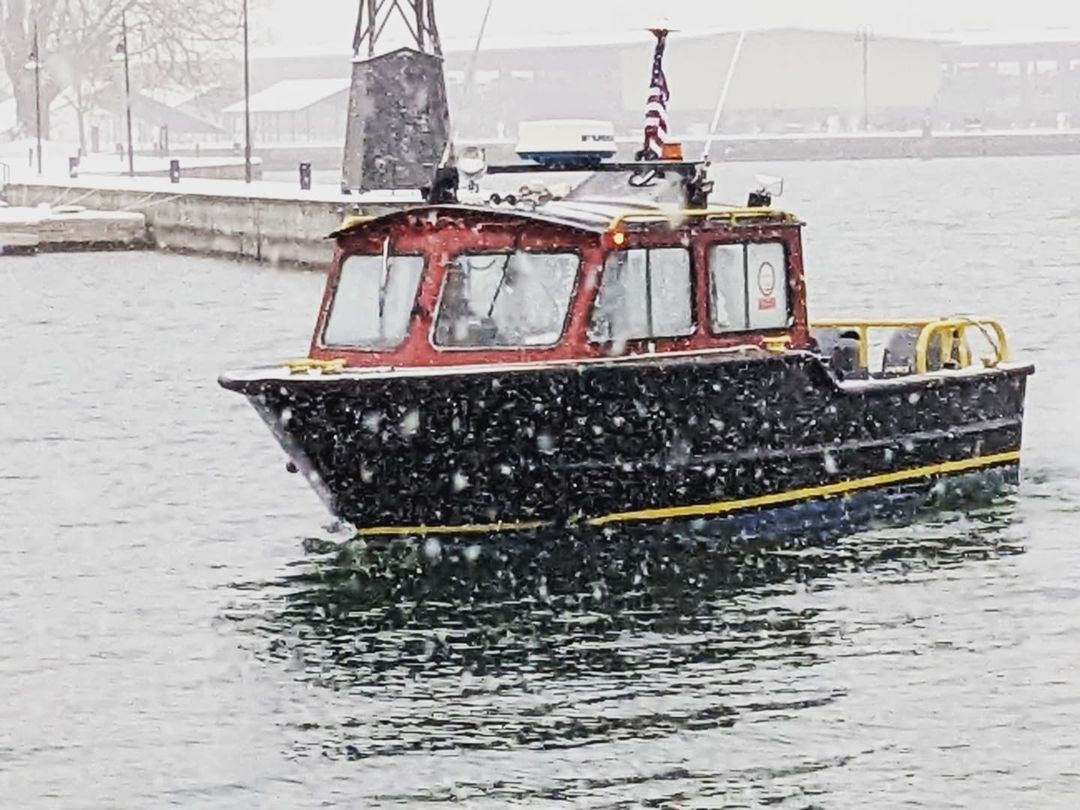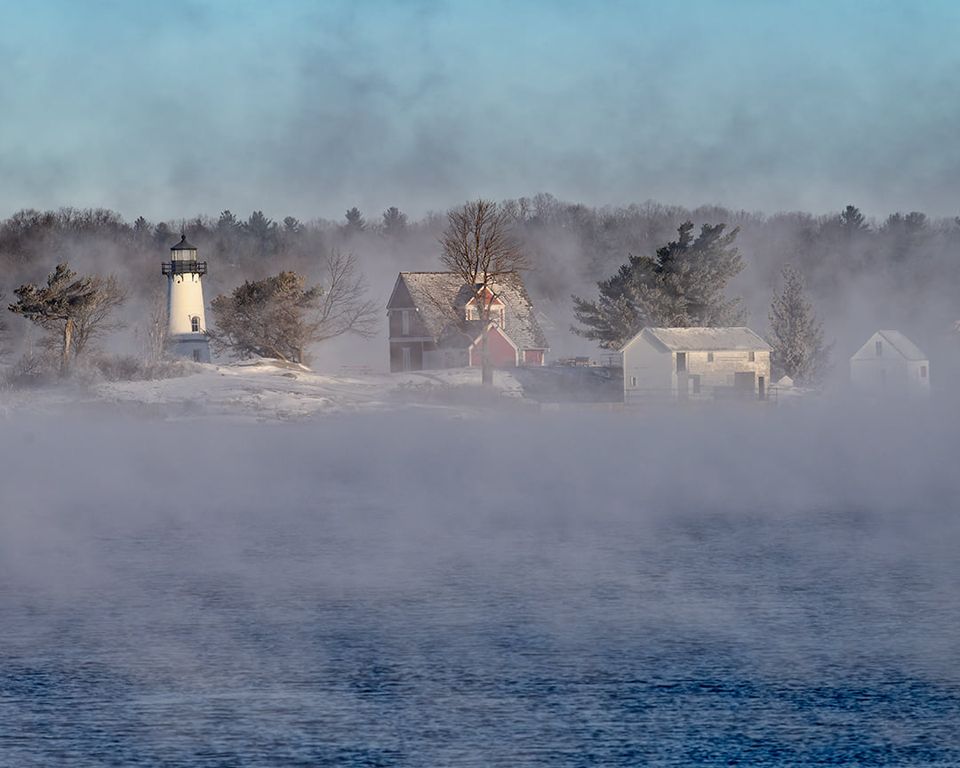 2021 Shipwatcher's Season Ends
Louisa Rutherford wrote, "Today I was so blessed to see the encore performance of the Ojibway, the grand dame of the St. Lawrence Seaway, make her final trip past Boldt Castle in Alexandria Bay, New York, December 30, 2021. Her lights were all lit looking like jewels gracing her white and grey shipping costume. She looked magnificent as she glided through the cold dark waters. She was escorted out past
the Sunken Rock Light House by an airboat and a flock of Canada Geese honking their good-byes and best wishes. I had to give her a salute as she gracefully moved out of sight. Thank you for your service. You will be missed by this ship watcher."
Luck of the draw or lens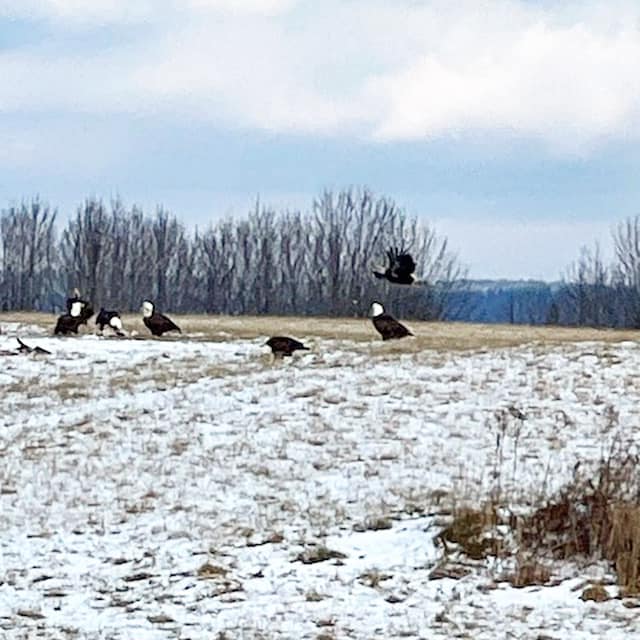 And Jeff Garnsey found these subjects, just waiting to be photographed. He wrote, "I'm not sure what the odds are for coming upon 20 bald eagles at the same time, but it may be a good day to buy that lottery ticket."  
This post has over 260 comments, with one from Gerry Smith, our ornithologist, who noted "That type of concentration in a field is either the result of a large dead mammal, probably deer, or a night roost in a nearby wooded area." In response, Jeff wrote that it was both.
Conclusion
We have already started our February issue, which means that March and April will not be far behind. No matter where you spend this winter, we hope you will stay well and by all means, write with questions or suggestions. Please leave comments on articles or send them to me to post (there is a little glitch using some web browsers.)
This month marks the two year anniversary since Ian Coristine died in 2020. His wife,  Lyne Roberge, shares many of Ian Coristine's albums with us during the year and for this we are truly grateful.
By Susan W. Smith, Editor, info@thousandislandslife.com
Special thanks to our TI Life Team: our "Real Editor", Elspeth Naismith, proof readers Georgia Barker, Dane Zabriskie and Rick Taylor. Also, Jennifer Caddick doing Social Media, Beth Lavos listing books and Marie-Anne Erki our illustrator.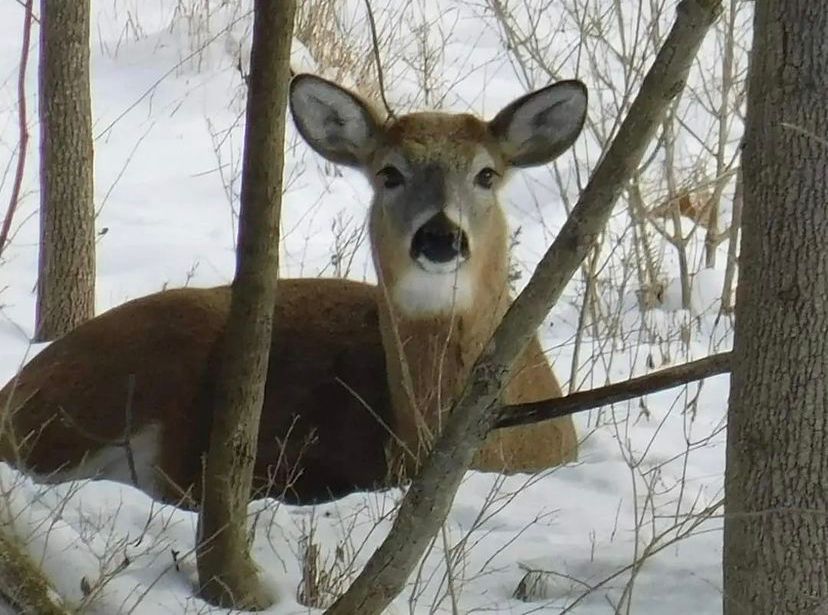 Posted in: Volume 17, Issue 1, January 2022, People, Photographs, From the editor
---
---
---