Since my days as a journalism student, nearly 60 years ago at Syracuse University, I have made it a habit of reading as many newspapers as I can, every day whether at my home office computer or in my travels.
I was in the Nashville airport recently when I bought the Nashville Tennessean to read on my flight. Still stinging from an unbelievable experience of failing not one, but three (TSA) security tests for explosives (!) on my person---the source of the annoyance turned out to be cologne gifted to me by my wife Janet---- I was searching for something more than the newspaper to read once airborne.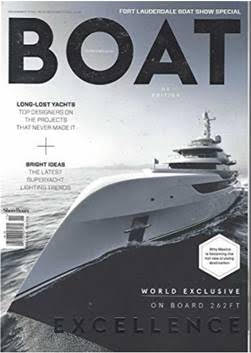 It was then that I spotted Boat International, a slick $9 magazine. It was the magazine's "Fort Lauderdale Boat Show Special" issue, with pricey advertisements and stories about multi-multi-multimillion-dollar yachts. Perhaps having inhaled too much explosive cologne a few hours earlier, I thought to myself "Hmmm, any TI boats ?"
First, the cover featured the submarine lookalike "WORLD EXCLUSIVE/ONBOARD 262 EXCELLENCE described as "perhaps the most striking yacht ever to leave Abeking & Rasmussen's ship yard in Bremen, Northern Germany. With her heavily reversed bow and acres of sheer glass windows, reflecting back…like a pair of aviator sunglasses…" The author marveled at its 33-foot bow, the exact shape of the beak of an American Eagle. Reading further, I was intrigued.
For those who hope that someday she might stop at Clayton's Regional Pier, consider the following: The EXCELLENCE has a 47' beam,  a range of 4,500 nm at 13 knots, a fuel capacity of 44,775 gallons, freshwater capacity of 7,825 gallons. The yacht's tenders of 31 and 26 feet, requires a crew of 21 and draft of 11'3".  She boasts five decks, an elevator, office, pool, toy and tender garage with a bar, spa treatment room, sauna, gym, nine-seat soundproof cinema, plus and aft bar lowered into the deck and so on. You get the picture.
It would be a nice fit at the Clayton pier and would likely generate considerable rubberneck traffic on Riverside Drive. Charter costs range from $1.1 million to $1.2 million weekly, plus expenses.
Then I started flipping through the pages. Holy cow! I couldn't believe it! A picture of a Round Island-look-alike boat I remembered from my days as a Steele Point kid on the St. Lawrence River.
I am referring to the "Lucky Seven" owned by Freemont "Freem" Powers, Watertown High School Athletic director/fishing guide and father of six daughters . That was a boat that we all knew and recognized as it made its way around the River. And of course, seeing a look-alike brought back memories of summer days with fishing, swimming and friends. Well, that's what this new yacht looked like at first glance!
The article titled: "Smooth Operator", talked about the look-alike. It began:
"Newport seems the ideal location to experience a boat inspired by the 1920's New York commuter yachts favored by the industry titans who summered there…. Zeelander's latest creation, its new flagship Z72, built especially for a loyal client, glistens in the sunlight, showing off its smooth and sensuous shape… there is not a sharp edge to be found anywhere- and believe me I searched,"
The reviewer went on:
"The Z72 is not just a pretty face… during our afternoon on the water. We hit 39.5 knots, just shy of the 40-knot top speed. And I'm told it reached 43 knots in the North Sea, close to its home yard in Groot-Ammers, near Rotterdam in the Netherlands. The Z72 is 11 feet longer than Zeelander's previous flagship, the Z55, without its bathing platform extended, and 17 feet longer when it is."
For those wanting to invite it to the Thousand Islands, I offer her numbers as well: a 19'8" beam; 4'11" draft; 99,000 lbs. weight; range of up to 830 nm at 24 knots; 3 double staterooms, 1 crew. The staircase handrail was described as "the yacht's stainless steel jewelry. The rails and cleats are custom-made to follow the curve of its deck." The US owner renamed her Dylan Lucy. And you too can charter her for only $30,000, a week, not including yacht expenses.
As I read further,  the magazine described the Round Island look-alike this way:
"Down below, the three stateroom layout takes advantage of the high sided commuter profile…the window configuration with six hull windows on each side, plus the large sunroof over the master stateroom's king berth, floods the cabin with light. Tucked in the corner of the room is a cozy window seat perfect for watching the world go by…even the head offers expansive ocean views. The white interior, accented with beige highlights, offers a nice contrast to the brown leather floor tiles and Macassar ebony wood, all very masculine and modern."
As I completed my reading and viewing the photographs in this glossy magazine, more fond River memories came back.  I may never get a chance to view these yachts up close...but one thing is sure; although I was never onboard Freem's boat, but I'm certain its interior wasn't quite as exquisite. Though, as I remember, it had similar dockside sleek lines.
By Cary Brick
Cary Brick is a lifetime Thousand Islander and frequent contributor to Thousand Islands Life. In the 19 years since retirement as a Congressional Chief of Staff he has served as a Clayton judge and marriage officiant. Cary has been a Land Trust director, professor of government, writer, President of a business development council and the Thousand Islands Foundation, lecturer, benefactor of scholarships for 10th Mountain Division (Fort Drum)  soldiers and  families at Jefferson Community College,  and advisor to the US Postmaster General on postage stamp subjects and designs. He is publisher of "From the School House to the Peoples House," a journal of his three decades with Congress and "People of Peace," photographs of 1970's antiwar turbulence in Washington.  He and his wife Janet, educational consultant and former Clayton Town and Village Justice, are currently in Houston. They established the Cary and Janet Brick Riverside Foundation, administered by the NNY Community Foundation, to support programs and projects in the Thousand Islands region.
Posted in: Volume 15, Issue 1, January 2020, History, Sports
---
---
---