This is a four-part Thousand Islands story, three parts of which are postage-stamp-related and one of which is an historical trivia quiz. You don't have to be a philatelist (stamp collector), or a Seaway crackerjack to read further. You might even find one $tory that could make your wallet bulge and your face light up with excitement.
First: How good are you at St. Lawrence folklore?
Q. A well-known public figure from Clayton held one of the most complete collections of United States and Canadian postage stamps on the East Coast. Who was he?
Hint: He sold insurance from an office on John Street in Clayton. Passers-by could see his desk at the front window with papers piled so high that they towered almost as high as an elephant's eye.
Hint: He was prominent in Jefferson County political and government circles.
Hint: Born in 1923, he died in 2009.
Answer: Gordon Cerow, Jr. He first served as Mayor of the Village of Clayton and later represented the Town of Clayton on the Jefferson County Board of Supervisors. It was his initiative that built Clayton's multi-purpose arena which hosts numerous sporting, civic and popular boat, antique  and food&wine shows.
Cerow Recreation Park is named to honor him. His international stamp collection, preserved and detailed in dozens of presentation binders, was started by his mother when he was just a boy.
The collection was examined page-by-page over a two-day period in Clayton after Gordon's death by one of the most prominent and respected stamp experts in the United States. He concluded that it was "the most complete and thoroughly documented collection of American and Canadian postage stamps he had ever seen."
Second: Were you at the Antique Boat Museum in Clayton on August 4, 2007?

On August 4, 2007 the United States Postal Service unveiled and dedicated its Antique Vintage Speedboats Stamps, a panel of beautiful images of what we in the Thousand Islands celebrate as classics in the world of boating.
One of those boats was a 1915 Hutchinson built in Alexandria Bay. The others were a 1931 Gar Wood, a 1939 Hacker-Craft and a 1954 Chris Craft.
No one was more thrilled at the ceremony than me, then five years into my 12-year appointment as a member of the  Postmaster General's Citizens Stamp Advisory Committee. The Committee selects the subjects and then designs the U.S. postage stamps and then submits them to the Postmaster General for final approval. In 2002, I succeeded broadcaster Larry King, who left the committee before attending his first meeting, having discovered that his network television commitments would preclude regular attendance.
In championing the antique boat stamps, my goal was to make sure a Hutchinson was included. The stamps bearing 'first day postmarks' of Clayton, N.Y. are now in collections throughout the world, and are sold to collectors by dealers. U.S. stamps are highly valued in Europe and the Far East, often used as educational tools in countries where access to American culture and history is not available.
Third: How about opening day of the St. Lawrence Seaway...

Were you, or someone in your family, in Massena or in Ottawa on the Seaway's opening  dedication day on June 26, 1959? If the answer is 'yes', you might have a valuable piece of history somewhere in your memorabilia! It was on that day that the United States and Canada unveiled and sold the first stamps celebrating the new St. Lawrence Seaway.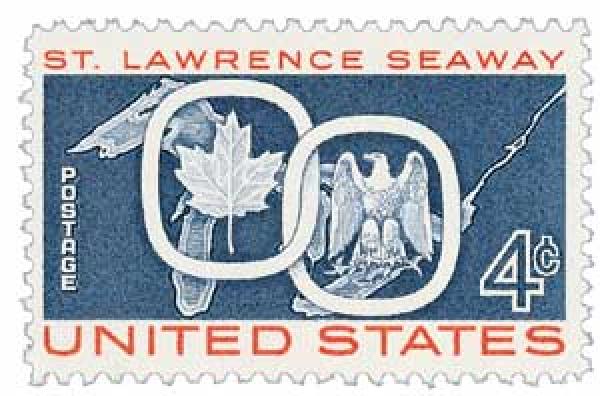 It was America's first joint issue of stamps with a second nation. According to the Mystic Stamp Co. of Camden, NY, a major dealer in collectable stamps from throughout the world, creating a joint issue was a challenge for both countries. Postal officials in both nations had to create a similar design and theme for the Seaway stamps, aside from country designations and denominations. The joint issue concept, while common in the stamp world today, was something brand new at the time. Stamp designers were breaking new ground in the Canadian and American philatelic worlds. When all was said and done, they came up with stamp designs celebrating the new Seaway, while satisfying the patriotism of both countries --- of course, a maple leaf for Canadians and a bald eagle for Americans. Since the denominations were different, each country printed and sold their
own stamps.
The U.S. stamps were printed on the Giori press of the United States Bureau of Engraving and Printing (in Washington) which could print up to three colors at the same time.  An astounding total of 126,105,050 four-cent stamps were produced, the first being postmarked in Massena.
The 5-cent Canadian stamps were printed in Canada from two engraved plates that had to be run through the press separately. They were issued in Ottawa, but the number printed was not widely reported. So far, so good.
Here's where the $$$ comes in: Between printings (in Canada) some of the sheets were rotated, resulting in an inverted center error with the maple leaf printed upside down. The errors were discovered two months after the stamps were issued and eventually became Canada's most famous stamp error, and an expensive one, at that.
John Hotchner, of Falls Church, Virginia, respected internationally as a knowledgeable philatelic expert,  a retired U.S. State Department official, writer, and a former colleague on the stamp committee, says his research shows two sheets of the inverts were discovered in Canadian post offices a few weeks after issuance and they were returned to Ottawa.
An estimated 200 mint quality (never used) Seaway inverts are in private collections today, he says, plus another 16 used (postmark cancelled) stamps are known to exist. He says one sold at auction in the U.S. in 2018 for $4,750 and another for $7,500 in 2019.
The internet is full of stories and images of the invert. Bing.com sets its value at $16,000. Canada eBay shows one sold in June for $16,000; findyourstampsvalue.com says one sold at auction in Ontario in 2015 for $13,500; macleansca.com agrees with the $16,000 figure, lists it as Canada's seventh most expensive stamp and agrees with the Hotchner estimate of 200 in collections; stampauctionnetwork.com displays several images with seven auction sales ranging from $3,250 to $19,000; and canadastamp.com reports the consensus story of a young office boy from Winnipeg's Marlborough Hotel, who purchased the first 30 inverts from an Eaton's store on August 2, 1959. Invert images can be seen at saskatoonstamp.com, canadianstampnews.com, and arpinphilately.com among other internet sites.
Whatever their value, a look-see examination of  granny's  collection of whatnots in that dusty old trunk in your Thousand Island closet or attic might just find one or two inverts---- and they'll bring a smile to your face and jingles in your pocket if you take them to the international market.  
As the New York lottery advertisements say, "Hey, you never know!"   Or, of course, you can always take chances at the casino in Gananoque. I have had limited success with the lottery and casino, but have not found any 'Canadian invert' stamps in my late mom's collection of whatnots.
Fourth: Final Trivia

Q. Which elite American military unit made its debut at the opening of the Seaway?
Answer: The Herald Trumpets, a musical ensemble of the Army responsible for signaling the approach of a US President at White House state occasions with entrance and exit fanfares.
Its first public performance was for the 1959 arrival of President Eisenhower and HM Queen Elizabeth II at the official opening of the Seaway. It first White House state arrival ceremony was during the 1960 visit of Charles de Gaulle. They are mostly seen at state and official arrival ceremonies at the White House, where they perform three times in the order of events: first, "Ruffles and Flourishes" and "Hail to the Chief" for the arrival of the President; second, "Call to Statesmanship" for the arrival of a visiting head of state or chief of government; third, "Presidential Processional" as a President returns to the White House. They also played at the opening of the Winter Olympics at Lake Placid in 1980. (Read more at Wikipedia).
By Cary Brick
About the author:  Cary Brick is a lifetime Thousand Islander and a frequent contributor to Thousand Islands Life.  After his 2000 retirement as a 30-year Congressional Chief of Staff, he served as a Clayton judge and marriage officiant. He and his wife Janet, an educational consultant and former Clayton Town and Village Justice, are currently in Houston. They established the Cary and Janet Brick Riverside Foundation, which is administered by the NNY Community Foundation, to support programs and projects in the Thousand Islands region, most recently TIERS, River Hospital, and the Clayton Regional Pier.
[Editor's Note: This is Cary Brick's ninth article for TI Life, and he says a tenth is in his computer!]
Posted in: Volume 15, Issue 8, August 2020, History, Sports
---
---
---