Early one morning, the middle of March, we were eating breakfast when a well-known island native, Lewis Calhoun and his son Elwood, who was my age, arrived at the door. Guests were always welcome in our home, my mom always ready to feed them and hear the latest news or gossip on the island. Elwood's dad informed us that he was going to Swift Water Point on a duck survey. I was about 13 years old, anxious to go and somehow received permission to travel on this expedition.
This was 1943, so even shotgun shells were rationed because of WWII, and there were no choices in the store as to size or brand. When we needed supplies, we would travel to Clayton and visit Nunn's Hardware Store. The man who owned the store, Mr. (Clarence) Nunn, would sell us five shells at a time because we were farmers and we needed to keep the blackbirds from eating our corn. I would see Mr. Nunn often in the next several years and he eventually became my father-in-law, but that's another story. No matter what shotgun shells he would sell us – Remington, Super X, Dominion, Peter's Expert – we were glad to get whatever we could.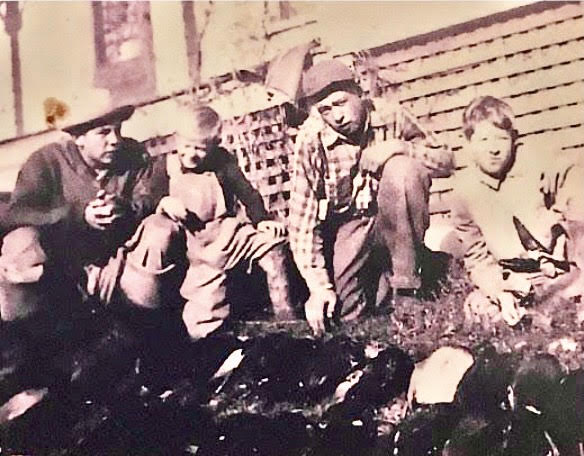 So up to and past the barn, we ascended to a level field; most of the ground was still frozen and the snow was now frozen patches of ice in low places. Turning east towards Rusho Bay, we walked along the rocks that formed Grossman's Point. The sun had not yet gotten high enough or warm enough to melt the snow. All that was left were decaying snow drifts and huge icicles high upon the rocks overlooking the River. A short walk and we reached the western edge of Rusho Bay. The River ice was still firmly attached to the shore on the south side of the bay. The high rock formations that had been quarried long ago shaded the ice. Onward we went, passing about 100 feet from Bentzen's dock, where the only sign of life was smoke coming from the chimney. We exited the ice at a rock on the island; a small red building adorned the rock, its windows shuttered, not a very friendly looking place. We now moved along the shoreline, crossing over a small point along a small beach to Swift Water Point.
On the point was a rather neglected cabin; the door was open, and we took a quick look inside. The cabin was a mess – parts of bedding, a few broken chairs, pots and dishes – some broken,  and a stove. Animal droppings all over – certainly, something had spent some time there.
Now, down to the shore where we continued our journey. From Grindstone to the small island that now has a light house, there was no ice in the River, only ducks coming and going, busily diving and feeding. As we walked along the shore, toward the open water where all of the ducks were, we could see the main channel was open. However, the water was too deep and too swift for the birds to dive to the bottom.
The little water hole the ducks had found was perfect – shallow and with plenty of food. As we walked toward the hole, some ducks flew away, while others sat there, and some were just arriving. We found places to sit on the shore that were a little hidden from the duck hole. Elwood's dad with his well-cared for double-barrel was seated behind some small boulders next to the open water. Elwood and I were huddled together behind his dad, waiting for his dad to shoot. The ducks were arriving, then the sound of the double-barrel echoed along the channel and across Eel Bay, the air was full of ducks, maybe thousands – Whistlers and Blue Bills mostly. A sight that is now mostly gone from the River – the spring hunter and the great flocks of birds.
After two or three hours, life was beyond great and though I was too young to carry a gun, my day would come. After one loud shot from the double, a voice startled us from behind, "nice shot", we all jumped and Elwood's dad uttered a few verbal obscenities as we turned around and saw that two men had snuck up behind us. It was my Uncle Benny (Calhoun) and his nephew, Bob sitting on the bank behind us.
Soon our rationed supply of shotgun shells was gone and about a dozen ducks had been killed. We collected their bodies with a pair of long poles as they drifted to the edge of the water hole. We bagged them and proceeded on the journey back home.
I was carrying about a half dozen ducks, each weighing about 10 lbs. After about a mile of walking through the snow, they were getting heavier and heavier. I made every attempt at shifting their weight, to even out the heavy load, but to no avail. Shortly before dark, we arrived at my farm and I was awarded the six ducks that I had carried, as a reward for being a retriever. I was grateful for the birds and relieved that I did not have to continue to walk the extra mile to Elwood's house!
Another adventure on Grindstone Island for me and a memory that has lasted a lifetime!
By Manley L. Rusho
Manley Rusho was born on Grindstone Island nine decades ago. Last year, in 2021, Manley started sharing his memories with TI Life. (Manley Rusho articles) This Editor and his many friends wish him continued good health and we thank him for sharing - as the life and times on Grindstone Island are special and should never be forgotten.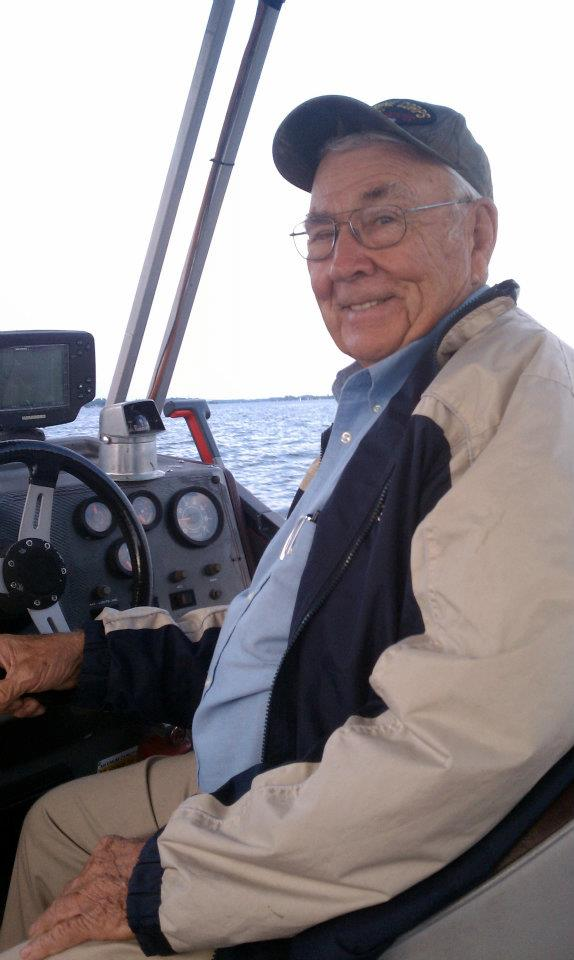 Posted in: Volume 17, Issue 3, March 2022, History, People, Places, Sports
---
---
---