Melanie Pyke Hertzog and I met on a call this month, since I wanted to profile her for this TI Life article. I realized that the time was right because her paintings have become widely displayed at The Bayhouse Artisans, Lyric Coffee Shop, Dingman Point Studio Tour, on Facebook, and other venues. And if that were not enough, Melanie was our 2022 Photo Contest winner! Her photograph captured the exact emotion and narrative that she expresses in her artwork.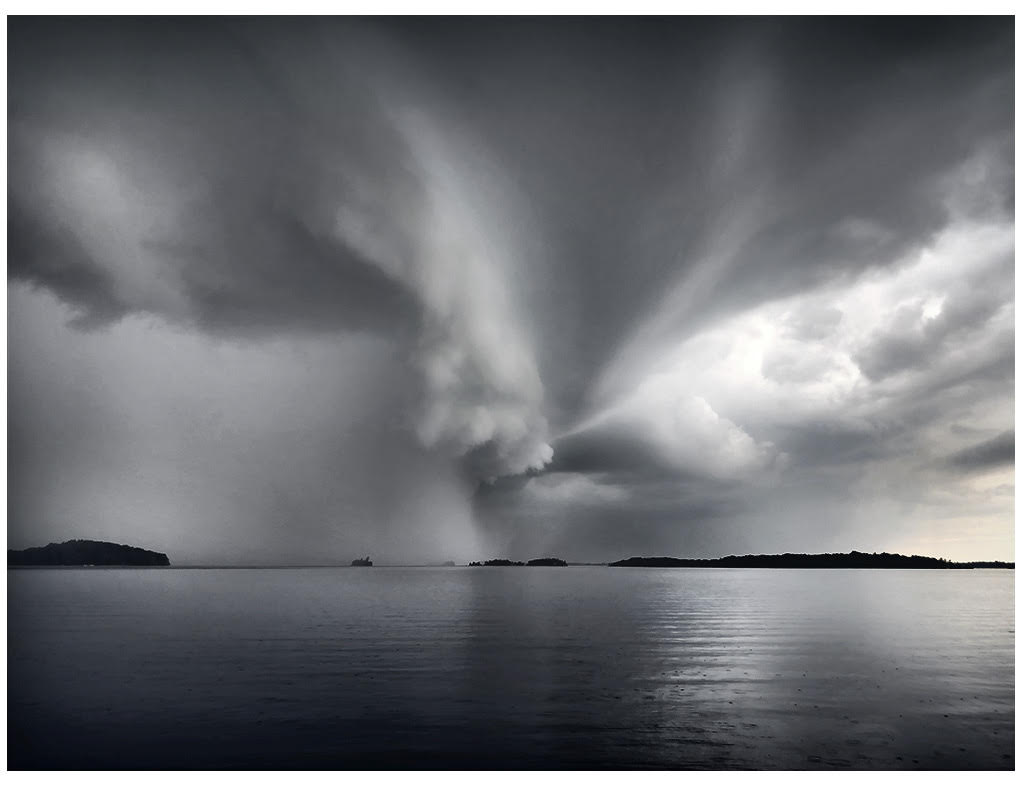 So, let's start at the beginning. I asked Melanie to whom did she attribute her artist's interests and did being on the St. Lawrence play any role?  She explained that her father's parents had been coming to the Grandview settlement on Wellesley Island for many years. Her dad had spent his summers there, and of course, he later brought his family. She related how "all children are artists. They draw and color their world and feeling, and some continue to develop art skills, while some become artistic in many ways." She never knew her paternal grandmother, but she was an accomplished artist in her day and two of her works hang in Melanie's  home today.
The year that Melanie turned 12, she received a special gift from Merle Brown, a minister and an artist who lived in Grandview, with his own studio looking out at Eel Bay. He always admired and encouraged her little works.
"When I was 12 years old," she said, "he surprised me with an art lesson. He helped me stretch and gesso my first canvas and showed me all about painting with oils and I dove right in. I painted a scene from what we call "The Point" at the head of Grandview, and I placed a doe and fawn on the path. I have that painting hanging in my studio as a reminder of his encouragement and faith in my talent."
Her artistic talents began to be developed in high school, which had a strong art painting program and a new photo lab. As she says, once she signed up, there was no holding her back. Photography allowed her to utilize composition, lighting, color, and perspective.
She admits that in school her advanced painting professor shared two important insights that are still relevant. "He observed," she said, "that I 'see' every detail, and I do slave over those details. The challenge is to choose the main focal point, not just render everything with the same emphasis."
Of course, it was not a straight-line journey. She earned her degree in Fine Art at SUNY Oswego, concentrating on painting and photography with additional studies in writing. Her love of nature took her to Colorado for a year, where she worked in the mountains for the Young Adult Conservation Corps. Inspired, she returned to
obtain a degree in Forest Technology from the ESF Wanakena Ranger School in the Adirondacks.
For two years she worked in land surveying before returning to Oswego to rethink her career path. This is where she met her husband Steve, who was completing his teaching degree. They were married in 1985 after she completed her Master of Social Work from Syracuse University. She pursued a 30-year career as Clinical Social Worker.
Move to the River
In 2002, Melanie and Steve decided that the Thousand Islands would be their post-retirement home year-round. Steve, together with a small team, built the shell with completed exterior in six weeks. Along with family, they had the interior up and running by summer's end.  With much hard work and diligence, the house was fully completed and outfitted with a modern heating system, in time for a permanent move to the River. Timing is everything . . .  as Melanie says, "it was two days before the Halloween Storm of 2019, where there was so much damage to the shorelines along Lake Ontario and the River. This event inspired the painting "Lake Effect."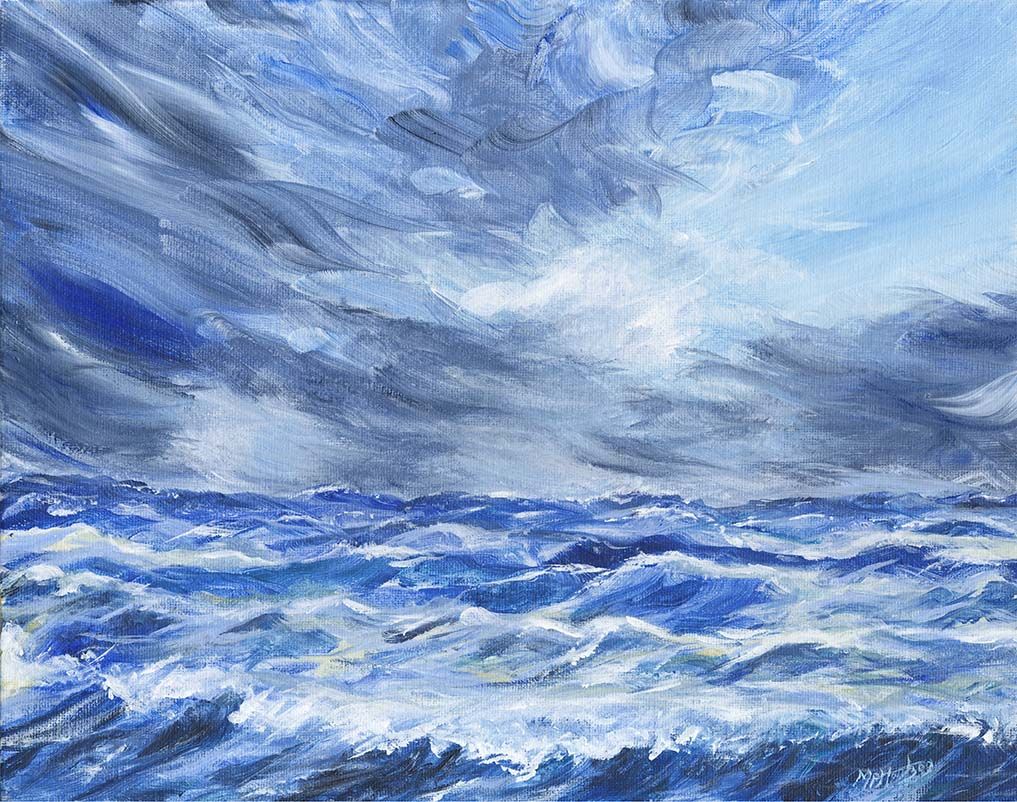 Melanie Pyke Hertzog Works
River influence
I grew up in Oswego and spent all my summer here with my family, so I was very in tune with the power of weather coming off the Great Lakes, and the beautiful colors of the land and sky. Summers at the River were paradise, and I absorbed my father's stories of his childhood in Grandview and the early days of boating, delivering milk and ice to neighbors, etc. The old growth forest trees formed a deep, mysterious backdrop to the River stretching out front. Growing up through the environmental movement of the 1960's and 1970's focused my interest in capturing the wild beauty of this place through my art and photography and sharing it with others.
Display at the Lyric
I approached Kathy Daniels at the Lyric Coffee House to see if she wanted to carry my stickers, and she was glad to offer them. It's a new image-based product that my son suggested earlier this summer. I remember reacting with "Stickers???" But then I started seeing stickers on water bottles everywhere, so we created them and people seem to really love them. Then Kathy approached me about displaying my artwork at the Lyric, so I was thrilled to hang a mix of canvas giclees, original paintings, and some photography. It's nice to see my work on display and to hear people's reactions.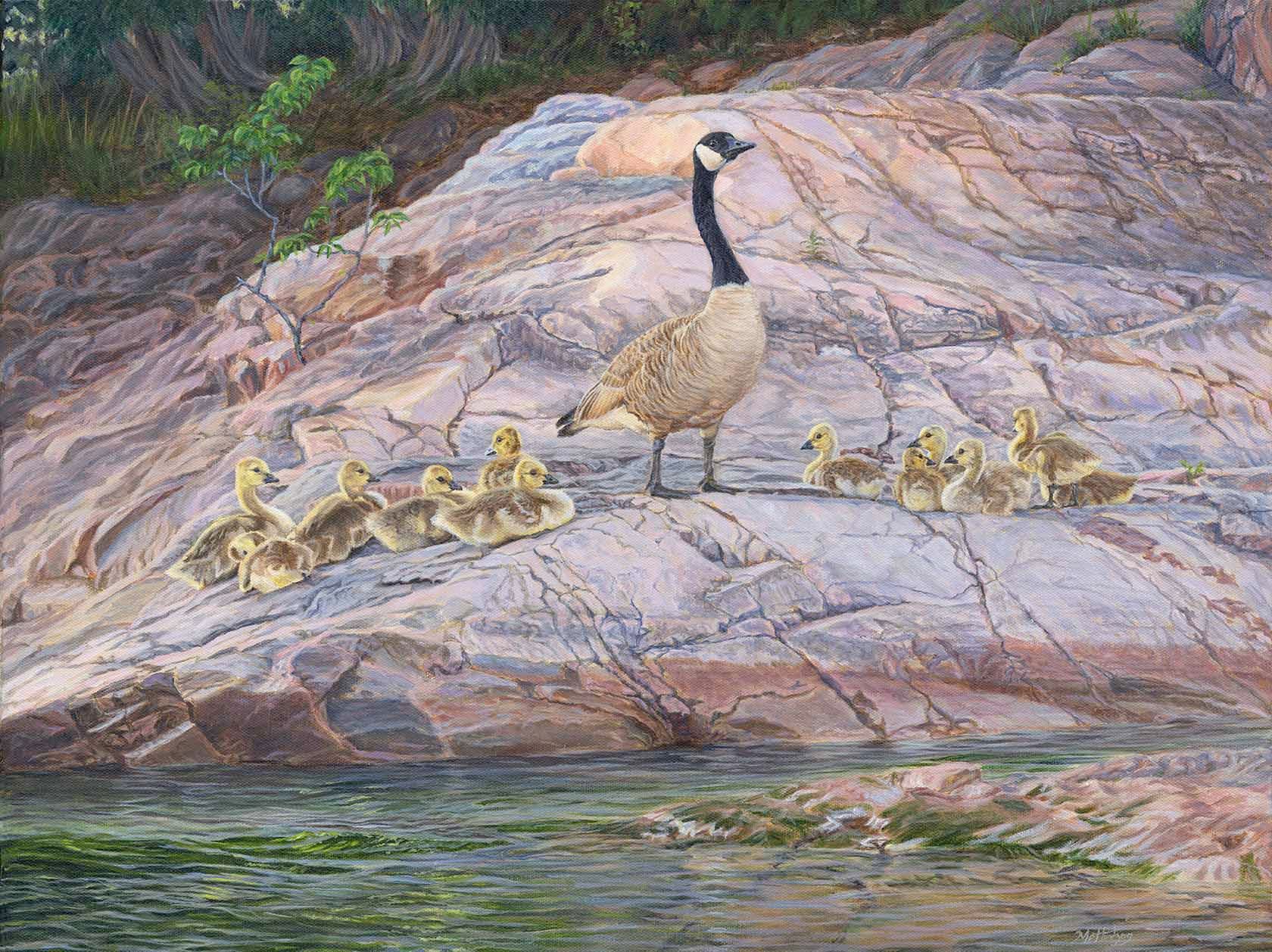 What is next?
I also want to say that since moving here, I have met many wonderful members of the local Arts community and I appreciate the camaraderie of Artists supporting each other. At this time, I am expanding my focus. I have several commissions to work on, and I also recently had two different photo opportunities with Antique Boat Museum boats and I am working on those paintings. One of my commissions is a multiple pet portrait. Dogs are like children, it's usually a funny time trying to get a decent photo shoot with them, but capturing the dynamic personalities is fun for me.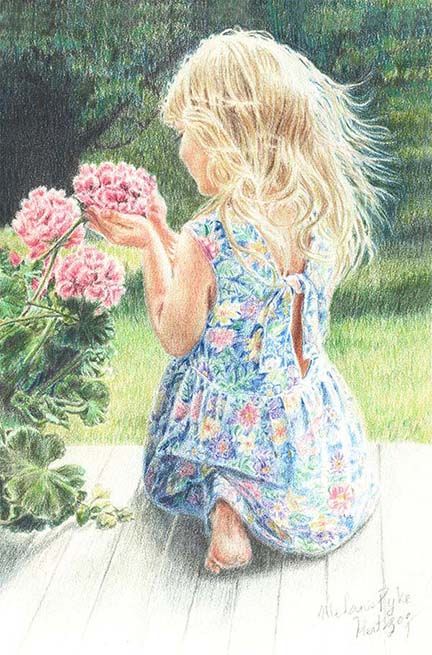 Shout out
At the end of our conversation, which was over far too quickly, Melanie said she wanted to give a shout-out to some of the important people in her life.
The first is to Michael Ringer, whom you will recognize as our renowned Thousand Islands artist. Melanie had been taking her artwork for archives and printing limited edition prints. Over the years, Michael has been generous in sharing technical information related to painting, varnishing, and giclee preparation. His daughter Marsha now runs the business and she is also generous with her guidance.
Her family has stepped up over the years, so she gave a loud shout out to her husband, Steve. He not only has championed her artistic life over the years, he also built her an art studio.
She then gives a shout out to her son, Andrew, and his wife, Laura, and another to her daughter, Felicia, and her husband Dan. Andrew has helped with her web presence, and her daughter is helping with the business side of being an artist.
As I share these paintings with you, I am sure you will agree that giving a shout out to you, Melanie, is overdue. We thank you for capturing your love of wildlife and life in general, both on canvas and on photographic paper. We also thank you and your husband for moving to the River and for sharing what you see with all of us.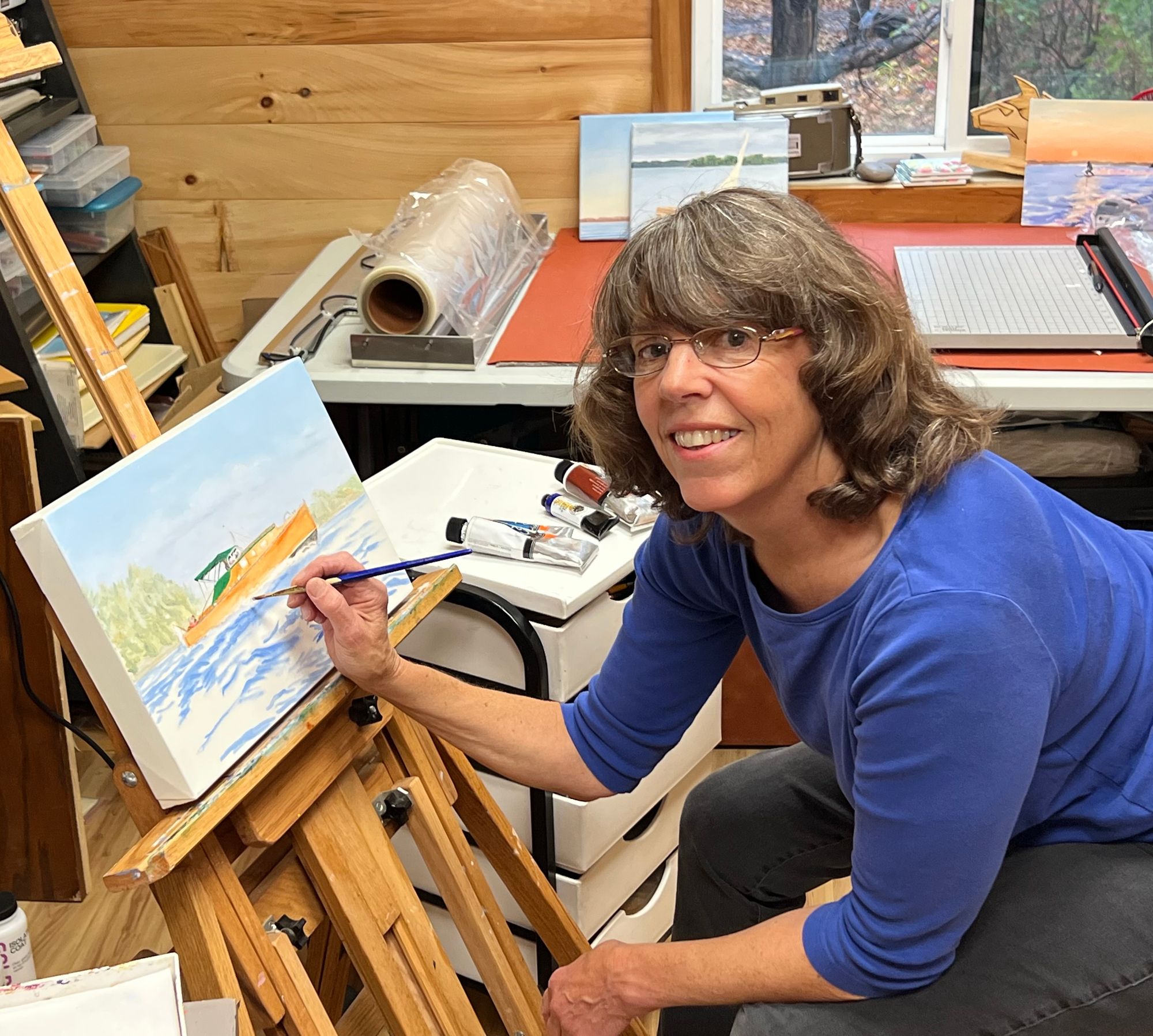 Conclusion that Melanie wrote to my questions:
"Last night I was thinking about your questions, and the responses that come to my mind. I realized that I began as a child illustrating favorite stories, I have written stories and poems throughout my life, I have listened to people's stories as a therapist, and I am still making paintings that reflect a story. When I sit a show, or complete a commission, it's the stories that are evoked when people view my work – mine and theirs. It brings us together and creates small connections between people. For me, it doesn't get any better than that!"
Melanie, it doesn't get any better for us, too. Thanks, my friend.
By Susan W. Smith, info@thousandislandslife.com
[See also: River Life Art Website & Facebook]
Posted in: Volume 18, Issue 11, November 2023, Artists, Current
---
---
---