Most Thousand Islands residents know of Frank H. Taylor's (1846-1927) watercolors of the area, completed during his years as a summer resident at his cottage, Shady Ledge, at the foot of Round Island. This was where he had a studio above the boathouse.  (Currently the cottage and boathouse are being restored with loving care.)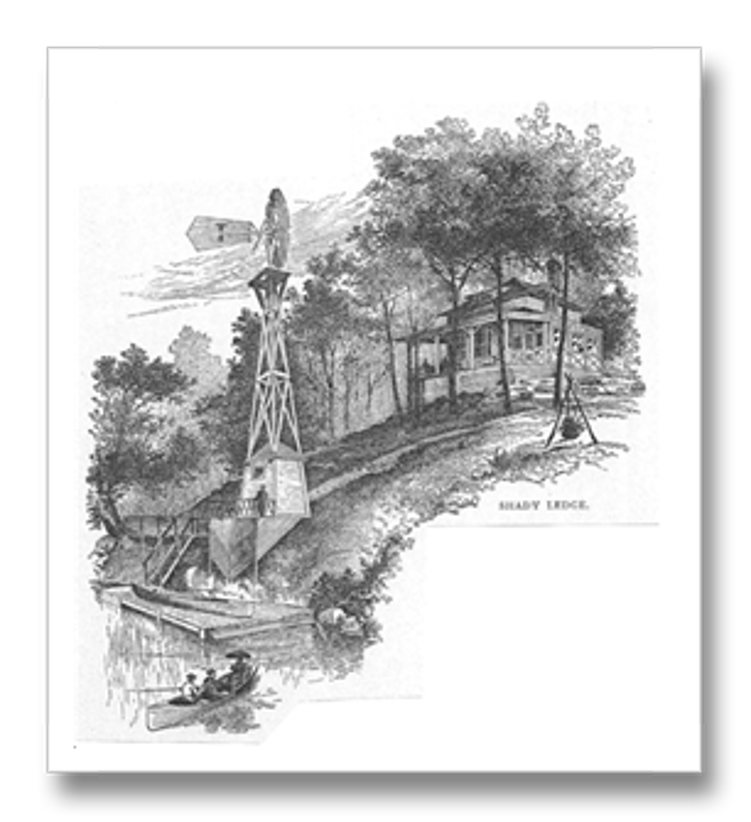 Many islanders may be unaware, however, of Taylor's years as a "Special Artist" for Harper's Weekly. "Special Artists" were actually photojournalist of the day, who made on-site sketches that were turned into wood engravings for print, in the days before photographs could be reproduced in the newspapers. Frederick Remington was another famous "Special Artist" from the Thousand Islands.
Taylor's most memorable assignment was in 1880 when he accompanied former president Ulysses S. Grant, General Philip H. Sheridan and their wives to Florida, Cuba, and Mexico from January into March.
The 1880 traveling party also included Grant's son, Colonel Fred D. Grant and his wife along with Byron Andrews, a reporter for the New York Tribune and the Chicago Inter Ocean, and two of Mrs. Grant's nieces.  One of whom, Miss Kate Felt, Taylor escorted "on all occasions."  
In the frontpiece of a 1927 portfolio of 47 of his sketches and watercolors, Taylor wrote that the trip was "a stately picturesque dream". The portfolio was acquired in 1981 by the University Gallery at the University of Florida.  Taylor asked Harper's Weekly to return the sketches, which usually became the property of the paper, and as a result were often  lost or destroyed.
Taylor met the Grant party in January in Fernandina, Florida.  It was an extension of a goodwill around the world tour designed to "disassociate Grant from the political scandals" that had marred his administration. It was hoped the positive publicity generated would remind voters of the former president's accomplishments, and possibly put him in a position to be nominated for a third term. The Florida, Cuba, and Mexico portion was a late addition to keep Grant's name in the limelight prior to the convention scheduled for June 1880.
Taylor met and recorded the parade for the Grant party's arrival in Fernandina on January 4, 1880.  Grant was, of course, the focus of many of Taylor's sketches, wash drawings, and watercolors as the former president was wined and dined at every stop on the trip.  Besides the parade in Fernandina there was the celebration of Carnival in Havana, a torchlight reception in Key West, and the inspection of a coffee plantation in Cordova, Mexico with Grant on horseback reminiscent of his military exploits.  Grant is usually depicted wearing a top hat, thus making him easily identifiable.  These sketches were quite detailed, and the subsequent wood engravings that appeared in Harper's Weekly, look very much like the submitted sketches.
In addition to the obvious publicity pieces, Taylor did many background sketches (establishing shots, so to speak) to be used as the newspaper saw fit.  For example, he included a watercolor of the "Gates of the City, St. Augustine", "The Steamship Osceola on the Oklawaha River", and "Seaside Cottage, near Havana", among others.
Occasionally Taylor included notes for the engravers.  For example, on a brush drawing of a mountain train near Orizaba, Mexico, Taylor penciled on the back "Ascending the mountains, Mexican Railway . . . change this foreground completely if submitted."  Some were incorporated into the wood engravings that accompanied the text while others were not.  It was not Taylor's decision which sketches Harper's Weekly used.
The Grant party's final stop on the trip was Mexico City, another important reminder of Grant's military prowess; he had been a young lieutenant there during the Mexican War  of 1846-48.  Taylor recorded the official party's call on President Porfirio Diaz, as well as Grant's residence at the Palace of Mineria.  All these images reinforced the respect the former president was accorded on the world stage.
Taylor seems to have left the party in Mexico and returned to Philadelphia while Grant and his entourage sailed to Galveston, Texas, in pursuit if a Republican nomination in June. This was not to be, however, as James Garfield became the party's candidate.  The fact that Grant wasn't nominated may account for the relative obscurity of this part of his world tour. Had Grant won the party's support and served another term, this addendum to the trip may have been viewed as a savvy political move essential to his successful bid for reelection. But for Frank Taylor, it was the trip of a lifetime to be an integral part of such a prestigious group, and to see his images, documentation, and letters in such a highly regarded publication.  His letters were also published in the Philadelphia Ledger.
It was just a year later, in 1881, that Taylor bought his Round Island property. Perhaps Grant had mentioned his 1872 visit to the Thousand Islands, piquing Taylor's interest in the area?  As most readers are aware, Grant was invited by George Pullman to visit the Thousand Islands at the time of Grants 1872 second reelection campaign.  
Clayton was an easy train trip from his Philadelphia home and the area had become a popular tourist destination. It was a place that Taylor documented for Harper's Weekly in 1881 entitled "Among the Thousand Islands," perhaps making this trip a further reaffirmation of the Thousand Islands as a "picturesque" destination.
Sources:
'A Stately Picturesque Dream . . ." Scenes of Florida, Cuba, and Mexico in 1880.  Exhibition Catalog, The University Gallery, University of Florida, Gainesville, February 17-March 25, 1984.
Gustke, Nancy L.  The Special Artist in American Culture: A Biography of Frank Hamilton Taylor (1846-1927).  American University Studies XX Fine Arts Vol. 21, Peter Lang, NY, 1995.
See Thousand Islands Life, "The Man from Shady Ledge", by Robert L. Matthews, January 2010.
By Nancy Gustke
Nancy Gustke received her PhD in History from the University of New Hampshire and was a visiting assistant professor of History at North Carolina State University.  Dr. Gustke curated an exhibition of Frank H. Taylor's works at the University of Florida and authored the accompanying catalog, "'A Stately Picturesque Dream . . . ': Scenes of Florida, Cuba and Mexico in 1880."
Note: An exhibition to showcase Taylor's work is being planned at the Thousand Island Arts Center.
Posted in: Volume 16, Issue 2, February 2021, Artists, History, People, Places
---
---
---