Captain Tom and I were finishing up the last semester at school and getting ready for another exciting summer in the 1000 Islands.  We young love birds studied, worked hard and saved a couple of bucks all winter-long, in anticipation of a fun summer ahead.
B.C. (before children) it was a lot easier to hit the road with a tent and a cooler (filled with Gatorade and Hoffman Hotdogs, such a simpler time). We bopped from campground to campground and getting out on the River any chance we could. We were "groupies" to the River.  
This type of behavior is known to the locals as being a "River Rat".  A River Rat lives and breathes boating, swimming and exploring uncharted islands on the St. Lawrence River.  (I would say the term River Rat is comparable to being a "Dead Head", with the only difference being is that your passion is the River, as opposed to the all mighty Grateful Dead…you get what I'm saying?)
One summer sticks out to me the most, it was the summer of 2000-something. The old country club on Wellesley Island was under new management. It was ALL the buzz that summer, and we had to be part of it!  With our charming personalities and young, good looks, Captain Tom and I landed seasonal positions as bartenders at this sought-after country club, named Joey's T.I. Club.
At the bar, the weekends were filled with good food, good drinks and plenty of laughter.  One night, a group of fellow River Rats came into the club for an all-out feast!  They dined on calamari steak appetizers, seared ahi tuna, family style Chicken-Riggies and a few bottles of Pinot Grigio, to seal the deal!
After a feast like that, the only way dessert would make its way to the table was if it were in liquid form.  This led to the creation of  the all so popular T.I Mocha-tini!  It is a smooth and creamy after-dinner drink that satisfies your sweet tooth while warming your insides.  
The T.I. Mocha-tini became the dessert drink of choice that summer, into the fall months and became a family favorite for us as well, after the club closed for the season.  I think you will find that this October TI Life issue's drink recipe is just as enjoyable sitting by a warm fire in the chilled winter, as it would be after a hot day in the summer sun. Let me know what you think!
---
T.I. Mocha-tini
Stock your galley with:
1-ounce Coffee Liqueur
1-ounce Crème de Cacao liqueur
1-ounce Vanilla Vodka
3-ounces Milk
In a shaker filled with crushed ice add the coffee liqueur, crème de cacao, vanilla vodka and milk. Shake and serve "up" in a martini glass.
Makes 1, (year-round) after dinner drink
Cheers,
By Nicole Hartshorn, The River Gal, "Food Ideas for Boaters" [Rivergal1000@aol.com]
Nicole Hartshorn provides a series of interesting recipes... which always include her wisdom on being a mother, wife, crew and chef!  As she says... enjoy!
---
---
About River Entertaining: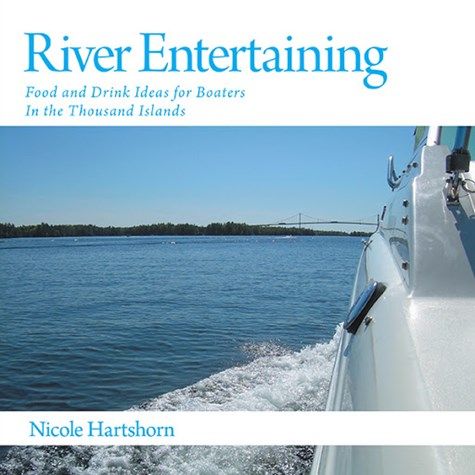 Interested in trying more of The River Gal's recipes, or know a boater who would be?  Nicole's book RIVER ENTERTAINING is available for purchase on Barnes & Noble.com  or at Friesen Press.com/book store, search River Entertaining on Amazon.  See all of Nicol's other advice and recipes here and let us know which ones were used this summer!
Posted in: Volume 14, Issue 10, October 2019, Book review
---
---
---