How often do you see a painting and say, WOW — nothing else, but WOW. Of course, you can say it softly, or in a normal voice, or very loudly.  I did the latter back in June when I was looking at my Facebook posts.  Suddenly, there was a picture that looked like a photograph, wait a minute, it's a painting!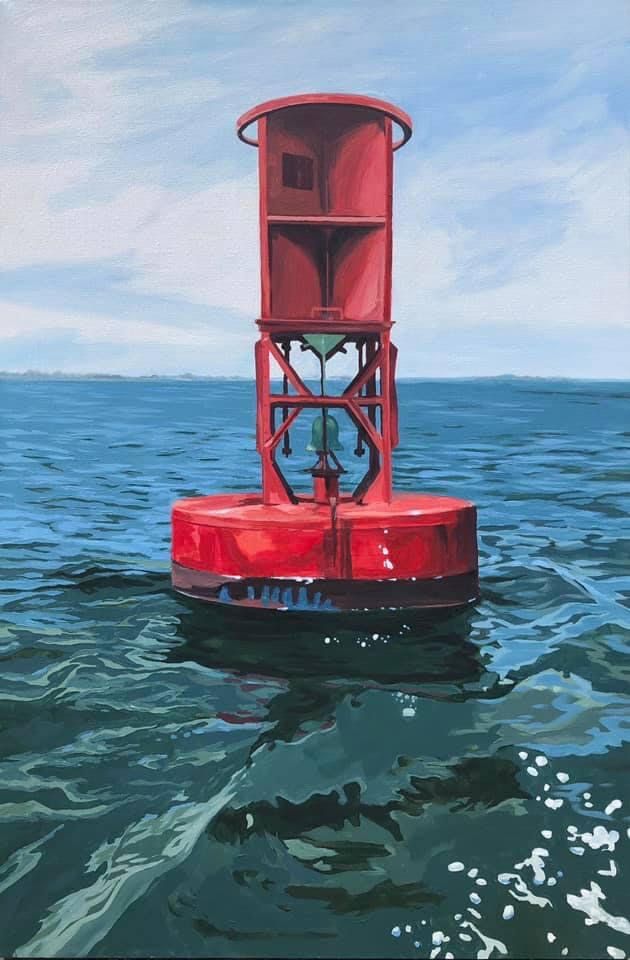 I knew right then that I had to find out who the artist was and where she came from.
Meeting Kirsten Bowen on the phone made me realize how lucky we are in the Thousand Islands to have artists who grew up here, who live here now, or who visit as often as they can. Kirsten, known as Korki to her friends, is one of those in the last group.  Her family have been Round Islanders in the Thousand Islands for generations and she tries to return as often as possible.  
In 2017, Kirsten spent more time in the region as she participated in a two-person show at the Thousand Islands Art Center, Clayton, NY.  And this summer, she returned for a week, to enjoy her stay on the River, and to attend the Art Center's 2021 exhibit, Along the River's Edge.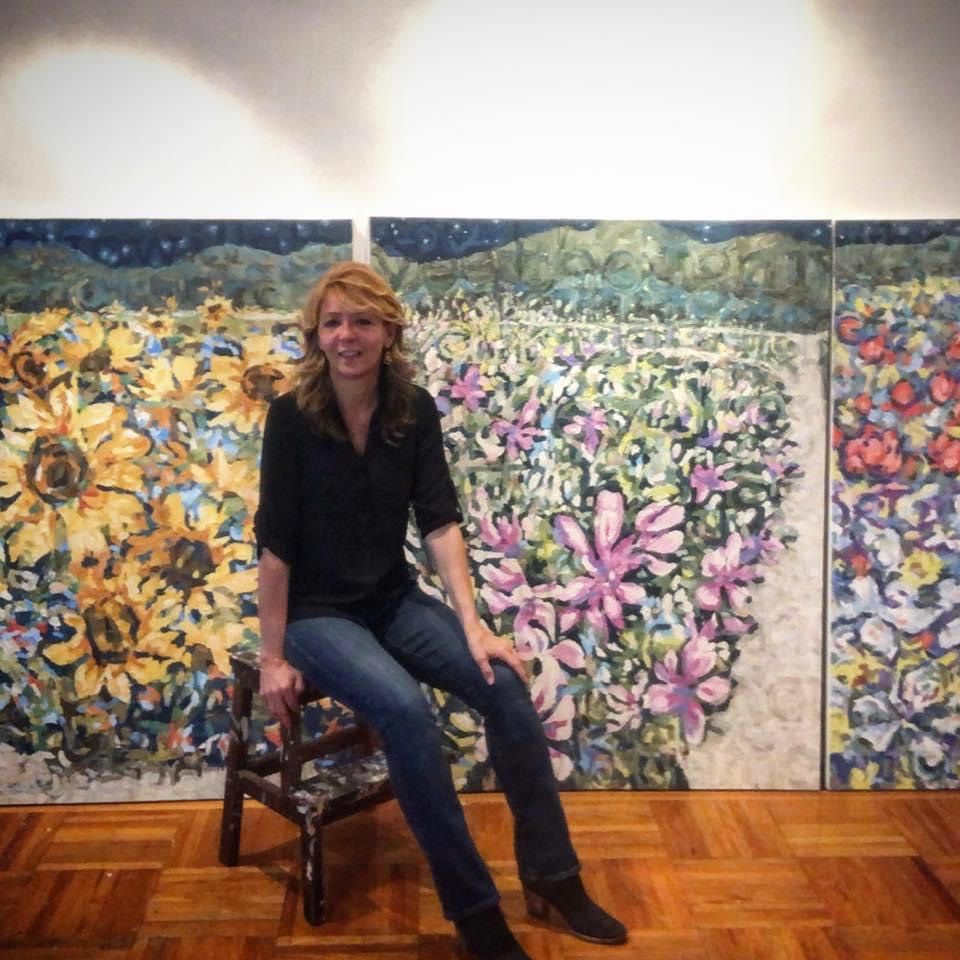 When I asked Kirsten when she knew she would be an artist, she quickly related that her grade one teacher recognized her talent at age six! "I think I knew right then," she said. After high school, Kirsten was a scholarship graduate from Columbus College of Art and Design in Columbus, Ohio.
After graduating, she took off for New York City, where she designed and provided layouts for carpets.  This was followed by designing fabric for children's clothes.
Returning to Ohio to raise her family, she worked through her 30s painting murals and faux painting.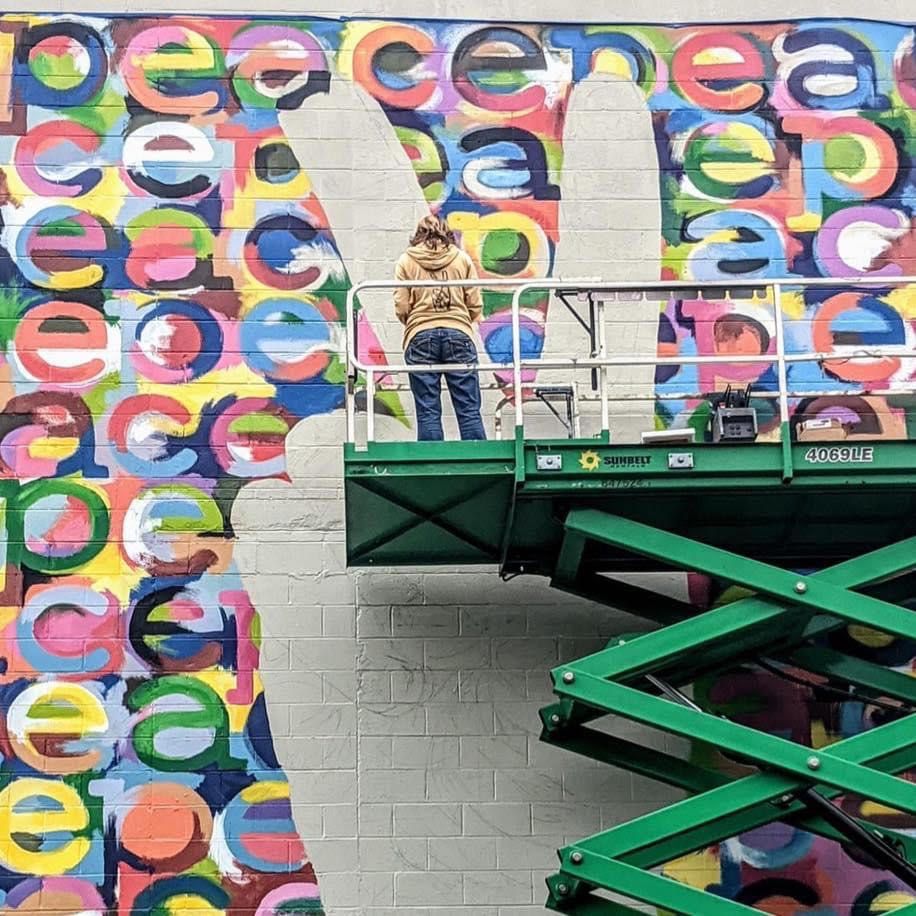 Of course, once I met my "WOW" artist, and she graciously sent photographs of her work, I wanted more. Google, Pinterest, Instagram, even YouTube – where I found this 35-second video of her signing a piece a giant mural.
In 2004, Kirsten opened a gallery in Bexley, Ohio, representing herself and other emerging artists. She went on to explain that "As an empty nester, I picked up my dream of working once again as an artist in NYC." She soon had solo museum exhibitions, including the Coral Springs Museum of Art in Florida and the Evansville Museum of Arts, History and Science in Evansville, Indiana. Another high point in her career was being the Ohio New Albany Symphony's artist in residence for 2017-2018.
Today, Kirsten's work is in many corporate and private collections in the US and abroad. She is represented by the Feldspar Gallery in Savage, Maryland; Apropos Showroom in New York City; Marcia Evans Gallery in Columbus, Ohio; Paula Estey Gallery in Newburyport, Massachusetts; the Bonfoey Gallery in Cleveland, Ohio; Ocean Blues Studio in Key West, Florida; and the Rumjahn Gallery in Evansville, Indiana.
Below are samples of her work – so to TI Life readers, "enjoy" and to Kirsten, "please come back to visit your cousins more often, and of course, bring your easel."
---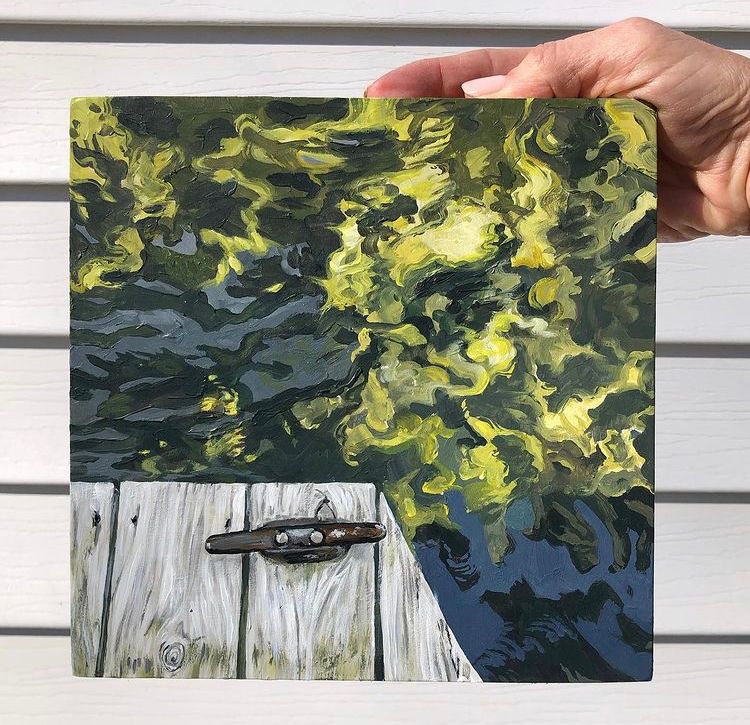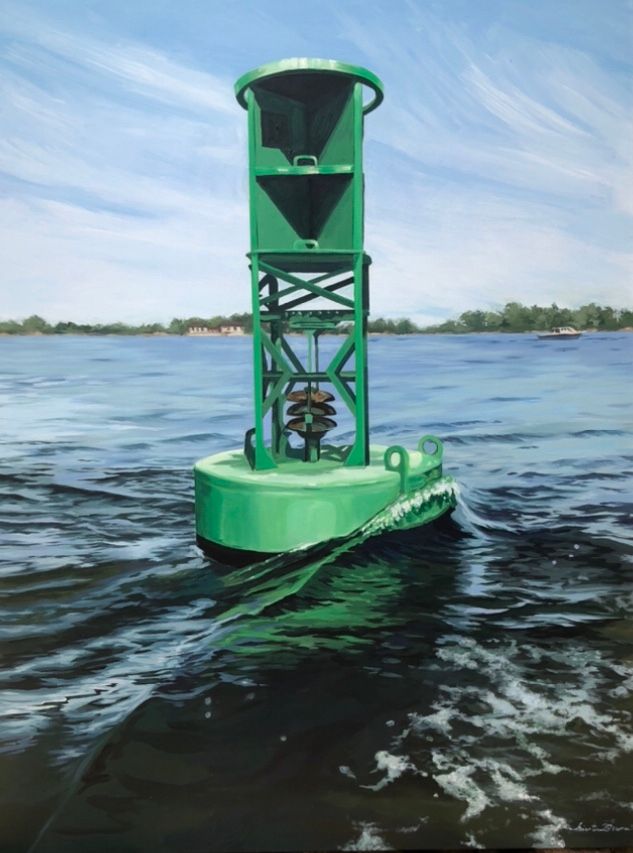 "I am open to adding channel marker numbers for buyers, but I'm most interested in creating the feeling one gets when approaching a buoy in a boat . . . feeling the waves lapping up, and setting it into a rocking motion. The buoys are like monuments in the sea, and represent different things to different people. Some of us have scattered ashes near buoys, so we can return to honor those we have lost.
On a lighter note, my family legend claims that my grandfather once wrecked his boat on marker 221 off Huckleberry Island in the dark. Other times, the buoy simply marks a location near and dear to our hearts. That being said, I still hope first to create less of a depiction of a specific buoy, and more of a universal feeling. I think I am accidentally becoming "The painter of buoys!" lol."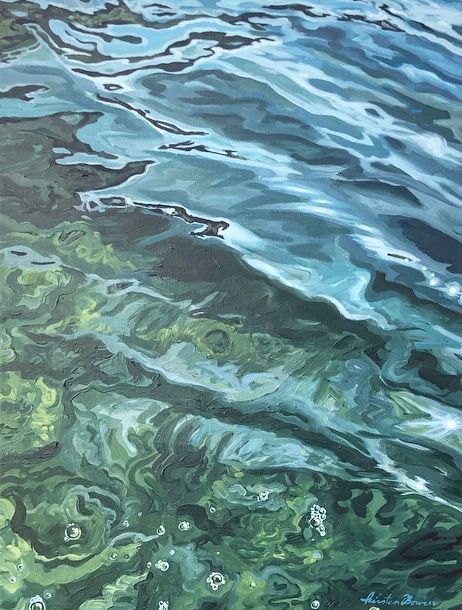 This painting was sold and headed to Ontario after the Thousand Islands Arts Center 2021 exhibit.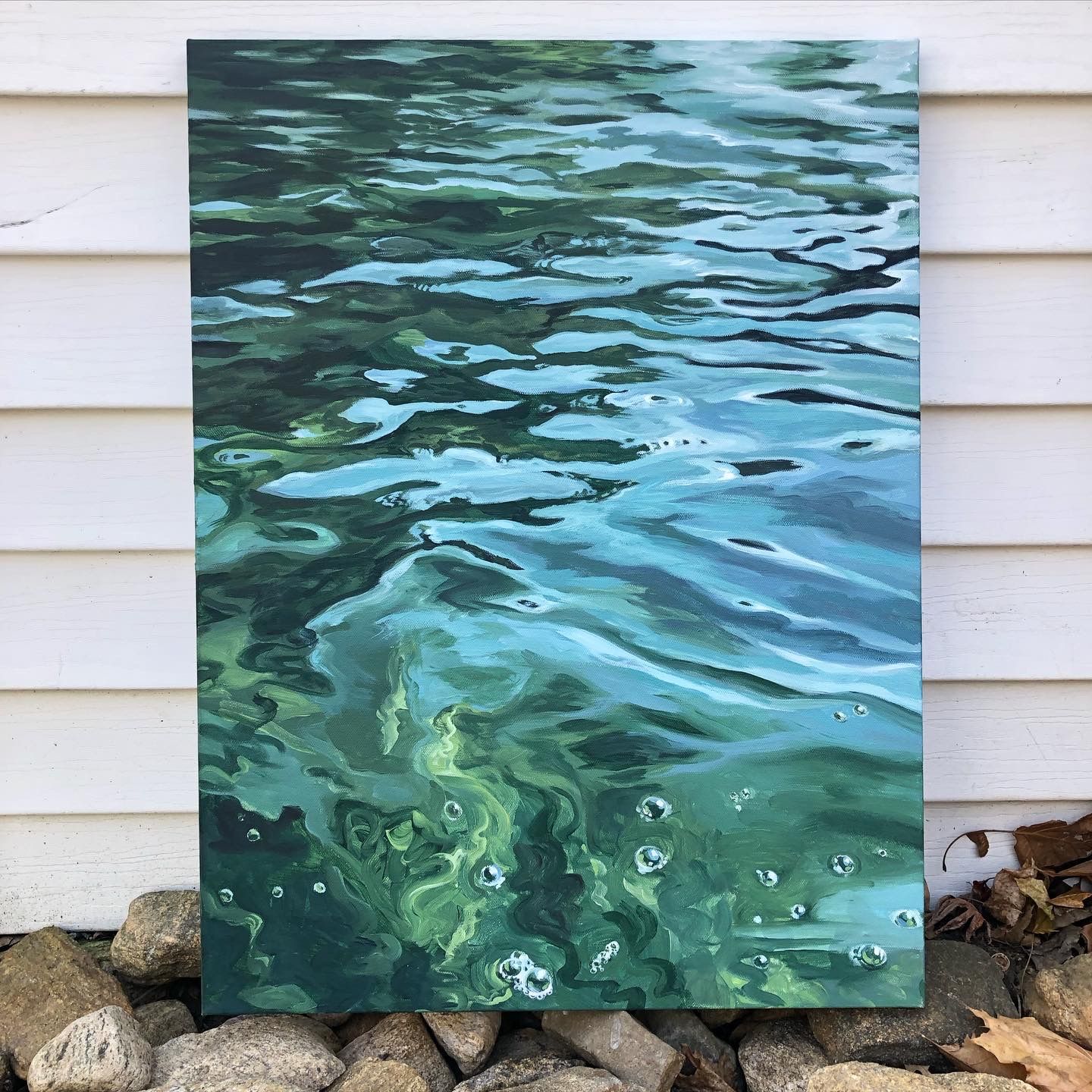 "Both water reflection paintings are from a video I took in the fall of 2020. I am pleased that both paintings were sold on either side of the St. Lawrence River's water, thus like the River, international."
"The series of paintings called the "Nautical Series" are paintings on cradled wood panel, painted in the wheel house of a down-easter during the pandemic. These mark the birth of my more photorealistic work. I suppose I have a constant need to be painting, and found a way to adapt to traveling on a boat and being away from my studio. I wasn't sure at first if I could pull it off. I think it went ok. I believe there is just one more available."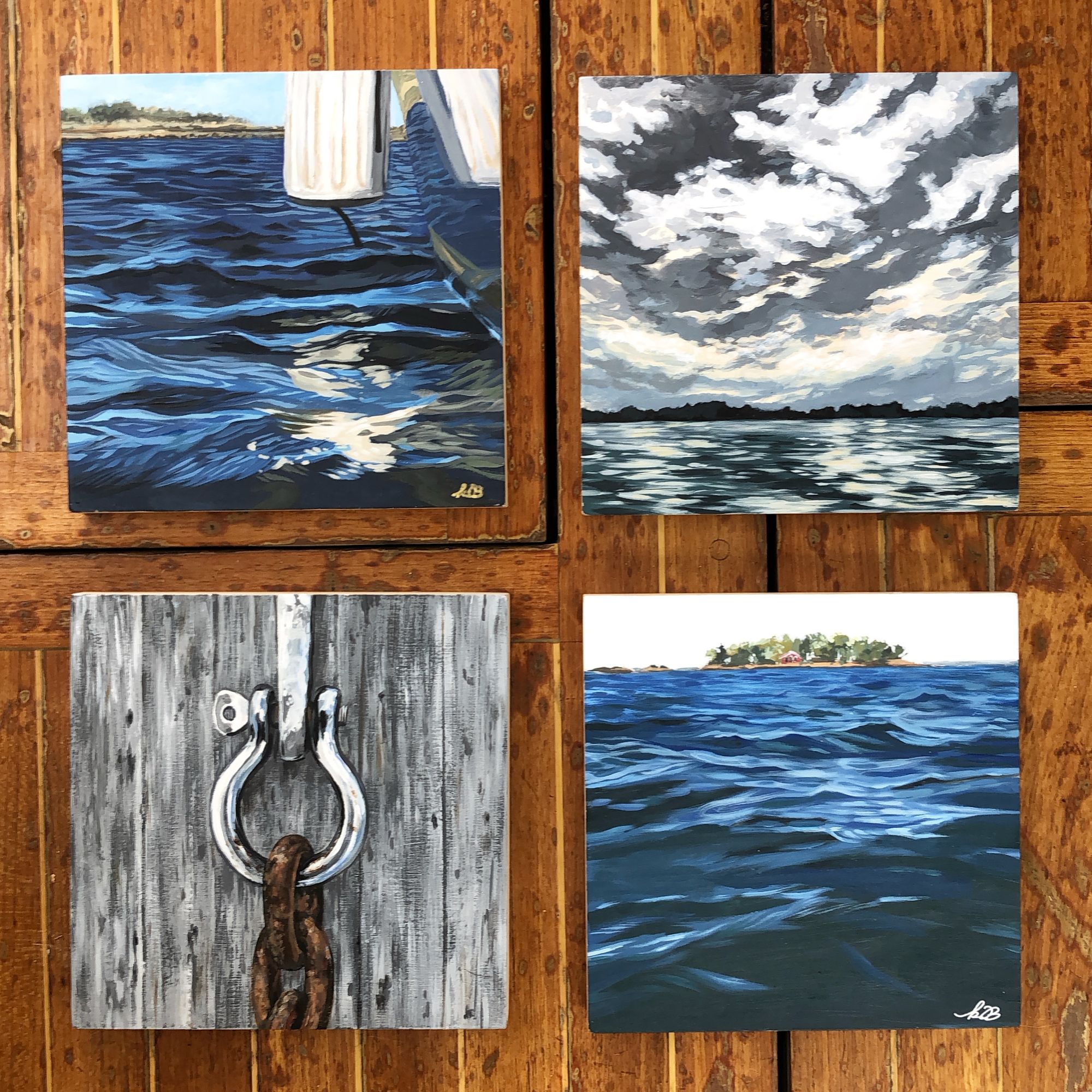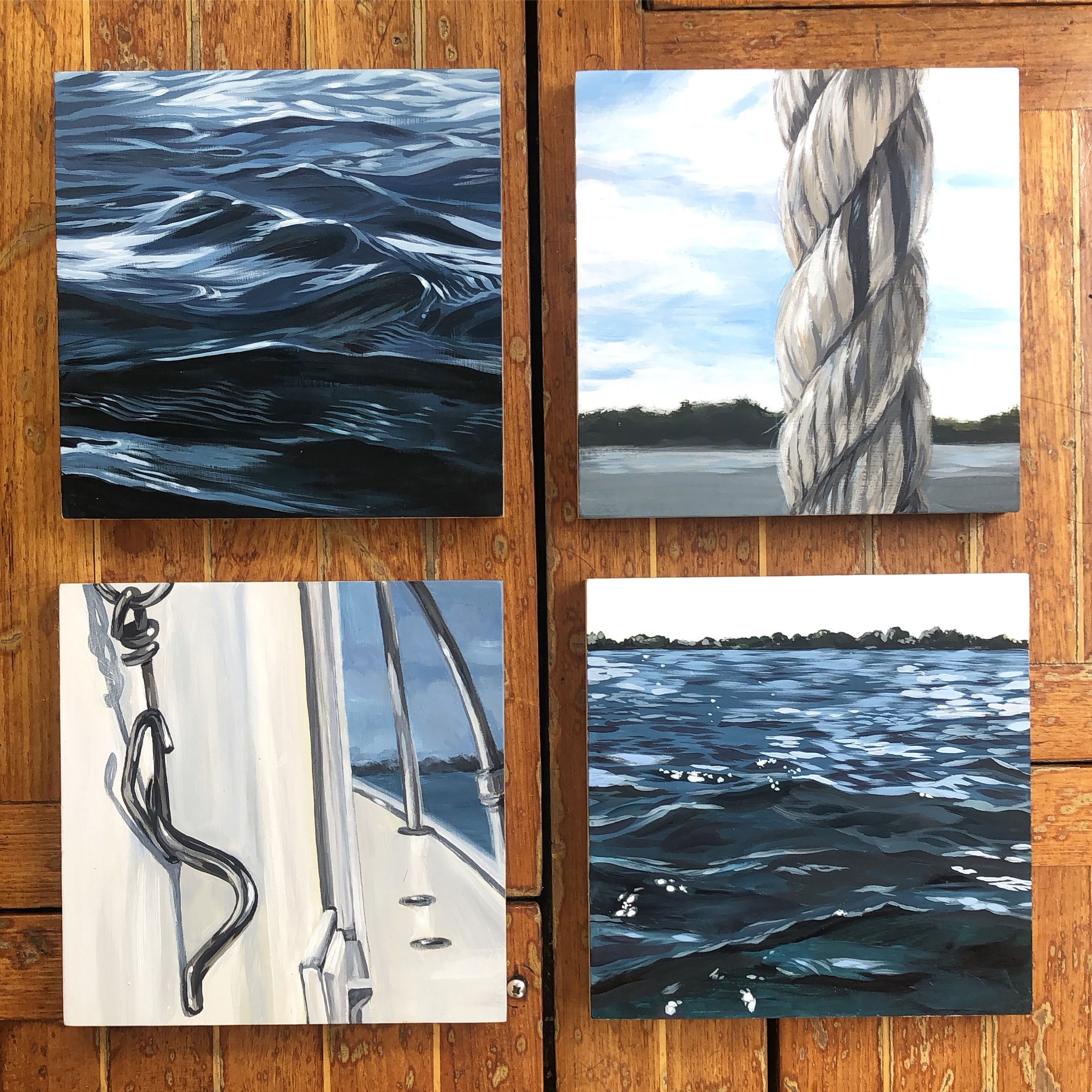 ---
Therefore readers, if you want to see more, be sure to "poke about" on the internet and you will be pleasantly rewarded:
Instagram.com/KirstenSwansonBowen
Facebook.com/Kirsten.S.Bowen
---
By Susan W. Smith, Editor, TI Life.  Info@thousandislandlife.com
Posted in: Volume 16, Issue 7, July 2021, Artists
---
---
---