So, who loves you? I'd say a good place to find the answer is from someone who belongs to the Order of Missionaries of the Sacred Heart.
I sat down for a heartfelt conversation with Father Ray Diesbourg, who has recently been assigned to shepherd St. Vincent of Paul Catholic Church in Cape Vincent, NY.
We spoke by phone for the interview.  From his first word, the warm heart developed through many years of missionary work was very apparent.
Father Ray, as he likes to be called, moved here from a suburb of Chicago. He spent more than 35 years in the Chicago area, teaching in seminary for 10 of those years. From his headquarters there, he was the leader of U.S. missionaries for 9 years. He describes it as being comparable to a C.E.O. He also oversaw missionaries in Colombia, South America. He spent 17 years as Development Director in Aurora, Illinois. He talked about the unique experience of being the one to oversee raising financial support for missionaries and their work in far-flung corners of the world and in the continental U.S.  
From 2005 to 2011 he also served as a pastor in Philadelphia, Pennsylvania. Several years ago, he became aware of a need to find a replacement for Father Aubin in the three-church parish known as Catholic Communities of Rosiere, Cape Vincent and Chaumont and began a search for just the right person. Father Ray never imagined that he himself would become that replacement. Over time, his superior suggested he think of himself as that replacement and the seed was planted, so to speak. He retired from his leadership position with the U.S. Missionaries and recently moved into the Catholic rectory in the Cape.
An earlier seed was planted when Father Ray was a ten-year-old altar boy. His priest at the time asked him if he might consider becoming a priest someday. While not having thought of it before, he grew comfortable with the thought, and by age 19 joined the Order of Missionaries of the Sacred Heart in 1967. It was several years before he made his first acquaintance with another member, Pierre Aubin.  And, the rest is history. The two had several things in common, including having French as their first language.
Father Ray was born into a French-speaking farming community in Ontario. His parents, married 73 years, still live in London, Ontario. They used to visit him wherever he was on assignment, but now he travels to visit them. Father Ray is the oldest of eight. As a child, Father Ray had the typical domestic pets. With his mission work taking him to Africa, South America, Papua, New Guinea, Australia, and much travel around the U. S. and Canada, he finds shepherding people to be the wiser and more rewarding use of his time and resources.
I asked Father Ray which of the four languages in which he converses has been most useful in his work. He said English was most commonly spoken by the majority of inhabitants among whom he's worked.  Spanish was the second most common and French third. He had to learn Italian for his studies in Rome because all his classes were taught in Italian. We discussed that one day, Chinese might occupy that number one spot since China is the largest country in the world.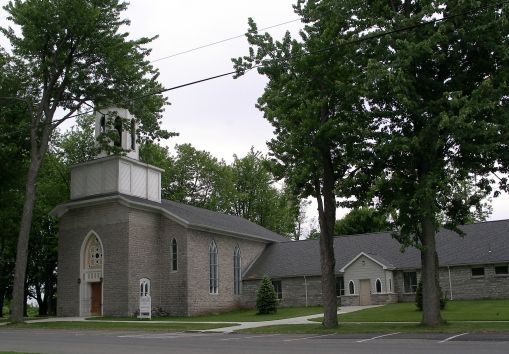 I asked Father Ray to give a little context for readers who might not know that missionaries can be assigned to the North Country. He said the order's mission is "to bring God's love wherever we are sent".  That includes, well, everywhere, even in U. S. assignments. Missionaries work in dioceses and parishes all across the country. Father Ray was involved in making sure the Church's resources were allocated wisely according to a locale and its particular need. He said India has many priests, but fewer assignment locations, while the North Country has a need for more priests than are available locally. Watertown currently has two priests from Indonesia. He said training for priests to deal with different cultures in particular locales and developing a missionary mindset is part of seminary training.
These days, Father Ray concentrates his time on being full-time priest to a three-church parish. Father Aubin is semi-retired and helps out as needed. I asked Father Ray what he would like to say to his new communities here. He was quick to say the most important thing was to say thank you for the way people have welcomed him with friendliness, openness, and immediate acceptance. He said it felt like there was no "adjustment time" and that he was accepted into the communities seamlessly, for which he was grateful.
On behalf of the members of Cape Vincent Chamber of Commerce and the surrounding communities, that makes our hearts happy, and we feel your heart for us.
by Linda Rowe
Linda Rowe retired to the Thousand Islands region in 2008. after careers in public government and school districts. She writes, "Her hope is to do good with her pen and perhaps make readers chuckle along the way."  And she does.
Linda is a member of the Cape Vincent Poets and Writers Ink group. She has written several articles and poetry for TI Life. She reports she is" happily and lengthily married to Tommy. All the children have flown the nest and all the pets have been laid to rest."
[Written by Linda Rowe and originally appearing in What's Happening in Cape Vincent 13618 notice to the community March 23, 2018.]
Posted in: Volume 14, Issue 4, April 2019, People, Places
---
---
---