Ever wonder what inspires an artist to create his or her work?  I do because I am envious when I see their creations and I know I could never, ever, make something as beautiful.
That is how I felt when I saw the work of multi-media artist, Heron Hetzler. Of course, I was attracted to it immediately, as I saw so many tiny objects – objects that I love – jewelry pieces, tiny knick-knacks and buttons! (You see I collect antique buttons and never met a button I did not covet).
I met Heron through her father Paul Hetzler, one of our TI Life authors.  When he saw my collection, he said his daughter would love to see it too, and before long Heron and I could be found rummaging through my collection, finding treasures she may use in a future piece.
Heron lives in the North Country, near Potsdam, NY.  She is a 2016 graduate of St. Lawrence University with a Liberal Studio Arts Degree. Her Artist Statement, explains her methods,
"I use primarily recycled and second hand materials in my work. Its important to me to be environmentally conscious and keep my consumption of resources as low as I can. I also like that second hand materials all have a history and story and are usually far more visually interesting than if I just went out and bought new things."
Not only does Heron create magnificent wall pieces, but also unique jewelry. I welcome you to join me in a virtual tour… I know you will delight in the colors and creativity… and the buttons!  Enjoy.
Heron's  work is currently shown at a restaurant in Potsdam called Foster the Plant. In the past, she has shown at the annual St Lawrence County (SLC) Arts Council Studio Tour, SLC Arts Council Member Show, Jernabi Coffee House in Potsdam, a RAW Artists show in Boston, and various local art and craft shows across the north country.  
She sells her work on her Etsy site www.etsy.com/shop/HeronArtDesign, and she can be contacted about purchasing other works through her website at www.heronartdesign.org.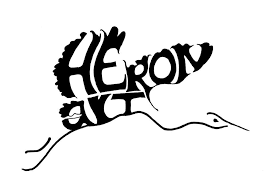 Please join me in thanking Heron for sharing her work, and I look forward to seeing her unique logo often  in the future.
By Susan W. Smith, Editor, TI Life  
Posted in: Volume 14, Issue 12, December 2019, Artists
---
---
---