My husband and I met in Clayton 17 years ago'. Our love for the area brought us together, and nowadays, we have two children that also experience the joy and delight that The River has to offer. The way we see it, The River is not only in our lives but our way of life!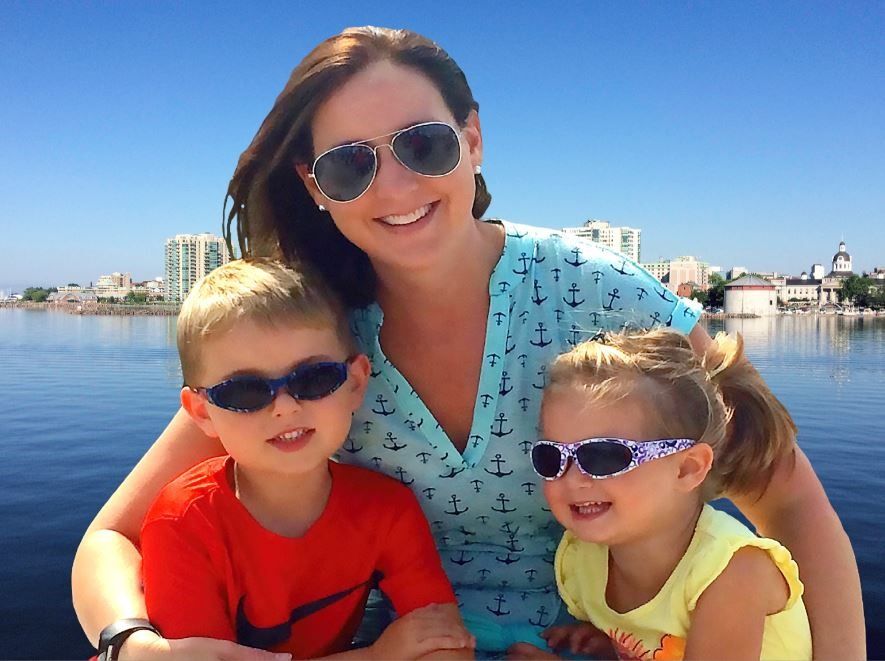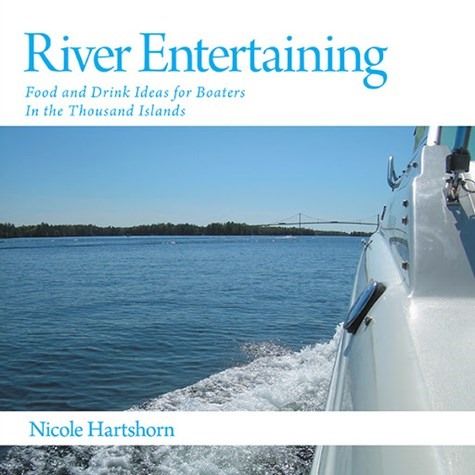 We spend our summers aboard our Sea Ray  330 Sundancer, named "Our Wedding" that we dock at a beautiful marina in Clayton.  We are proud to call Clayton our 'home away from home' every summer.  Over the years, I feel I have somewhat perfected the art of simplicity.  Having a family of four living in a living in a boat has its challenges!
This is why I have collected very easy food and drink recipes for entertaining on a boat, with minimal ingredients and minimal preparation; allowing for the obvious limitations of kitchen appliances available.
I would like to invite you aboard to join us for some of our adventures and have some laughs along the way.  Nothing complements the laughter of family and new friends like great food and drinks, so let's get cooking!
Over the winter, I look forward to serving up some favorites! Try them on a weekend in the North Country…in a ski chalet or at your beach house.  Better still, on a boat!
River Gal's Galley: Ham Grindstone Grinder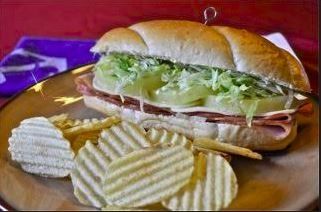 While my kids play with their sand toys, squirt guns and remote-controlled boats, my husband's favorite water toy to play with is our Sea Doo. He claims he likes it for the speed, but I'm pretty sure he likes it for the solitude it gives him. Coincidently, he only seems to want to ride it when the kids are fighting.
Knowing that The River provides endless exploration, I plan on Captain Tom being "out at sea" for a good portion of the day, so I usually pack him a "Grab n Go" lunch to take with him.
This issue's recipe has a simple tropical twist to a simple American classic, the Ham Sandwich.
---
Stock your galley with:
· Your favorite kind of sub roll
· ¼ lb. of Honey Ham from your local deli
· 3 slices of Mozzarella cheese
· 3 pineapple rings (I use canned pineapple. With 2 small kids aboard. who has time for the real deal… or a shower for that matter)
· Shredded lettuce
· Honey mustard
Cut open your sub roll lengthwise and spread a thin layer of honey mustard on each side.  Layer your honey ham, mozzarella cheese, pineapple rings and lettuce.
Wrapping the sandwich up in foil will make a good "Grab n Go" lunch for that family member, who's out playing with their toys!
By Nicole Hartshorn, "Food Ideas for Boaters"
About River Entertaining:
From recipes to product reviews, Nicole Hartshorn (The River Gal) is featured in every issue of "The Great Lakes Scuttlebutt" Magazine and has also been highlighted in Sea Ray Living.  Friesen Press published a collection of her "Thousand Islands themed recipes" in 2014, titled RIVER ENTERTAINING, and has been a great galley reference ever since!
Interested in trying more of The River Gals recipes or know a boater who would be?  Nicole's book RIVER ENTERTAINING is available for purchase on Barnes & Noble.com  or at Friesen Press.com/book store, search River Entertaining on Amazon.
---
Comments
Comment by: John Sause
Left at: 7:38 PM Wednesday, November 14, 2018
Nicole thank you for sharing your Ham Grindstone Grinder sandwich and your love of the river. It is always great to hear how the river brings people together.
Posted in: Volume 13, Issue 11, November 2018, Sports, People, Places, News article, Book review
---
---
---