Getting to the Thousand Islands and the St. Lawrence River can be challenging, unless you live in Syracuse or other nearby central New York towns or cities.   Whether by commercial airline or driving, getting here can be expensive by plane, or take many hours by automobile.   My family used to travel from our home in Pittsburgh, PA to Clayton, NY, by train in the late 1940's and early 1950's.   We would board a passenger train in Pittsburgh on a Friday afternoon around 5 pm.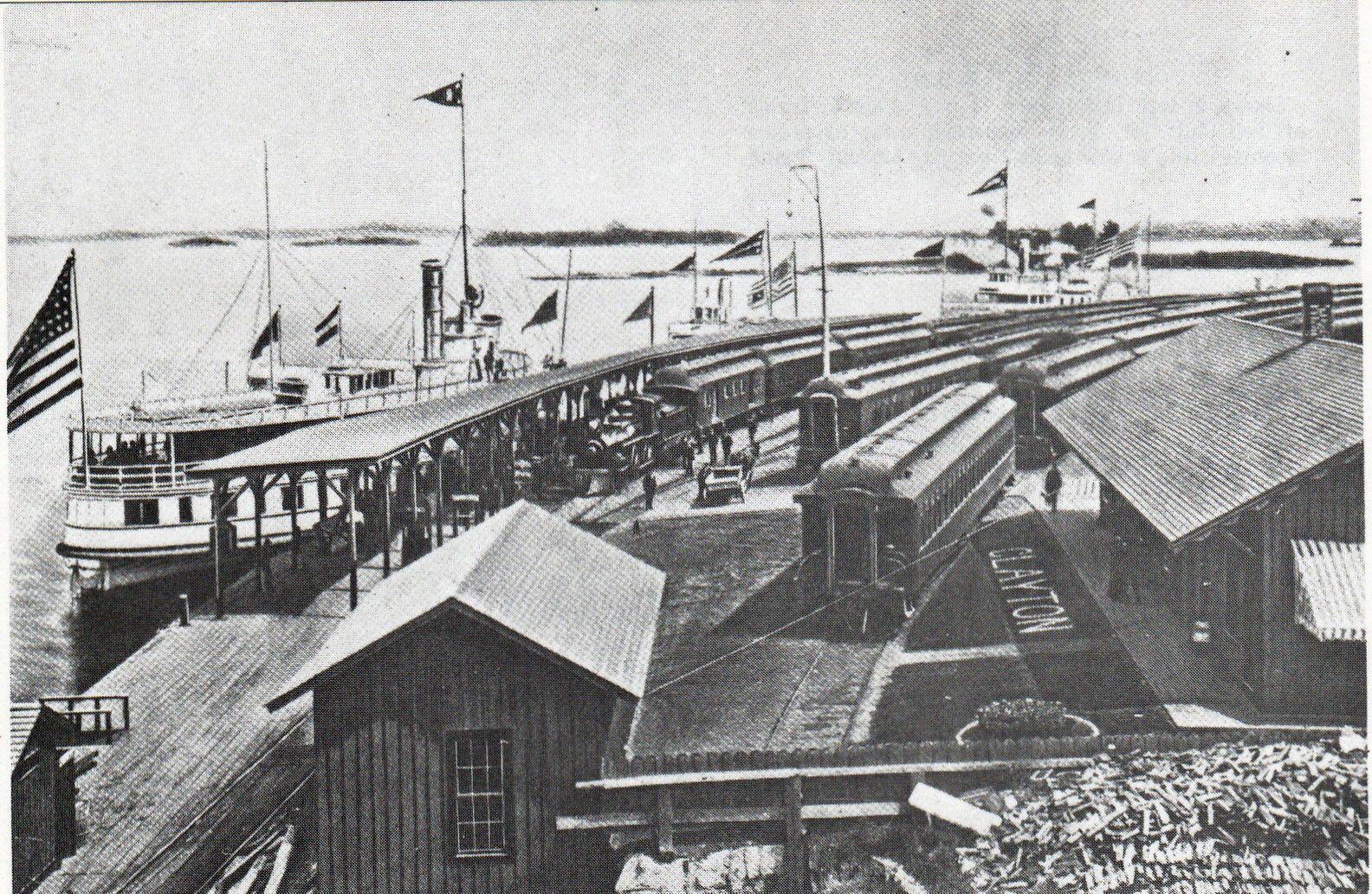 We arrived in Clayton the next morning.   Union Station in Pittsburgh is a lovely concourse, and was bustling with travelers. (see photo below)  Porters would pile your luggage on wooden handcarts, and load them on the Pullman car, into your compartment, or into the luggage/mail car.   The vaulted ceiling of the station would echo with announcements of arrivals and departures.   The size of the locomotives and train cars was amazing, as you walked beside them at ground level.  
After boarding and departure, my parents would go to the Club Car for a cocktail.   As I recall, it had comfortable seats and couches, a bar, and servers in white jackets. Smoking was permitted, and sometimes there was recorded music such as Frank Sinatra or big band songs.  A few times a small piano offered live music.  My brother and I would watch the Pennsylvania landscape go by, as we traveled north toward Lake Erie.  
Compared to today's travelers, people back then dressed much more formal.  Men and boys wore coats and ties, and ladies and girls wore dresses or suits.   Hats were often worn by both men and women while traveling, and top coats, if the weather was chilly.   You saw no flip flops, tee-shirts, cutoffs, jogging attire, and other casual clothes seen today on planes, trains, etc.  
Our Pullman compartment had front and aft facing settees, and a small lavatory.   There were two windows, and there was even a small compartment, where you placed your shoes before bedtime, and by morning, they returned with a professional shine.   And during dinner, the porters made up the compartments, into upper and lowers berths, which slept a total of four.
Dinner was in an elegant dining car with white table linens, fresh flowers, and porters wearing white gloves. The china and silver had the New York Central logo as I recall.   Menus offered several choices for each of the courses.  And my brother and I loved the hot fudge sundaes for dessert. The waiters were very attentive and friendly with great smiles.
Sleeping was an adventure as the train cars swayed, and the sound of the wheels clanging at each grade crossing.  The locomotive's whistle was blown at all crossings, too.  It was hard to not stare out the windows as the lights of towns, villages and cities went past. During the night, the train was re-configured, and cars were rearranged for the trip toward the River.   Sleep was hard as you felt and heard the Pullman decoupled and recoupled to the next locomotive.   I think this happened in Buffalo or Rochester.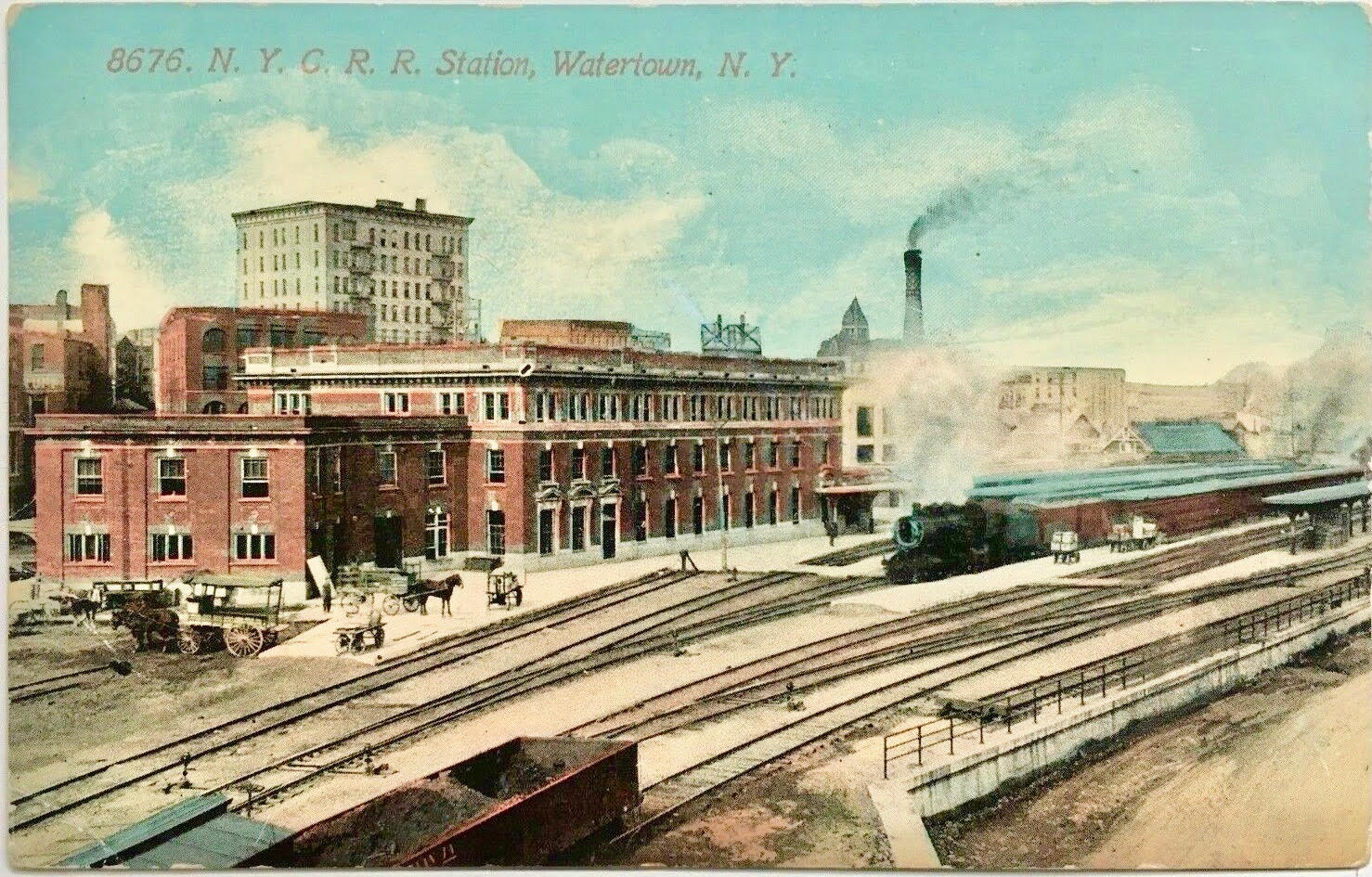 The next morning, we had a hearty breakfast back in the dining car.   Pancakes were a favorite. My brother and I got more excited as we got closer and closer to Clayton. Shortly after breakfast, we arrived at the station in Clayton, which is now Frink Park. My recollection was that there was not much of a station, but it did not matter as the River beckoned us.  There were several tracks at the Clayton station, as coal cars sat on sidings to be offloaded in the tipple, to fuel lakers and freighters.    The smell of the River was a welcome change from the scent of coal and lubricating oil from the steam locomotive.
Our boatman would be waiting for us at the village dock which was a short walk from the station.  The porter from the New York Central would load our luggage from train car to a large wood cart, and walk it down to our boat.   And if a freighter was in port for loading coal into her bunkers, its length would stretch over much of the entrance to the village docks.  And as coal ran into the ship, it was very noisy and a bit dusty.   Sometimes, we would have a shopping list from our cook Alice Rusho, for the IGA Burn's market in Clayton, to take back to "The Orchards".   We also maintained a meat locker near the station, as we were still on a generator on Grindstone up until 1955.   So, we often picked up some steaks and roasts for the stay on the island.
During the heyday of train travel to the River, I read that fourteen trains a day arrived in Clayton during the Summer season.    With opening of the interstate highway system and I-81 in New York in about 1957, the drive time from Pittsburgh to Clayton was cut from 12 or 13 hours, to only 7 or 8.   Therefore, train travel slowly but surely disappeared forever as an option to the North Country.    Driving by car was not nearly so exciting, but it allowed you to travel at your own schedule.  Eventually my father, Dan Casali, and his business partner, Harry Werksman , purchased an airplane that allowed us to fly from Pittsburgh to Watertown in 2.5 hours,  and then a taxi ride from the Dexter/Watertown Field to Clayton got us here in about three hours of total travel time.  Therefore, we could be at our cottage on Grindstone Island in a fraction of the time it once took by train.  

The railroad tracks have been lifted decades ago, the Clayton station is gone, and the New York Central system is history.   The design of the Frink Park structure today mirrors the old train station thereby sparking memories. As travelers no longer have the option of rail service to the North Country, which is unfortunate in my view. Summer residents and visitors must rely on automobiles, or for a lucky few, aircraft.  Gone is rail travel to the Thousand Islands and other parts of the North Country, but it not forgotten, by those of us who got here by train.  
By Rick Casali
Rick Casali is a resident of Wellesley Island.  During his youth, his parents had a cottage from 1947 to 1965 named The Orchards on Grindstone Island.  Rick now splits his time between Stuart, Florida and the River.  He was with Columbia Gas System for 29 years, and ran their Washington, DC office. Then in 2000, he started brokering boats and yachts, and continues as a broker with North Point Yacht Sales.  Rick and his wife Anne cruise the River in a 26' Lyman "Turtles", and a Seaway 21 center console as well as a catboat named "Tango".  They live on Tennis Island North on Wellesley Island.
Posted in: Volume 14, Issue 2, February 2019, History
---
---
---