In August 2020 I wrote the following in my article, "This month Bill Stallan, our "comma policemen," as I call him who has worked on every issue of TI Life as far back as I can remember, took seriously ill and is still in the hospital. Bill, I want to express my personal thanks for your enthusiastic work on each and every TI Life issue. Your ability to catch so many of my mistakes, and most of all, your infectious personality has made my work as so-called editor, very easy.  I miss you, for sure... Get Well and Hurry Back!
Sadly, this month we learn that Bill Stallan died on October 1, 2021. Throughout his hospitalization his wife, Penny, was at his side. Those of us who knew Bill will remember his sense of humour and as his daughter says, "his legendary antics." I have mentioned Bill each month as I thank our TI Life Team. I hope he knew how much we appreciated him.
TI Life Team
On the good news side, did you know that there's a team working for you? First, I am the Chief Editor, which means that I decide the content and set the stories on our software. The software is managed by our brilliant IT Magician (for 17 years!), Mike Cox. Elspeth Naismith is the "real editor" (copy editor), who is responsible for syntax, grammar, and more. We have three terrific proof readers: Dane Zabrisky, on Princess Charlotte Island; Georgia Barker, formerly of Cape Vincent; and Rick Taylor, on Bateau Channel. Lyne Roberge on Raleigh Island, (yes Lyne is the widow of the late Ian Coristine) posts our Events. Last month, we had two new additions to the team: Jennifer Caddick, of Clayton joins us for our Social Media as did Beth Lavos posting our newest books! From this editor and from all our readers, thank you team!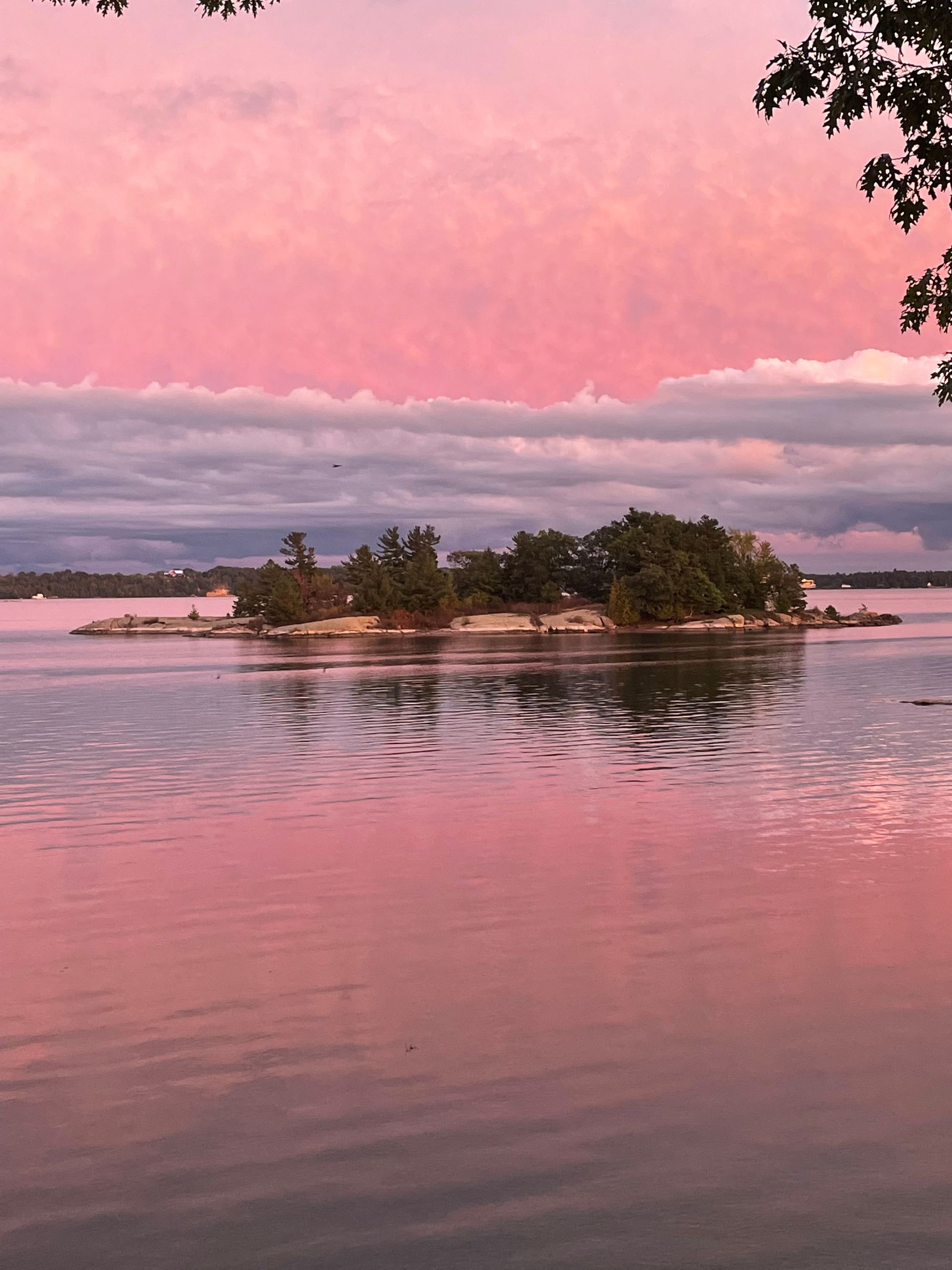 COVID Update
"We have had our two shots!" we say proudly. In fact, my husband greets friends and family with two fingers held high! Having two shots means that we can (with masks and other Covid precautions), safely visit friends and family. Of all counties in Ontario, Leeds and Grenville County has the highest vaccine rate of 90+%. Bravo friends and neighbours!
The US statistics for Jefferson County, NY, are not as good, but they are getting better. According to a Channel 7News report on October 5, "Some good news; of people eligible to get vaccinated, just over 72 percent of the people in Jefferson County are fully vaccinated, and 85 percent have had at least one shot." The article described how most of those in the region hospitalized with Covid 19 have not been vaccinated.
And . . . the US Border is going to open in November to Canadian travelers wanting to enter the US by automobile. It was ludicrous as Canadians were allowed to fly into a US airport but not drive. We still do not know what Canada will require when Canadians return after a day trip to NY State, but it may be the same as now, which means a negative Covid test within 72 hours of wishing to re-entering Canada.
Readers Photographs
What a lovely summer for photographs.  Anne Phillips sent us these.
Jeff Staples sent us drone photos of the Admiralty Islands and Wanderers Channel.
Small World Story
This month Dr. John Carter received an email from a retired Queen's professor who lives on Howe Island. The professor, Dr. John Berry, appreciated Dr. Carter's research about the Patriot's Rebellion of 1838. (See also) Dr. Carter suggested he would notify me, Susan Smith, as the editor. Dr. Berry said he thought he knew Susan Smith and that the two of them had grown up in the same village in Quebec. I wrote to say if it was Woodlands (Now Ville de Léry,) on Lake St. Louis above Montreal, then sure enough... and sure enough it was! Professor Berry and his wife, both long-time friends of the Smith family, are reunited.  Amazing as this Susan Smith can see Howe Island from my library window!
Please do not forget
Want to support TI Life by donating the price of a cup of coffee or a tank of gas? Donations help us with updating software and support our mailing program.
US residents: Support Link and Canadian residents:  Support Link.
By Susan W. Smith, Editor, info@thousandislandslife.com
Special thanks to the TI Life team, proofreaders, Dane Zabriskie, Georgia Barker, and Rick Taylor, and the real editor, Elspeth Naismith. We also welcome Jennifer Caddick and Beth Lavos to the team!
Posted in: Volume 16, Issue 10, October 2021, From the editor, People, Places
---
---
---