"Who lives in that cottage over there?" guests often ask as they point across the water at the cottage across from us on Murray Isle. I have no idea. So strange that I know the name of the cottage and the boat, as it glides past our dock on the way to Chalks Marina, but I don't know the name of the person at the helm.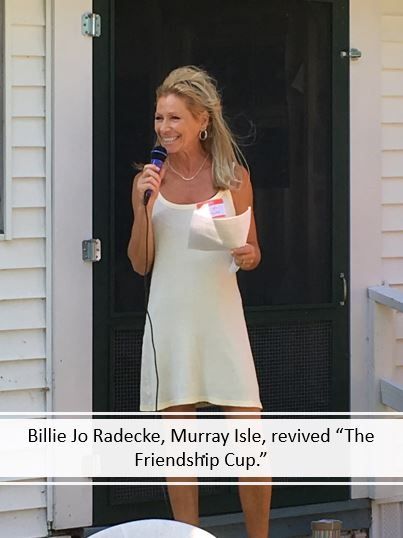 Island life can be, well…insular. So, when Billie Jo of Murray Isle proposed an annual event that would allow area islanders to get together and meet each other, I immediately agreed. The event—The Friendship Cup—would be shared between Murray Isle and Grenell Island. These two islands are the more populated islands of the area; we each have an association, a Community House and the ability to host a crowd. Murray offered to host the first year.
Grenell Islanders were excited. Many had never been on Murray Isle. Ditto this year. Many Murray Islanders had never stepped foot on Grenell and were eager to check out the Grenell Island Community House and take a peek at the Grenell Island Chapel, which we had open for the event.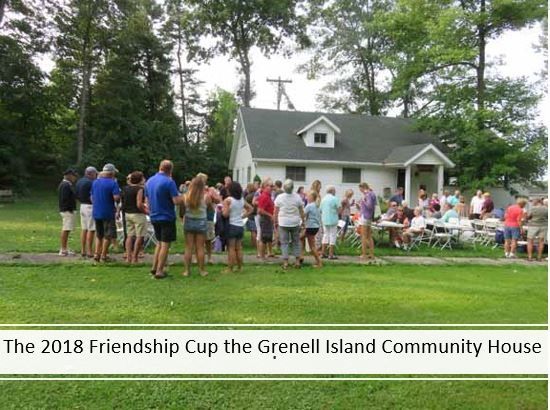 Last year, Billie Jo gave a short talk about the history of Murray Isle and her family's long association with the island. It was then I learned that the Friendship Cup is not a new concept, just a new way of saying it. Back in 1905, the first "Open to All Islands Picnic" was held on Grindstone Island and 140 islanders attended. The charge was 25¢. The annual event alternated between Maple and Grindstone for years, but eventually found a home right on Murray Isle, right where we were holding the first Friendship Cup. Billie Jo revived the tradition.
Preparing for this year's Friendship Cup, I was hard-pressed to surpass Billie Jo's speech. I started as she did by giving a little history of our beloved Grenell Island and our family's long association with it. Then, I decided I would talk about the connections between Grenell and the surrounding islands. Widowed at a young age with two young girls to raise, Great-Aunt Alice built a rental cottage next to her small cottage on our point.  
In 1898, William and Norma Danforth honeymooned in our cottage and rented it for several seasons, before buying a lot at the head of Murray and building their own cottage. Norma Danforth organized the first library on Murray in 1928 and Great-Aunt Alice's daughter, Olivia Pratt, started the library on Grenell in 1934.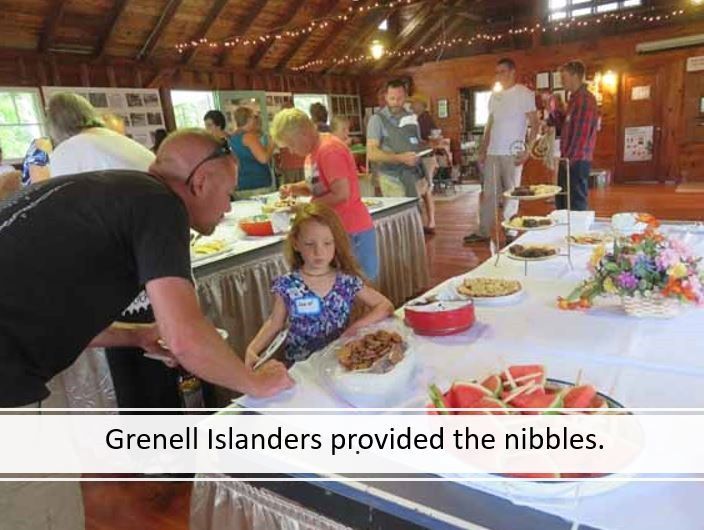 Later, in 1946, Olivia wrote, The Story of Grenell, which was full of stories of romance and friendship between Murray and Grenell. I decided perhaps I should add as many connections as I could between Grenell and the neighboring islands. After I'd gleaned quite a few from Olivia's book, I started asking Grenellians about connections with the islands around us. I found so many: brother across the water from brother; sisters across the water from sisters, mothers on one island, daughters on another; co-workers; ministers and their parishioners. Such an abundance of connections! Too many for me to list verbally, so I thought perhaps I could get a map and represent the many connections between our islands visually. I enlarged a map of the area and started putting lines on it. Soon there were so many lines, that I couldn't see the islands anymore---only the friendship that connected us.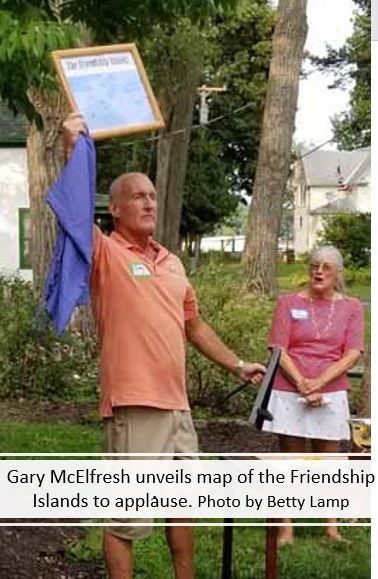 We weren't insular at all. We were a group of islands connected through families and friendship. That's when it hit me: we were the Friendship Islands.
Why not! The Canadian side has its island groups: Admiralty, Navy, Lake Fleet, etc. Why not label our group of islands--the Friendship Islands?
We held the second annual Friendship Cup on August 18th at the Grenell Island Community House. One-hundred and twenty-nine people attended, representing eight islands. Grenell Island presented Murray Isle with a new edition of The Story of Grenell. Old friendships renewed, new friendships forged.
A week later, my husband and I were walking down the dock at Chalks when a woman shouted out, "Gary and Lynn McElfresh from Grenell!" I've seen this face before but didn't know who it was. Ordinarily, we would have nodded politely to each other, not knowing that we look at each other's cottages every day. Now I know that the cottage across from me, On the Rocks, and the boat that goes back and forth between Murray and Chalks, The Mother Ship, is owned by the Charboneaus. You can bet I'll be waving from our dock as The Mother Ship passes by.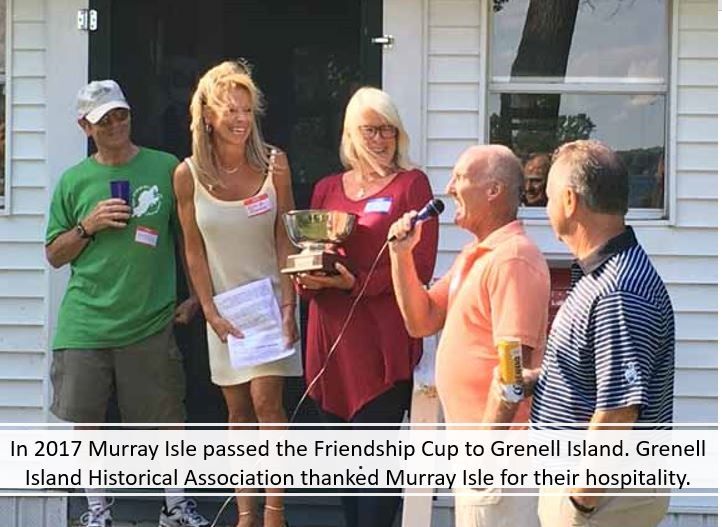 I can't wait till next year. Grenell will pass the Friendship Cup back to Murray Isle when they host the 3rd annual Friendship Cup. Yes, there is an actual Friendship Cup. When Billie Jo first came up with the idea, she wanted a visual representation of the event. The first year it was filled with flowers, this year we filled it with quotes about friendship, and next year…who knows. But one thing for certain, our Friendship Cup is overflowing with the spirit of friendship.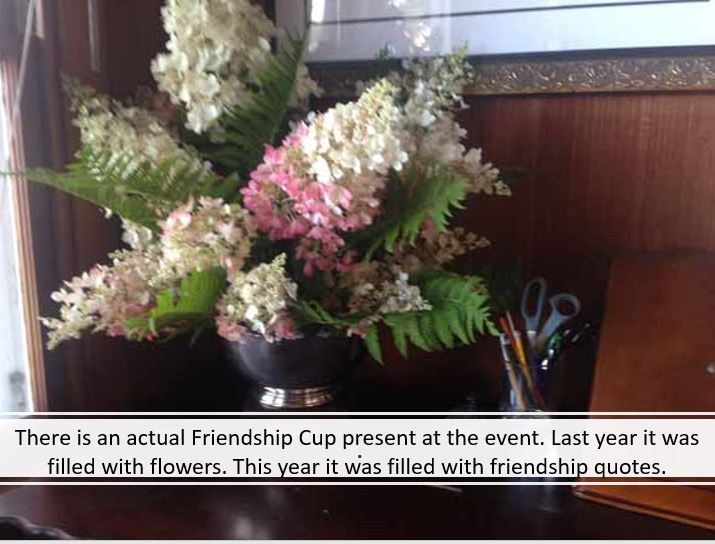 By Lynn McElfresh, Grenell Island
Lynn McElfresh has written 116 articles for TI Life.  This month's  article makes us realize the importance of meeting neighbors – those who  appreciate the Thousand Islands as much as we do.
Lynn often writes about island life.  We have learned a great deal  over the years from her musings, from moving pianos to island weddings,  or from plumbing problems to nature walks and now meeting new friends.  To see all of Lynn's island experiences, search TI Life under Lynn McElfresh.
Posted in: Volume 13, Issue 9, September 2018, People, Places
---
---
---