Patricia Parry has owned her 1948 Chris Craft 24 Sportsman "Forty Love" for many years -- all filled with great memories. This is a love affair between a beautiful River lady and her pretty classic runabout.  Pat, and her late husband Jack, purchased the 1948 Chris Craft in 1998 and have kept her at the family home in Thousand Island Park on Wellesley Island. Fortunately, Pat has a nice boathouse to protect "Forty Love" from the sun, rain, and the elements.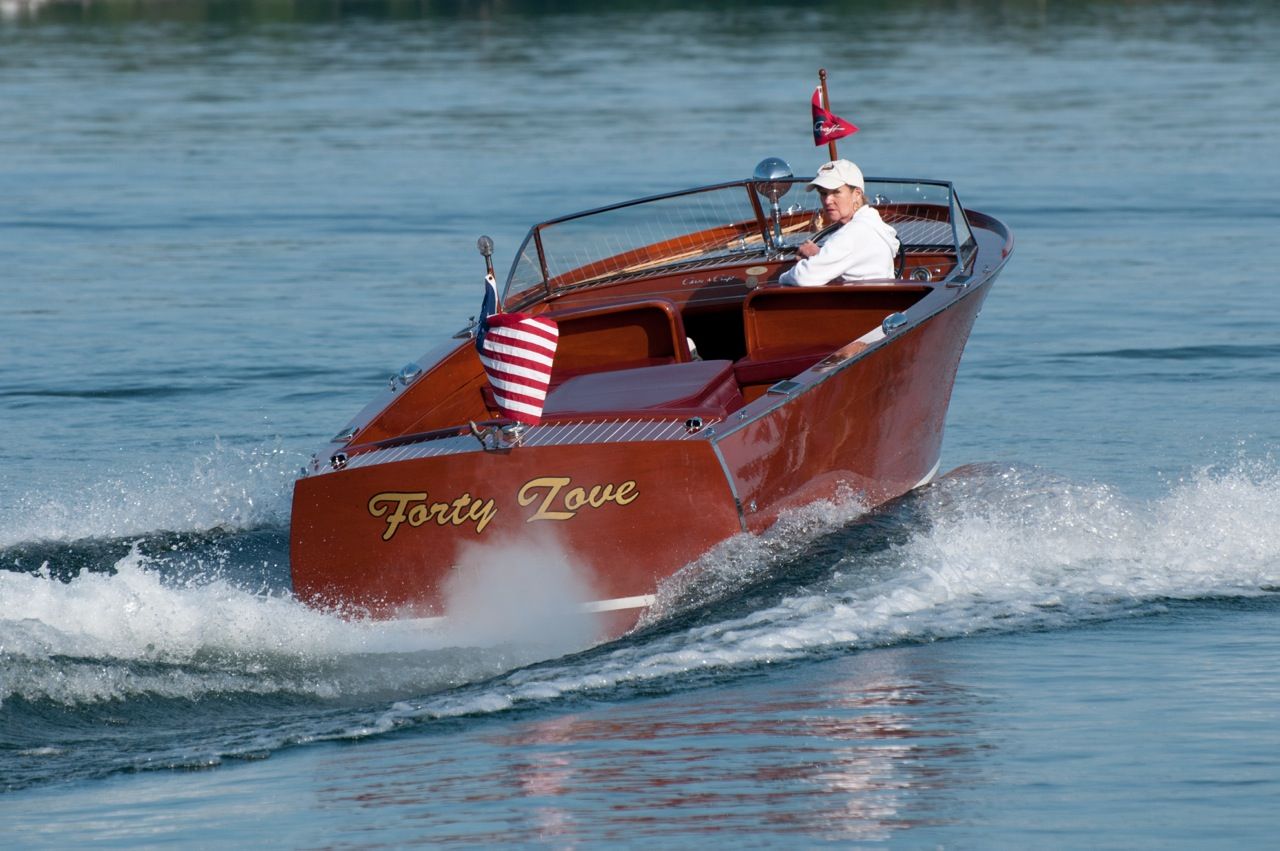 The Chris Craft 24 Sportsman was made famous in the movie "On Golden Pond" with Henry Fonda and Katherine Hepburn. Scenes of the Chris Craft 24 "Thayer IV" cruising the sparkling waters of a New Hampshire lake showed off her graceful lines and abundant brightwork. Plus, the layout of the Sportsman in the movie showed how it could be used for fishing as well as cocktail or picnic cruising.
The post-war Chris Craft 24s had a graceful windshield framed in mahogany or a chrome rim. The latter was not very tall, but high enough to protect occupants from a chilly North Country wind. The option of a wood-trimmed, opening windshield was about twice as high, and provided a means to mount a canvas top. The steering wheel is a classic design from an earlier era, such as a 1938 Ford. The steering wheel is a perfect match to the instrument panel with five gleaming engine gauges. The throttle is on the center of the steering wheel, and the forward/reverse lever rises from the cockpit sole by the driver's left leg.
A Chris Craft straight-six gasoline engine provides plenty of power to get the 24 Sportsman up on plane and at cruise in no time at all. The throaty exhaust note is perfect for a Woodie like "Forty Love." The original engine has been rebuilt by the Parry's, runs smoothly and seems to be loafing most of the time. A nicely upholstered engine box provides a sound barrier to the straight-six and is a perfect place for passengers to sit behind the front seats or to lay out a bite to eat.
The bench seat behind the windshield accommodates the owner/driver to starboard as well as a passenger or two to port. A walk-thru from the cockpit allows folks to get into the front seats without having to climb over a seatback.  A nice touch for "seasoned" boaters!
The 24 Sportsman has fairly high gunwales for passengers, fishermen, and younger boaters. These deep sides are good protection in rough seas, or when trying to land a big pike or bass.  And aft, we also find a full-width stern seat that can handle three passengers in nicely-tufted leather seats.
The sweetest feature of the Chris Craft 24 Sportsman are her classic lines. She has a sharp entry on the bow, set off by a chrome leading edge. From the subtle curve of her sheer, to the gentle tumblehome of the stern quarters that gracefully turns in a bit at the rub rail. This gives the 24 a distinctive look of earlier marine designs.  Thus, we get a slightly pinched-in transom that accents her overall lines.  And of course, the name "Forty Love" is tastefully done in gold leaf.
Gleaming varnish is abundant everywhere on the Sportsman 24.  From the hull to foredeck to the ceilings and seating, there is brightwork most everywhere you look.   Owners had better have a boathouse, as well as an experienced varnish expert, if they wish to protect their investment in a Chris Craft 24 Sportsman!
The foredeck features a chrome spotlight with remote at the helm, and a snappy Chris Craft burgee that waves in the wind at cruise speed.  The foredeck is finished in mahogany with white seams running longitudinally – very yachty!  On the stern, the U.S. yacht ensign is mounted on a varnished wood staff with the stern light mounted atop.
Pat Parry has a great boathouse to protect "Forty Love". But this has both pluses and minuses. The boathouse is a good shelter for her 1948 classic boat, and is also a place for the owner to swim in the River each afternoon. On the other hand, the northwest orientation can make for some hefty winds and waves when things get blowing on the St. Lawrence. Also, Pat occasionally has a family of mink take up housekeeping in the shelter of her boathouse, and they bring in ripe fish for food. But I guess that you have to take the good with the bad!
A few years back, Pat Parry had a total frame-off rebuild of "Forty Love". When she saw the boat upside down in the shop in a large number of pieces, she said she cried, fearing that it would never come back together. From the photos, it is evident that the restorer did an excellent job of putting this classic back in "Bristol condition."
Chris Craft built many of the wood 24 Sportsman models from the 1940s to the 1960s.  Most were single screw, but we found a couple that had twin gasoline engines.  Later models went from the straight-six motor to V-8 power. But they all had the same sweet lines and abundant varnish. Prices today range from $15,000 for a project boat, to $50,000 for one ready for shows.
Regardless of the price or condition, your time On Golden Pond awaits.
By Rick Casali
Rick Casali is a resident of Wellesley Island.  During his youth, his parents had a cottage from 1947 to 1965 named The Orchards on Grindstone Island. Rick now splits his time between Stuart, Florida and the River.  He was with Columbia Gas System for 29 years, and ran their Washington, DC office. Then in 2000, he started brokering boats and yachts, and continues as a broker with North Point Yacht Sales. Rick and his wife Anne cruise the River in a 26' Lyman "Turtles", and a Seaway 21 center console as well as a catboat named "Tango".  They live on Tennis Island North on Wellesley Island.
Posted in: Volume 15, Issue 10, October 2020, Sports, current
---
---
---
Thousand Islands Life Notifications
Subscribe to our notification list, you will receive our monthly email.
---