Fleeing the Great Hunger – From Queen's County, Ireland to Wolfe Island, Canada West - Finding Our GGGG Grandparents

I poked about a village church, and found his family tomb,
And copied out what I could read, in that religious gloom.
W.B. Yeats
Brian Johnson:
During the summer of 1971, I stumbled upon the old Roman Catholic cemetery on Wolfe Island. Working for Bobby White at the time, I was up behind the farm located on the front road just west of Marysville, helping to round-up the cows for milking. Just ahead through a thicket of trees, I noticed old leaning headstones in a clearing. Unkempt, the uneven bush laden ground demanded investigation. No one in my family had ever mentioned this place, located a fair distance behind Sacred Heart of Mary rectory. Even then, something about ancient cemeteries and their history fascinated me. I had to investigate.
Here were many Wolfe Island names I recognized and many I didn't. All the surnames seemed to be Irish, with stones reading 'born in county Mayo, county Clare, and such. Many laying down were almost unreadable. Walking in further, I found three laying on the ground and almost covered in weeds with the surname 'Johnson'. The older folks were 'natives of Queen's County, Ireland,' while the other read 'native of Wolfe Island'. With my hands, I brushed away years upon years of dirt and moss and pulled out weeds covering most of the lettering. Could these be our great grandparents? Relatives? I suddenly remembered the cows and my duties. I hurried off, but promised myself I'd return.
"I've never heard of them," said my grandmother Violet Johnson. "You said the father's name was John and the mother's name was Anne Boylen? Johnny's father's name was Andy. I can't remember Andy's father's name though." When I asked my dad Jack about this, he remembered something about his grandfather Andy Johnson coming from Ireland, he thought. His dad, my grandfather Johnny, never talked about anyone else, he said. And that was it. Dead end.
I didn't visit the cemetery again until 1983, this time taking my six-year-old daughter April with me. Conditions hadn't improved and the grounds were as unkempt and weed laden as I had remembered. Worse actually. This was after my wife, Cathy, suggested I try the Catholic Church records at the Diocese center on Palace Road in Kingston. Everything regarding area family records in the Catholic Church had been copied onto micro fiche. These can be read at the library. The lady said, "Just take your time. The scroll writing might be difficult to read, but you should find what you're looking for."
She was right about the scroll writing being difficult to read. Very difficult. But well organized. Sacred Heart Parish Priest Father Spratt recorded my great grandparents' marriage in the register, Andrew Johnson and Brigette Hogan. It was actually quite readable on micro fiche. Included here were his parent's names: Michael Johnson and Catherine Sullivan. That was the end of that tape. I told my father, and he remarked that Michael owned the hotel in the village and that he remembered him quite well. "But dad always called him 'Mike' or 'Uncle', he said.
I visited my aunt Gertrude Kiell, whom my grandmother said, was Johnny's cousin. "Maybe Gert will know," she said. "She knows your grandfather's side of the family pretty well." As it turned out, Gertrude was Mike Johnson's daughter, raised at the hotel with her sister Dolly. Gertrude inherited the 'Island Hotel' from her father after he died in 1952.
"My father Mike was Andy's youngest brother," Gertrude told me. "He was your grandfather Johnny's uncle. He was named for his father, Michael." She then pulled out a black and white picture from a collection in her dining room cabinet. This was her grandmother, all dressed in black, holding her on the porch of the hotel. "Her name was Catherine, but I never got to know her. She had been a widow for several years and lived with her youngest son and his family at the Island Hotel." Looking at the picture I realized it was my great-great grandmother Catherine (Sullivan) Johnson.
Returning to the Diocese center, I picked up an earlier reel that had to disclose the information. Taking this once again to the public library, I found the marriage register of Michael Johnson to Catherine Sullivan. I also found Michael's parents: John Johnson and Anne Boylen. The mystery stones no one knew about until now. came to light. But 'Queen's County'? I couldn't find it.
April Johnson DiRinaldo    
I can't explain why I'm so interested in learning more about our ancestors, John and Anne Johnson, who came over to Wolfe Island from Ireland. Maybe it's because there's so much we don't know about them. We know their names and where they settled on the island when they came in the 1850s. But where, exactly did they come from? How did they get here? Why Wolfe Island? And who did they leave behind?
The mysterious story of what must have been a harrowing journey has always just sort of haunted me. I remember my father gathering information about our ancestry back when I was a kid. We went to the old cemetery, and he snapped a photo of me at around six years old with the gravestone of Anne Boylen - whose name meant nothing to me at that time. He was recording things in a family tree book and wrote the names and dates of the things he could find from church records kept at Sacred Heart; Baptisms and marriages and deaths. But, in the 1980s, accessibility to information was limited to what was available on library microfiche and local records. Today, there is a vast and, seemingly, endless supply of information available to everyone at just a few clicks of buttons on your home computer or phone.
A few years ago, I dove headfirst into figuring out the Johnson family story. I spent countless hours on the ancestry.ca website combing Irish church records and documents for any morsel of information I could find about them. First, I had to enter all the facts I had about them into the family tree, and then I could see if there was anything that matched their criteria online.
One day, when I was scouring handwritten Irish church records, I found something. It was huge. I think I may even have clasped my hand over my mouth in disbelief. I found the original marriage record for John Johnson and Anne Boylen! It was the only thing we had ever seen to show that they had, in fact, existed in Ireland before they came to Wolfe Island. Before then, all we had ever known is that they were from County Queens, Ireland. Today, this is County Laois, south of the midlands region in the Province of Leinster. Mystery area solved.
This had their names, their witnesses and even a date: May 31, 1828. To the right of the names was the name of a little town: Booleybeg. From there, I have found baptismal records for Anne and some of their children. But there are, of course, more questions still than answers.
First of all, where the small town of "Booleybeg" listed on the record really is (there are a few options), or where John came from originally or who his parents might have been. I will get there someday. I know I will.
Brian:
I have since been in touch with a cousin Patrick Johnston and his wife Dorothy from Sarnia. Their branch of family spells our surname with a 'T' included. He read my story, 'A Winter Wake on Wolfe Island', on Thousand Islands Life, a very popular on-line monthly magazine. This tale is about my grandfather Johnny's sudden death during one of the harshest winters on Wolfe Island and Patrick realized we were related! "My great grandparents were Lawrence Johnston and Susan Moran. They left Wolfe Island sometime after, with their 14 children, and went west, settling on a farm in Sombra Township, Lambton County, Ontario. Lawrence, as it turned out, was my g g grandfather Michael's brother. And Patrick had pictures of them. Together, we shared our stories and family branches. Miracle of the internet! Just fascinating.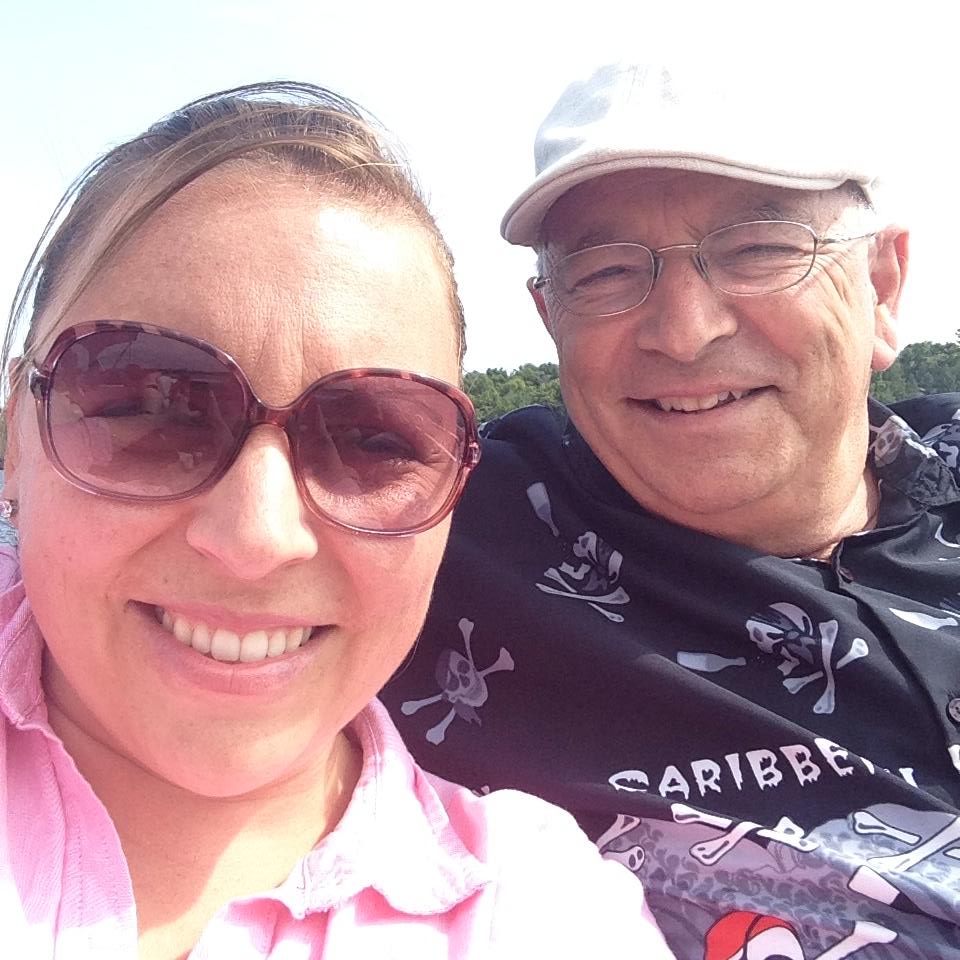 April:
Just today, when I sat down to write about the research I've done, I logged into my ancestry account and there was a message from a man from Kilkenny, Ireland. His direct ancestor just so happens to be Anne Boylen's sister! He has offered to share his family tree with me. I may just be about to learn even more about the two people who started our family's life on Wolfe Island almost 200 years ago. The internet really is an amazing thing. But, at the end of the day, I have my father to thank for taking me to that cemetery all those years ago and telling me the story of how John and Anne Johnson left Ireland during a famine with their nine children, all the way to Wolfe Island.
[Editor's note:  I think we must stay tuned...this sleuth work is great ]
April Johnson DiRinaldo, with her husband Paul and two girls, Ruby & Georgia are now summer residents of their native Wolfe Island. Brian Johnson is the semi-retired captain of Wolfe Islander III. Brian has written over 50 articles for TI Life!
Posted in: Volume 15, Issue 7, July 2020, History, Places, People
---
---
---