[Editor's note: In January 2010, we published a profile of Nancy Gustke after she published her book, "The Special Artist on the life of Frank H. Taylor." How she became interested in this amazing artist and Thousand Islands promoter was both interesting and one of those serendipitous tales that I took delight in sharing in the article. Skip ahead a few years, with Nancy and her husband visiting and now making the Thousand Islands their summer destination, and we learn that she is helping to mount a special exhibit that will be on display at the Thousand Islands Arts Center this summer. [This is one of those exhibits that you must not miss.]
Gilded Age Artist
The paintings and illustrations of Gilded Age artist and Round Island summer resident, Frank Hamilton Taylor, will be the subject of an exhibit at the Thousand Islands Art Center in Clayton from June 7-July 1 with a reception on Wednesday, June 28 from 5:30-7 p.m.
The paintings and illustrations of Gilded Age artist and Round Island summer resident, Frank Hamilton Taylor, will be the subject of an exhibit at the Thousand Islands Art Center in Clayton from June 7-July 1 with a reception on Wednesday, June 28 from 5:30-7 p.m.
Taylor (1846-1927) was a reporter and field artist for illustrated newspapers like Frank Leslie's and Harper's Weekly. He was assigned by the latter to cover the Thousand Islands as a tourist attraction in 1881. The full-page engraving in the August 13th edition offered readers all across the U.S. seven scenes of the Islands popularized, of course, in 1872 when George Pullman invited President Grant and Philip Sheridan to his island home, Castle Rest.
The Harper's Weekly engravings include two island cottages, a steam launch, as well as a view of Alexandrea Bay showing both the Thousand Island House and the Crossman House. (Taylor prepared a tourist brochure for the Crossman House in 1901.)
While Taylor's main residence was Philadelphia, he fell in love with the Thousand Islands and bought a lot on Round Island in the same year that he was assigned to document the region. He designed his cottage Shady Ledge (still extant) to help him recover, he said, "from the combined effects of malaria and hay fever."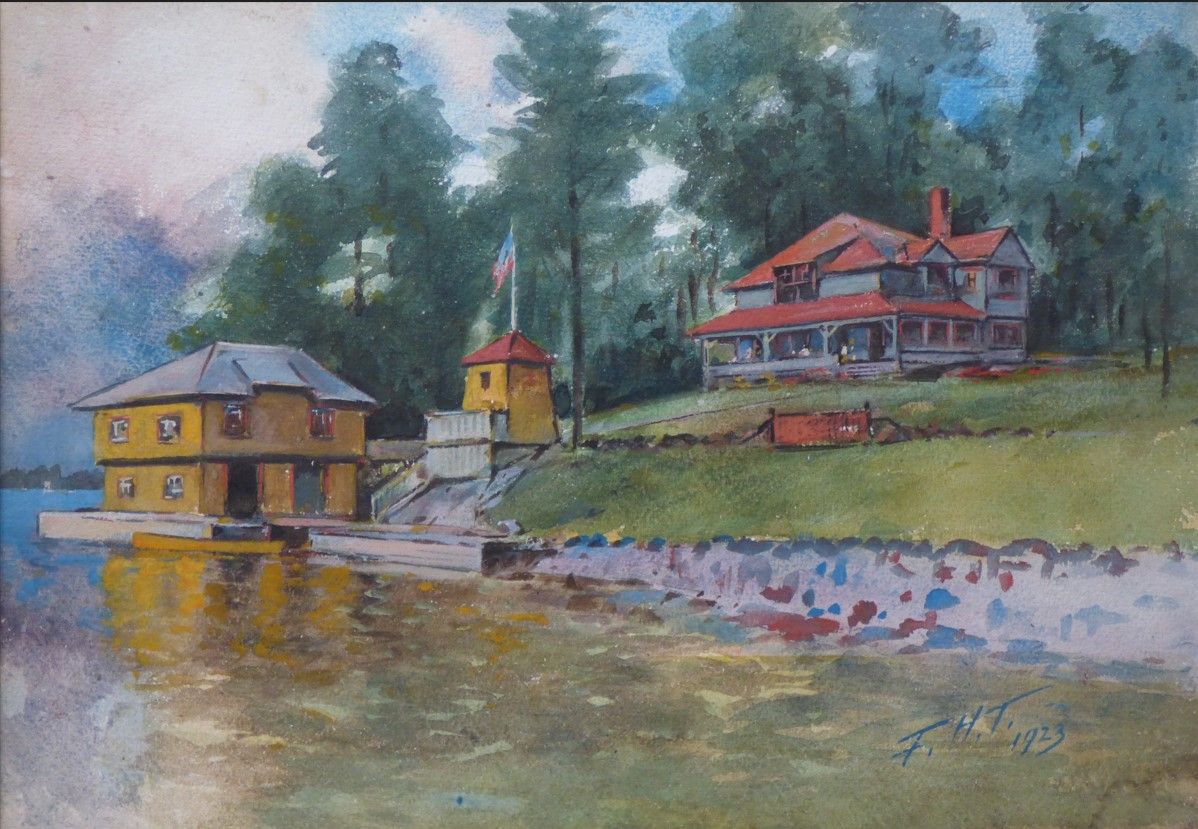 His newspaper assignments often kept him away from his wife and son, Walter, for long periods of time, and he no doubt also relished the opportunity for mental and physical recovery helped by the tranquil beauty and relaxing atmosphere of Round Island. Taylor included quotations on wall panels in the cottage reinforcing the casual living style summer residents craved. One from Longfellow that he hung over the fireplace reads:
A man's chimney is his golden
milestone, is the central point from
which he measures every distance
through the gateways of the world
around him.
His studio was above the boathouse with windows facing north and east providing the best and most consistent light for painting. Here Taylor worked on brochures for area hotels, as well as guidebooks like Estes' Standard Guide to the Thousand Islands in 1893 and one for the NY and Hudson River RR a year earlier.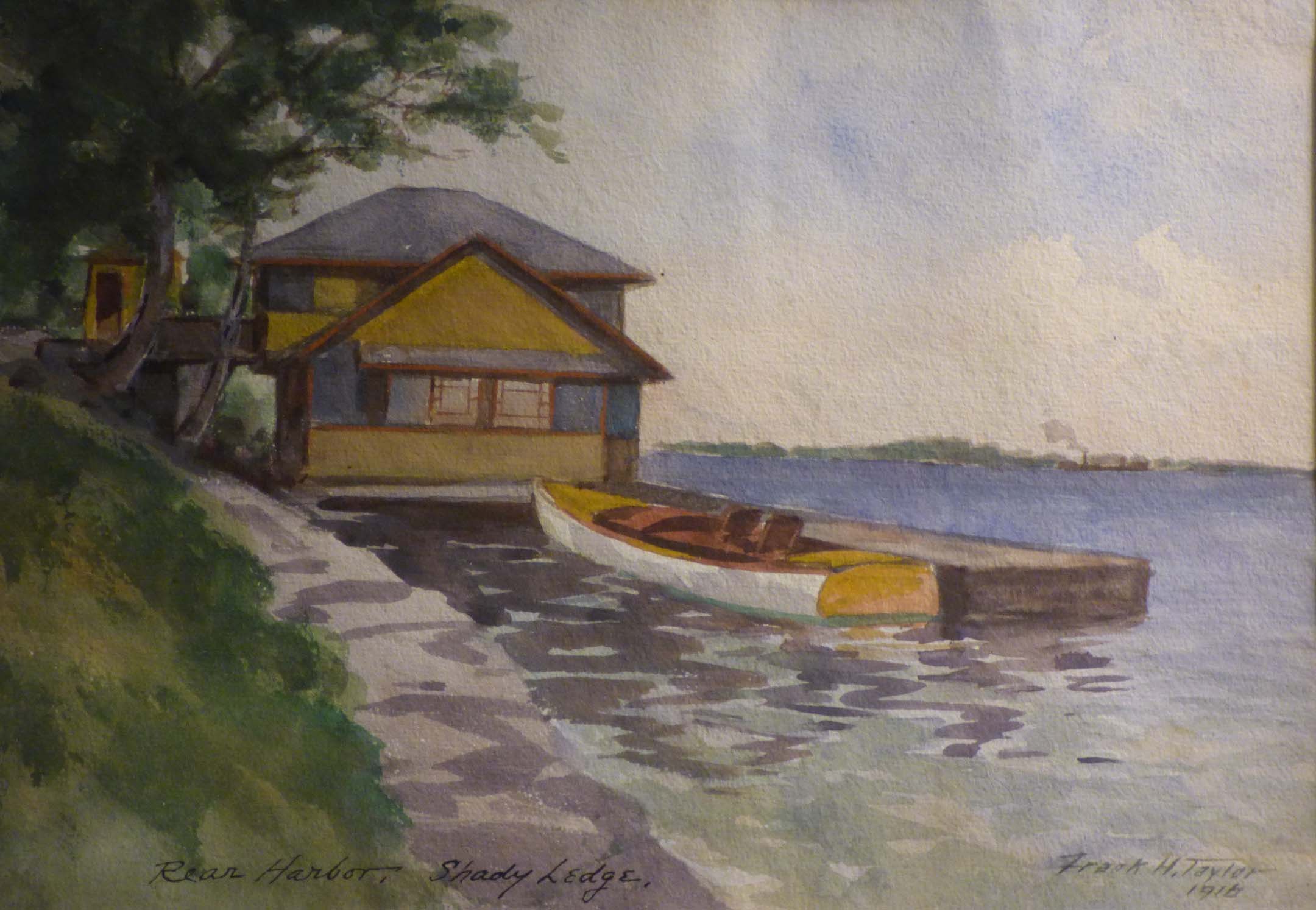 Many readers have no doubt seen his bird's-eye map of Clayton "Where Travel Centers at the Thousand Islands" ca. 1920, which will be included in the exhibit. The map details the busy railroad and steamboat activity on Riverside Drive between Franklin and Webb Streets now the site of Frink Park. It's also possible to see where the N.Y. Central Railroad crossed State Street (Route 12). The rail bed is now part of the Thousand Islands Land Trust Rivergate Trail project.
Taylor loved to entertain, and his bonfires were legendary, with as many as 300 participants singing songs and telling stories. His Shady Ledge guestbook, which will be in the exhibition, includes many accolades from guests who were reluctant to leave. So much so that a poem "Ode to Taylor" was composed, recounting memories of his Round Island gatherings. He was, as a writer for the Gananoque Reporter wrote in 1887, very proud of Shady Ledge, and noted that Taylor felt there was "no finer spot on the river." Taylor did watercolors of many of the original Round Island cottages, some of which will be on view in the exhibition.
Taylor was born on April 12, 1846, in Rochester, NY, the eldest of nine children. The family could trace its roots back to William Bradford of the Plymouth colony of 1620. His family tree, which he sketched in 1921, will also be included in the exhibit. After graduation from Rochester High School, Taylor enlisted in the army during the Civil War. Following his discharge, he briefly returned to Rochester, but then moved permanently to Philadelphia. He began his artistic career first as a lithographer, then as a publisher and printer. He became Philadelphia art director for the Daily Graphic illustrated newspaper and eventually as a field artist and reporter for Harper's Weekly and Harper's Monthly.
He took a staff position at the Philadelphia Public Ledger in 1893 and seemed to confine his work between the city and the Thousand Islands from then on. He drew many scenes of Philadelphia and published his best-known work "Philadelphia in the Civil War 1861-1865" in 1911, and a guidebook for the Valley Forge Park Commission in 1905, which was reissued four times. He died in 1927 leaving a legacy of watercolors and brush drawings of his two favorite places, Philadelphia and the Thousand Islands.
The Art Center exhibit is entitled: Among the Thousand Islands: The Work of Frank Taylor.  Some of Taylor's great-great-nieces will be at the reception. They, too, remember spending idyllic summers at Shady Ledge. His legacy for the Thousand Islands is one that captures the Gilded Age majesty (two of his watercolors of Boldt Castle hang in the entry way near the castle's grand staircase), as well as the pleasure afforded the middle class who could escape the city for a time of respite and recovery.  The Thousand Islands is fortunate to have such a documentarian.
Note: Paintings originally belonged to H. Carlisle Taylor, Frank Taylor's nephew. They were given to Dorothy Janet Taylor and then to her son Don and daughter Janet Middleton. It was Janet who kindly shared these photographs for the article.  
By Nancy Gustke
Nancy Gustke received her PhD in History from the University of New Hampshire and was a visiting assistant professor of History at North Carolina State University.  Dr. Gustke curated an exhibition of Frank H. Taylor's works at the University of Florida and authored the accompanying catalog, "'A Stately Picturesque Dream . . . ': Scenes of Florida, Cuba and Mexico in 1880."
In 1995, Peter Lang Publishing Inc. published Nancy Gustke's book, The Special Artist in American Culture. Nancy's book, now out-of-print, contains the important aspects of Taylor's life, and excursions. There are four chapters plus an informative introduction, and conclusion. The Notes, and Bibliography, provide hundreds of references about the artist, his life, his family, and links to the Thousand Islands documentarian.
Posted in: Volume 18, Issue 5, May 2023, History, event, News, People, Places
---
---
---