"My relationship with Arch Kerr began in 1975 when he asked us to construct the decks and walkways around their cottage on Southpoint, Grenell Island. I was very impressed by the level of thought, planning, and detailing that he devoted to that small project, and I was moved by the quiet harmony of the finished product. It was the beginning of a special relationship for me. He and Lawrie were the clients, he was the architect, I was the builder, and I became his pupil, though I'm not sure he knew that at the time."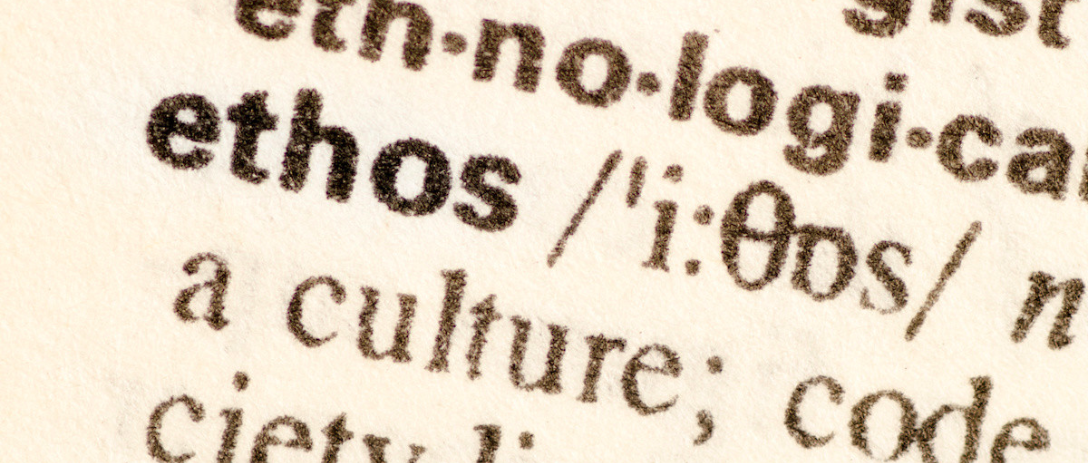 Those words were spoken by Steve Taylor—Thousand Island Park resident and local designer-- at the memorial for Arch Kerr in 1996.
For 45 years, Steve Taylor has been adding to the rich architectural tradition of the Thousand Islands by designing and building homes with an appreciation for the islands that surround them. Steve grew up summering among the islands and has made Thousand Island Park his home for over fifty years. Designing and building on islands is challenging—requiring ingenuity and imagination—but above all respect for the beautiful and natural settings. Steve learned to build structures from his father-in-law, Tommy Mitchell. He learned to make these structures sanctuaries for the spirit from Arch Kerr.
Anyone associated with Grenell Island is familiar with the Kerr name. James Archbald "Arch" Kerr was the grandson of T. B. Kerr, who was the first president of the Grenell Island Improvement Association and the first clerk of the Grenell Island Chapel. Like many Kerr's before him, Arch graduated from Princeton and was fond of sailing. The family had a series of sailing yachts, all named Tiger, for Princeton's mascot. However, Arch was a renegade. He was raised in a family of patent attorneys. Arch graduated from Princeton in 1932, with a degree in architecture.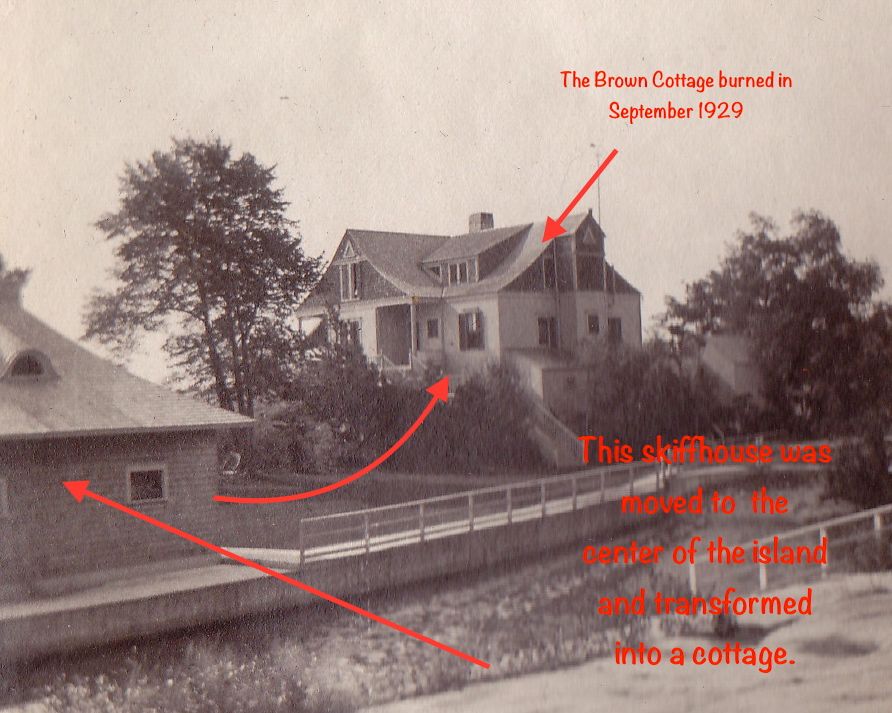 Arch's senior thesis was an architectural project on Grenell. In the 1930s, Arch's great-aunt, Lois Kerr, had purchased Front Island, the southernmost spot on Grenell and renamed the property Southpoint. The original cottage had been lost in a September 1929 fire. Thankfully, the boathouse and skiffhouse survived. Arch took on the project of re-visioning the skiffhouse into a cottage as his senior thesis.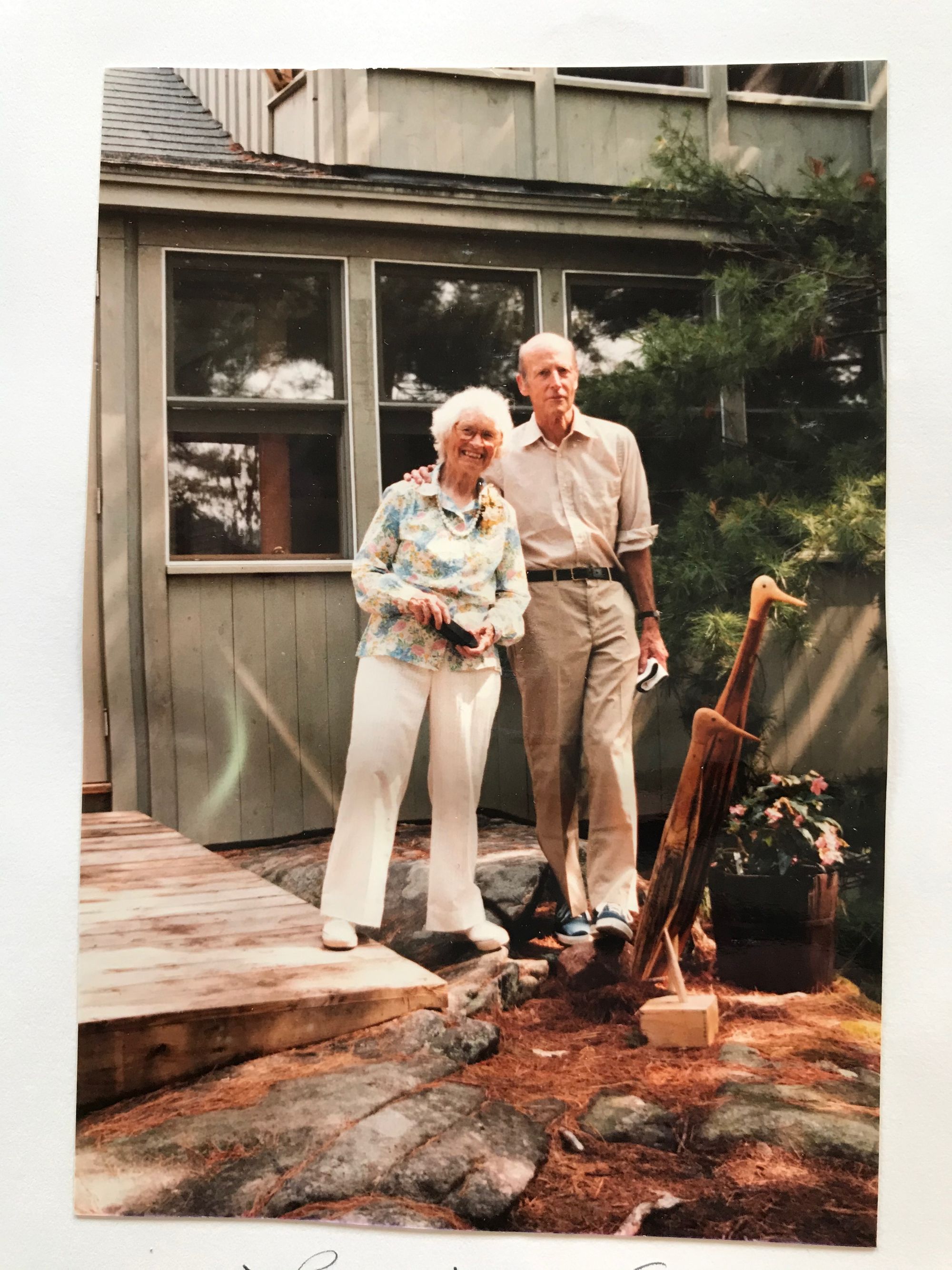 Steve's father-in-law, Tommy Mitchell, was the builder for Arch's very first architecture project, right here on Grenell Island. The skiffhouse was relocated to the center of the island and repurposed into a cottage. Southpoint was the summer home for Miss Lois Kerr, until her death in 1968. Arch acquired the property from his Great-Aunt Lois. Arch and his wife Lawrie had summered there several years before Arch decided he wanted to make a few changes. Arch called on Tommy Michael to oversee the project. Tommy's schedule was too busy, so Tommy referred Arch to his son-in-law, Steve Taylor, who was just starting out in the building business. That meeting was kismet.
Steve describes their next encounter like this:
"Two years later, I had the nerve to ask Arch to help us design a small house to be built on a wonderful island that Nellie and I had acquired. This time we were the clients, he was the architect and I was the builder and the student. His precise and detailed studies of the island itself and of the world around the island, noting directions to the June sunset, the August sunset and all of the views, was a revelation to me. His deep understanding of the spirit of the place led in turn to a house of surpassing comfort and beauty. It is uplifting to be there."
"Following these projects, he [Arch] retired from active practice, but there was still a call for his special gifts. At that point, I made a stab at designing "in his footsteps" so to speak, and he was generous enough to be my guide. He would critique my work and suggest directions to go in, and I followed diligently."
Steve and wife Nellie were frequent visitors to Southpoint. They became dear friends with Arch and his wife Lawrie. Steve and Arch were able to work together as architect and builder a few more times. The last three architectural projects of Arch's were all here in the islands and Steve was the builder for all three.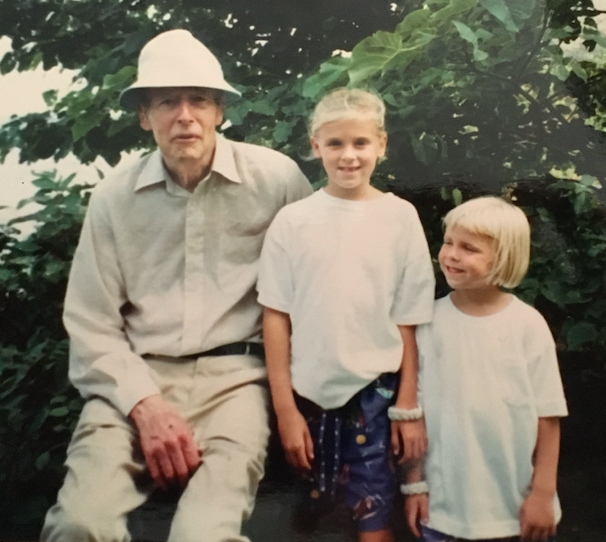 Arch and Lawrie did not have children of their own, but welcomed nieces and nephews and great-nieces to visit introducing future generations to island life. Arch's great-niece, Anne Sweetapple, inherited the property from Arch. Anne and Steve Sweetapple are River devotees. Their three daughters grew up summering on Grenell.
The small two-bedroom cottage was perfect for Lois Kerr. It was perfect for Arch and Lawrie. But the Sweetapples have three daughters, two son-in-laws, one grandchild and maybe more grandchildren in the future—oh, and six river-loving dogs amongst them. Looking ahead, they can see that their little cottage will be bursting at the seams. The Sweetapples decided it's time to re-vision the former skiffhouse once again. Of course, they turned to Steve Taylor. A choice they're certain their Great-Uncle Arch would whole-heartedly approve.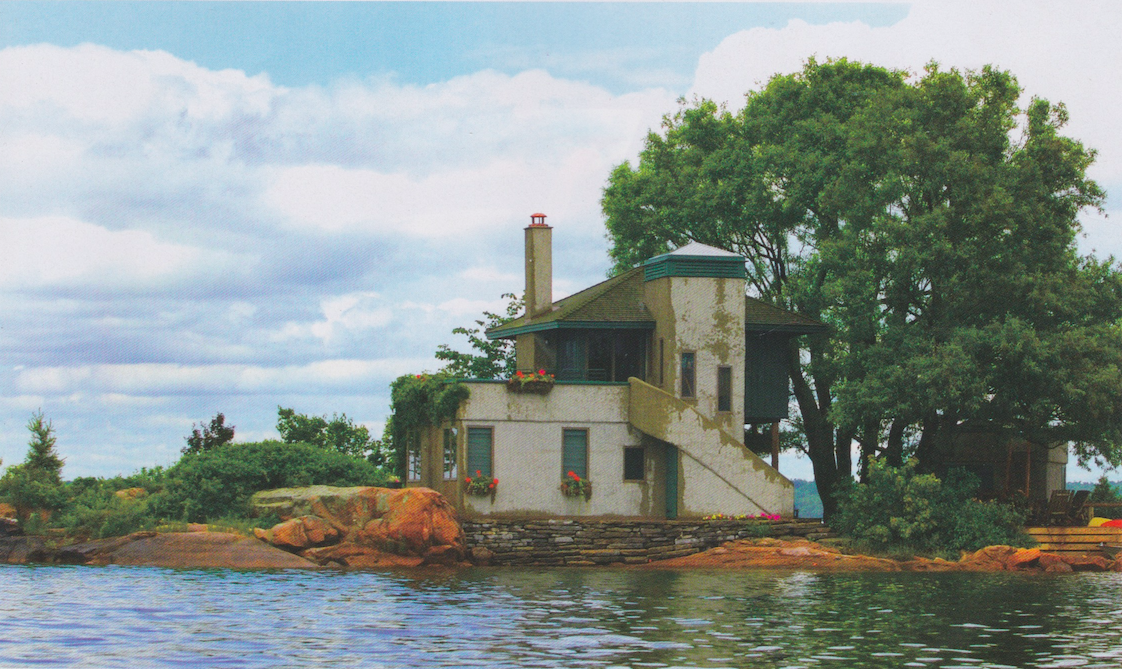 Steve has stepped away from building and is concentrating instead on design. A path he started on in 1975 when he met Arch Kerr at Southpoint on his first project with the master.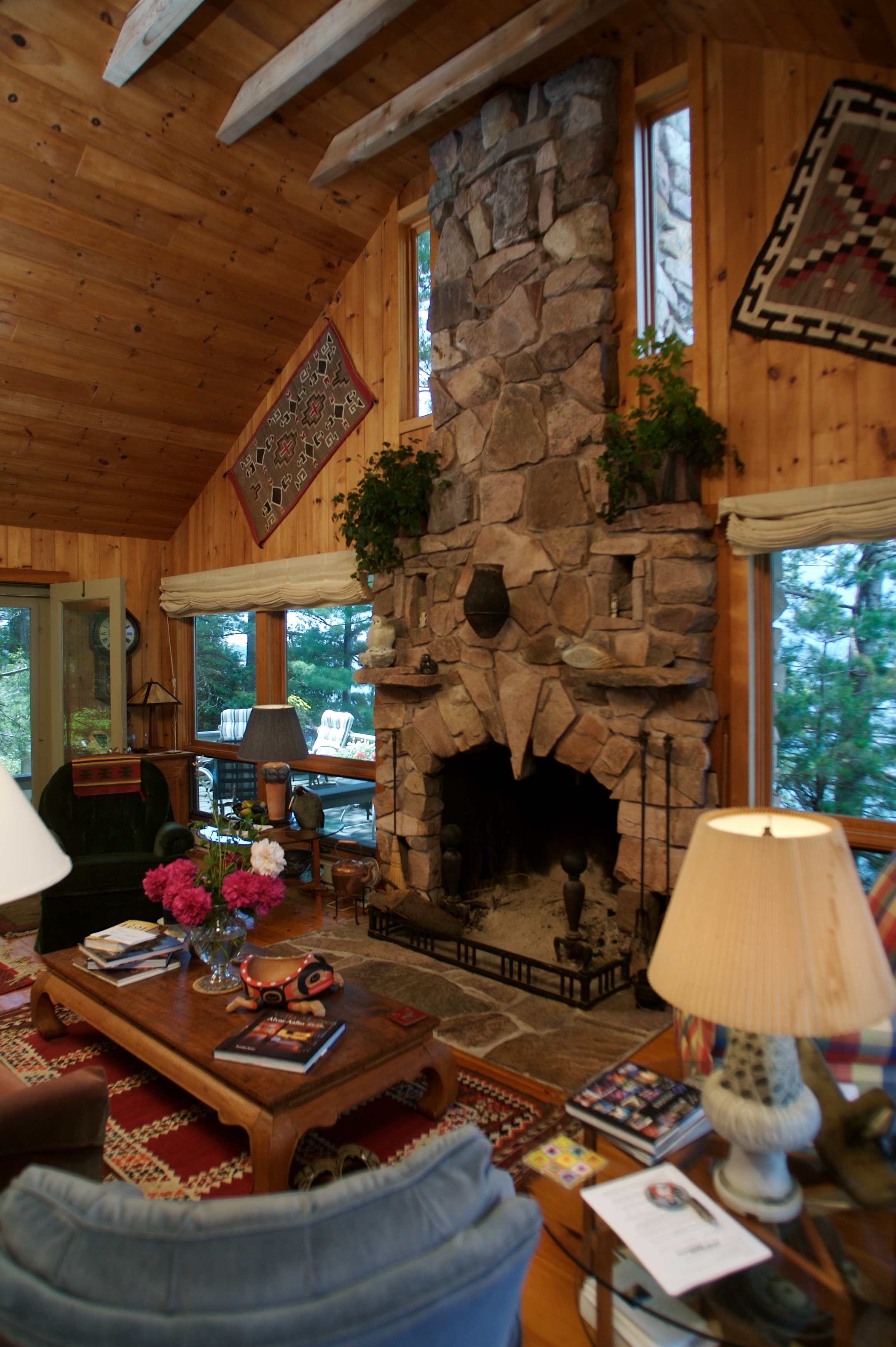 "Now I am on my own. But he [Arch] has kindly led me to the heights where I have learned that we can build the intangible. With care and reverence in the art of building, we can create places of beauty, of tranquility and serenity. Places where we can celebrate the wonders of God and nature and the potential of our own souls. From here one does not willingly go backward and so I remained dedicated to continuing along the path that my master has so kindly and generously taken me—to using the tools of reverence, respect, honor, and love for the building of places where spirits can soar."
This spring, Southpoint will undergo yet another transformation. For Steve, it's not just building, it's not just a design task. It is a melding of the tranquil surroundings of our thousand islands into the fabric of the entire project. The sun, the water, the trees, and the view are all integral to the design. The ethos, which Arch Ker held dear, has been kept intact. The student of 45 years ago has honed his skills. If Arch were here, he would tip his cap and smile.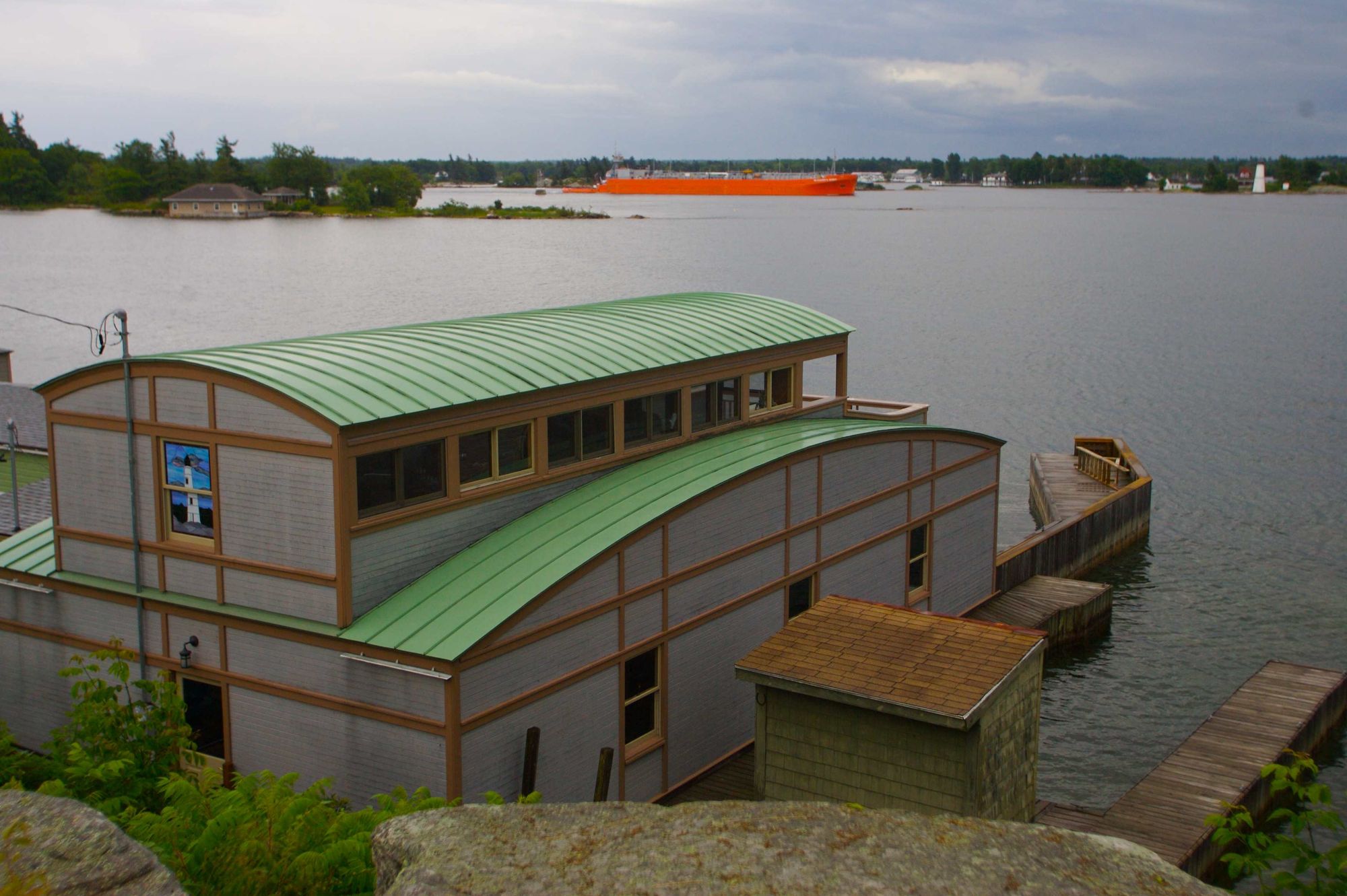 By Lynn E. McElfresh
Yes! you say, about time someone recognized the works of Steve Taylor and Arch Kerr. Trust our Lynn for recognizing this and making it happen. We are especially grateful as Lynn is working hard (every waking minute) researching another Thousand Islands novel. Her Grenell 1881, is now on sale in several River locations.  See our TI Life Review, written by Janet Staples, and... buy it, read it and enjoy it!
Lynn  McElfresh came to Grenell Island for the first time to meet her  fiancé's family, in 1975. She became part of the family, and the island  became part of her life. Lynn and her husband, Gary, spend their summers in the Thousand Islands and their winters on the high seas or in Dunedin, Florida. To see  all of  Lynn's island experiences, search TI Life under Lynn McElfresh.
Posted in: Volume 15, Issue 2, February 2020, Architecture, People, Places
---
---
---