Editor's Note: Imagine my excitement when I received a submission from Emily Holt, a special summer resident of the Islands. Emily will celebrate her 95th birthday this month, and yes, she has spent every, single, summer of her life on Grindstone Island! This winter, she sat down with her daughter, Caroline Holt Larson, and started to record some of the stories from her past, and we, the readers of TI Life, get to listen in!
Emily's parents, Craig and Caroline Wright, first came to Long Point on Grindstone Island in 1923. As young children, Emily and her sisters played with "the boys from Camp Virginia", and enjoyed swimming, sailing, boating, and waterskiing together. It was there as a youngster that she met her future husband, Sheppard Holt. In 1946, after serving for three years in the South Pacific aboard a US Navy submarine, Sheppard was discharged from the Navy. He was able to reconnect with his summer friend after he enrolled at MIT and Emily was at Wheelock College. They were married in 1949 and a year later Shep, as he was known, completed his PhD in mathematics at MIT and Emily finished her Early Childhood teaching degree at Wheelock.
Emily, Shep, and their three children lived for 50 years in Winchester, MA, in the winters, and on Grindstone in the summer ... but unlike many of us who hate the end of summer, the Holt's didn't mind at all, because ice skating rinks welcomed them back to their winter home. Emily and Shep were ice dancers. In 1952, they were the New England Junior Ice Dance champions. They performed in "Ice Chips," the annual show of The Skating Club of Boston, for sixty years. Their last year in the ice show was also their 60th wedding anniversary, so they were cast as a bride and groom!
Many local residents from Cape Vincent to Chippewa Bay have visited Emily on Long Point, where she has hosted an annual "Post Tea", a summer High Tea party complete with exquisite tea sandwiches and sweets, with ladies and gentlemen vying for awards in many categories of picturesque hats. The tea, held in memory of Emily's aunt, Emily Post (which is another story!), founder of the Thousand Islands Arts Center, helps to fund annual grants for projects at the Arts Center. So as we celebrate mid-winter this February, I ask you to raise your glass and make a toast to Emily Holt and her 95 years on our River!
A Rescue on the River by Emily Wright Holt

I have spent summers on Grindstone Island in the St. Lawrence River, for 93 years. There is no bridge to Grindstone, so you must come and go by boat. During the war there was rationing, including gas.  So I sailed to town for groceries and mail.  I also sailed a lot for fun.  My Snipe was named Panka Hynee because the waves "spanked my hynee".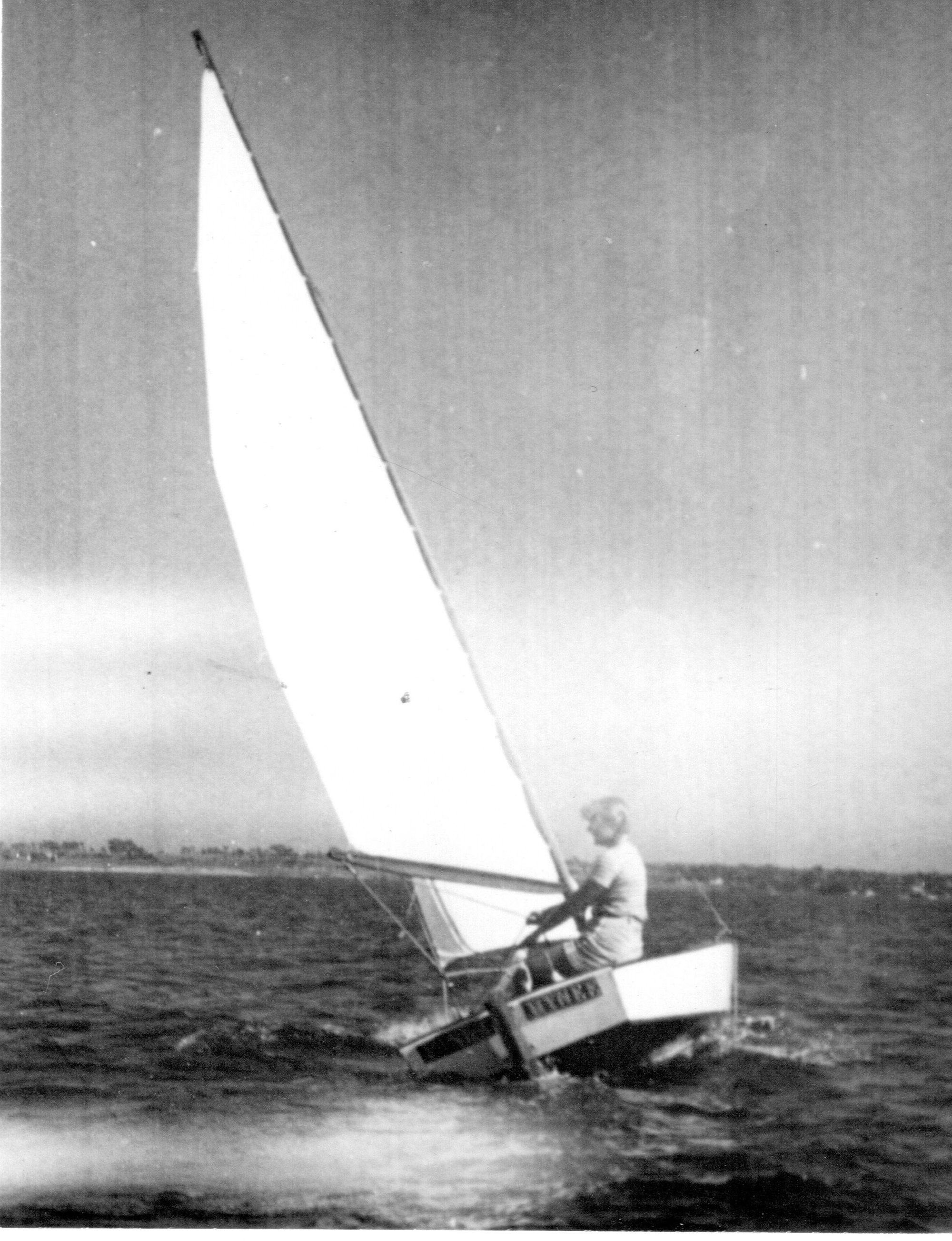 One day, I was sailing between Governor's Island and Calumet, but when I came out to the Seaway channel, a sudden gust of wind tipped me over.  I just crawled around as the boat turned over and I wound up sitting on the bottom!  A motor boat came by, helped right the boat and towed me in.  I was worried that the mast would break, but it was okay.
My rescuer was Dr. Fowkes, the Clayton doctor who took care of all of us when we needed stitches or x-rays.  His office overlooked the River and he often paused during a visit to remark on an interesting boat or freighter going by.   One time when there was an eclipse, he showed us how we could safely watch it through an x-ray! He did everything including delivering babies and rescuing sailors in distress.
Granny on the Barge 1991 by Emily Wright Holt
My mother, Caroline Wright, known to all as "Granny Wright", always waved to the red and black barge from the porch, as it made its daily trip by our home on Grindstone Island, on the St. Lawrence River.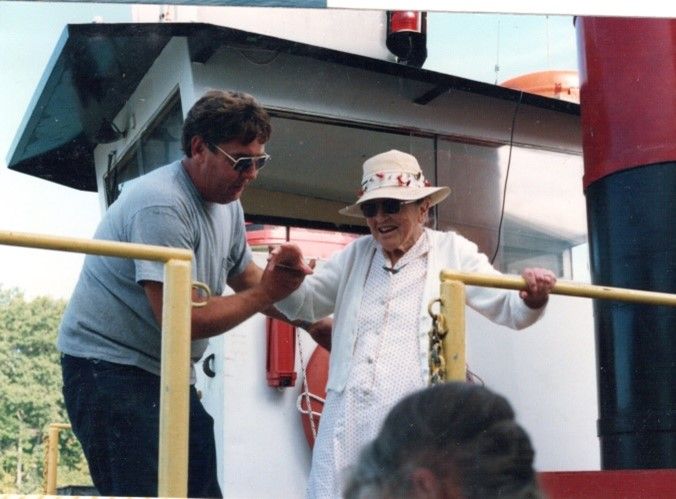 One day, at age 94, she mused "I'd like to ride that barge one day..." And so, we called up the owner, Junior Rusho and he graciously took her aboard the Maplegrove for a morning thrill ride.  Wearing a dress and her Sunday hat, she sat on the deck and waved to us up on the porch.  She NEVER forgot that ride!  She died one year later.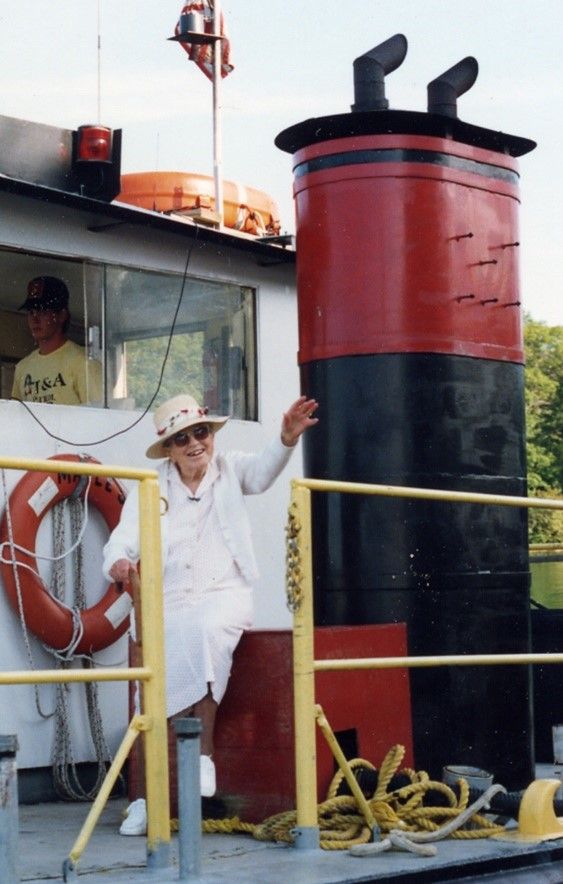 The Most Thrilling Mistake of a Lifetime by Emily Wright Holt
The Skating Club of Boston holds an annual ice show, "Ice Chips", featuring championship skaters and club members. In past years it was a very large production taking place in the Boston Garden with live music. It was scaled down in recent years due to cost, but still presents top skaters in the world every year.
As ice dancers, my husband Shep and I took part in this show for 60 years.
One year our group number was very large. Our talented choreographer had planned a number using an intricate dance in formation, the "Three Lobed Waltz." After weeks of practice, testing timing and spacing again and again, the final effect from a distance was that of a flower opening and closing. We were thoroughly rehearsed and ready to perform. Show Time!
The show audience was large and enthusiastic. Dick Button, the World and Olympic Men's Figure Skating Champion, and a member of our club, slid out through the show curtain and did his program, featuring astounding, very high and beautiful jumps, along with many outstanding moves including the "Button Camel Spin", which he invented. His power and grace took your breath away. We have not seen anything like him since his performing years.
Dick finished his number and exited through the curtain. The applause was thunderous! Our dance group was seated on ice at "cocktail tables" around the side of the ice ready to stand up when our number started.  Shep and I were seated right next to the opening in the curtain.  The orchestra struck up music for an encore and Dick shot out from behind the curtain to perform again. He was urged to come out again and again, eventually having four encores.
Then our dance number music started. Shep and I stood up. Dick, not realizing the change in music due to all the loud applause, came shooting out through the curtain once more. Standing in the spotlight and seeing the dancers ready to begin, he grabbed my hand and said "What do we do?" In ice dance the woman skates backwards most of the time and I had trouble telling him quickly which way to turn, so we were a bit behind. Well, Dick just quickly swooped around making huge, fast edges and turns all around the ice, carefully avoiding the other dancers, but we made something like a lopsided 4 lobe waltz. Of course the spotlight was on us which made it doubly difficult to see the other dancers, but he would whizz between them. He skated so fast I was almost thrown from the dance position in his arms!  As the music came to an end, we headed for the slit in the curtain. Dick thanked me, waved and disappeared to his star dressing room. I went to get my skate guards and there was Shep, sitting alone. He certainly had missed his appearance in that show! The audience probably thought things went as they were planned. As for me, it was a thrilling mistake that I will never forget!
By Emily Holt, Grindstone Island
Emily' Wright Holt first came to  Grindstone Island in 1923. A graduate of Wheelock College in Boston, Emily married fellow islander Sheppard F. Holt in 1949. Emily continues to spend every summer at Long Point on Grindstone Island and is about to celebrate her 95th birthday.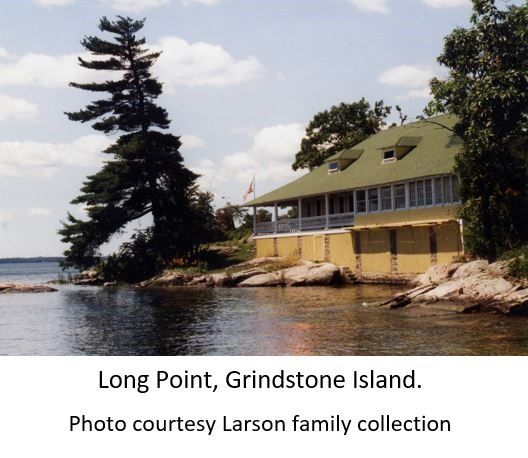 Posted in: Volume 16, Issue 2, February 2021, History, People, Places
---
---
---