Elizabeth Gwillim Simcoe was about 25 years old when she accompanied her husband, Lieutenant-Governor John Graves Simcoe, to Canada in 1791.  She brought two of her children with her on her voyage, Sophia, age two, and Francis, age 3 months.  While in Canada she had another daughter, Katherine. Hard as it was, she left two other children back in England  for what turned out to be four years and much sadness as her young daughter Katherine died of childhood pneumonia while in Canada.
Soon after arriving in 1792, the Simcoes departed from Quebec, and proceeded up the St. Lawrence River, to "the Upper Province" and the small town of Kingston, where Simcoe took "the oath of office" of Lieutenant-Governor of Upper Canada.
Elizabeth was an author and illustrator. She was renowned for her detailed diary entries and pictures depicting life in early Upper Canada. In fact, several versions of these diaries have been published. Many are available for researchers to study in libraries and often found in used book stores.
The following narratives are selected diary excerpts from her family's final journey down the St. Lawrence on their way to Quebec City, where they would sail back to England.  The diary entries end in Quebec City, where they departed on September 10th, on the sailing craft "Pearl" for their last voyage across the Atlantic Ocean. It took a little over a month until they anchored "the Downs" on October 13, 1796; a 34-day crossing. Elizabeth never returned to Canada. She died 54 years later in Northamptonshire, England, on March 17, 1850.
Both Elizabeth Gwillim Simcoe and her husband Lieut. Governor, John Graves Simcoe's personal and public lives are interesting subjects which deserve more attention.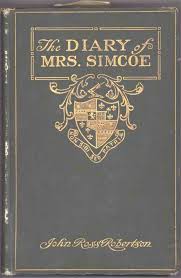 The Excerpts
1796. "The Governor had early in the year determined upon returning to England. This request was answered about the middle of July; for on the 14th, the official letter came to York (Toronto) stating that the frigate "Pearl" would be at Quebec to take him home in the beginning of August."
Castle Frank, York - "took leave of Mrs. McGill and Mrs. Cruikshank. I was so much out of spirits I was unable to dine with them. Mrs. McGill sent me some dinner, but I could not eat; cried all day. At three o'clock on the afternoon of the 21st. The "Onondaga" weighed anchor, and guns at the Fort saluted the Governor as the Provincial vessel started on its journey around the peninsula and east on the lake to Kingston."


Opposite Presqu-isle head: Mon. 25th. A side wind towards evening, fair and fresh; at half past eleven at night we anchored in Kingston Harbour.
[Note: After a stay of about eighteen hours the King's bateaux were ready and the Governor and his family on the 26th commenced their journey to Montreal, at which they arrived on the evening of the 30th.]
Tues. 26th- a cold day. The Governor breakfasted on shore; at eleven we embarked in a bateau; at six stopped at rocky island six miles from Gananowui, where we made a fire and boiled a tea kettle; there is a pretty bay here. I called the island "Isle au trippe", from gathering trippe de roche on the rocks. It is a kind of liverwort plant good for diseases of liver. We proceeded three miles to a beautiful rocky island as we thought, but it proved to be the main shore among the thousand islands. I called it Bass Island.
Wed. 27 we breakfasted and set off at seven. It rained. Passed Toniata Isles and the river of that name, then the Isles au Baril, passed Commissary Jones sawmill, E. Jones' windmill and Mr. Cowan's pot ashery, near Johnstone. Stopped for the night at Pt. Au Cardinal, just below Les Geolettes (the Gallops, seven miles above Iroquois) which terrifying rapid we passed in a minute. Here Mr. Munro is building a mill. The timbers are uncovered and it has the appearance of a sketch of ruin in Italy.
Thursday 28th - we breakfasted at seven. I made a sketch and embarked. Passed Frazier's farm and Pte. Iroquois, where the Indians formerly fought a battle, Pt. Aux Pins, a fine place for a fortification. Pt. Acolo, where Mr. Munro's sawmill stands near the Rapid Plat, Capt. Duncan's , Grosse Pointe, Pointe au Gobelet and then we came to the Long Sault, which extends nine miles.
Friday, 29th - breakfasted at six in the morning and set off with a fair wind; passed Pte. Au Bodet at nine, then Pte. Au Foin, a very pretty spot; passed the rapids near the Coteau du Lac; passed Pte. Au Diable near the Long Sault, and stopped at Pte. Au Biron, on a hill from whence the view towards Coteau de Lac is very pretty. There is a good Seigneurie House falling to ruins.
[Note: Isle aux Soeurs - Nun's Island - St. Bernard's Isle, at the mouth of the Chateauguay River.]
We embarked after dinner, and not withstanding the immoderate heat they insisted on taking off the awning to go down the Rapids of the
Cedars...people usually go from hence in caliches four miles to the cascades, but the Governor wished to see all the rapids and would not go on shore. The Governor desired me to sketch the rapids La Chine.
July 31st. We drank tea at Mr. Frobisher's country house. Mrs. Frobisher has an excellent garden; there was strawberry spinach, which she showed me as a pretty but very poisonous plant. I assured her I had often eaten it in Upper Canada At Kingston my trunk fell in the water in taking it from the ship, so I
have had none but damp clothes to wear since, and no opportunity of airing them, as I have met with no fire but where men were cooking.
August 2nd - Left Montreal at eight; passed Long Pt. [Note: N.E. of Montreal and on the island]. They furnished the boat at Montreal with so miserable an awning that it let the water through and sent very inexperienced bateau men, who scarcely knew how to manage the boat. We were quite wet, but being near D'Autray, went on shore, and determined to sleep there. A very cold night. The Maitre de Poste, La Fontaine, and his wife, very old people, were perfectly Flemish figures. They supped in the room next to ours. I observe they eat onion broth, fat bacon, and finished by drinking sour milk; after supper they played a game at cards they called "la grande Brisque" which they seemed to be amused by.
August 4th - Drew a plant of wild rice which was in Blossom ; gathered cardinal flowers, a beautiful purple flower, sand cherries, and some raspberries. We went out of the Bay without touching a rock, stopped five minutes at Three Rivers to speak to Mr. Mountain. The mouths of the rivers Batiscan and St. Anne are seen on the opposite shore, with distant blue hills.
Friday, August 5 - We set off at seven; I was extremely delighted with the high banks and beautiful scenery in passing Deschambault, Richelieu and Cap Sante' on the north shore, opposite to which Pt. Platonon the south shore 13 leagues above Quebec. There is a good farm belonging to the convent des Ursulines at Quebec. We dined in the boat opposite the pretty village of St. Augustine [Note: four leagues from Quebec.] from the St. Lawrence we walked a mile, the tide being out, over wet ground like marsh, interspersed with rock, which brought us to a house where we got a caleche, which carried us a mile to a kind of Post House, where we dressed, and set out in a caleche, ascending a prodigious steep but winding road among red rocks and wood, and four miles brought us to Belmont, where we found our friends well and happy to see us.
---
Additional Notes:

·         Castle Frank, built in 1794, by Governor Simcoe as a summer residence was named after his son Francis who accompanied his parents and sibling Sophia to Upper Canada from England.
·         Francis died "in the Peninsular War in 1812" - he fell in the breach at Badajoz.
·         The Simcoe's had five more children when in Upper Canada.
Sources:
·         Robertson, J. Ross "The Diary of Mrs. John Graves Simcoe", 1911. Archives of Ontario: Sketchbook - 63 watercolours and drawings.
·         Library and Archives Canada: Transcripts from the Simcoe Family Papers and Records. Elizabeth Simcoe 1762-1850 Digital Library.
·         Marian Fowler: 1982 - The Embroidered Tent: Five Gentlewomen in Early Canada.
Key Topics:
·         Frontier Culture-18th.
·         Century Garrison Life
·         Transportation
·         Historical Geography
·         Natural Resources.
---
By Arthur Pegg, UE
Arthur Pegg is a writer and historian, living in Blenheim Ontario, near Rondeau Provincial Park, on Lake Erie. He teaches history at the campuses of St. Clair College - Chatham and Windsor, Ontario. Arthur is a member of the Col. Edward Jessup Branch - United Empire Loyalists Association, and a member of the War of 1812 Society. He can be reached at arthurpattersonpegg@gmail.com
Posted in: Volume 15, Issue 2, February 2020, History, People
---
---
---