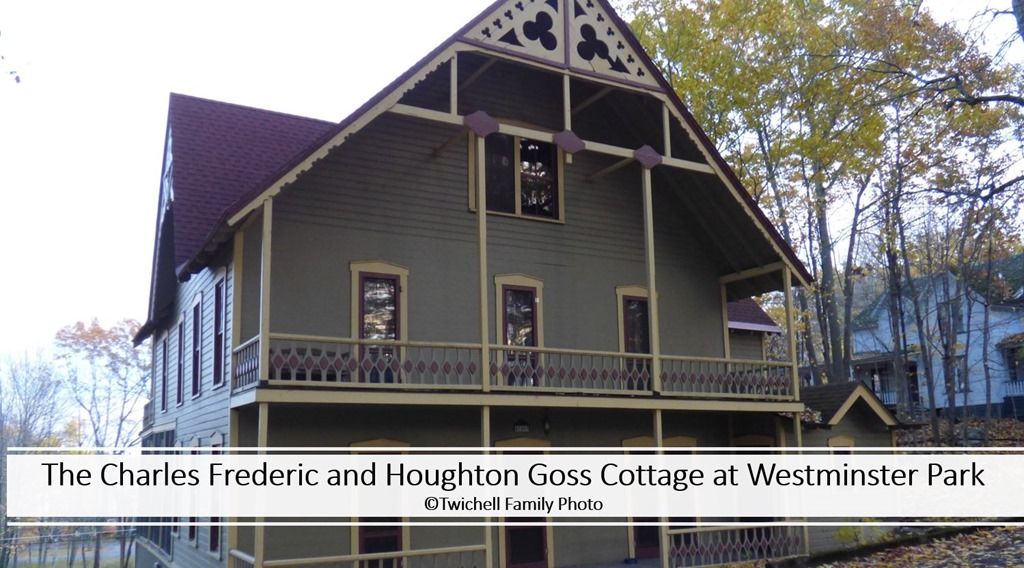 Rosa Houghton Goss (1854- 1922) descended from a highly esteemed New  England family, the Houghton's. Her father, Reverend Daniel Clay  Houghton, was the editor of the "Genesee Evangelist" and of the  "American Presbyterian", two well-known Presbyterian publications. Rev.  Houghton and his wife, Julianna Alton Houghton, both died when Rosa was a  young child. Rosa came to live with her aunt, Marilla Houghton Gallup,  in Clinton, New York, and was educated at the Houghton Seminary. In the  Clinton community, she met Charles Frederic Goss, a student at Hamilton  College.
Rev. Goss attended Hamilton College, Clinton, New York. He graduated  in 1873 with a degree of Bachelor of Arts. He then attended Auburn  Theological Seminary in Auburn, New York graduating in 1876. After  graduation and his ordination as a Presbyterian minister, Goss married  Rosa Houghton. His first ministerial assignment was in Weatherford,  Texas where he had charge of the Home Mission of the Presbyterian Board.  After a year and a half, he accepted a position in Pennsylvania as the  pastor of the Kendall Creek Presbyterian Church. In 1881, he was called  to the Bethany Presbyterian Church of Utica, N.Y. His oratorical skills  were noted at a conference organized by renowned Evangelist Dwight L.  Moody, of Chicago, Illinois. Rev. Moody immediately offered Rev. Goss a  position in Chicago at the Chicago Avenue Presbyterian Church. Goss  served there until 1894 when he accepted his final ministerial  assignment as pastor of the Avondale Presbyterian Church, Cincinnati,  Ohio. Throughout his career, he was highly regarded as a preacher,  speaker and author in the Presbyterian world.
Charles Frederic Goss had a passion for writing of all genres and  what a prolific writer was he! Rev. Goss wrote a column entitled "The  Optimist" for the "Cincinnati Commercial Tribune". The columns were so  well-received that they were published as a book in 1897. He published  many articles on religious topics. In 1902, Goss published a biography  of Dwight L. Moody, the man who was instrumental in securing his  appointment in Chicago. In his later years, Rev. Goss revealed a  continued interest in history by editing and partially writing History Cincinnati, published in 1932.
Reverend Goss's greatest fame came from a book he wrote in 1900, entitled The Redemption of David Corson. The story captivated American readers. The main character, David  Corson, is a young Quaker preacher, a very religious and eloquent man. A  traveling medicine show comes to town and Corson is recruited for his  oratorical skills to join the fakir, Dr. Paracelsus Aesculapius. Corson  meets and falls in love with Pepeeta, a beautiful young Spanish woman  who had been kidnapped by a band of Gypsies and was adopted by  Aesculapius. His captivation with her leads him to turn his back on his  religious life. Corson becomes a "talker" for the medicine fakir. There  are dramatic chapters where he and Pepeeta try to escape and the  characters are caught up in a life-and-death struggle. Corson descends  to a life of gambling and drinking. More high drama ensues but, at last,  with the death of Aesculapius and the love of Pepeeta, Corson sees the  errors of his ways and seeks his own redemption in the ways of his  Quaker religion.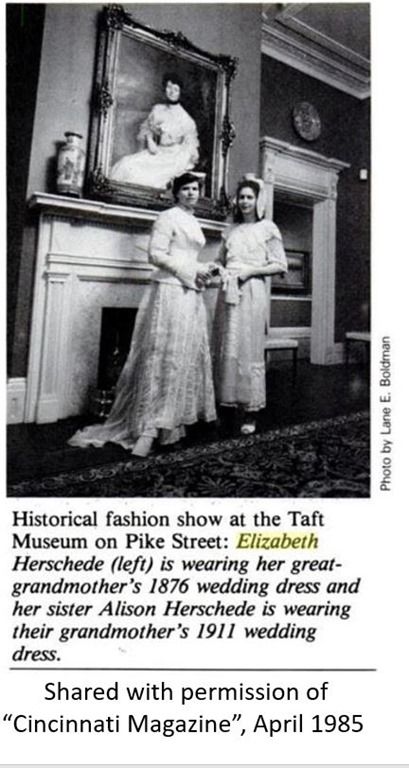 Such  high drama enthralled America. The book was a best-seller. In 1906, the  book was turned into a play by Mrs. Charlotte (Lottie) Blair Parker. It  debuted on Broadway that year and 16 performances were run. By 1914,  favor had not worn away, and the book was made into a silent film.
Even though life carried Rev. and Mrs. Goss to many locations in  America, they found time to return to Westminster Park in the summers.  In 1881, we read that Dr. John Chester Gallup, Rosa's uncle, had plans  to build a handsome boat house in the east fork of the Ferry Slip for  Rosa and her husband. At that time Goss had a position in Bradford,  Pennsylvania, but had plans to spend the summer at Houghton College. In  1882, there is a record that Rev. Goss preached at the Chapel in  Westminster. That would have occurred in  the original chapel built on  Mount Beulah. In 1902, newspaper accounts reveal that the Goss Family  summered in Westminster. Reverend Goss was to be in charge of all the  religious services in the Chapel. In the year 1902, that would refer to  the second chapel, built on the grounds of the Hotel.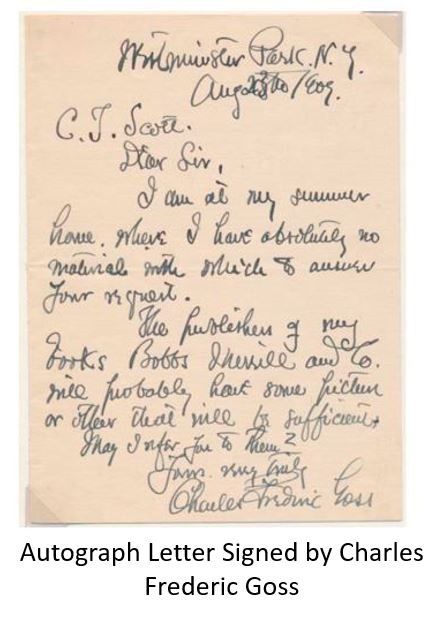 One search for the Goss family led me to "Cincinnati Magazine". Their  representative granted permission to share a photo and a tale of the  Goss legacy from the twentieth century. In 1985, the Taft Museum of  Cincinnati held a fashion show of historic garments. In the show,  Elizabeth Herschede wore her great-grandmother's 1876 wedding dress. The  dress featured a pleated and puffed silk taffeta bodice with organdy  skirt and sleeves. Who was her great grandmother? Rosa Houghton Goss.  Her sister, Alison, wore the 1911 wedding dress of Rosa's only daughter,  Stella Goss Wohlgemuth. This gown had a satin and applique bodice and a  satin skirt with panels of point d'esprit lace tied together with satin  bows. What personal artifacts!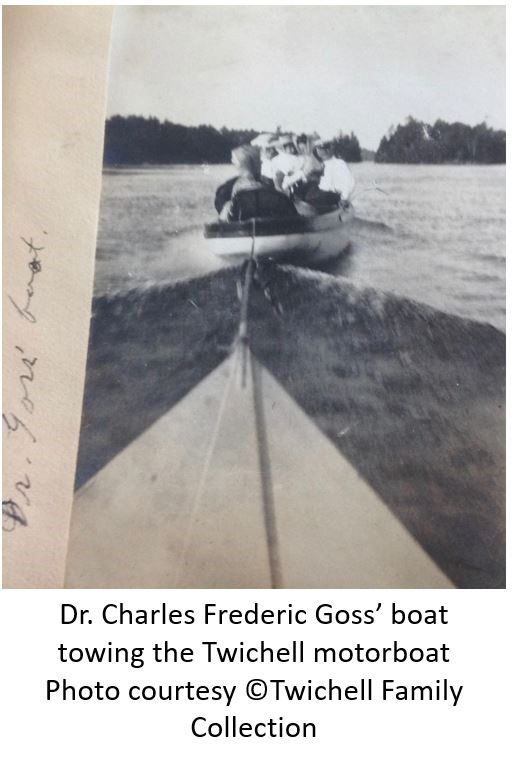 Ebay  offered another tidbit. A dealer was selling a letter handwritten by C.  F. Goss, from his Westminster Park home in 1909. Love his handwriting!
We also note a connection between the Goss family and my husband's  family, the Twichell's. I will write about the Twichell family cottage  in a future article, but I wouldn't want to leave the Goss family  without a few words about the apparent friendship between these two  Presbyterian ministers.
In the early twentieth century, the Twichell armada consisted of  various canoes, kayaks, and a trustworthy skiff that took them up and  down the River. The Twichell's also owned motorboats; they were not so  reliable. We see photographic evidence of Reverend Goss coming to the  rescue and towing one back to shore….
My friend quipped, "Reverend Goss could save your soul… and save your boat!"
Reverend Twichell and his wife Vera named their second son, "Goss". I  have never found any documentation that they named him after Charles  Frederic Goss, but two clues suggest that they did. 1. We know that  there was a friendship, and we cannot fail to note that Goss is an  unusual name for a little boy. 2. Twichell family albums include photos  of Rosa Houghton Goss holding little Goss Browne Twichell. From the  expression on her face, I am guessing she might be holding a namesake.  What do you think?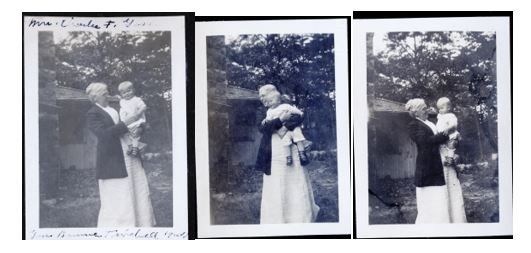 ---
©Linda Twichell 2018
Next month: the premier house of Westminster Park, the G. R. Hanford house.
Linda Lewis Twichell, a fifty-six-year resident of Westminster Park,  has collected historical information on the Westminster community since  the 1970's. Presently, her research focuses on the lives of the people  who settled here in the last quarter of the 19th century, and the  cottages they built. A book of Westminster Park, its people, and their  stories is in the works. Be sure to check out Linda's other historical research published in previous issues of TI Life.  
Posted in: Volume 13, Issue 12, December 2018, History, People, Places
---
---
---