We all know the adage: "Don't believe everything you read in newspapers." Nevertheless, the nineteenth century upstate newspapers make for entertaining reading, including bits of fact and dollops of opinion. At the same time, they do provide information which helps to piece together the stories we seek about the founders of our River communities.
We often see the identical article appear in a number of newspapers in various cities. That makes it difficult for the amateur historian to detect the paper of origin or the reporter who filed the column. Sometimes, we see articles with bylines or initials indicating authorship; other times not. Even legal documents contain errors due to handwriting challenges and careless entries. Family legends and the scraps of paper with notes are plagued with erroneous information. Nevertheless, we continue to search for the stories.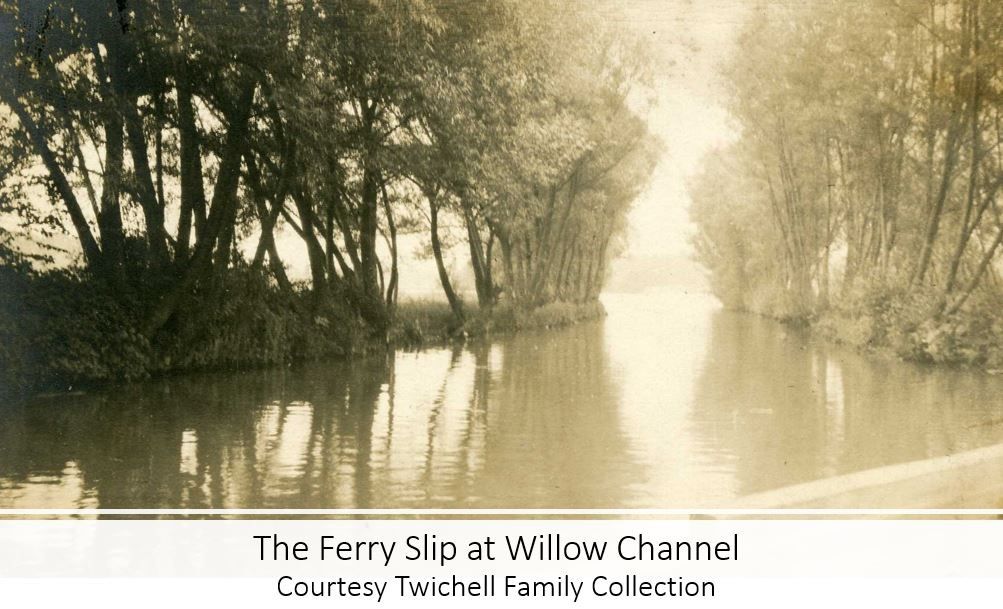 On a fine day in May 1881, Flanagan embarked on a trip to the Saint Lawrence River with Dr. John C. Gallup of the Houghton Seminary in Clinton, New York. Flanagan had an enthusiasm for life that colors all his newspaper articles. In this report, Flanagan and Gallup arrive at Alexandria Bay looking for passage to Westminster Park. He describes an encounter with Ned Patterson, one of the best-known oarsmen of the era. In his introduction of Gallup to Patterson, a joke about the "fairer sex" was made. Patterson laughed, revealing a "full set of new teeth." Flanagan's charm shines through: "From this, I infer that there may yet be hope that honest old Ned will have some-one to soothe his declining years and make his head rest comfortably thro' his final season on the river."
Since May was too early in the season to fish, and since Patterson could not take them across until the following day, Flanagan and Gallup hired Captain Visger to carry them to Westminster. Visger passed-up landing at the monumental dock that he and his crew had built two years before, choosing to disembark at a point downstream. Captain Visger selected a "new ferry slip that was dredged and improved last season." He reported that this slip was 2000 feet in length, 30 feet wide, and seven feet deep. Willows were planted on either side with the intention that they would grow together at the top forming an "evergreen archway". A substantial ferry house and dock were already in place. Gallup expressed his intention to build a boathouse on a side branch of the canal for the use by his niece's husband, Rev. Charles Frederick Goss who at that time was a Presbyterian minister in Bradford, Pennsylvania.
Dr. Gallup was not reported to have been at the 1878 Lot Sale but, being a stalwart Presbyterian from the Greater Utica area, he was involved in the management of the Westminster Community from early days. In 1880 and subsequent years until his death in 1884, we see that Dr. Gallup served as the 2nd Vice President of the Westminster Park Board of Trustees. In 1881, Gallup took on the task of the efforts to remodel the ill-fated Bethune Chapel on the top of Mount Beulah. It was hoped that some structural improvements focusing on improving the acoustic properties, as well as the addition of religious services every Sabbath might compensate the public's dislike of the arduous hike to the highest point on Wellesley Island. As we know, these well-intentioned efforts could not silence the complaints and within a very short time, the decision was made by the Westminster Trustees to dismantle the Chapel, that had been designed to be an architectural monument to God and a glorious centerpiece of the community. We also note that the Board of Trustees took ten years to accomplish the construction of a chapel on the Hotel grounds.
(See articles in March and April of 2018; thousandislandslife.com)
Meanwhile, Reporter Flanagan's columns contain evidence that Dr. Gallup owned several lots in the Park and was undertaking the construction of a cottage to be completed by the summer of 1881: In the "Utica Morning Herald", May 15, 1881 we read: "As I write men are engaged in excavating on the side hill for the foundation of Dr. Gallup's cottage on Mystic Avenue which overlooks the lovely Poplar Bay on the lower side of the island. The lot is 60' X 85' and the cottage will be about 34' x 37', two stories in hight (sic), and will have a tower."
Because of the friendship of J. J. Flanagan and Dr. Gallup and the newspaper accounts, it is often overlooked that Gallup had a partner in building the cottage named James C. Bronson of Amsterdam, New York.
Who was Dr. John Chester Gallup?
Marilla Houghton (1825-1894) descended from a prominent New England family. She was educated at Mount Holyoke Female Seminary in Massachusetts, graduating in 1846. (Marilla's brother, Henry Oscar Houghton, founded the Riverside Press, which later became Houghton-Mifflin Publishing Company. Another brother, Rev. Willard J. Houghton, founded Houghton College in Western New York State.) Marilla established a career in education, teaching at Ingham University in LeRoy, New York, and meeting John Chester Gallup. After their marriage, the Gallup's settled in Clinton, New York.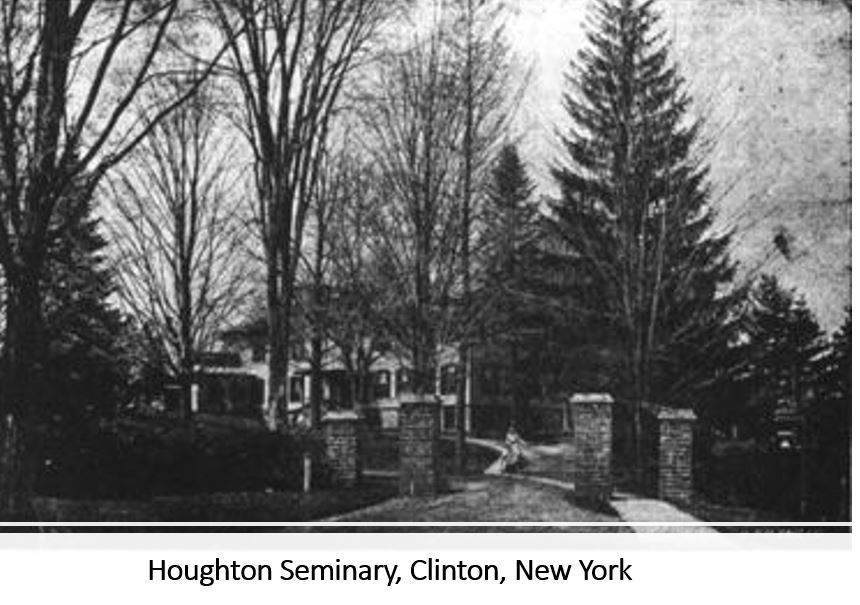 The Gallup's had no children. Marilla's brother, Rev. Daniel Clay Houghton, D.D. and his second wife, Juliana Alton, both died before the Civil War, leaving a young daughter. Rosa Elizabeth Houghton (1854- 1922) came to live with the Gallup's in Clinton. She was educated at Houghton Seminary with its affiliation with the Hamilton College community. Rosa met Charles Frederic Goss (1852- 1930). Rev. Goss was a graduate of Hamilton College, Class of 1873. He then went on to study the ministry at Auburn Theological Seminary, Auburn, New York, graduating in 1876. Upon graduation, he and Rosa Houghton were married.
Who was James H. Bronson?
James H. Bronson (1826- 1909) was born to a family in Amsterdam, New York. His father is credited with bringing the crop of broomcorn and the broom-manufacturing industry from Connecticut to New York State. The elder Bronson was an early Abolitionist, active in the Underground Railroad, and an ardent temperance reformer. Bronson grew up with a well-developed social conscience and a strong work ethic. He attended local schools and later Union College, graduating in 1848. He began his career as a teacher in Brooklyn, but later returned to Amsterdam to continue and develop his father's broom business. James Bronson and John Gallup were well acquainted. Both NYS men shared a passion for education of young minds and similar opinions on social reform. Bronson was a member and elder of the Presbyterian Church for over 50 years. Bronson was a forceful speaker who traveled to ministerial associations, lecturing on the importance of voting and the regulation of liquor traffic. Both Bronson and Gallup were leaders in the New York State Temperance Society. Bronson owned stock in a streetcar company and served as President of a local school district. We see that Bronson was also involved with the Westminster Park Association and served for a time on the Board of Trustees. Although Bronson was married several times, he had no children.
Anecdotal evidence tells us that John C. Gallup and James H. Bronson bought property and built a cottage as equal partners. When Dr. Gallup died in 1884, he left his share of the house to his wife, Marilla Houghton Gallup. Upon Marilla's death in 1894, her share of the cottage passed to her niece's husband, Rev. Dr. Charles F. Goss. In the 1890's, America suffered a severe economic downturn. We see that James Bronson made efforts to sell his interest in the cottage, hoping to weather the economic storms, but ultimately financial problems caused him to lose his share of the cottage to an Amsterdam banking institution. In 1897, Rev. Goss purchased that half of the cottage from the bank for a reported $150. He and his wife Rosa owned the house until about 1920.
The Gallup/Bronson Cottage Circa 1897
Photo from "Watertown Herald" June 19, 1897
Next month's installment will tell more of the life of the Goss family in Westminster Park.
©Linda Twichell 2018
Linda Lewis Twichell, a fifty-six-year resident of Westminster Park, has collected historical information on the Westminster community since the 1970's. Presently, her research focuses on the lives of the people who settled here in the last quarter of the 19th century, and the cottages they built. A book of Westminster Park, its people, and their stories is in the works. Be sure to check out Linda's other historical research published in previous issues of TI Life.
---
Comments
Comment by: Don
Left at: 4:56 PM Wednesday, November 14, 2018
Once again Linda, thank you. There appear to be several abolitionist families in Westminster Park. Frederick Starr Lot 106 was from Auburn NY... his father was a well know abolitionist. Not sure of his connection with Harriet Tubman..... but the Islands seem to be a logical "railway" to Canada.
Comment by: Linda Twichell
Left at: 7:59 PM Wednesday, November 14, 2018
The Westminster Park people were a fascinating set of people. There were many liberal thinkers (men AND women) who believed in and worked for social reform. Frederick Starr was one who had a fascinating life and traveled the world as you know. A number of our early citizens came from Auburn, NY and Auburn Theological Seminary: Herrick Johnson, Erastus Twichell, Edmund Twichell, Charles Frederic Goss... the list goes on... Researching their lives if fascinating work! I love finding the connections between these people. Thanks for you comments, and your added info about Frederick Starr. So many great stories to reveal! Linda
Comment by: Kathy
Left at: 5:03 AM Saturday, November 17, 2018
Thanks Linda, always a interesting and great to see a house I recognize
Comment by: prudence matthews
Left at: 12:22 PM Friday, November 23, 2018
hi Linda just read your interesting article. Robert would be proud of you....loved hooking with you and the girls in your beautiful cottage this summer....cant wait for the next installment love Prudence
Posted in: Volume 13, Issue 11, November 2018, Architecture, History, People, Places
---
---
---