Mr. and Mrs. DeForrest Fairchild of Leavenworth, Kansas were actually citizens of the River community. I claim them for Westminster Park, because that is where they began their River days and where they ended them.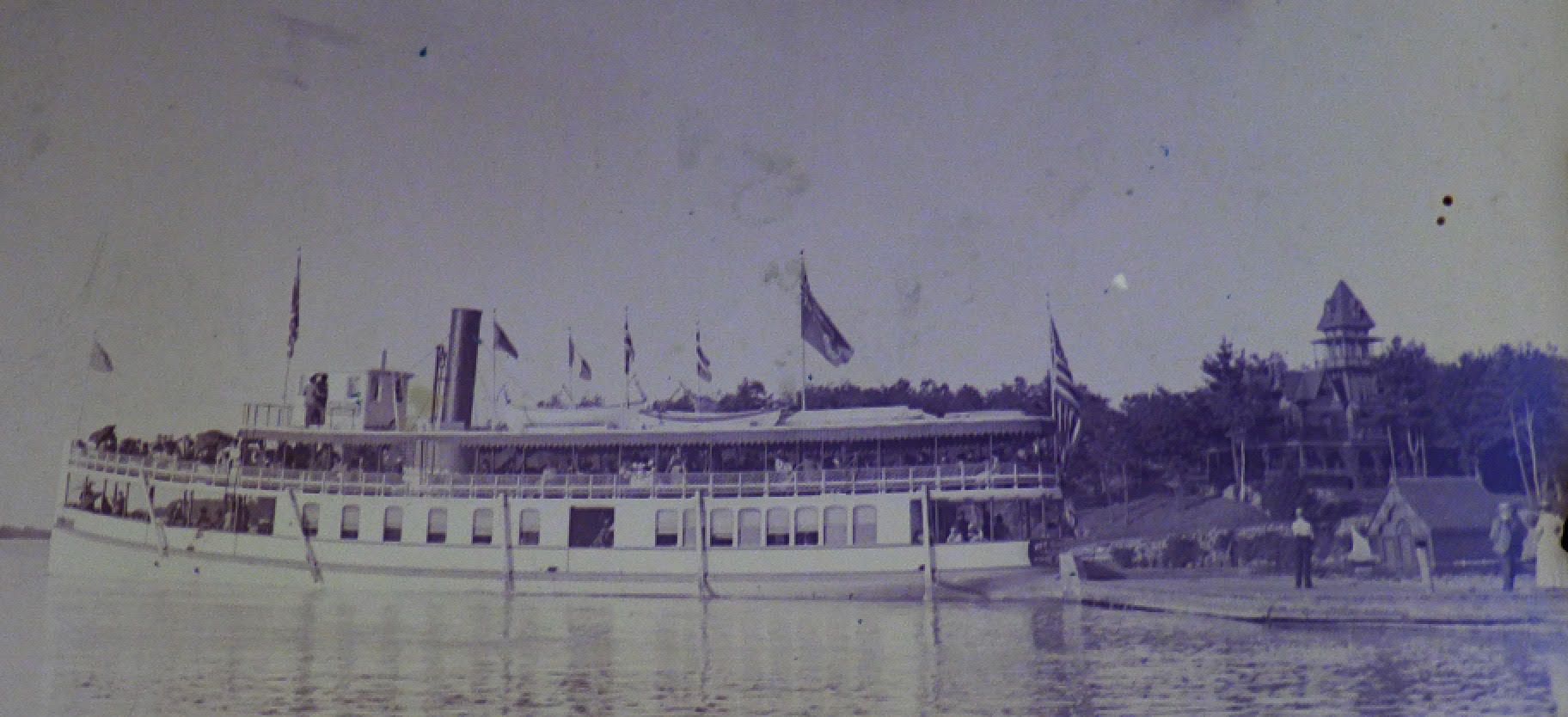 These are NOT easy people to find. In many sources, DeForrest's name is spelled DeForest". Other places refer to him as D. F. Fairchild.  His wife's birth records record the name Johanna; some sources used Josephine. Friends called her Josie but she often called herself "Mrs. D. F. Fairchild". No lack of confusion there! Nevertheless, this couple had a fascinating life and this is the story I will relate to you.
DeForrest was born about 1843, in New York State. His parents were William Fairchild and Catherine Barbara Hunt Fairchild. Although DeForrest's mother's given name was Catherine, she used the name Barbara through much of her life. William and Barbara's families were from Greene and Ulster Counties of New York State. As a young man, William and Barbara migrated to Cincinnati, Ohio where they owned and operated a lumber yard. The business suffered a fire, and William lost everything. The Fairchilds then moved to Leavenworth, Kansas. William opened a wholesale dry goods business and continued in this industry until his retirement, "having amassed a competence", according to his obituary in the Evening Standard, Leavenworth, Kansas. Monday, Oct 3, 1898.
The 1860 census lists William as a merchant, and son DeForrest, age 17, as a clerk. We can see that as a young man, DeForrest learned how quickly fortunes can change, but industry and perseverance can prevail.
In Kansas, DeForrest's sister Helen married Edward Payson Willson in 1863, but died before her first anniversary. Willson was a founder of the Great Western Manufacturing Company, producer of a wide variety of machinery for many industries of the day, (flour mills, sawmills, pumps, water wheels, etc.)  In 1865, DeForrest purchased a one-third interest in this business. Josie's brother, Samuel M. Cretors, became the bookkeeper for Great Western Manufacturing. In 1875 DeForrest, and two partners founded Great Western Stove Company. He sold his interest in this business after a few years. In the 1890's, DeForrest and Josie began to make winter visits to Galveston, Texas where a sister of Josie lived. DeForrest became interested in opportunities in the South and invested in fruit orchards, vegetable farms, and tobacco. In a short time, he branched out to tobacco plantations in Florida and shipped his Texas tobacco crop to the Tampa area, where he believed there were superior methods of curing and packaging tobacco.
The Fairchilds were prominent in Leavenworth society. Both shared their talents with the organizations of the community. They attended the Methodist Episcopal Churches and sang in the choirs. Sometimes they sang in quartets, with Josie singing soprano and DeForrest tenor. DeForrest donated a large pipe organ (the largest in the city) valued at $6000 to their church.
Josie formed the first Humane Society in Leavenworth, and acted as the First Vice President. The "object is to prevent cruelty in all its forms to children, dumb animals, and to fowl". Josie was instrumental in forming the Leavenworth Chapter of the American Woman's League. She was awarded a diamond lavaliere for her work with this organization. Josie was a popular speaker at civic organizations, like the Federation of Clubs, in Topeka, the Whittier Club in Leavenworth, and the Art League of Leavenworth, as well as various church groups.
Both Fairchilds were popular public speakers, often showing their photographic collections. Photography was a passion of DeForrest! DeForrest took many images on their travels and developed them into artistic platinum prints, as well as sciopticon slides for public presentations. (The sciopticon was a variation of the Magic Lantern) DeForrest experimented with new ideas in photography. One article in the February 1890 Leavenworth Standard recounted: "…a picture of the audience will be taken by Mr. D. F. Fairchild, who will use a flashlight. The hall will be darkened, and when the camera is ready, a train of magnesium powder will be ignited. By the bright white light, the resulting the photograph will be taken. This is the flash light process".
The American Journal of Photography, volume 14, describes an exhibit of DeForrest's work as "twenty-four platinum prints, … acknowledged by almost all unprejudiced persons as one of the finest collective exhibits in the galleries".
The Fairchilds were travelers. There were travels to Europe and travels for business, but, of noteworthy to us, were travels to the Saint Lawrence River.
In May of 1869, the "Leavenworth Times" reported that DeForrest was about to embark on "an extended eastern tour". His itinerary included Niagara, the Great Lakes, the Catskill and White Mountains, the Hudson and the Sea shore. Well-wishers from the Choir of the First Methodist Church presented DeForrest with a silver pitcher as a bon voyage gift.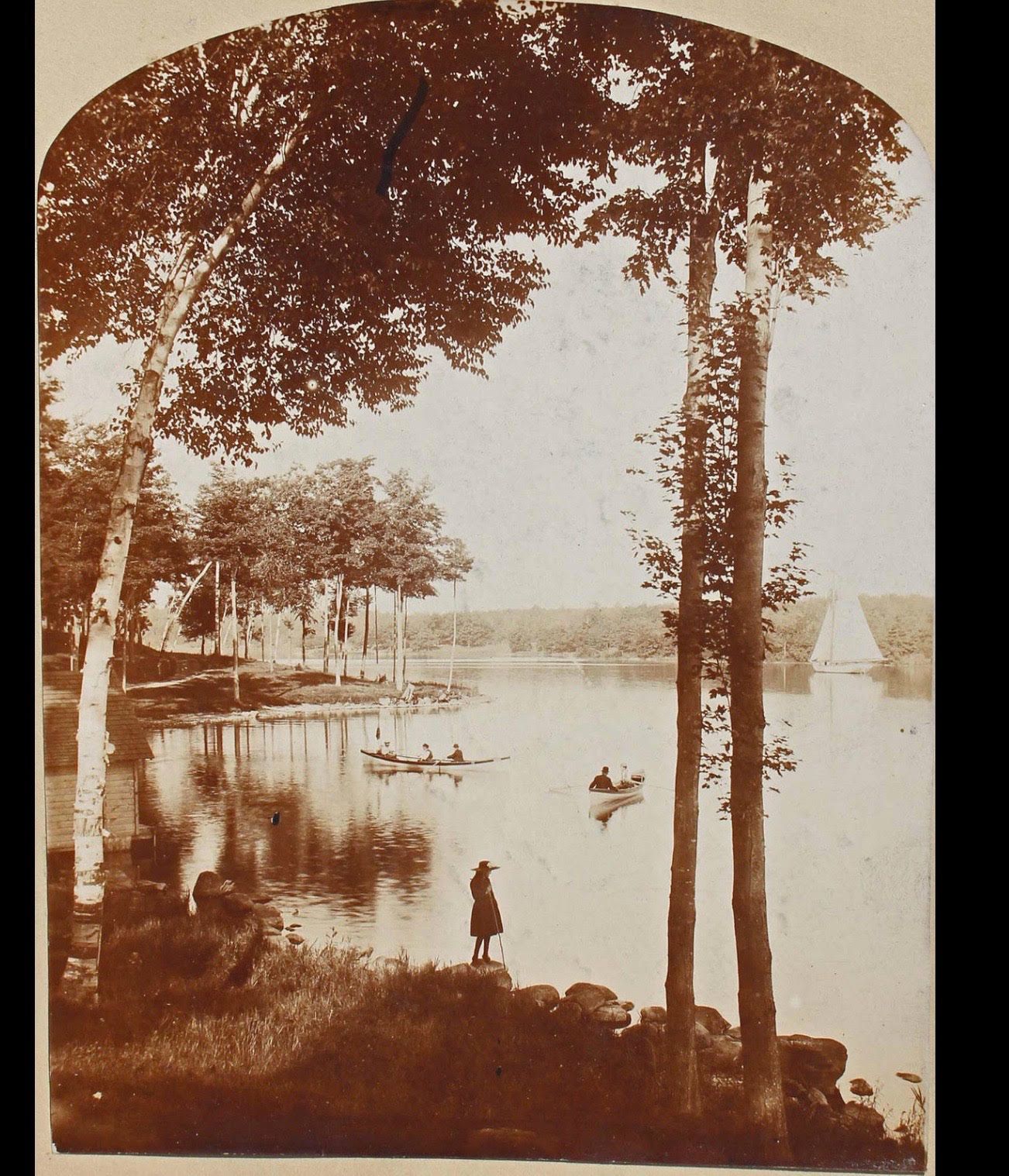 In 1875, DeForrest, Josie and daughter Helen undertook an epic trip along with Howard Wilson to navigate by canoe from the Saint Lawrence River through America's waterways to the state of Florida. The account of this trip was detailed in local newspapers. Years later, the Leavenworth paper tells us that Mrs. DeForrest Fairchild was to entertain the Leavenworth Whittier Club with a presentation of the "perils, incidents, and pleasures of 'A Trip to Florida' by water from the Saint Lawrence though the Erie Canal by canoe and by steamer to the Upper St. John's River". The newspaper reported that they were the first people other than hunters and Indians to visit that part of the River. (Do you think there was a bit of hyperbole there?)
By the mid 1880's, the Fairchilds seemed to have caught River Fever.
Newspaper Social Columns and cottage logs record annual visits to the Westminster Park community and surrounds. There are only a few photographic images of their activities.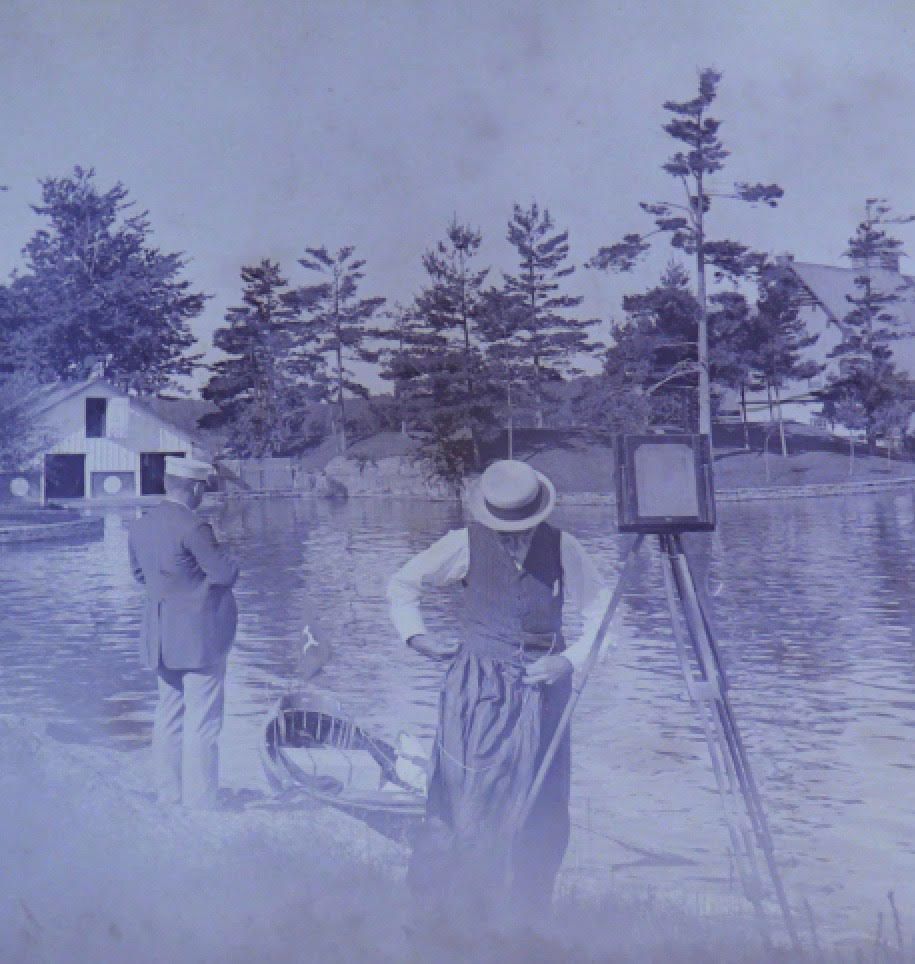 On these summer trips, the Fairchilds were often accompanied by Kansas friends and family. An 1887 account tells of a trip to Westminster Park by D. F. Fairchild and wife, William Fairchild and wife (DeForrest's parents), DeForrest's sisters, Mrs. C. B. Pierce and Mrs. E. P. Willson (the second wife), and a nephew, Josie's sister, Mrs. John Gimper and her son. Others in the party were close personal friends of DeForrest and Josie: Judge Robert Cozier and wife, Susan, (related to Nathaniel W. Hunt of St. Elmo Island), Mrs. William Small, and half a dozen others. Accounts from the "Leavenworth Times" reported that in the 1000 Islands, the summer was perfect for rowing, fishing, picnicking, berry picking, and excursions on the magnificent steamers that ply on the River…" The Fairchilds stayed in the Westminster Park Hotel.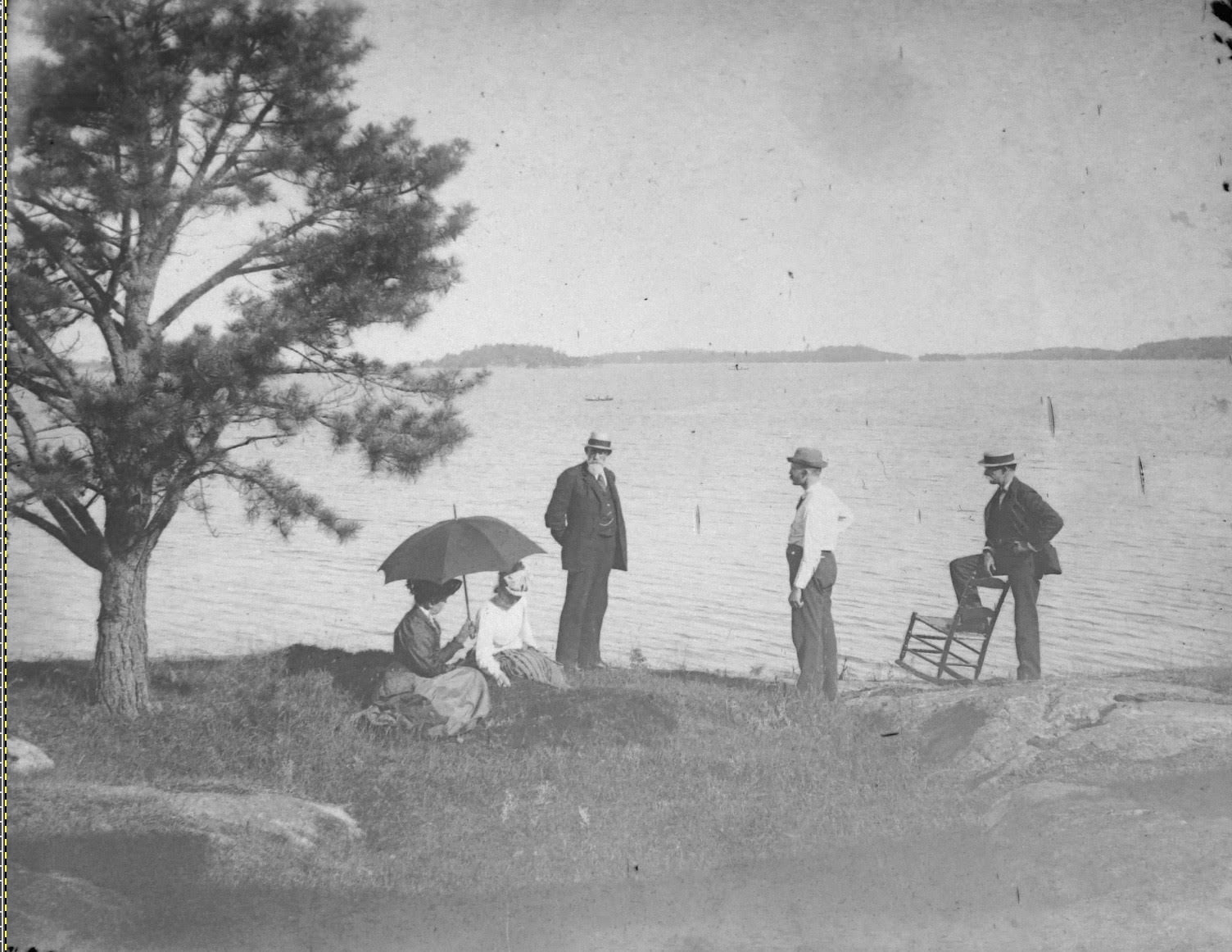 On the Saint Lawrence and Clayton Independent reported on the Fairchilds in the Summer of 1892. "Several sales of private property have also been made this season. The latest transaction…is the purchase by Mr. D. F. Fairchild of Leavenworth, Kansas, of the peninsula forming the northwest portion of the 'LaRue' or 'Hill Island'. It is a lovely spot comprising three acres of high ground, heavily wooded with pine, oak and hemlock, commanding a magnificent view of the River, and islands in every direction... a few feet only of low ground connects the point with the main island. Mr. Fairchild proposes to excavate, forming another island which will be named 'Isle Heline' in memory of their only child, a daughter, they have recently lost. Mr. and Mrs. Fairchild have long been upon the River, and will be greatly missed by the guests of Westminster Hotel which has been their summer home for eight years past."
Site preparation and construction on their new island cottage began in 1892, with a completion date of 1893. More information on this property is available in Susan Weston Smith's book, The First Summer People, The Thousand Islands 1650-1910. Another interesting article can be found in the Archives of thousandislandslife.com in an article entitled "Hill Island's Link to Monsters and Mobsters", published in October 2010. Editor Smith and Hill Island neighbors Gayla and Mike Heberling did a good bit of research on this property.
It has been reported that the architect of the house was likely Frank T. Lent and that the house was built by Mitchell & Wilson Construction Company of Gananoque, Ontario. Frank T. Lent was an architect of some renown in the 1890's and early twentieth century, known for designing public projects like the Gananoque Clock Tower and the Gananoque Canoe Club, as well as his work designing homes in New Jersey, Massachusetts, Ontario, and many of the 1000 islands.
The Fairchilds continued their annual trips to the Saint Lawrence River, enjoying their new summer home on Hill Island. Friends and relatives came from Kansas; some for a visit and some for the entire season. The house was a point of interest on the River tours as the steamboats passed by. The 1895 tour pamphlet, "The Routes described by the Excursion Steamers upon the Saint Lawrence River" by J. A. Haddock, described their home as being at the foot of "Hill Island… the charming villa, with its tasteful surroundings, of D. F. Fairchild, of Leavenworth, Kansas, classically named Fairjoline." The name of Fairjoline combined the syllables of Fairchild, Josie, and their deceased daughter, Helen. In 1895, this steamer captain's report was clearly describing the home of the Fairchilds, not to be confused with future owners.
In the Spring of 1896, DeForrest ordered a new yacht from renowned boat builder, F. M. Hunt of Alexandria Bay. This boat joined the Fairchild family's fleet of three skiffs.
One of the interesting things about Josie and DeForrest Fairchild was their social connections. Having lost their only child, Helen, at age 18, they developed close personal friendships with family members and business acquaintances. It was not unusual for the Fairchilds to be on the River, with an entourage of other Kansas people. While they continued their friendships with Westminster Park citizens, we also see them socializing with the families of Hill Island and Fairyland Island. Many times, we see the Fairchilds (and their houseguests) invited to the parties of the Millionaire's Row. This was not the custom of most of the earliest Westminster Park families we have written about, but times were changing. As more and more people from Brooklyn arrived, the social life became grander. 1890 Americans saw the intersection of the Gilded Age and the Gay Nineties. In 1893, there was a serious economic downturn in the American economy, but some of the River's elite seemed to carry on without much adjustment in lifestyle.
In 1892, there was a progressive euchre party at Saint Elmo's, the island home of Nathaniel W. Hunt. Decorations included strings of fairy lights to illuminate the walkways to the dock. The newspaper account described the scene as offering "beautiful displays, rivaling Aladdin's palace in magnificence and artistic effect". The porches were decorated with lanterns, rugs, and easy chairs. Guests were greeted with an elaborate display of fire-works and pyrotechnic displays. Euchre games were played. Elaborate prizes were offered to the winners and the losers. A meal was served. As the guests departed for the evening, another display of fireworks was set off. The Fairchilds were in attendance at this festive affair.
In 1896 the Fairchilds attended a party given by Henry R. Heath to celebrate 25 seasons on the Saint Lawrence River. One hundred guests attended this gala, including Judge and Mrs. James Spencer, Mr. and Mrs. Gilbert Rafferty, Mrs. James Oliphant and daughter, as well as, Andrew Cornwall, Charles Walton…a veritable who's who of River Folk. The Fairchilds were included.
Although it is reported that the Fairchilds spent two months at Fairjoline in the summer of 1899, we find an ad in the New York Herald in April of that year which reads:
The Fairchilds and extended family members were regulars on the River each summer. Sadly, in late 1900, DeForrest Fairchild died. In 1901, Josie Fairchild came to her Hill Island home with her longtime friend, Mrs. William Small. I have heard the story that she no longer wanted to live on an island without her husband, and so she returned to Westminster Park and bought the cottage on Lot 639 which had been owned by the Estate of Elizabeth Francis of Utica. (The story of the Francis family will come in a later installment.)
Josie sold Fairjoline to Sara Batterman of Brooklyn, New York for a reported $13,000. Records list the seller in 1900 as J.G. Fairchild. That is Josie G. Cretors Fairchild.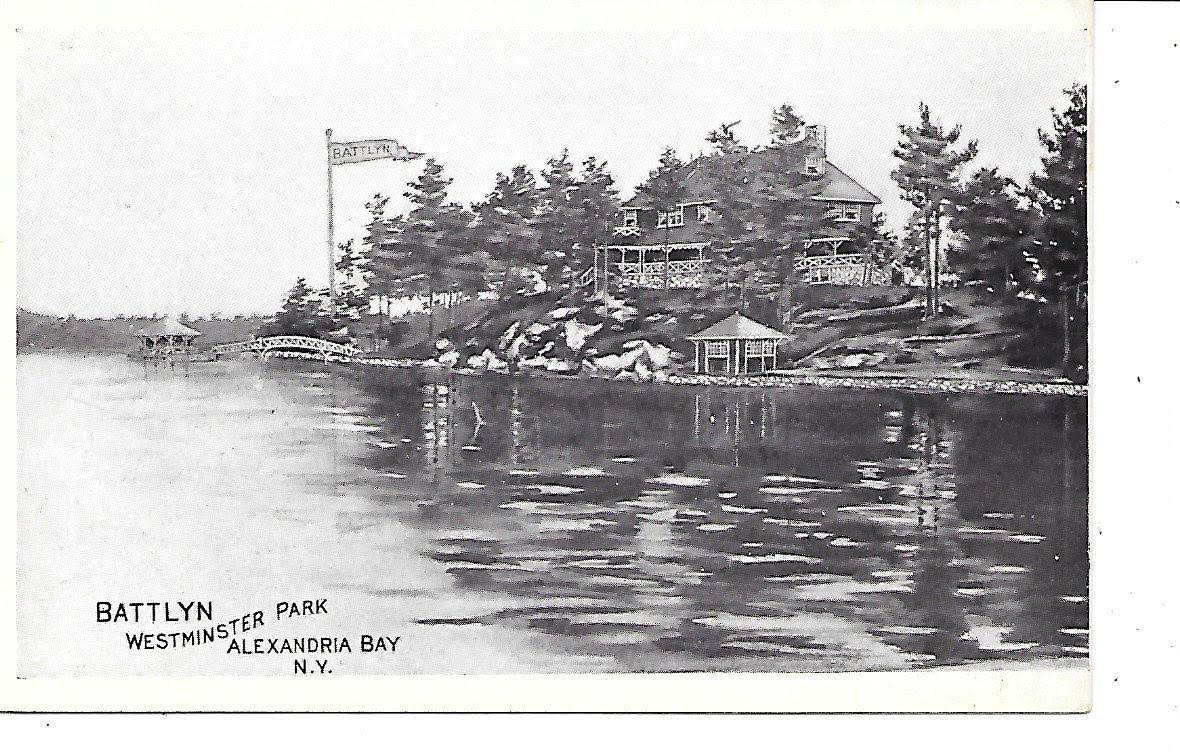 The new owners, the Batterman's of Brooklyn, renamed Fairjoline, calling it Battlyn Island. At that time, this property was known as Batterman's Point. The Batterman's hired Frank T. Lent as architect and Mitchell and Wilson to execute extensive renovations to the property. The Batterman's kept the property until about 1920. I have had this image for a long time and was always puzzled by the inscription. Now I suspect that the tag of Westminster Park is a misnomer. Because of the small island with gazebo, I now believe this is the Batterman's cottage, known in earlier times as Fairjoline and Isle Heline. For more on the history of this house, please refer to the aforementioned work of Susan Smith and the Heberling's.
Josie continued to come to her Westminster Park cottage for twenty-five more years. Reports of her activities on the River were fewer and farther between.  In Kansas newspapers, we read that Josie continued her civic activities as mentioned before. In 1913, she suffered a calamitous fall down a staircase in a home in Leavenworth. She was hospitalized for two months. It appeared that she continued to come to the Westminster Park cottage. We see her name in the Hotel log in 1917. In 1919, the census shows her living with her nephew in Iowa.
In 1927, Josie sold the Westminster Park cottage to Dr. Francis O'Brien of Rochester, New York. The O'Brien family enjoyed life in that house for more than half a century.
Josie died in 1929 and was buried in the family plot with DeForrest, daughter Helen, William and Barbara in Mount Muncie Cemetery in Lansing, Kansas.
By ©Linda Twichell 2020
Linda Lewis Twichell, a fifty-seven-year resident of Westminster Park, has collected historical information on the Westminster community since the 1970's. Presently, her research focuses on the lives of the people who settled  here in the last quarter of the 19th century, and the cottages they built. Each profile provides valuable Thousand Islands history.
A book about Westminster Park, its people, and their stories is in the works! Be sure to check out Linda's other historical research, published in previous issues of TI Life.
Posted in: Volume 15, Issue 2, February 2020, History, People, Places
---
---
---