The name of North Country artist Doug Drumm is a familiar one along the River. I remember reading about the "Door with the Heron" that he made for the Save the River office renovation, or when I visited a friend and they proudly explained that the piece I admired was a Doug Drumm "unique one-of-a-kind work of art." But somehow, meeting the gentleman in person at my home on a hot summer's day, beats everything.
It started when we attended the Thousand Islands Land Trust summer picnic in June. I sat next to Doug Drumm and realized it was the same Doug Drumm whose artwork was on display at the Thousand Islands Arts Centre. A week later, I went back to Clayton and had the opportunity to explore the exhibit,  "Interfused: The Art of Doug Drumm & Mark Tollner," and saw first-hand, what was admired by so many.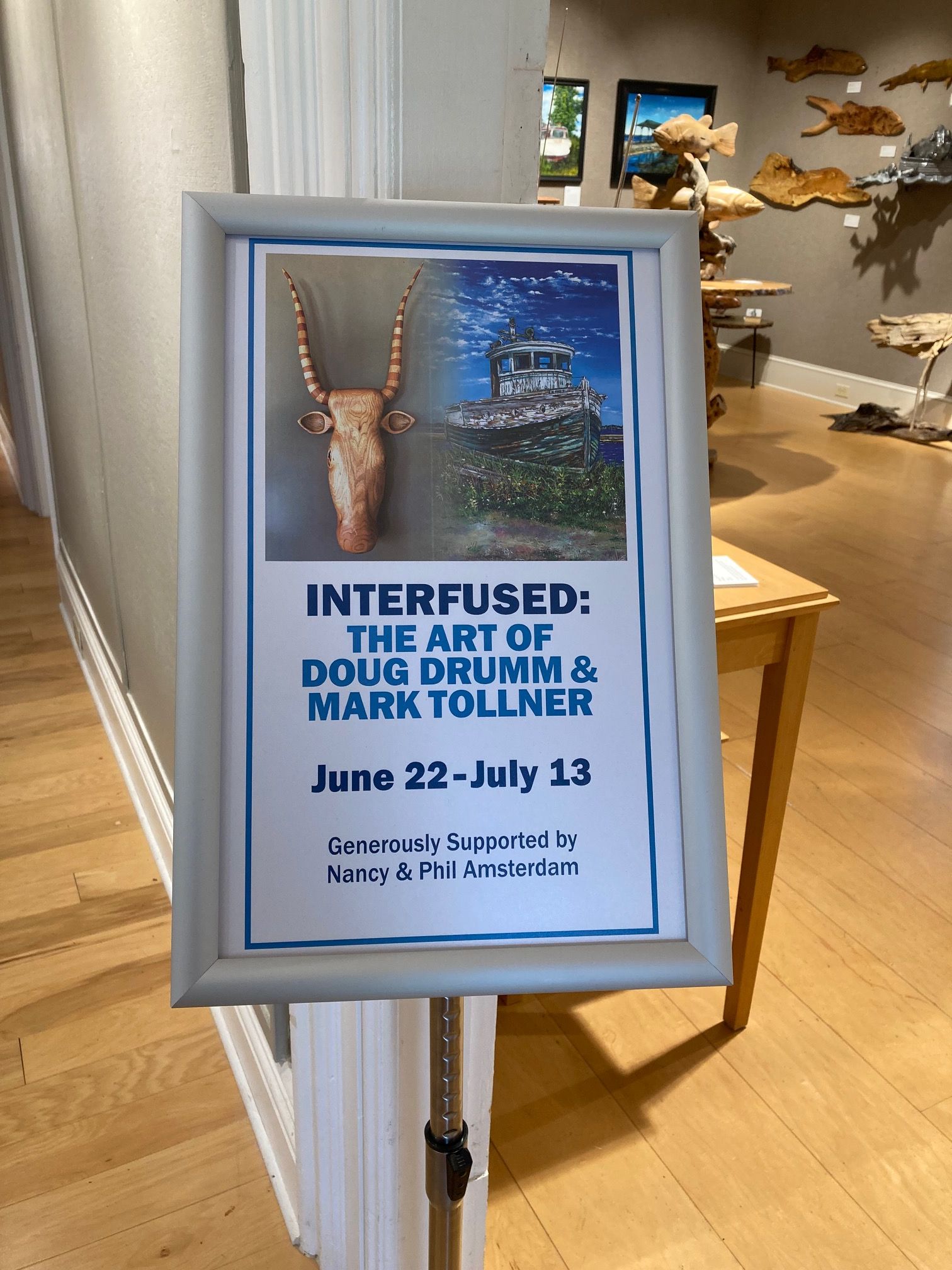 "I must interview this artist – this summer, now," I said. A few phone calls later, we arranged for Doug and his wife, Dee, to come across the River with mutual friends Carl and Tammy Lueck. The day was chosen, and sure enough, they arrived by boat for lunch.
As they came up from the dock, I realized that not only would I have an afternoon learning all about Doug's work, but I was – right then and there – the proud recipient of a beautiful Charcuterie Board. (One that is far too good to be given as a hostess gift – but one that was accepted immediately!)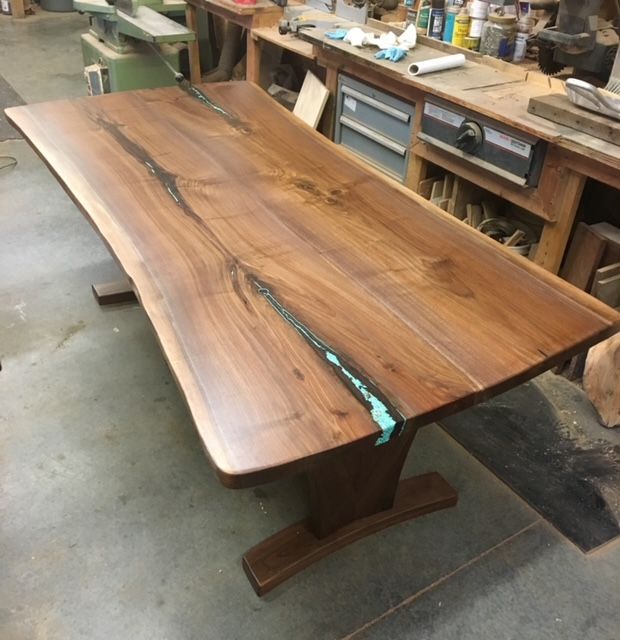 Doug's Story
Doug Drumm, one of three siblings, grew up on a dairy farm in the Otisco Valley, in the Finger Lakes. When I asked Doug if he had any formal art training, he smiled. You see, Doug did not spend time as a youngster playing basketball or football, but instead, he worked on the farm. If something broke, they fixed it; if part of the barn or a building needed wood repairs, they cut the trees, milled the boards, and then they fixed it; and what may seem like a daunting woodworking task became second nature and a passion that has remained with him throughout his life.
He does admit that he had some training in ceramics. At one time, he fished in the Florida Keys and found a studio with ceramic fish. Intrigued, he attended the Onondaga Community College ceramics courses – the same course for several seasons. He became proficient and enjoyed helping other students with their projects. In addition to the ceramics, he started designing and creating metalwork sculptures. Everything Doug designed and made was appreciated.
Eventually, he realized that metal sparks and wood chips did not go well together, and certainly, clay dust mixed with sawdust was equally unmanageable and dangerous. Thus, his focus on wood.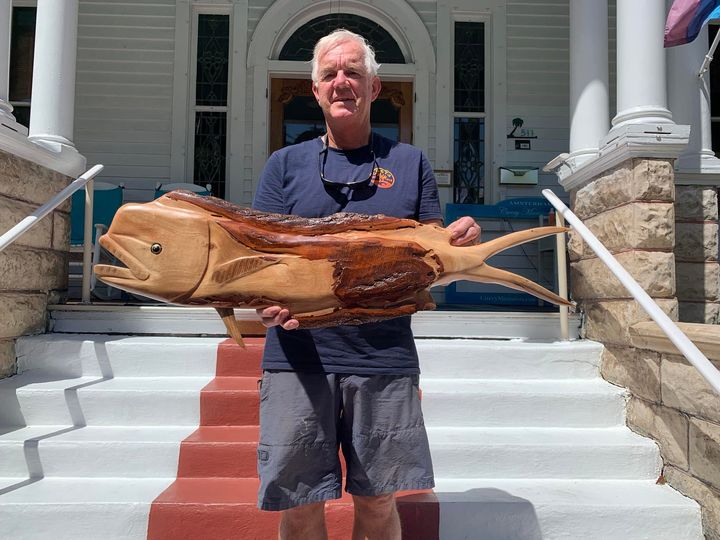 The Designer and Artist
Of course, you and I can see a piece of wood, and it will remain a piece of wood, but that same piece – seen through the eyes of an artist, and especially those of Doug Drumm, can turn out to be an amazing sculpture or board or table and, inevitably, there are stories in each one of those creations.
First is the story of where the piece of wood was found. "I see a fish in that piece," he would say. Or he would be in a forest and see a cut tree and know that if he found the right sawmill, he could make a THIS  or a THAT . . .  Over the years, he has found the most amazing mills – such as one in the North country that can cut boards far wider than you or I can imagine.
He admits he does not like sitting still. When you and I go to Florida to sit on a beach, Doug will hunt down those swamp guys – who mine the Florida swamps for Cyprus stumps. One of his recent pieces, the Mahi Fish, comes from one of those trips – where he saw the wood and knew right away what it would become.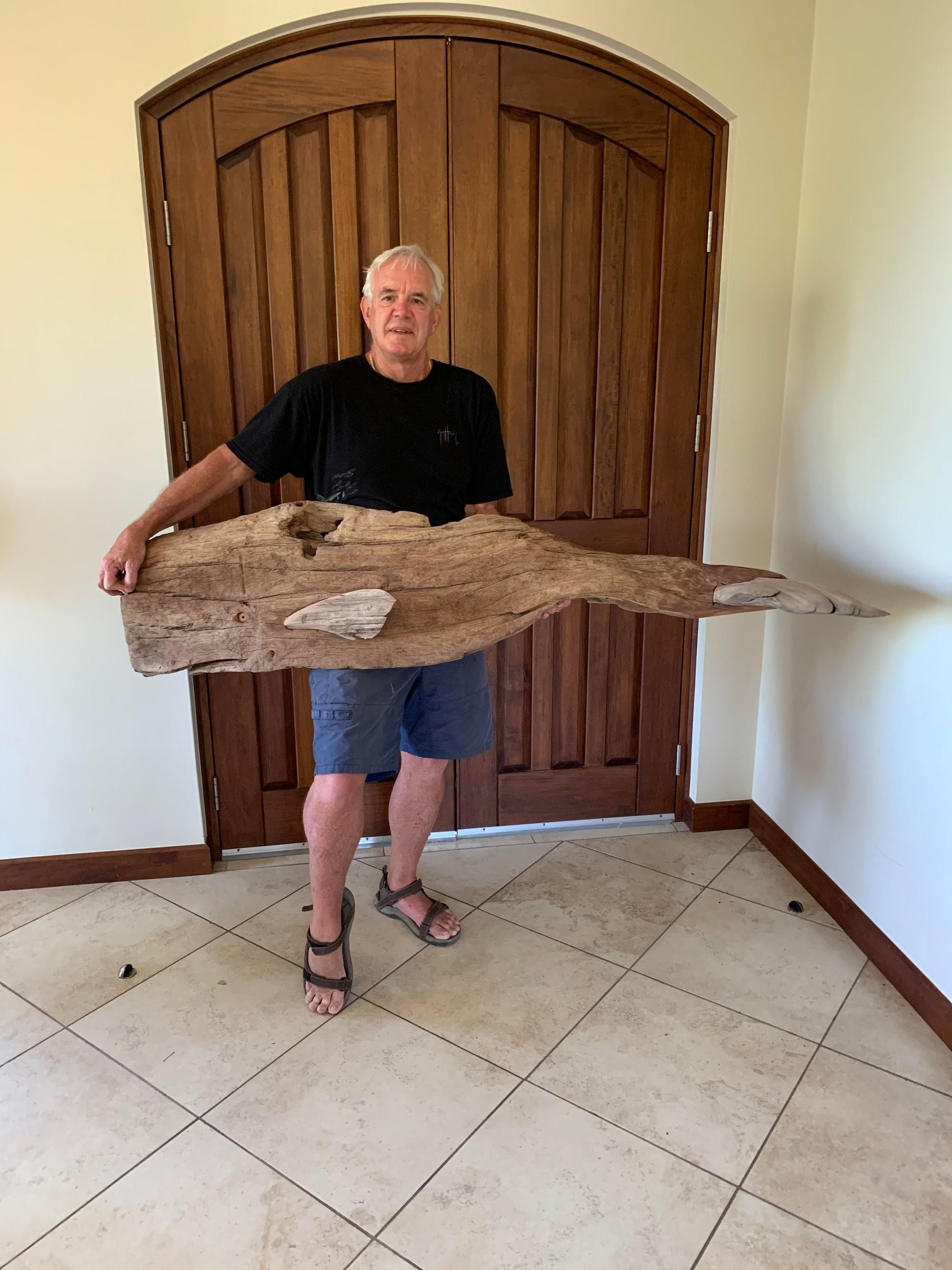 There were two stories he related about the time he was visiting his family in Costa Rica and he discovered what would become a whale!
"We were on a boat with about ten friends and my brother and his wife and daughter. We went to a secluded beach where, as usual, I immediately swam to shore, about 75 yards and began combing the tree line of the beach for driftwood. One of the pieces I found that day was the future whale and another was his tail. Everyone on the boat pitched in to help carry it to the water, swim it to the boat and lift it on with the help of the boat crew. When we returned to the condos we loaded it onto a dingy and transported it to the beach where we unloaded it and they pitched in to help clean and take it to the back parking lot so I could work on it."
But like all good stories it does not end there.  You see Doug had no tools to work on his "whale." No problem, he stopped a work crew and in  English, which nobody could understand, and lots of hands gestured, he persuaded the crew to bring their chain saws and assist him and then watch him make his creation. Before long, everyone realized it was a giant-sized whale – which was given to his brother and today sits proudly in their Costa Rican home.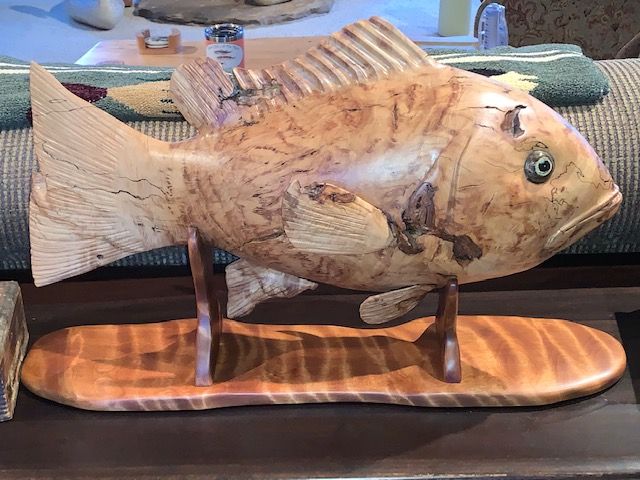 Artist Luck
However, Doug Drumm is the first to admit he that he's been lucky over the years. First, he had a career as an expert in the wall covering business, which allowed him to meet some of the country's most prominent interior designers. Hanging silk, wooden bark, all sorts of exotic papers, was not a difficult task for Doug. At the same time, his expertise was recognized in the industry, and he was engaged to work on some of New York's most prestigious homes and buildings. He readily admits that those designers shared their taste in art and furniture design. He also admits that he was never in the position to buy such beautiful pieces, so if he wanted something special, he just went to his workshop and built it. From there, his Doug Drumm Creations  - Sculpture, Carvings, Furniture, and Cabinetry – became a reality.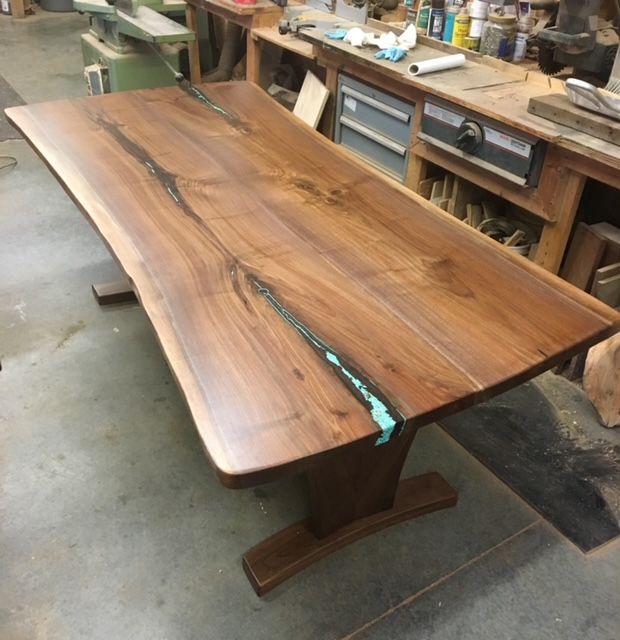 For those of us summering in the Thousand Islands, any day seems special, but on the day that I invited Doug Drumm for lunch, and I started to ask questions, I realized that it was a special day indeed.
Luckily, you, too, can have that same experience, as Doug Drumm Creations workshop is open for visitors! Take full advantage and visit Doug Drumm in his workshop studio. Call ahead (315-447-8430) and check out Doug Drumm Creations on Facebook.
I promise you will not be disappointed!
By Susan W. Smith, Editor, Thousand Islands Life
Posted in: Volume 17, Issue 8, August 2022, Artists
---
---
---