Written by Chris Murray posted on January 13, 2019 12:39
While this may appear at first glimpse to be a very simple and  straightforward photo, there were three deliberate decisions that went  into making the final image.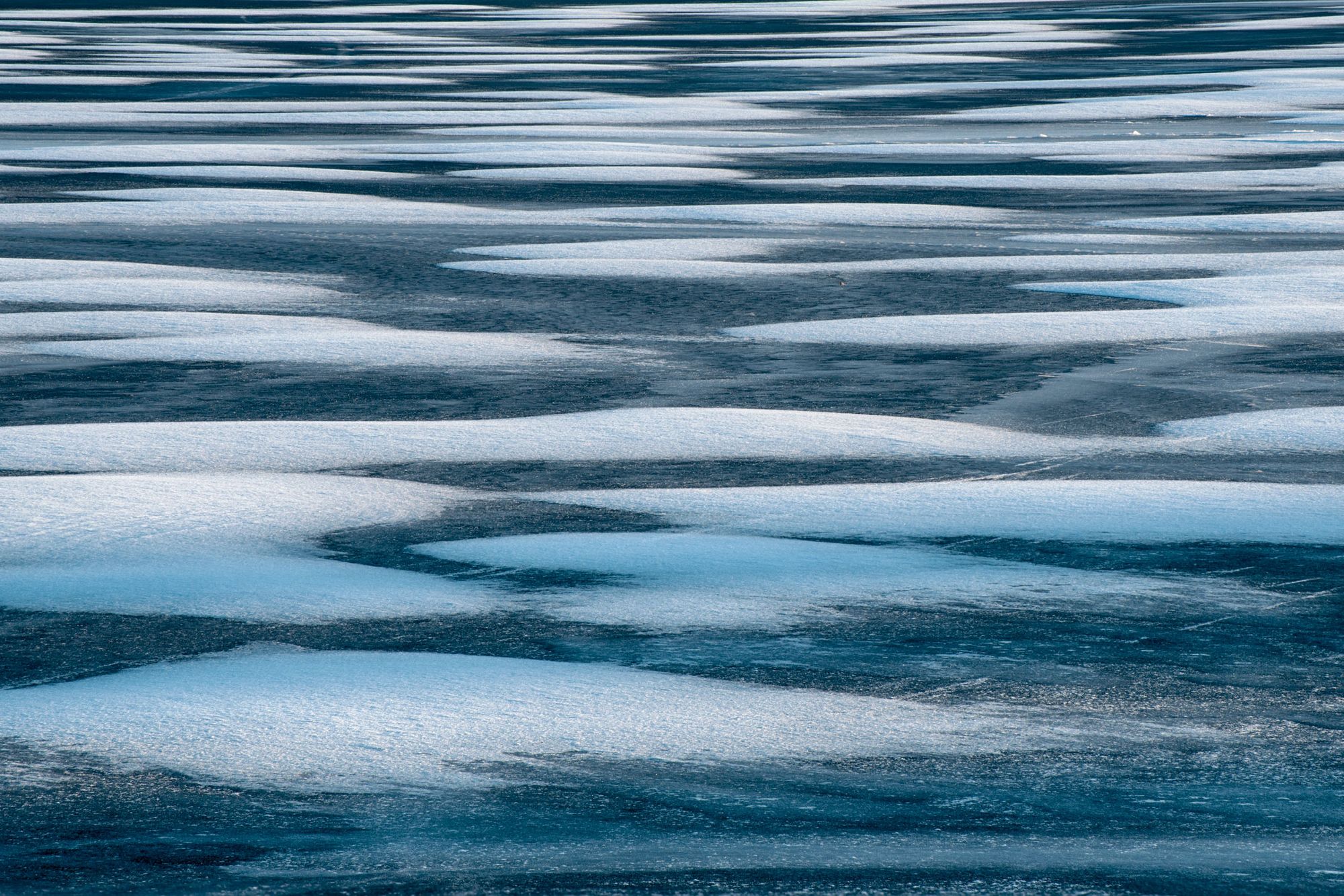 ---
As is typical, the first key decision had to do with composition. My  first version of this scene was shot with a wider-angle lens that  included the islands and some of the sky in the distance. I quickly  realized that including the distant background made the photo weaker, by  detracting from the element of interest, which was the pattern created  by the bands of ice and snow. This was an example of subtraction by  addition and a lesson in filling the frame with only the pertinent  elements of the scene. Ultimately, I decided to use a longer focal  length, focusing only on the alternating bands of ice and snow and  excluding the distant background of islands and sky.
As I was photographing the scene, with a moderately strong telephoto  focal length of 240mm at an angle looking across the ice, I realized I  would need to employ focus stacking to get the entire scene sharp and in focus. Depth of field (how much of  the scene is in focus from front to back) decreases with longer focal  lengths for any give aperture. Given the focal length and angle it was  impossible to have sharp focus throughout, with one exposure, even with  my smallest aperture. I combined three exposures (varying only the focus  distance) in a focus stack, to achieve the desired depth of field.
The third (and perhaps controversial) decision was in changing the  color of the image. I captured the scene at sunrise; consequently, the  ice and snow were bathed in warmer hues. This was in conflict with the  feeling I wanted to convey. Generally, when we think of snow and ice, we  imagine cold. I altered the white balance after the fact to make the  final image appear much more blue than it really did. When I mentioned  this to someone who liked the image they immediately pressed their hands  to their ears saying, "Don't tell me that!", as if altering reality  tainted the image somehow. As I've said before, my intent is not to  document literal appearances, but rather express creatively my thoughts  and feelings about the subject.
By Chris Murray
Chris Murray is a full-time photographer, instructor, and writer. His  work has appeared in several magazines including Popular Photography,  Shutterbug, Adirondack Life, Life in the Finger Lakes, and New York  State Conservationist, among others. He is a staff instructor with the  Adirondack Photography Institute. API's 2019 workshop schedule is now  available at www.adkpi.org. For more of Chris' work visit www.chrismurrayphotography.com.  
Posted in: Volume 14, Issue 1, January 2019, Photography
---
---
---