Cape Vincent has had its share of knocks lately. Last year it was high water and an unfortunate road construction detour that often sent drivers away from the village.  Now, because of Covid-19, the busy border ferry between Wolfe Island in Canada and the Cape in the U.S is no longer running. Despite all this, and a steadily falling rain, I found the downtown bustling with visitors to shops and restaurants on a Wednesday before Labor Day.
On the corner of Broadway and Esselstyne Street is a shaded, restored, building landscaped with elegant hydrangeas and tastefully placed hosta plants. The Chateau, the logo topped with a fleur-de-lis, is the home of Dean White Pottery. I was there to meet the potter and talk clay.  We wore masks and sat on socially distanced stools in a gallery filled with gleaming pottery, for a chat.
Dean White was born in Clinton, New York, to an artistic mother, and was first exposed to pottery as a senior in high school. He studied pottery at the Munson Williams Proctor Arts Institute in Utica, New York. He counts the late Vincent Clemente as having a big influence on him, and the person who gave him the confidence to commit to pottery as a way of life and living.
"When I very first started out it was all pretty much art and non-functional work, which I really enjoyed, but I knew that lacking the functionality it would be hard to make a living. But, if I tried to make things attractive and yet functional, it would work out well."
He has been in business solely as a potter for 46 years, so it must be working.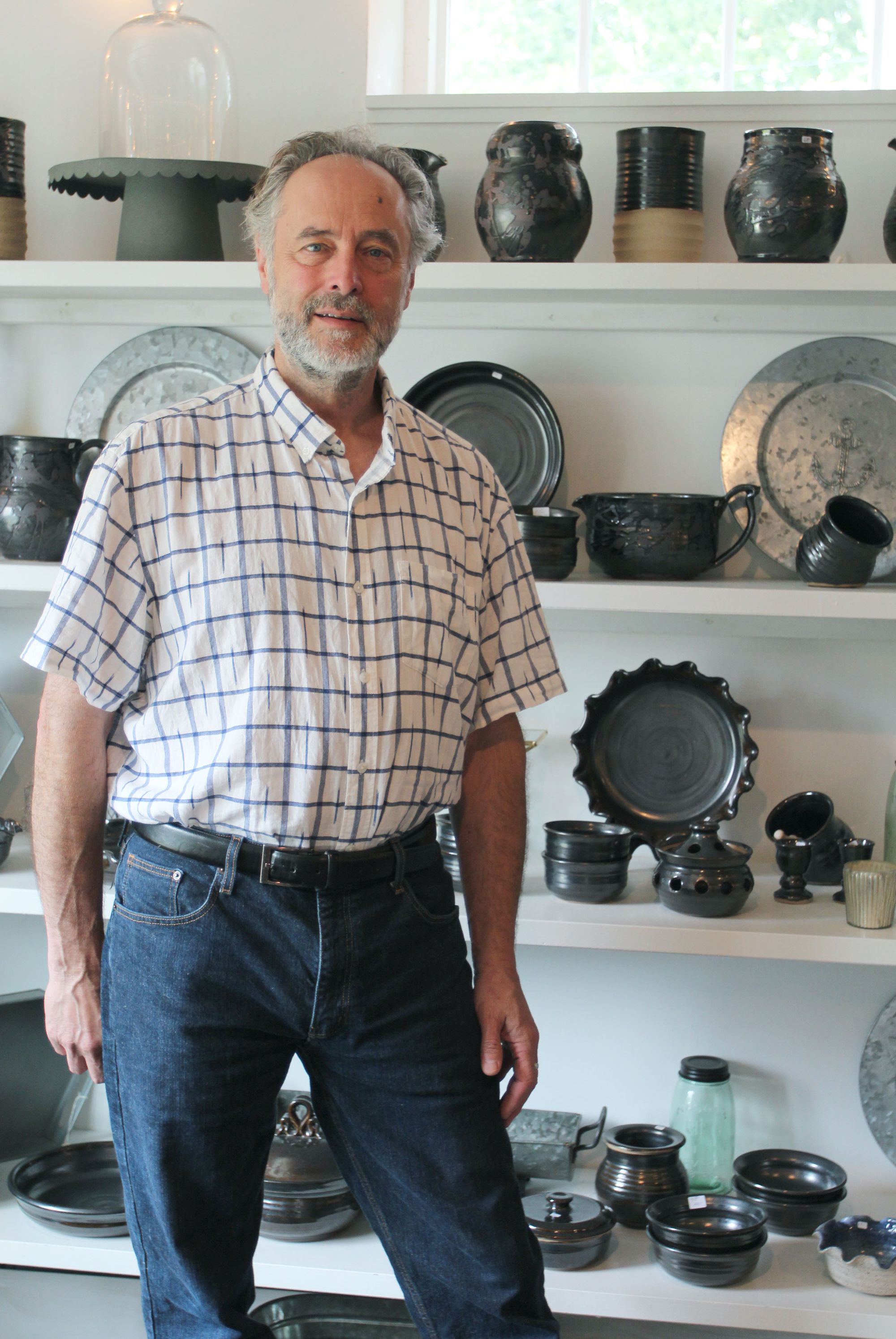 Dean considers himself a production potter. He became animated when asked how he kept his work fresh.
"I love the process, I mean it's hard for me to say this, but over the years I've made hundreds of thousands of pieces, but I never get bored. Never get tired of it. I sit down and start creating. It's so much fun. I mean, you take a ball of clay which is nothing, and form it, and create it into something that is not only attractive but very functional."
For nearly forty years Dean ran White's Pottery in Deansboro, New York. His studio was in a rambling property in the oldest house in Oneida County, built in 1776. He taught classes and made pottery. He attended craft shows every two weeks between June and Christmas. In 1980, he began participating in the Stone Mills craft show and soon was a regular vender at other shows in Northern New York, including the French Festival in Cape Vincent, and the Thousand Island Arts Center Craft Show in Clayton. He said he developed a large following and he has generations of families buying his pottery.
As their children grew up, Dean and his wife, artist and jeweler Susan Castle, decided it was time to downsize.  Susan had ancestral ties to the St Lawrence and had always wanted to live by the River. After a lot of searching, they decided on Cape Vincent. They moved in 2015. He said that there was a lot available back then, but his wife saw the potential in the building they are in now. "It was all her," he said waving an arm to indicate the surroundings of textures and subtle colors, mixed with antiques, pottery, and beautiful jewelry.
Despite success, White experienced a serious challenge in his career. About 15 years ago, he began to have extreme pain in both his hands. For several years he was in agony as he worked, could not sleep from pain, and he feared that he would be unable to throw pottery, play his guitar, or do anything at all with his hands. Eventually, doctors suggested a basal joint surgery and he decided to go ahead and have it done. The procedure worked, and he was soon throwing pottery again. He even worked with casts on during his recovery, to his doctors' frustration.
I think that is a fine example of how the successful, happy potter needs to throw.
Dean admitted, "There have been times, like restoring this building, that I was away from my work for months. I didn't like it, I go through withdrawal, I need to get to the clay."
White does take time away from the wheel to serve on the Cape Vincent Chamber of Commerce board and he was instrumental in organizing the "Stroll on Broadway" Music Fest. In addition to playing his guitar and writing music, he also loves history and old things. He enthusiastically showed me several restored and repurposed pieces of furniture and a wonderful carved sculpture of a whale he'd made this summer.
Having been involved in pottery myself, I found the variety of objects and glazes in Dean's work staggering. He told me that in a normal year he makes about 1000 pieces and uses a ton of clay a month. He also uses his own formulas for his unique glazes.
I think artists especially like to share what they make with other artists. You can work by yourself, but eventually it's good to see how people respond to your work. Dean started out by showing me one of several sinks he'd thrown. He said he also made birdbaths and other large commissions. He demonstrated how his popular French style butter keeper worked and showed his new Brie bakers, a special request from his wife. Bowls and mugs, teapots and vases, tumblers and canisters. So many things to look at! His latest mug, an attractive and functional one, is part of a large order for the Burrville Cider Mill.
The gallery at the Chateau is beautifully arranged. Everywhere your eyes rest there are perfectly composed objects. Wife Susan Castle's Queen Bee jewelry and daughter Kate Castle's Hedge Witch Botanicals all fit well with Dean White's pottery.
For those of us on the US side of the River, the Chateau is a great place to visit on a crisp fall day. They are open until Christmas, although with limited hours. Masks and social distancing are currently required when visiting.
Check out the website if you can't get to the brick and mortar store. When things get back to normal, don't miss visiting Dean and his family at the Chateau in Cape Vincent.
https://www.chateauontheriver.com
By Sarah Ellen Smith
Sarah  Ellen Smith began shooting photos, drawing and painting what she saw along the shores of the St Lawrence River and Lake Ontario, during her  childhood.  In the years since, she has traveled the world gathering  images, observing art and art makers.  In 2010, Sarah Ellen returned to  be a year-round River resident. Until recently she and John Arnot ran a  gallery of their individual and collaborative work at St. Lawrence Pottery.
Posted in: Volume 15, Issue 9, September 2020, Artists, People
---
---
---