Ocean Navigator
On Canadian Thanksgiving Day, islanders had a different view as they looked out on 40 Acres, the large body of water separating the Admiralty Islands from the north shore of Grindstone Island. There, in all her glory, was the Ocean Navigator, what we would call a real cruise ship – 91 m / 299 ft in length, with a beam of 15 m / 49 ft. She was built in 2004 at Atlantic Marine BAE Systems Southeast Shipyards (Jacksonville, Florida USA), at a cost of $30M (USD).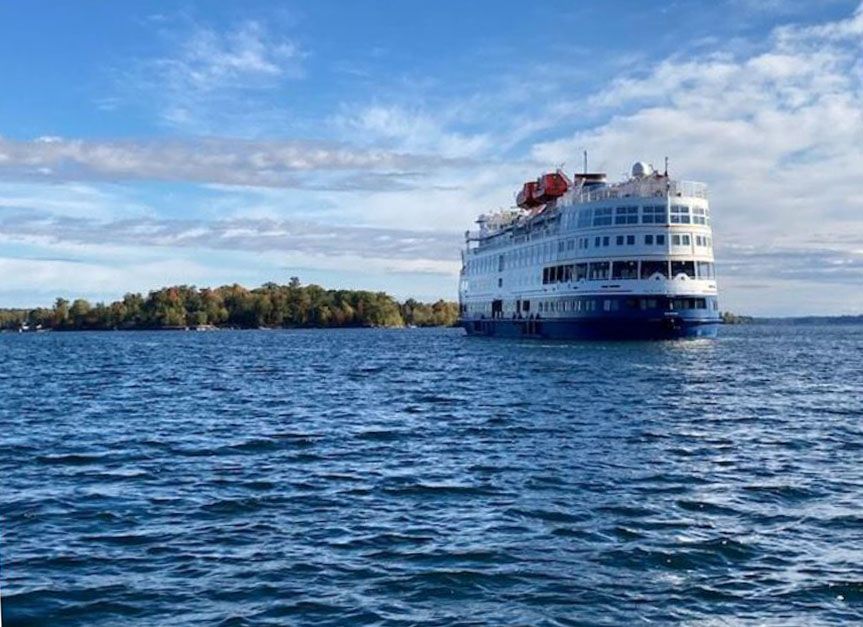 On this October day, the ship was at anchor, waiting for the much smaller City Cruise Line (formerly the Gananoque Boat Line) Thousand Islander, to come along side. Then the Ocean Navigator's passengers boarded the Thousand Islander III to enjoy the one hour Thousand Islands Cruise, complete with commentary, thus allowing Ocean Navigator's passengers to view our islands and get the flavour of a real island tour. Then they were taken to Gananoque, for a chance to explore!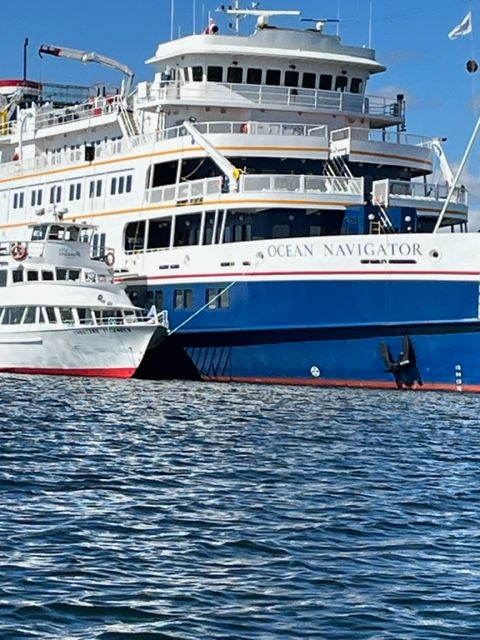 Of course, all of us living in the area had to jump in our boats and investigate. And, thanks to Britton Bedford Jones from nearby Mudlunta Island, as well as to Captain Matt Harper, from City Cruises, we saw how this all took place.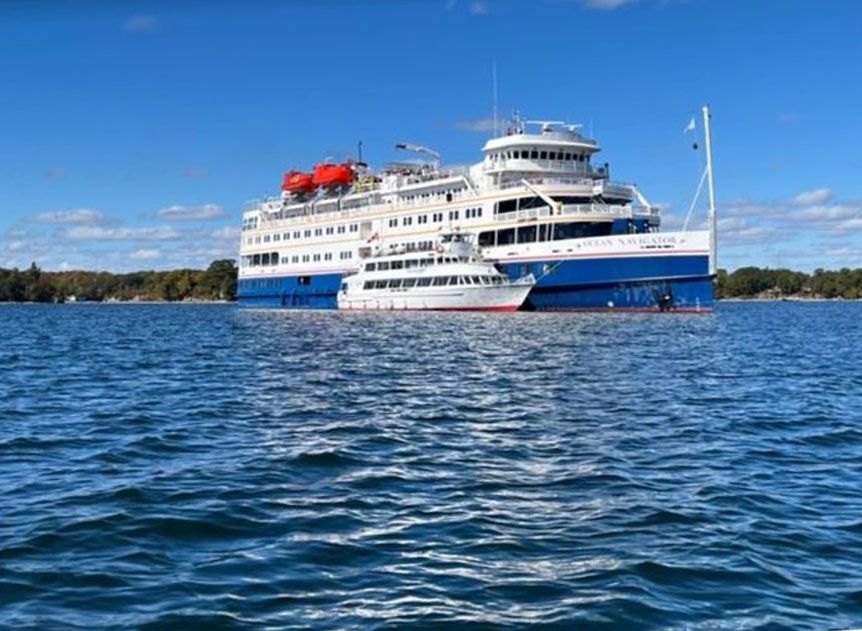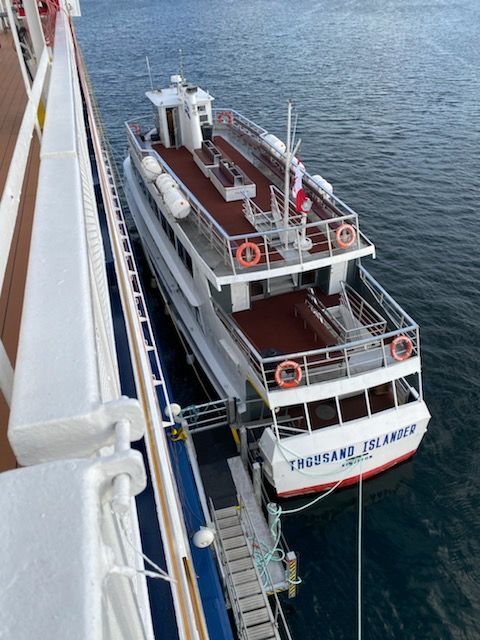 The Ocean Navigator carries 202 passengers and has a crew of 70+. Her maiden voyage to Gananoque began on October 2 in Montreal; from there, she traveled east to Quebec City, then sailed back up the St. Lawrence Seaway and arrived in Clayton, NY, on October 6. Next came an overnight visit to Toronto, before returning to Gananoque and our 40 Acres. Finally, the ship and her passengers returned to Montreal on October 11th.
Seeing this mighty cruise ship certainly brought home that cruising on the St. Lawrence River is popular again. You ask why again? Because less than a week later, TI Life received another submission from researcher Richard Palmer. Richard had discovered an interesting article about another famous St. Lawrence River Cruise Ship "The Ontario," but that ship had plied the River more than 150 years ago.
Steamboat  Ontario was a Floating Palace

Today, it's difficult to imagine a fleet of luxury steamers plying Lake Ontario and St. Lawrence River in the 19th century, with the accouterments of the finest ocean-going vessels of the day.
The Ontario was built at Clayton, NY, in 1848 by John Oades for the Ontario & St. Lawrence Steamboat Company of Oswego fleet. She was 242 feet long, had a 32-foot beam, and a draft of 11 feet, 6 inches. She was registered at 900 tons. T.F. Secor & Co. of New York furnished the engine.
The Ontario cost $80,000 and was launched in Clayton, NY, on December 7, 1847, with Oswego as her home port. She was sold to Canadian interests in 1867. She was finally abandoned at Chenaille du Moine, Quebec, on November 13, 1883. The following description of her is from the Oswego Times on July 11, 1848: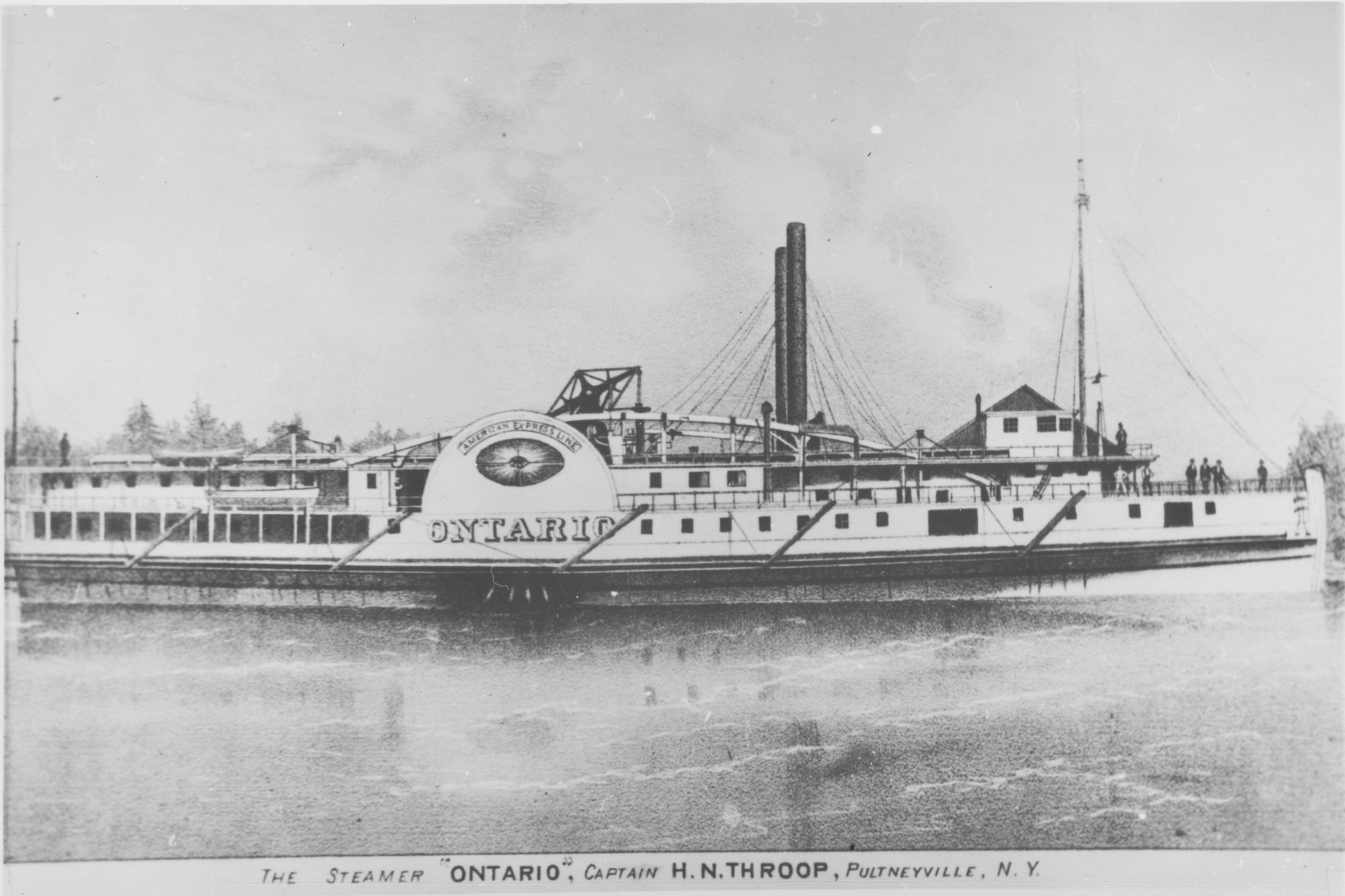 New Steamer "Ontario"
The great luxury of the Ontario is her berths and state-rooms. The latter have all the elegance and convenience of the best private parlors. Many of them have double beds, and the occupant has no necessity in any of her berths to go through a cramping process before attempting to repose. The furniture and fixtures of the state-rooms are arranged with the same scrupulous regard for comfort and elegance as her cabins and saloons.
In speaking of the furniture, drapery, &c., of the Ontario, it would be sufficient, perhaps to say, that in costliness, splendor and comfort, she is surpassed by no craft afloat on our inland wagers. While taste and judgment have been exercised in procuring her outfit, no expense has been spared. We believe we do not exaggerate when we say, that the Upper Lakes have nothing on their water that equals the Ontario in this respect.
The furniture, curtains, and drapery would adorn a palace. No lazy monarch on Earth can desire greater luxuriance than her Rose-wood Sofas and chairs, her profusion of the richest carpets, her downy beds, her clean counterpanes, her rich mirrors, and the uncaring liberality of all her appointments.
To sum up her accommodations, the Ontario has: 64 berths in the gentleman's after cabin; 16 berths in ladies after cabin; 7 state-rooms in ladies' saloon with double beds in each, and 1 state-room after part ladies' cabin with 2 berths; 7 state-rooms 2 berths each, upper saloon; 12 state-rooms, double beds, upper saloon; 2 state-rooms double beds and 1 single, upper Saloon. In addition to these is ample room for the officers and men employed onboard. There are also large rooms with with extra accommodations for steerage passengers. The Proprietors have done wisely in placing the Ontario under the command of Capt. Throop, the late popular commander of the Rochester. David Nichols, also late of the Rochester, goes as mate. He is just the man to be second Captain on the Ontario. Washington Rowley, the Prince of Stewards, is aboard in that capacity.
The Engineer's Room is well stocked with the best practical Engineers. Mr. Wm. F. Brown, who planned the Engine and Boilers, and who has attended to bringing out the Boat, is aboard for the present; but Mr. Samuel B. Hutchins is the permanent Engineer, than whom there is no better. In the Saloon, Mr. F.J. Tallman is to be found, ready to cater to all who have occasion to visit his department. Mr. H.M. McKay, is the attentive and polite clerk, whose reputation renders his appointment to this highly responsible station peculiarly appropriate.
We have no doubt this is praise well bestowed; and we take pleasure in stating in this connection that the upholstery and cabin work of the steamer is entirely the work of R. Cloyd & Co., of this city. This firm during the past year has furnished the new line of Chicago Packets, throughout, and also renewed portions of the upholstery and furniture of several steamers on Lake Ontario.
Back to the present
There you have it. Proof positive that the cruise ship industry is alive and well and back on the St. Lawrence River! We look forward to learning more about the resurgence of this industry, and those of us living on the 40 Acres await 2023 with enthusiasm!
By Susan W. Smith, Editor, Thousand Islands Life Magazine. and Richard L. Palmer
Richard F. Palmer is a retired newspaper editor and reporter, and he was well known for his weekly historical columns for the "Oswego Palladium-Times," called "On the Waterfront." His first article for TI Life was written in January 2015, and since then, he has written a dozen-plus others. He is a voracious researcher, and TI Life readers benefit from his interests.
Posted in: Volume 17, Issue 11, November 2022, Sports, Places, History
---
---
---