Editor's Note: We first met Susan G. Mathis in April 2018, when she published Katelyn's Choice. Then again in November 2019, for Sara's Surprise and in June 2020, when she wrote, "The Thousand Islands on a Thousand Bucket Lists" for TILife. Susan recently published her latest novella, Reagan's Reward, and once again she gives us a preview for TI Life.
Casa Blanca
Casa Blanca is one of the best preserved Gilded Age cottages along "Millionaire's Row" in the Thousand Islands, and it's the setting for my latest novella, Reagan's Reward. Set on the downriver tip of Cherry Island, just off the mainland shore near Alexandria Bay, NY, this white house is one of the most photographed and touted mansions on the river.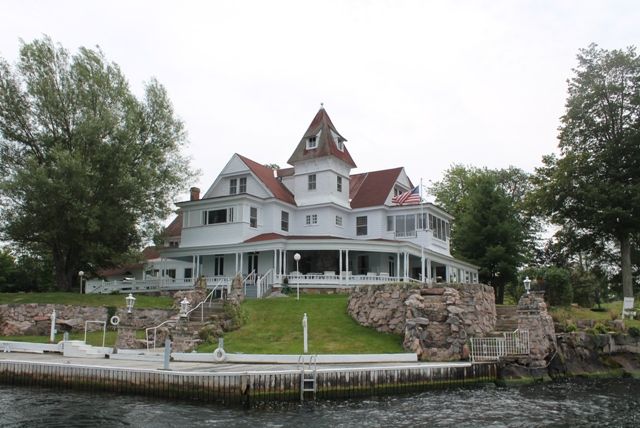 Emily and Albert Pullman built the original Melrose Lodge in 1880, and in 1897 Luis Marx bought it for $3,500. This American businessman owned tobacco and sugar plantations in Cuba. He and his wife, Eugenia, renovated and enlarged the small lodge into a three-story, twenty-five-room palatial mansion. The wrap-around veranda captures the main channel sights of passing ships and boats, spectacular sunsets, and views of other islands. Marx even installed a grand electric fountain on the front lawn, which had been featured in the Chicago World's Fair, and many have enjoyed passing by the island to see it.
The work on the mansion was finished just in time for their daughter's wedding. On June 30, 1899, Mary and Henry Bernheim were married on the island. Unfortunately, after only five years, Eugenia died at Casa Blanca in 1902. The Bernheims continued to summer on the island, with frequent visits from Luis Marx, until it was sold in 1926.
In 1962, the current owners saved the deteriorating Casa Blanca from destruction. They restored and renovated the mansion to its original grandeur, right down to the teaspoons and stained-glass transoms.
The house is a Gilded Age living museum with everything as it was nearly one hundred years ago. The reception hall/living room has pressed tin ceilings and side walls. Two player pianos and a pump organ, bentwood Thonet furniture from Vienna, Fostoria glass, a collection of blue and white Meissen china, and the butler's pull station, take visitors back to the early 1900s.
The paneled staircase has a stained-glass window at the landing, with a scene depicting pheasants on the river in the morning light. On the second floor are four master suites with a total of thirteen bedrooms and a screened sleeping porch. The third floor, originally the servants' quarters, hosts several bedrooms, a bath, and a plethora of antique toys, quilts, and more.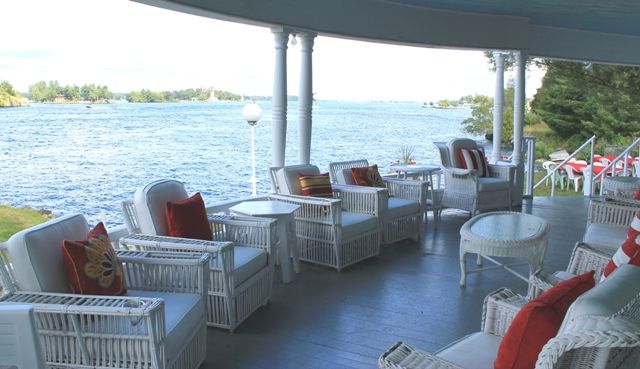 The home can sleep twenty-eight. Moreover, there are several outbuildings, including a Laundry House, Ice House, and the Boat House which has an entire apartment on the second floor and also houses a fleet of boats. All of these features are part of my story as Reagan cares for the Bernheim's twin nephews.
The family enjoys summering here and welcomes frequent guests, including me. I even got to write three chapters of this story—right in the spots where my scenes take place. Being right there at Casa Blanca twice, gave me so much scope for the imagination, I hope you love the story as much as I do.
About Reagan's Reward:
Summer 1912
Reagan Kennedy assumes the position of governess to the Bernheim family's twin nephews, and her life at Cherry Island's Casa Blanca becomes frustratingly complicated. Service to a Jewish family and tending to eight-year-old mischievous boys brings trouble galore.
Daniel Lovitz serves as the island's caretaker and boatman. When he tries to help the alluring Reagan make sense of her new world, her insecurities mount as her confidence is shaken―especially when she crosses the faith divide and when Etta Damsky makes her life miserable. As trouble brews, Daniel sees another side of the woman he's come to love.
Short excerpt from Reagan's Reward:
Reagan frowned. "Is Cherry Island a fair distance from here?"
Daniel nodded. "The island's not far from the bay. In fact, it's just around the bend."
Reagan itched to ask about so much more than she was likely to get from this man. His demeanor seemed more like a solicitor's rather than what she might have expected from an easygoing boatman's. He was clean-shaven and impeccably dressed in his dark trousers and vest and starched white shirt. Besides, he had the straightest, most aristocratic nose she'd ever seen. Yet solicitors usually didn't have bulging muscles as he did. Her cheeks grew warm until she put her hands on her face to cool them.
"Aye, over yonder is Cherry Island." With a dip of his chiseled chin, he pointed her toward a gleaming, white mansion sitting on the tip of the island. "That is Casa Blanca, home to Mr. and Mrs. Henry Bernheim, and the missus's father, Mr. Luis Marx, who is now in Cuba on business. Mrs. Mary Marx Bernheim, daughter of the famous Luis Marx, is the mistress of this grand retreat. The Pullmans built the original part of the house before the Marx family bought and expanded it."
More silence before Daniel pointed in the opposite direction, across the channel, where another huge cargo ship passed by. "Our neighbors are Florence Pullman and her husband, Frank Lowden. It was there on Pullman Island that President Ulysses S. Grant came to visit back in 1872. Thanks to that grand event, we Thousand Islanders have lots of neighbors now."
Maybe he wasn't as tightlipped as she had thought. He continued to pull at the oars until he brought the skiff all the way around the island to a large, two-story, wood-framed boathouse. A small balcony that appeared to be part of a residence jutted out over the lower level, which held several boats.
Daniel pointed to the upper portion as he pulled up to the long wooden dock. "I live up there." He paused as he moored the skiff. "Welcome to Cherry Island. I hope you will enjoy your stay here."
Once he secured the boat, he reached out to help her out of the boat. To her surprise, his touch was tender. Gentle.
"Thank you, sir." Reagan curtsied and gifted him with a wide smile.
By Susan G. Mathis
Hi Susan,Thanks so much. I just heard that Reagan's Reward won The Literary Titan silver medal. Here's an updated bio:

Susan G Mathis is an international award-winning, multi-published author of stories set in the beautiful Thousand Islands, her childhood stomping ground in upstate NY. Susan has been published more than 20 times in full-length novels, novella, and non-fiction books.
Her first two books of The Thousand Islands Gilded Age series, Devyn's Dilemma and Katelyn's Choice are available now, and she's working on book three. The Fabric of Hope: An Irish Family Legacy, Christmas Charity, and Sara's Surprise, and her newest, Reagan's Reward, are also available. Susan's books have won numerous awards, including the Illumination Book Award, the American Fiction Award, the Indie Excellence Book Award, and the Literary Titan Book Award. Visit www.SusanGMathis.com for more.
Editor's note:  Thanks Susan for bringing happy thoughts of our Islands to us at this difficult time. To read more about Casa Blanca see Kim Lunman's article "Cherry Island's Casa Blanca, Thousand Islands Life," September ©2014
Posted in: Volume 16, Issue 1, January 2021, Places, Book review
---
---
---