Gretchen Huntley, Poet Laureate of Gananoque, has blessed our lives with a new chapbook of poetry inspired by the photography of Sam Battams, who would be on the shortlist for the Photographer Laureate of Gananoque – if such a position existed.  See Susan Smith's review of Gretchen's first collaboration with Sam here.
I must confess, upon starting this review, I had no idea of what a chapbook was, but I discovered that it's a small book of saddle-stitched poetry with a lengthy and noble history.  Allen Ginsberg published one in 1956 with an introduction by William Carlos Williams, and T.S. Eliot introduced The Four Quartets with chapbooks, just prior to WWII.  Many other poets since have used it as an introduction to their work.
About Poetry Through a Lens;  this edition of Gretchen's work contains 15 poems, each inspired by Sam Battam's photography.  Two examples are included in this review.  The first is called "Humility," and reminds me of the black and white photo taken more than 100 years ago on the floor of Canyon de Chelly, framing a single horse and rider against the thousand-foot backdrop of vertical cliffs.
Humility
If you look at this image
I wonder what you'll see
Will it be the beauty
Of the mountains and the trees
The gorgeous purple shades
Of that beautiful morning sky
Or the delicate shapes of angels
In the clouds as they drift by
The water is so still
No movement anywhere
The trees stand like soldiers
As if they're guarding there
The expanse is magnificent
This place with beauty untold
Nature at its very best
And now a lesson will unfold
Look closely in the corner
Where the snow is pure and white
And there two people stand
Barely in our sight
The lesson is so simple
It's called humility
In the grand scheme of things
We are so small you see
Sometimes it takes something
As simple as a photograph
To put things in perspective
At ourselves we need to laugh
And most of all just try
To do the very best we can
Because we're not superior beings;
We are simply man
About Gretchen Huntley:
Gretchen's mother and Grandmother came from Gananoque, but when her Grandfather died in WW I, her Grandmother, seeking work, moved the family to Syracuse, where Gretchen was later born and raised. Gretchen then returned to Gananoque as a teenager, and married a police constable, (who apparently did a very good job of keeping the law because when we used to cross the bridge to visit "The Modern Cafe," our favourite Chinese restaurant, we always found Gananoque quite peaceful.)  Then Gretchen turned to poetry, finding that a balm for the storms of life.  She has a gift of finding soothing words now, to help others cope with grieving, and has written books about it.
Gretchen has since become the first Poet Laureate for Gananoque, following an old tradition both in Canada and in other countries where nations, states, cities, and communities sometimes have Poet Laureates, who may serve for short or indefinite terms.  The USA has had a national poet since 1937, whose modest stipend is funded by a private foundation.  While their duties are largely undefined, it is expected that their efforts support community, literacy, and literature, and they write poems commemorating significant community events.
Since Gretchen is the first Poet Laureate in Gananoque, she has about 10,000 years of history to comb through, in order to make sure that every important event in Gananoque history has its own poem!
About Sam Battams:

Veteran Thousand Islands Life readers were introduced to Sam Battams by Editor Susan Smith,  in her review  to which I refer those who missed this introduction.  Sam and I chatted back and forth a little on email, as I was trying to find a connection that might resonate with our readers.  Sam sent me the following email explaining what's involved in taking photos on the Thousand Islands, so I thought it best to let him speak for himself.
"Well let's have a look at two separate St. Lawrence River photos and the differences between seeing the picture before it presents itself, and having the physical ability and proper equipment to achieve the result desired. Both photos had a limited time of proper light to be captured the way I wanted them. One of them was about 2 minutes.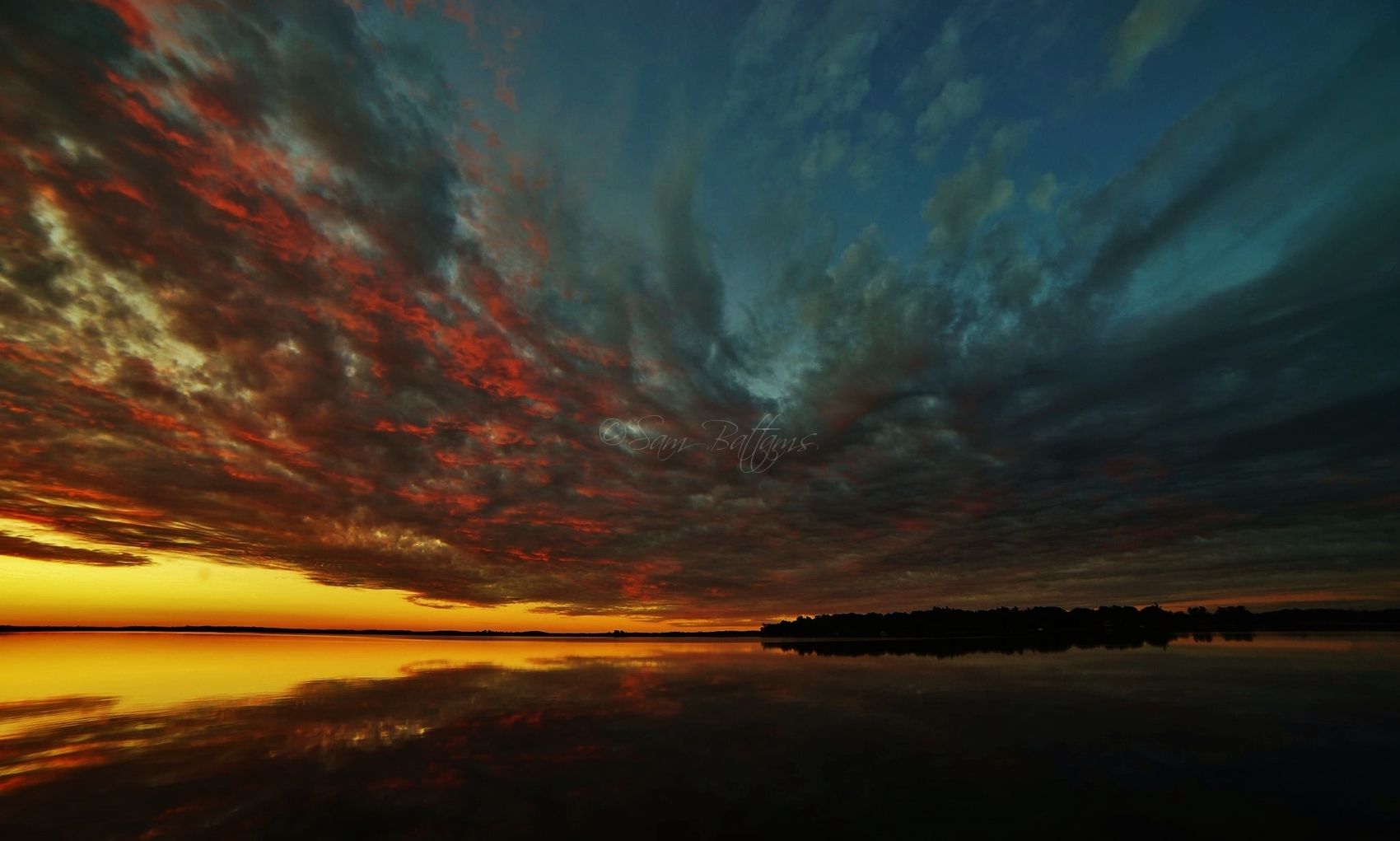 The first photo is "Sunrise over Hay Island". A beautiful red sky morning shot, which I hoped could possibly happen if the sun came up on the horizon and lit up the interesting cloud pattern I observed a half hour earlier. Because of the lack of wind, and hopes for a possible reflection, I headed for the waterfront with some equipment and tripod in my car. I figured I had about 20 minutes to get there and get set up. After a short walk from the car, I was set for the shot, then sat and waited until I had enough light for a test run. Upon viewing my first long exposure, I quickly realized I wanted to capture a wider and deeper view of the sky. I quickly headed back to my car for a different camera setup and was fortunate enough to be back on site and ready for the 2-3 minute window of perfect colour and light. I took roughly two dozen shots, making small exposure adjustments between each one. These adjustments are made to keep the required lighting the same as the morning light gets brighter with the rising sun.
No matter how well you think any shot is, I always take at least three. This compensates for possible camera shake or focus issues. One will always be better, and this shot shown here is the best I could muster that morning . . .
Even though this shot was a relatively small amount of work, you can see readily that to just pull out a camera, snap a picture, and have it turn out really well rarely happens. I had seen the possible shot a half hour earlier and had a location already chosen."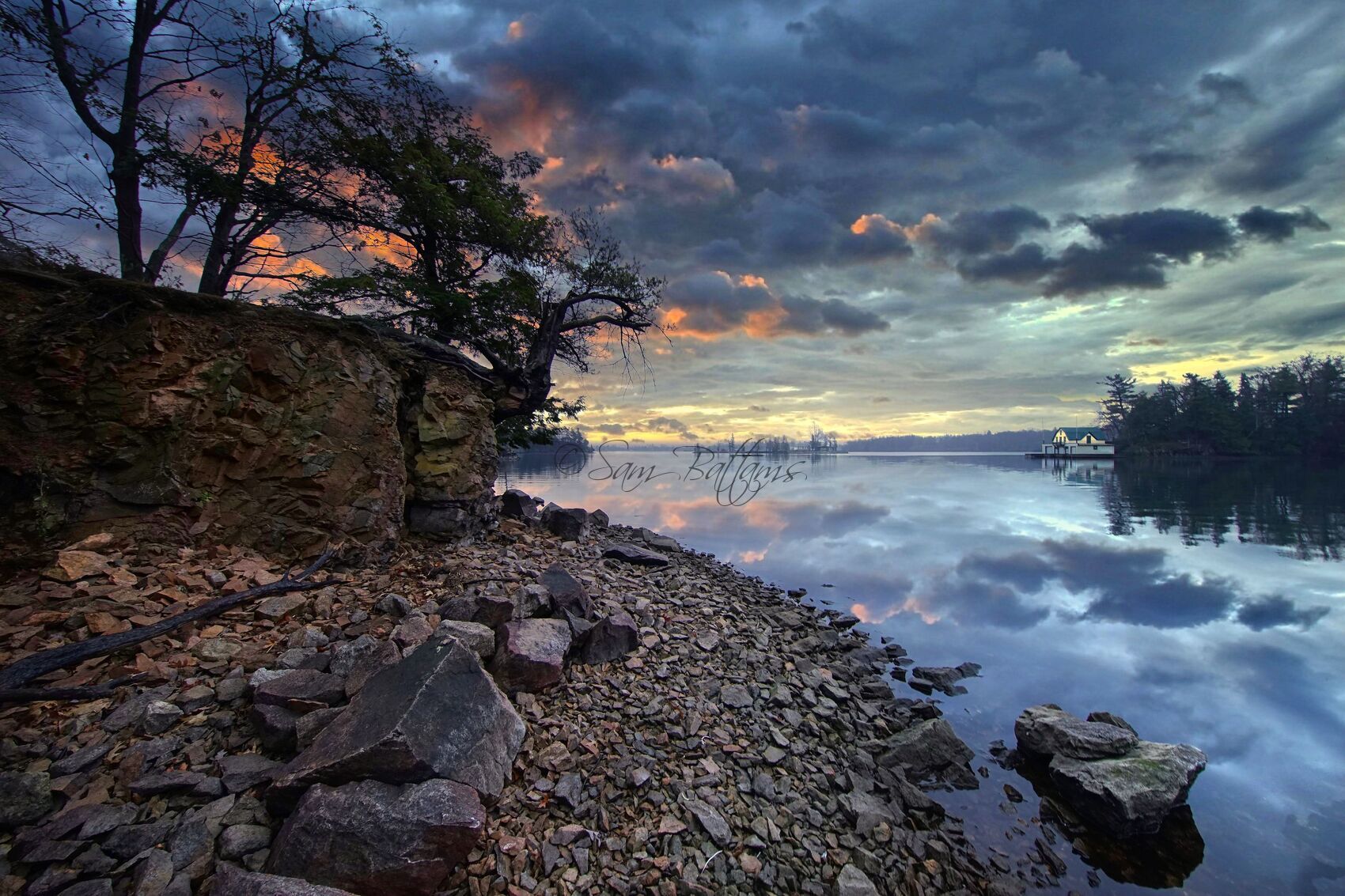 Now the second photo I am sending is "Below the bluff"; a waterfront venue at the bottom of a cliff. Once again, this is a morning light photo taken over calm water. Not as spectacular a morning sky, but timed right, I thought it would result in a decent picture. The problem I had here at this spot was a physical climb down from the bluff and then realizing I hadn't grabbed the proper lens to capture the foreground imagery I wanted. The open window of timing wasn't as tight as long as the wind didn't pick up and spoil the reflections. The problem was that to capture this shot the way I wanted, I had to be out in the water up to my waist. The legs of my short tripod wouldn't extend far enough to keep my camera above water. I climbed back up the bluff to the car and then all the way back down with the longer legged tripod needed. The eventual shot I wanted came about despite the physical effort.
Neither of the two shots I have submitted to you are rocket science. I often see the shot before it presents itself, and almost always choose my location as to the time of day. Being proficient with your equipment is a given. If you are unable to take great pictures with a cheap camera, all the high–end equipment in the world can't help you.  However, seldom is a great shot quick and random. Most decent photos require planning, scouting, and sometimes multiple trips to the same location, waiting for proper conditions.
I know this has been an extremely long–winded response, but it is my hope that I have been able to give some insight as to what it takes to end up with a successful photograph.
Thank you for your interest in my work. Photography is my passion and I hope my images reflect that."
Sam's photos are for sale in framed or unframed prints.  Some of these are on 500px.com. His email is sstbouncer@hotmail.com.
Two Red Chairs
They were young and in love,
Their dollars were few
But they were rich in what matters:
Their love was true
The first thing they bought
Were two old red chairs
For their little apartment
Up three flights of stairs
Years passed and life moved on
The years of struggle were now gone
They owned a home and a cottage too;
And oh how they loved the cottage's view
Every night they sat together
To watch the sun go down
Sitting on an old blanket
They'd spread out on the ground
It was their fiftieth anniversary
When he came home with a surprise
Replacing their two old red chairs
A gift that brought tears to her eyes
They placed the chairs on the rocks
Sitting there side by side
Content and thankful for each other
Life had been a beautiful ride
They knew this wouldn't last forever
And someday they'd be apart
He was the first to leave this earth
Then she died of a broken heart
The family that was left behind
Wanted to honor their parents' love
So they left the chairs there on the rocks
To be seen from heaven above
The chairs to this day are painted red
They sit empty in that space
But it is said that at sunset magic happens
And two people take their rightful place
---
Gretchen's poem resonates with me as my Mother, who gave up her scholarship at Syracuse in 1933 to marry my Father, a penniless woodcutter, died of a broken heart just four weeks after he was killed in a car accident in 1967.  They were rich in family.
By John Swift
John Swift was born in High Flats, New York, about ten miles from Potsdam.  He attended to a one–room school and his teacher gave him Zane Grey's Sunset Pass as a 5th grade Christmas present.  Turned out to be a life saver as he started to read and hasn't stopped.  He had relatives that lived along the St. Lawrence River and visits created many fond childhood memories of the Thousand Islands. After an active career in business John went back to the University of Chicago to study the classics leading to his writing several novels. The latest is his "Sheriff Gogebic" crime series: "Catch and Release." (about musky fishing!) He also writes occasional columns for the University of Wisconsin's online literary newsletter called Extra Innings.
---
Note:  Poetry Through a Lens is available at Pharmasave, 220 King Street East. GananoqueK7G1G2, ON or by contacting the author, Gretchen Huntley, khuntley1@cogeco.ca
Posted in: Volume 16, Issue 6, June 2021, Book review
---
---
---