Minneapolis-based Cell Signals, LLC, just announced that its new facility in Hopkins, 15 minutes west of the Twin Cities, will come online in June of this year.
For the past decade, Cell Signals has used genetically modified (GM) Escherichia coli bacteria to produce ascorbic acid (vitamin C) and acetic acid (vinegar) for industrial and food-service applications. Due to space constraints at its flagship plant, the biotech company opted for a site in a Hopkins industrial park for this new endeavour.
The satellite facility, which will bring an estimated 200 jobs to the region, received federal and state approval for the use of GM E. coli bacteria to create a broad range of chemicals for the pharmaceutical industry on a highly flexible, as-needed basis. While this is widely viewed as a positive development, it has garnered some criticism. Perhaps the most controversial product on Cell Signals' patent is synthetic Milk of Human Kindness.
To place this technology in context, the first known genetic modification of E. coli was made by Dr. Herbert Boyer at a University of California lab in 1978 to make synthetic human insulin. Since then, using GM bacteria to make life-saving drugs such as interferon, a treatment for multiple sclerosis, leukemia, and many types of cancer, has become common throughout the world. Human growth hormone, Hepatitis-C vaccine, and other medicines are now mass-generated with GM bacteria as well.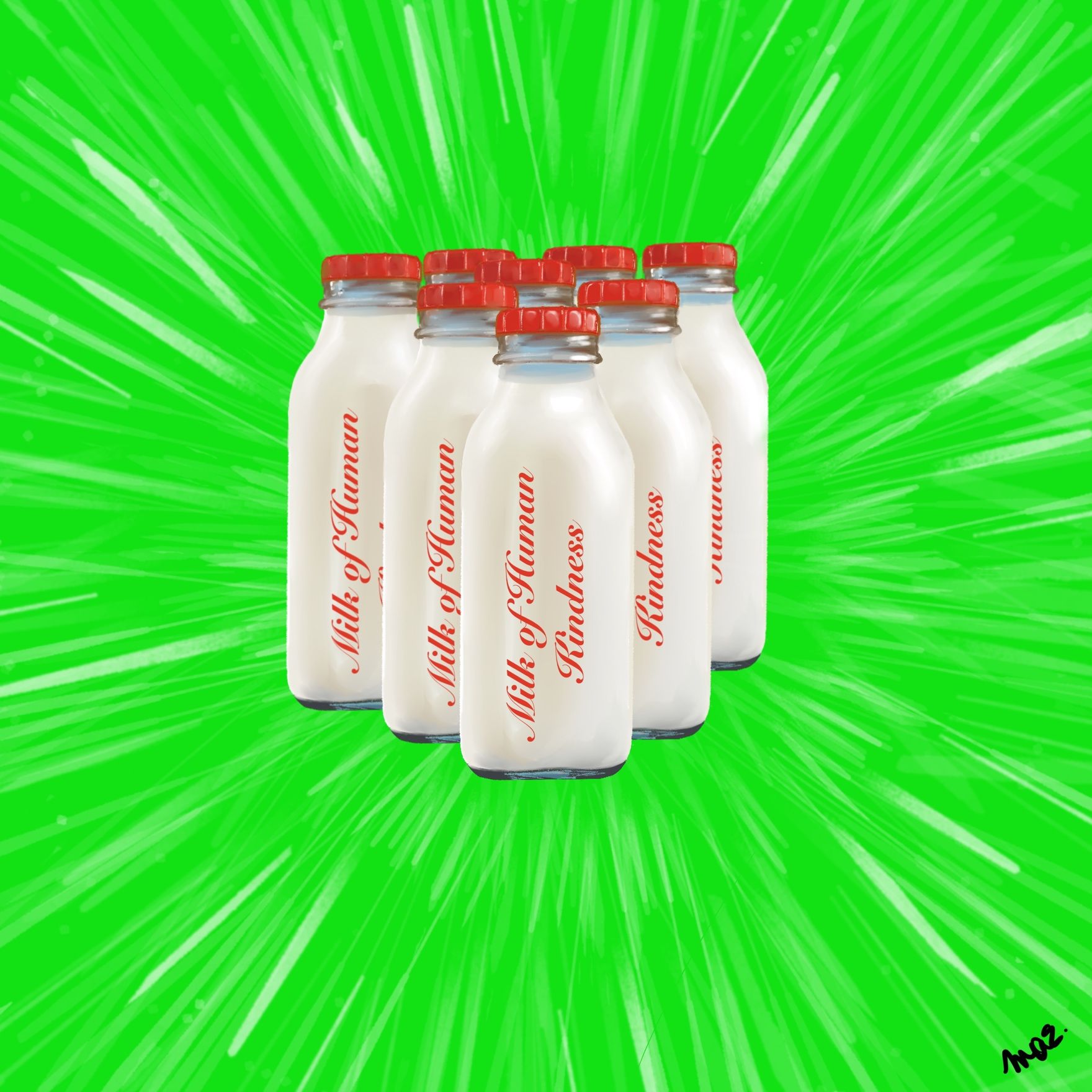 The loudest objection to manufactured Milk of Human Kindness comes from the dairy industry. For some time now, "Big Dairy" has been lobbying for tough new labeling restrictions on the use of the word "milk." Beverages made from soy, almond, cashew, and rice have historically been marketed as milk, a fact which has gotten under the skim of dairy proponents. Should the industry succeed in regulating what can and cannot be called milk, it is not known how that might affect the distribution or marketing of vat-produced Milk of Human Kindness.
Not surprisingly, critics of GM crops and foods are also opposed to the Cell Signals initiative.
What is startling, though, are harsh words from places that normally champion such innovations.  Responding to Cell Signals' plans for broadening its product line, a spokesperson from The Cato Institute, a conservative think-tank headquartered in Washington, D.C., blasted the firm:
"We can't have cheap Milk of Human Kindness flooding the market. Compassion, empathy, benevolence, and those kinds of things are rare commodities for a reason. They're unnatural," writes Cato Institute press liaison Frank Mendacity in an April 1, 2023, Wall Street Journal op-ed piece.
"It's reasonable to expect this substance will become widely available in a short period of time. We'll have people being nice to those who don't deserve it," Mendacity opines. "Our culture is based on the premise that happiness only comes from self-indulgence, greed, and materialism. It's likely we'll end up with a population that feels cheerful without even buying stuff. This could be catastrophic. It's obvious that the regulators haven't thought this through."
For its part, the National Institutes of Health's Division of Science and Public Trust has stated:
"Based on the results of extensive laboratory analyses, we find no statistically significant variance between genetically modified and naturally-sourced Milk of Human Kindness in any of the parameters normally used to characterize this compound."
I wish you all a Happy April Fools' Day, in addition to a wealth of human kindness.
By Paul Hetzler
Paul Hetzler is now writing about nature for The Saturday Evening Post and, of course, TI Life. He is a former Cornell Extension educator, and he also writes books!  Be sure to check out the description of his books and I promise you will not only smile but you will want to give them as gifts for the next birthday - Just the titles makes you smile! Head of the Class: Smart as a Slime Mold, Shady Characters: Leprechaun Trees, Plant Vampires and Caterpillar Soup.
https://www.amazon.ca/dp/B09DN16VYC  https://www.amazon.ca/dp/B08BR6NHDY  amazon.com