The 1000 Islands lost an iconic figure last week, with the passing of Bill Danforth. Bill, and his late wife Sissy, gave their heart, soul, and energy to so many of our River-based nonprofits that is difficult to name one that they did not lead or help.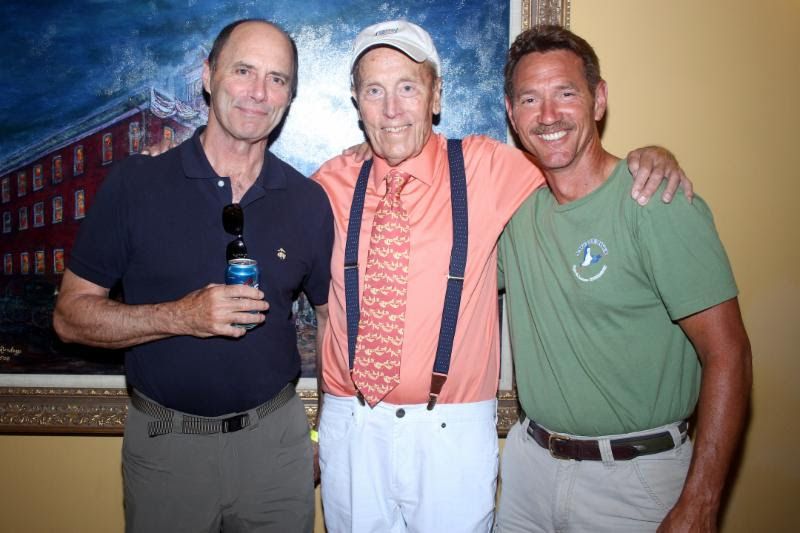 My good friend and Save The River founder T. Menkel says that "Save The River has new founders each generation." Bill Danforth was the personification of a second-generation founder who stepped up to reinvigorate Save The River in the mid 1980's when the organization was in need of leadership with financial and organization skills. Serving as president of the board of directors, Bill met those needs and brought his energetic style to the only environmental organization working to restore, preserve and protect the Upper St. Lawrence River now and for generations to come.
Since Bill departed this life last week, several former and current Save The River leaders have reached out to me with comments and stories about their memories of Bill's impact on the organization. He is credited with starting several programs including Muskie Catch and Release, Shoal Marking, and the Kingfisher Water Quality Project septic inspection programs – all of which are ongoing today.
Before Ken Deedy passed away last summer, he took time to record his memories of working with Save The River and many of Ken's stories actually focused on the work led by Bill Danforth. I'd like to share some of Ken's memories (in italics), with you:
Muskie Catch and Release - 1987
"He had induced Michael Ringer to create an original work of art showing a muskellunge and to turn over its reproduction rights to Save the River. He met with the guides and made this proposal to them, that if they encouraged their clients to release a Muskie they had caught, Save The River would give them a certificate acknowledging the catch and release, and also give them a framed print of the Michael Ringer painting. I believe he also got Steve LePan, from Governor's Island, to teach the guides how to handle the muskies, how to land them, and how to replace them in the water without doing internal damage to them. This program turned out to be enormously popular particularly with the fishing guides in the area.
Shoal Marking - 1987
Each year, dedicated volunteers place over 100 shoal markers on the U.S. side of the River warning boaters to avoid hazardous areas. Bill encouraged the the Canadian Thousand Islands Association (TIA) to fund the ongoing purchase of new shoal markers and established an ongoing relationship that remains strong today.
"Bill recruited many volunteers. I think Bud Ames might have headed up the program. He raised the money to buy the buoys and then provided training to the folks who were to install them in the spring and remove them in the fall. Rick Gregware donated all the shackles and chains to hold the buoys. Carter Strickland was among those who did the legal research regarding liability."
Kingfisher Water Quality Program - 1988
Under Bill's guidance, in 1988 Save The River created the Kingfisher Water Quality Programs to determine if private septic systems are discharging sewage into the River. The program continues today with the septic tank informational handbook being updated to include newer technology.                
"Bill asked his wife and sisters-in-law Franny and Charlotte, and brother-in-law Tom to donate or at least to allow Save The River to access a memorial fund, perhaps $15 to $25,000, which had been established years before in memory of Bob Beadel who died in the Peace Corps serving his country. This fund of money, as well as additional contributions were used to research various types of sewage treatments that could be used on islands and waterfront properties. In addition to providing information on preventing contamination of the river by sewage, he created an educational program both for contractors and for cottage owners so they could understand the impact of a bad septic system and the benefits of a replacement one. Save The River published a brochure and distributed it to waterfront property owners. Volunteers were trained."
A Permanent Home - 1994
Lastly, Bill is remembered by many early members for providing Save The River with a permanent home, by purchasing a building in downtown Clayton where the organization remains today.
"In addition, Bill and Sissy purchased a small, historic building next to the Opera House, which in the early 1900-era was the studio of a local painter, Alpheus Keech, who painted River scenes on canoe paddles to sell to River tourists. They totally and tastefully rehabilitated it and leased it to Save The River. He also added some very philanthropic residents to the Board who contributed significantly to the finances. With these programs and with the change of image, Save The River became significantly closer to certainly the local residents and even more so to the island residents who were for the most part, seasonal, and who for the most part had supported Save The River. This brought about a change in the image of Save The River which caused much wider support with local and seasonal residents...after these events Bill sold the building to Save The River giving back a portion of the sale price as a donation. I know this because I was chairman of the committee that raised the funds to buy it."
As the ice disappears and we begin a new River season, please take a few moments to remember Bill in your thoughts. He was a vital force who touched so many of us and our organizations; he will be remembered with admiration and fondness by River residents whose lives he enhanced. Save The River has lost a lifelong friend and champion.
by John Peach,
Save The River Executive Director, Upper St. Lawrence Riverkeeper
---
Editor's Note:
This notice was distributed by John Peach to notify the Save the River community of this sad loss. I immediately asked if I could publish this for our TI Life readers as I for one was touched by Bill and Sissy Danforth in so many ways.  
Bill asked me to join the board of STR soon after he did. I was the representative from Canada from TIA (Thousand Islands Association). We needed financial help with our shoal marking program and we thought they could help. At that time Hunter Grimes was president and I fondly remember the meetings as we were all new. Dick Munro, Ken Deedy, Andy McNally III, Bud Ames, the amazing Polly Dawes and this tall handsome man named Bill Danforth (If I have forgotten others I apologize). As I look back I smile as there could not have been a more dedicated and powerful group of Islanders to take up the cause but it was Mr. Danforth who never let us stop, no matter what the subject. Bill went on to direct the Antique Boat Museum and took it to new heights. Now 40 years later we have a much safer and cleaner St. Lawrence River. Thank you Bill, much appreciated.
If you have memories, please share them with us!

Posted in: Volume 14, Issue 4, April 2019, News article, People, Places
---
---
---