After two very disappointing cancellations because of the pandemic, the next Before the Summer Fine Art Show is scheduled for Saturday, May 7 (10-5pm) and Sunday, May 8 (10-4pm) at the Firehall Theatre, 185 South Street, Gananoque, ON. The artists are excited to be able to exhibit the paintings that have been piling up in their spare rooms, and this year we have decided to add some sculptures, too.
Since it will be Mother's Day on Sunday, we are having a special free draw for two tickets to a production of the Thousand Islands Playhouse Theatre for one lucky mother. As usual, admission is free, there is a cash bar, and there will be music in the afternoon. We hope to see you there to help us celebrate Spring! (beforethesummer.com)
Here is a taste of what the artists have been doing and thinking about all winter . . .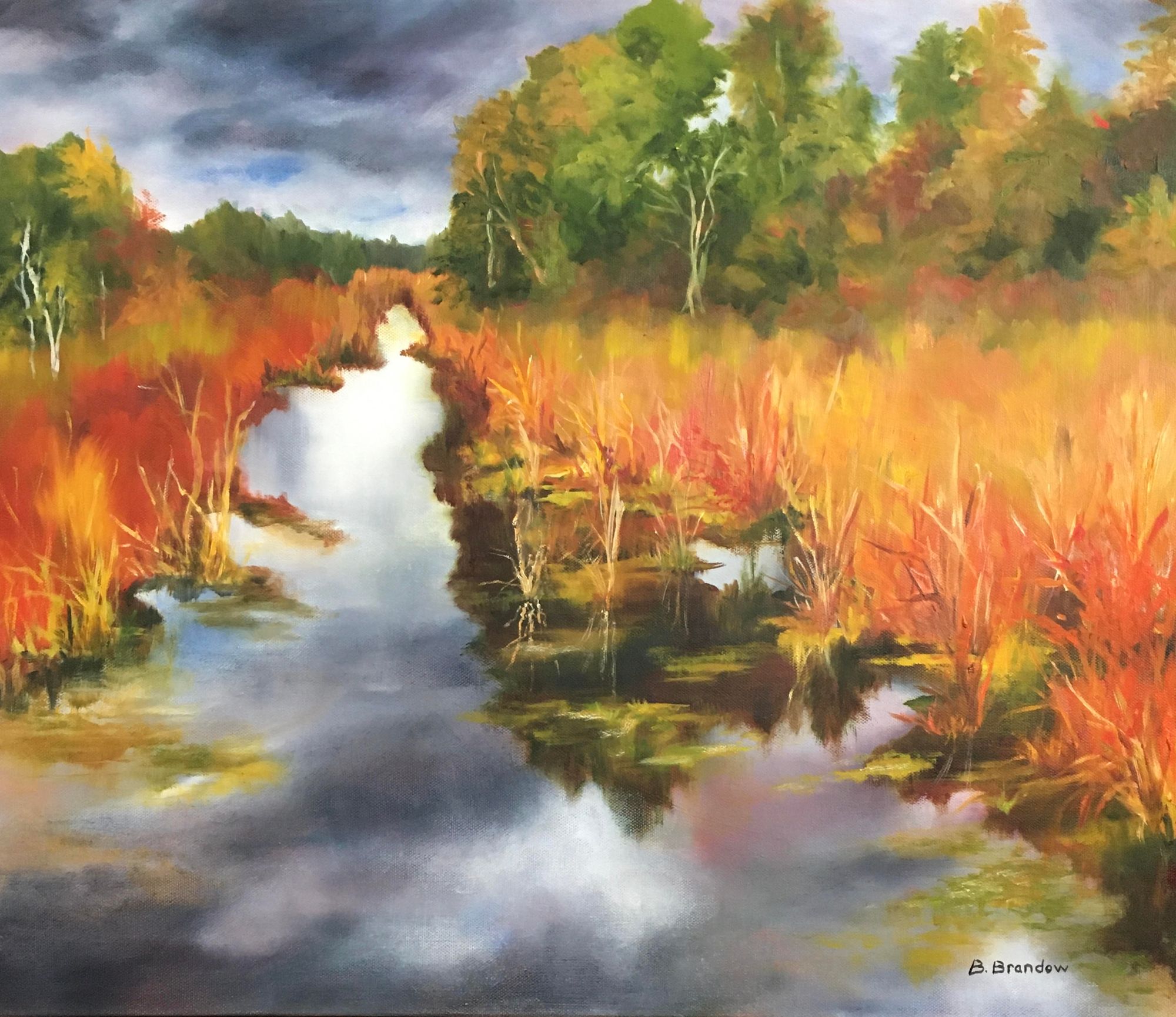 Belia Brandow says, "These past two years have forced me to slow down, enjoy, appreciate, and be inspired by the everyday world around me. My theme for the show this year will be "Along Country Roads". With limited access to my friends and usual venues, on sunny days I would take long drives throughout the counties, stopping to take photos of whatever intrigued me. These photos, along with my memories, have inspired me to paint everyday scenes into places of beauty. I just needed to take the time to truly see and feel with all my senses the light, colour, and temperature."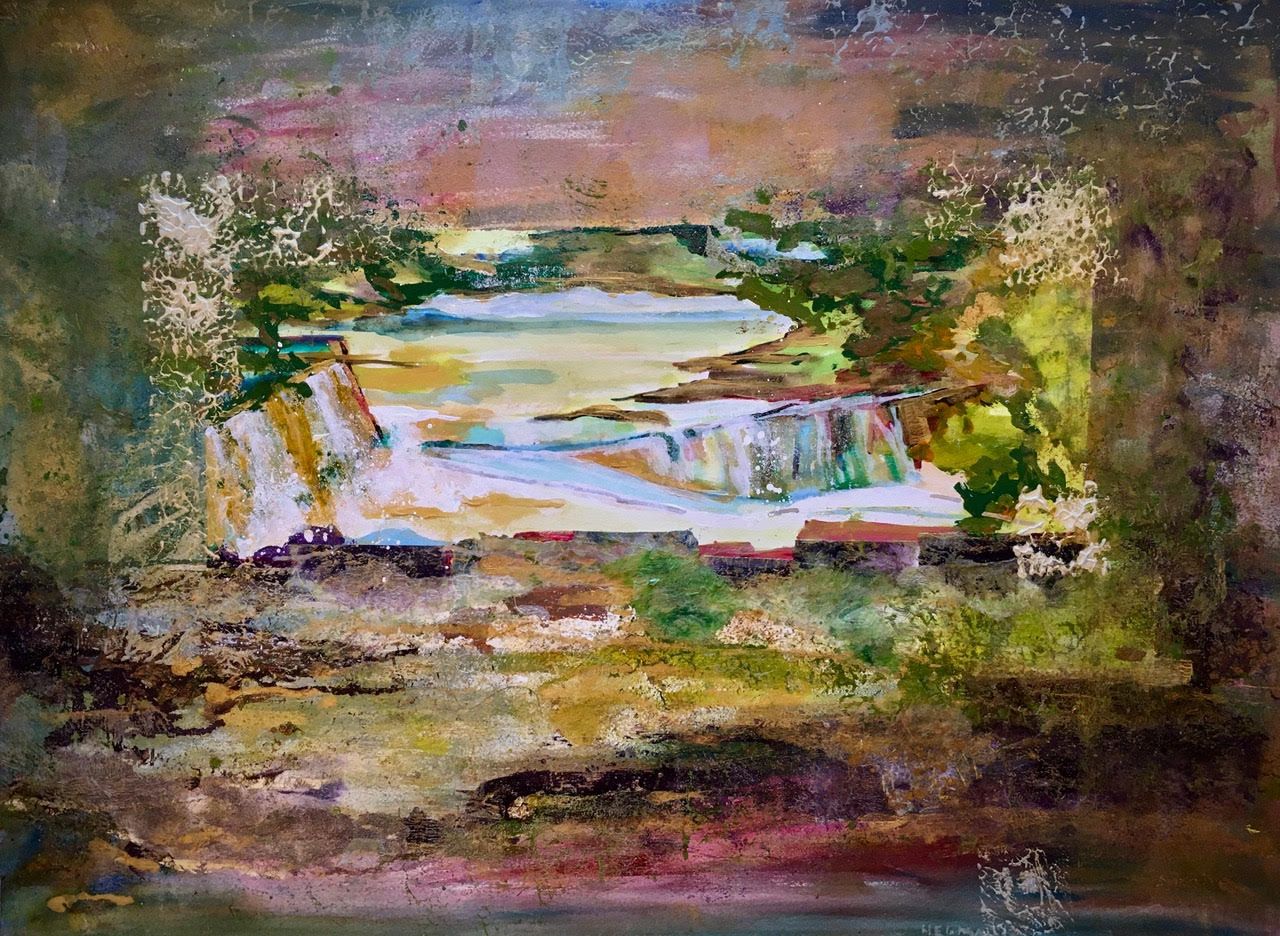 Helma Gansen wrote, "some years ago, on a visit to Tamworth, ON, we heard about the Buttermilk Falls on the Salmon River and decided to find them. We were well rewarded. It is a beautiful setting, although most of the surroundings are on private land and access is limited. I took some photos with the intent to use them in a traditional landscape painting. However, when I started painting, I decided to capture the spirit of the afternoon and the wonderful late summer colours, in an abstract version of the scenery."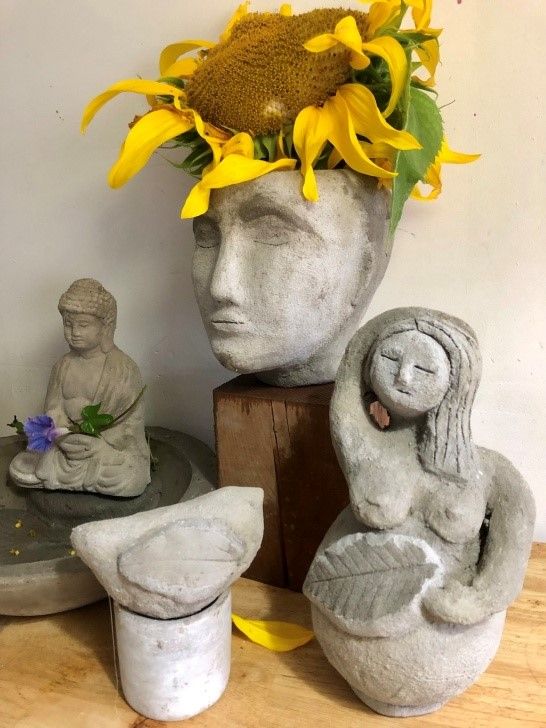 Julie Davidson Smith is a multi-media visual artist whose work explores painting, encaustic art, and sculpture. In this show, Julie will be exhibiting her encaustic etchings and concrete sculptures for the garden. Julie's love of nature, birds, yoga, and the beauty of life's simple pleasures are expressed in these works.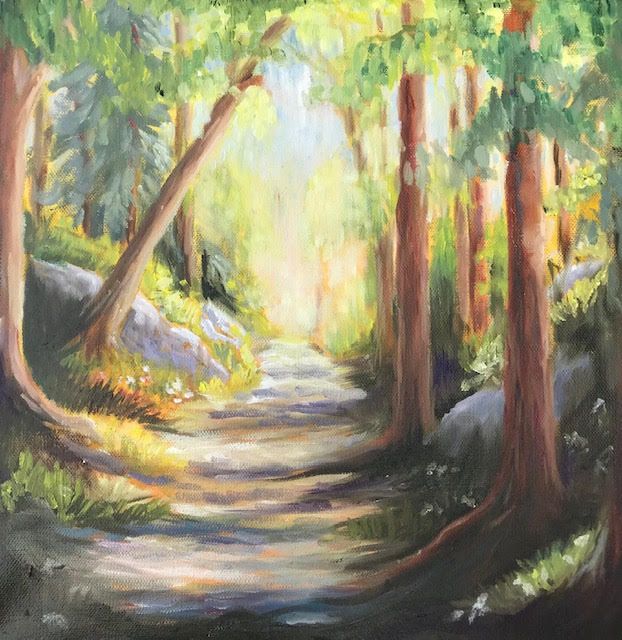 Sian Tucker says, "Spring arrives, the frozen ground has thawed, and sap pumps along branches, pushing tender leaves towards the sun. Mother Nature dashes about, waking those still sleeping beneath last year's leaves. 'Stay Connected' is painted from a photo I took of the path through woods on our then property. It was May 2020 and our first Covid lockdown. The trilliums were blooming, and the radio hosts intoned "Stay connected"  as texting, Facetime, and Zoom meetings entered our vocabulary and replaced hugs. We walked the dog along the path through the woods to the top field in all seasons and I knew the trees well; they are wiser than we are. Deciduous and coniferous grow happily together, giving each other a quick hug as their branches dance in the wind. Their roots, pushing around rock outcrops, reach out to their family members and neighbours, sending silent messages back and forth beneath our feet. Around their trunks the dog sniffs out messages left by other animals and leaves a quick message of his own. The trees and the dog know the importance of staying connected."
Other artists who will be exhibiting include Barb Carr, Barbara Patrick, Betty Matthews, Carolyn Huff-Winters, John Sorensen, Kitty Kelly, Margaret McLauchlan, Martha Stroud, Rachel Legault and Solange Leman. Check beforethesummer.com to see more work from all the artists above.
By Martha Stroud
Martha Stroud's family emigrated from Ireland around 1908, to live first in Gananoque, then Kingston, and finally Toronto, where she was born. She has lived and worked on three continents but is very happy to have retired back to Kingston and the Thousand Islands area, where she tries to capture nature ever-changing on canvas. See Martha's past articles and the work of her many artist friends here and here!
Remember for more information visit: Before the Summer Art Show
Posted in: Volume 17, Issue 4, April 2022, Artists
---
---
---