My debut novel, The Fabric of Hope: An Irish Family Legacy is the story of an 1850s Irish immigrant and a 21st-century  single mom who are connected by faith, family, and a quilt. Partially  set in Ireland and partially set on Wolfe Island, the Irish family  immigrates to Wolfe Island and settles here. Meanwhile, the 21st-century mom visits Wolfe Island attempting to learn more about her family.
I hear you have a new book out called Christmas Charity.
Yes, Christmas Charity is my first novella (short novel). It's  about Susan Hawkins and Patrick O'Neill who find that an arranged  marriage is much harder than they think, especially when they emigrate  from Wolfe Island, Canada, to Cape Vincent, New York, in 1864, just a  week after they marry—with Patrick's nine-year-old daughter, Lizzy, in  tow. Can twenty-three-year-old Susan Hawkins learn to love her  forty-nine-year-old husband and find charity for her angry  step-daughter? She hopes so—and before Christmas comes.
Who is your main character?
Susan is the ten-year-old girl from The Fabric of Hope: An Irish Family Legacy.  Susan is all grown-up now and enjoying teaching on Wolfe Island. But  when her parents betroth her to a man twenty-six years her elder and the  new family moves to Cape Vincent, NY, just days after the wedding, life  gets tough, especially when she becomes an instant stepmother.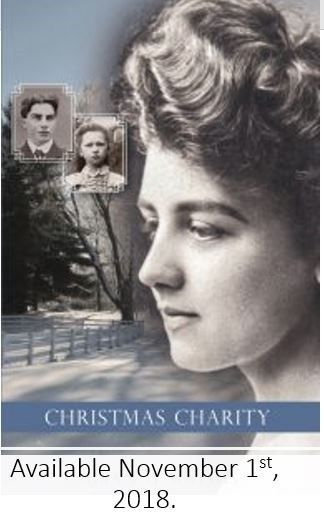 My cousins did lots of research on our ancestry, and I did extensive  research about the history and culture, the customs, and so much more. I  also enjoyed visiting Wolfe Island, Canada, and Cape Vincent, NY  several times, and have made friends in both places. This past August,  my hubby and I spent two weeks enjoying the area, visiting Wolfe Island,  Pullman Island, Dark Island, Cape Vincent, Clayton, and Alexandria Bay.  It has now become our annual pilgrimage from Colorado Springs to this  island paradise.
Do you have any photos of the setting of your book?
Since I didn't have photos of my great grandparents, I used a  photograph of my actual grandfather to represent Patrick. I try to  collect photographs of the setting—both Wolfe Island and Cape Vincent—  and I share them on my website, www.SusanGMathis.com and on my Facebook  pages. Of course, I am hoping readers will check them out.
What's your next project?
That would be Katelyn's Choice to be released on March 15th 2019, with Lighthouse Publishing. It is the first in the Thousand Islands Gilded Age series!
It's the story of nineteen-year-old Katelyn Kavanagh who leaves her  family's struggling farm to work on Pullman Island for the famous George  Pullman. There she finds herself serving powerful men such as President  Ulysses S. Grant, and Generals Sherman and Sheridan—and falling in love  with her best friend's brother. Katelyn gains popularity with some of  her friends by spilling the sensitive high society gossip she's privy  to. But when she overhears a possibly damaging presidential  conversation, she knows she can't tell anyone. She could lose her  job—and endanger the president's 1872 re-election—and jeopardize her  relationship with the man of her dreams. Still, the scandalous news just  keeps begging to be told…
What are you working on now?
I'm having a blast, writing book two in the Thousand Islands Gilded  Age series! This time about Singer Castle on Dark Island. I hope it'll  be released next summer, but I need to finish writing it first!
I've been posting photos on Facebook that we took while at the castle  this past summer and asking friends to tell me about them. It's been so  much fun and has given me so many great ideas. Once again, I am hoping  more readers will 'Friend me' on Facebook so we may connect.
---
So there you have it. My short interview with Susan Mathis. Her  writing biography is long and impressive  - collaborating for several  years with her husband in publishing additional books. I hope you will  take advantage of her webpage, blog, photographs and most of all her  love of the Thousand Islands.
Susan Mathis books are available in paperback and as e-books on Amazon and Barnes&Nobles. Here are the links: Christmas Charity and The Fabric of Hope.
Website: www.SusanGMathis.com; Facebook at https://www.facebook.com/SusanGMathis/; Twitter at https://twitter.com/@SusanGMathis and Pinterest at https://www.pinterest.com/susangmathisaut
By Susan W. Smith, Editor, susansmith@thousandislandslife.com
---
Comments  
Comment by: Susan G Mathis
Left at: 6:07 PM Sunday, October 14, 2018
Thanks, Susie. It was SO good to connect with you in person. And thanks for the interview!  
Posted in: Volume 13, Issue 10, October 2018, People, Places, News article, Book review, archive
---
---
---