[Editor's note: Susan G. Mathis once again gives us plenty to be grateful for. First she introduces us to Alson Skinner Clark: Comfort Island's Impressionist Artist. and then she provides a teaser for another of her Thousand Islands novels, Colleen's Confession, which uses Comfort Island as it's backdrop. The new novel was published this month, November, 2021]
Alson Skinner Clark, Impressionist Artist
American Impressionist artist, muralist, and photographer, Alson Skinner Clark, is most remembered for his beautiful landscapes that often still sell for tens of thousands of dollars. Born in Chicago in 1876, he started selling his paintings at age eleven, while he studied at the Art Institute of Chicago.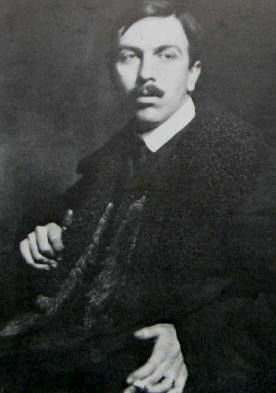 In 1896 he studied under William Merritt Chase at the Art Students' League of New York, and briefly at the Chase School of Art, before moving to Paris to train with James Abbott McNeill Whistler at the Academia Carmen in 1898.
Clark was educated in art in the United States and France, married Atta Medora McMullin, and lived in Pasadena, CA. But he summered in the Thousand Islands, on his family's Comfort Island. There he created amazing murals throughout the cottage, which still exist today.
His first art studio was in Watertown, NY, where he met his wife, and had a successful debut art exhibit. Then he took his work to Chicago, and after receiving rave reviews, he and his wife spent several years in Europe, honing his skills, and working with famous artists. His wife, Medora, was his regular model and his muse.
Clark recorded his paintings in notebooks and on note cards, often adding his inspiration for and photographs of them. One of his most famous paintings is called "The Necklaces", and was admittedly influenced by the famous artist James Abbott McNeill Whistler.
Clark painted in Paris, Normandy, Spain, Italy, the Netherlands, Canada, and other places. But he always returned to the Thousand Islands and his Comfort Island. In 1910, his Spanish paintings brought him national esteem at a Chicago exhibition.
He and his wife soon returned to France and spent time in the artist colony, Giverny, where he met Claude Monet and other artists. There, he solidified his special style of Impressionism that gained him international notoriety and fame. But soon they found Giverny an unhealthy place to reside and returned to the United States.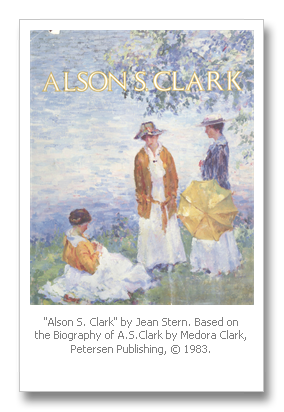 In 1913, Clark traveled to the Panama Canal and painted a dozen pieces in the construction zone and around the area, bringing building of the historic canal to life and public understanding. During World War I, he served as an aerial photographer, and later he taught art at Occidental College and in Pasadena. He was still painting until his death in 1949.
Yet his paintings still live on, and his murals in the Comfort Island cottage do too. My story, Colleen's Confession, details those murals, tell more of his work, and tells the story of a lovely orphan lass who was touched by this famous artist.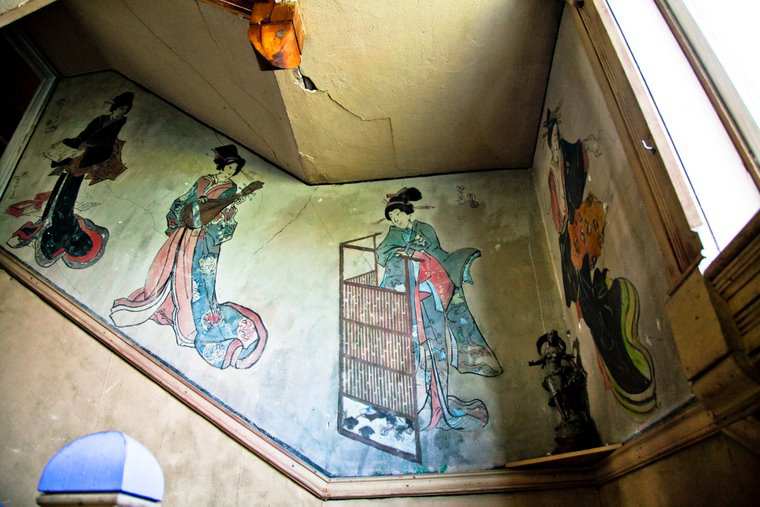 About Colleen's Confession:
Summer 1914
Colleen Sullivan conceals secrets when she joins her aunt on Comfort Island, to work in the laundry and await her betrothed's arrival. She loves to draw and dreams of growing in the craft. But tragedy strikes when her fiancé perishes in the sinking of the ocean liner RMS Empress of Ireland on his way to meet her. With her orphan dreams of finally belonging and becoming a wife and an artist gone, what will her future hold?
Austrian immigrant, Jack Weiss, enjoys being the island's groundskeeper and is smitten by the lovely Irish lass. But Colleen dismisses him at every turn, no matter how much he admires her art, tries to keep her safe, and waters the blossoms of love. Perhaps introducing her to the famous impressionist, Alson Skinner Clark, will brighten her opinion of him. But rumors of war in Europe means Jack must choose between joining his homeland's army or staying safe in the Thousand Islands, as he makes a life with Colleen. If she will have him . . .
By Susan G. Mathis
Susan G Mathis is an international award-winning author of stories set in the beautiful Thousand Islands, her childhood "stomping ground", in upstate NY. Susan has been published more than twenty times in full-length novels, novellas, and non-fiction books. Her first two books of "The Thousand Islands Gilded Age" series, Devyn's Dilemma, and Katelyn's Choice, both have won multiple awards, and book three, Peyton's Promise, will be released in May 2022. Colleen's Confession is her latest release, and Rachel's Reunion is coming in October 2022.  Susan makes her home in Colorado Springs and enjoys traveling around the world. Visit www.SusanGMathis.com for more.
Posted in: Volume 16, Issue 11, November 2021, Artists, Book review
---
---
---