One idea behind boating is to allow people to access parts of the world that would otherwise go unexplored.  Throughout the passing of nautical times, there have been many accessories that have popped-up to enhance a boaters experience. Take the idea of a sail for instance.  As I understand it, the Egyptians were the originators of the sail, which they used to reach deeper waters for better access to fish. Later, this led to the first "screw propeller" made from wood in 1836.  (I bet that guy died a rich man).  Another popular boating accessory came out in 1922 called the "water ski"!  Time and the sport of boating evolves, with new and exciting inventions.
As a mother of two young children, who LOVE to be in the water, this past summer I feel I have stumbled upon the greatest boating accessory of all time! THE AQUA MAT.  Now I know what you're thinking, with all of the technological advancements made in boating and out of all the useful products out on the market today, I pick the Aqua Mat???  YUP! I do.
Where has this mat been all my mom-life!  Not only does it supply my little skippers and their friends with endless play, it is lightweight and easy to roll and store on our platform.  I feel it's a safe way for the kids to play in deeper water, and not once this summer have I had to hear the "my foot just touched seaweed scream" coming from them.  In my book that's a win!
The little skippers seem to spend morning, noon and night on their Aqua Mat. To avoid missed float time, I found myself making them quick and easy meals that are not a lot of mess and can be easily eaten on their floating oasis.  I would like to share an easy breakfast recipe with you from my book that was definitely one of my go-to's this summer.
It has been named: The Millen Bay Mellon
Stock your Galley with:
1 fresh cantaloupe
1 container of your kid's favorite yogurt (5.3 oz)
½ cup granola
Very easy, cut the cantaloupe in half and remove the seeds.  Add the yogurt to the middle of the cantaloupe, which acts as a bowl; then top with a generous sprinkle of granola.
Makes 2 quick and easy breakfasts for those kids who love to float!
Cheers,
By Nicole Hartshorn, The River Gal, "Food Ideas for Boaters" [Rivergal1000@aol.com]
---
About River Entertaining: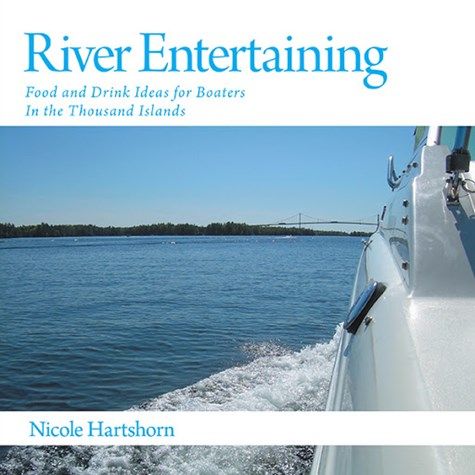 Interested in trying more of The River Gals recipes, or know a boater who would be?  Nicole's book RIVER ENTERTAINING is available for purchase on Barnes & Noble.com  or at Friesen Press.com/book store, search River Entertaining on Amazon.  See all of Nicol's other advice and recipes here and let us know which ones were used this summer!
Posted in: Volume 14, Issue 9, September 2019, Book review
---
---
---