One might surmise from the title of this article that it has something to do with the 1992 movie starring Brad Pitt that involved an awful lot of fly-fishing on the Blackfoot River in Montana.  But it doesn't.  This is the story of Mike Schepis, a local craftsman and carpenter from Watertown, NY, who has strong ties to the Saint Lawrence River.  Or more specifically, this is the story of the amazing, custom-built tables that Mike creates.
When I hopped on Mike's website (Mike and Mike's Rustic Carpentry, https://sites.google.com/view/mmrustic) the "River Table" pictured there immediately caught my eye.  It is a beautiful, hand-crafted, hardwood table that literally has a simulated "River" running down through the middle of it!  It is a visually stunning piece of fine furniture.  I immediately wanted to know how this was done, and what the story was behind it.
Not surprisingly, the inspiration comes from the St. Lawrence.  Mike's father(also named Mike, and also a carpenter at one point in his career) kept his boat at Bonnie Castle Marina near Alexandria Bay, and over the decades many happy weekends were spent out on the water.  Mike's wife Kelsey and her family are from Clayton, and her grandparents even once owned Sunset Island near the Thousand Islands Bridge.  Mike and Kelsey are currently in the market for a boat of their own so they can continue this tradition with their two young sons, Finley (age 7) and Luca, who was just born this past September.
I was not surprised to hear that Mike has strong connection to the River.  But what prompted him to build one of these tables?  As it turns out, an optometrist in Watertown saw a similar item on the internet.  Yet none were available anywhere. So the eye doctor approached a local building contractor.  The contractor said he didn't know how to build such a thing.  However, he said he did know a talented young craftsman named Mike Schepis whose "hobby" had accidentally turned into a business.  
Mike's initial carpentry projects had grown quickly from requests from family and friends, into paying customers who saw his products on social media.  Furthermore, Mike had even built tables, chairs, bars, cabinets, etc. for two different breweries (Garland City Beer Works and Boots Brewery) in Watertown.  For the Boots Brewery project, many of those items were fashioned from re-purposed red oak tongue-and-groove flooring and joists salvaged from the 17th century building (the old Lincoln Building) where brewery is now located. For all these reasons, the contractor correctly assumed that Mike could solve the riddle of how to install a three dimensional river into a hardwood table.  And that he did!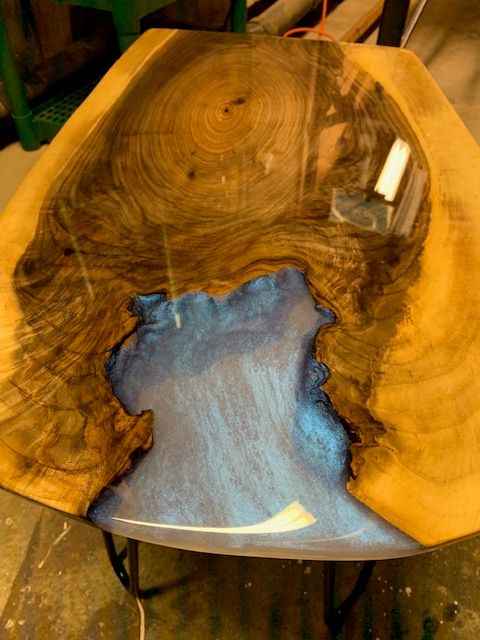 But how?  Mike was kind enough to explain it to me, but my carpentry skills are limited to tacking 2x4s together, so please keep in mind this is a lay person's explanation.  It goes something like this; a two inch thick board is cut from the center of a large hardwood log.  This board with the bark and natural contours on the outside edges is called a "live edge slab".  The slab board is cut down the middle, and the straight cut inside edges are each flipped outside. Now the natural shapes of the outside of the tree are facing each other in the middle, and the space between them becomes "the River" in the center of the table.  The bark is trimmed off, and "the River" is poured down the middle with translucent epoxy, colored with metallic pigments, which can be any color the customer desires.  The original two inch thick board ends up being about one and half inches thick after drying, sanding etc.  The epoxy "River" is the same depth as the thickness of the board, and it is this depth that gives the "River" its three dimensional effect.
There is a second option as well.  Mike can recreate the shape and dimensions of ANY body of water into a River Table.  A simple drawing, map, or aerial photo can serve as the basis to create a stencil which is used to mark and cut the pieces of lumber as necessary.  For example, Mike built one table with Lake George in the middle.  He has received a request to build an Eel Bay table, and one to recreate Morgia's Beach (which is located near Sacket's Harbor).  Mike said he can also do one to replicate the entire St. Lawrence River, or any specific section of it.
In a recent development, Mike and a friend he sometimes partners with (Jason House of Epoxy Top Creations) has been hired to assemble what may be the largest River Table ever built in the U.S.  Well, River Bar perhaps.  It will measure 60 feet long once completed!  The contractor who is building this new brewery in Syracuse has already purchased a very large black walnut tree which was harvested locally, and is currently being kiln dried.
As impressive as these River Tables are, they are only part of Mike's business.  He offers a variety of other products; all sorts of tables, bars, chairs, cabinets, headboards, entertainment centers, wine racks, charcuterie boards, signs, etc.  Mike said, "We can build about anything."  All of his products are custom order and can be built exactly as a customer desires, out of local hardwoods, or even from more exotic wood ordered from other sources. Mike says he stays away from the big box lumber stores like Home Depot and Lowes.  Re-purposed wood is another favorite material for Mike due to its history and unique character.
Mike is a great example of a local, small scale artisan producing high quality products that are truly rare in this day and age.  He works out of the two car garage at his home, and has some hired help to keep production moving.  His business has only been around since 2016 and has taken off quickly due to the demand for his products.  It has gone from salvaged pallet wood projects that resulted in friends and family saying, "I want one!" to large scale projects. Given all the success, it's hard to say what the future holds for Mike.  He is still a full time Special Education Teacher for 4th and 5th graders at Indian River School District, a job which he describes as "very rewarding".   Clearly, character and integrity are key hallmarks in all of Mike's excellent work!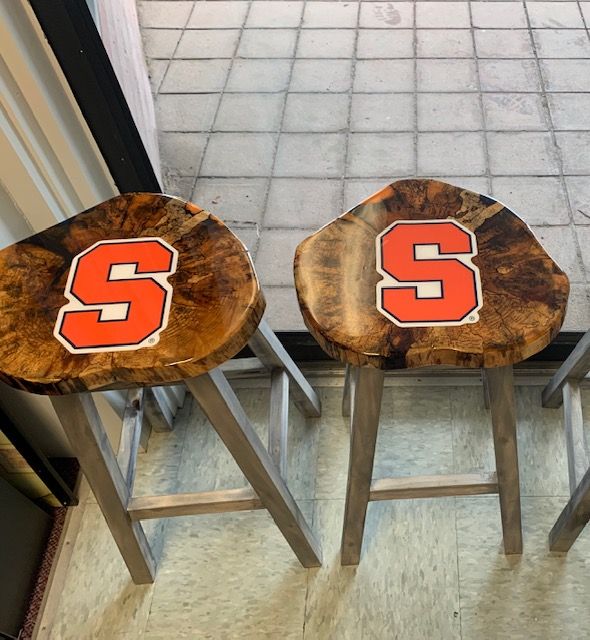 ---
If you are interested in seeing more of his work or contacting Mike about a River Table or any of his other products, here's how:
Facebook Business Page: Mike and Mike's Rustic Carpentry
Website: https://sites.google.com/view/mmrustic
Instagram: "@mmrustic"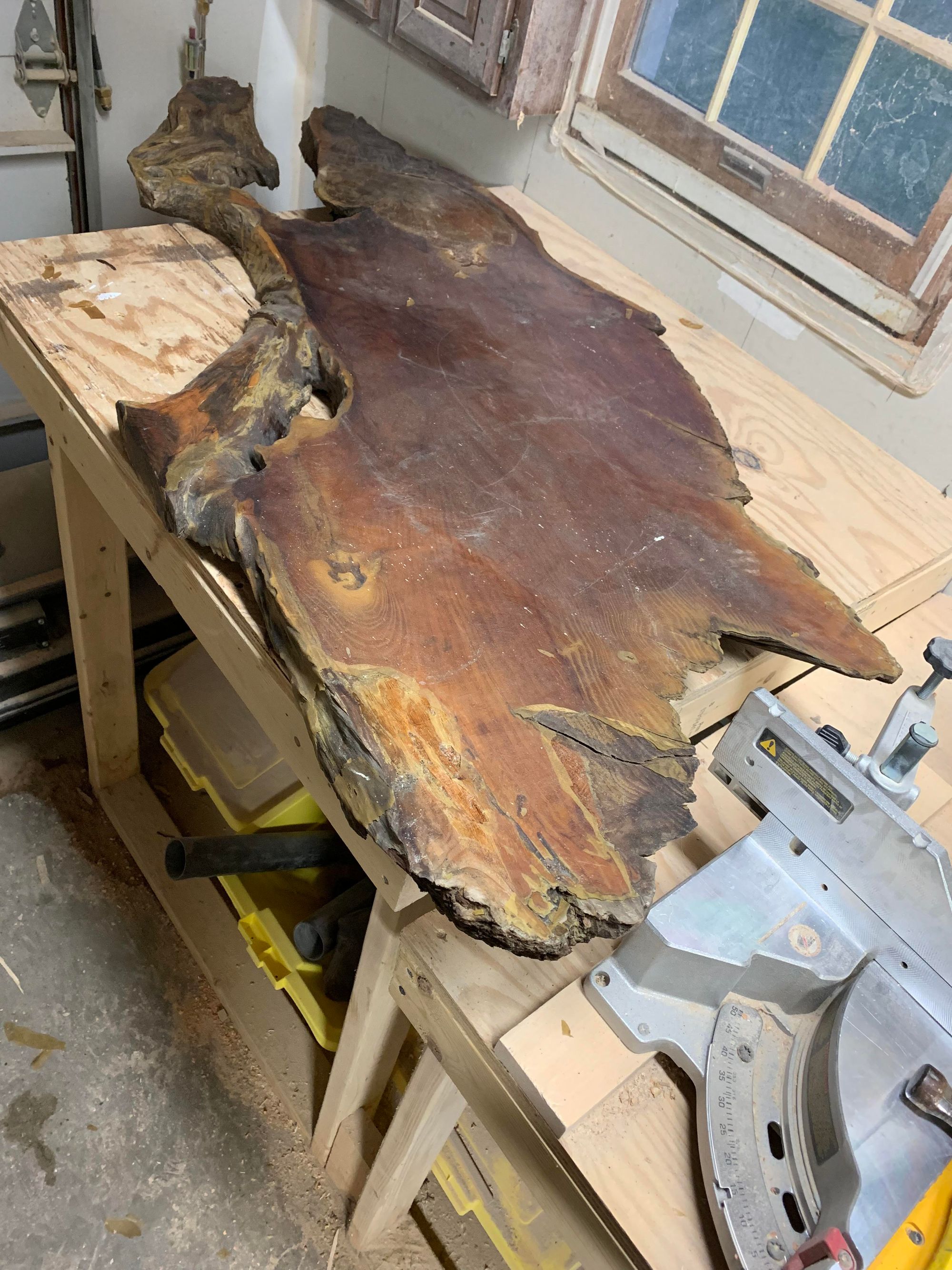 ---
By Patrick Metcalf
Patrick Metcalf began vacationing in the Thousand Islands more than 20  years ago when his grandmother and her two sisters rented three houses  for a week each summer in Fine View on Wellseley Island and invited  their families from Pennsylvania, Michigan, and Florida. Patrick spends  as much time as he can each summer on the River near Clayton, NY. He  began writing to entertain his son Lee, who is now eight years old.  Patrick resides in Shippensburg Pennsylvania, holds a Masters degree in  Public Administration, and is a Marine Corps veteran.
Posted in: Volume 15, Issue 2, February 2020, Artists, People
---
---
---