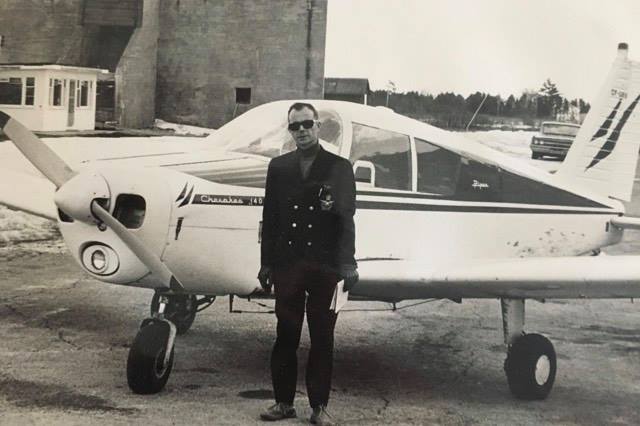 Editor's Note:  This story first appeared in the Kingston Whig Standard as "When a Used Car Lot was Centre of the Universe" June 17, 2000 for Father's Day.]
---
They almost looked out of place, here in town. Country folk. The man tugged at his tight tweed jacket, which covered a faded pair of bib overalls, and looked down, as if looking for a hole to appear on the tire. Then, spitting on his weathered hand he stuck it out toward the young salesman.
"You got a deal there, Jackie," he said.
"No, you got a deal," said Jack Johnson, laughing, taking the man's hand, feeling the spittle. "I got robbed Marv. You took advantage of this poor boy from Wolfe Island. I can't feed my family on this."
Helping his wife into the passenger seat of what was to be their first car ever, Marv turned and said, "Always drove a truck before. Never had no car. Couldn't haul no pigs in a car, right Hon?" he said, spitting out a black wad of chewing tobacco to the side.
"You betcha," Hon replied, also grinning from ear to ear. "Now we don't have to be ashamed comin' in to town – aw look Marv, ol' Sparky likes it too."
Sparky, part hound, part German shepherd and who knew what else, jumped back and forth between front and back, drool hanging off his tongue and dripping on Hon's new dress, barking incessantly at all the excitement.
Backing out of the car lot on what was then upper Princess Street, the happy couple waved, honked the horn, waved again, popped the clutch, jerked a couple of times, and were off.
Turning, Jack stepped up into the small, two room office he shared with Lacy Sirett, his right-hand lot man who seemed to be everywhere at once. Lacy never said much, just chomped on a cold stub of a cigar, grabbed a set of jumper cables and disappeared under another hood on the lot. This time though, Jack noticed him staring out the office window, cigar going from mouth to hand and back to mouth. Not a good sign.
"Oh boy, oh boy," he muttered, looking up at Jack and then disappeared into the inner office among the tires and batteries, cigar and all. Turning quickly, Jack saw what Lacy had seen.
There, stopping traffic for both directions, was the '58 Ford, dead in the middle of Princess Street, both doors left open. Coming up the street, one half walking, one half running and one bouncing and drooling were Marv, Hon and ol' Sparky, the only one wearing a grin.
"It's a lemon, it's a lemon," yelled Marv, shaking his big farmer's fist.
"Jack… Jack," came a meek voice from among the tires and hubcaps. "I think I forgot to put gas in that '58 Ford."
---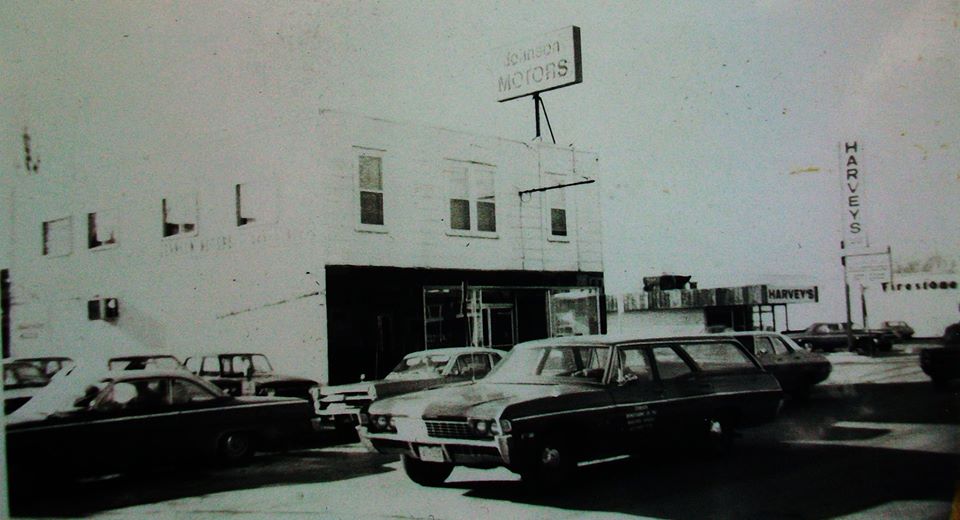 Jack Johnson was my father. The corner of Regent and Princess Street here in Kingston was the centre of the universe for me every Saturday morning. With Buck Owens playing in the background, I helped (or got in the way of) Lacy the lot man as he washed cars, changed tires or replaced hubcaps. Sometimes we would boost a car or two with a set of trusty jumper cables here and there, me watching as sparks flew, and sometimes the car even started. The crazy world of a used car lot, even back then, could be compared to the rural general store of a generation earlier. There were guys stopping in to chat, discuss (or curse at) the latest hockey scores, play cards at the end of the desk and, once in a while, a car was sold.
Born and raised on Wolfe Island, dad's favorite story was how, at 17, (probably 19 or 20) he handed his last quarter to water taxi operator Buck Mullin, emigrated to Kingston on the Rebola, and got a job at Alcan. Not satisfied with his paycheque, he would raffle it off to his coworkers and collect more in the end. C'mon dad, really?
Tall tale or not, dad probably realized it then – perhaps his true calling was a carnival hustler. Since the circus was not in town, the next best thing was trying out the used car business: movin', shakin', wheelin' and dealin'. Apprenticed to car dealer Jack Blacklock at the beginning he later struck out on his own, and he became darn good at it.
Learning to fly with his islander cousin Reg Greenwood, the two would pull antics on one another until Jack lost his license. He made an unauthorized landing on the ice over on Wolfe Island. How was he caught out? Marsh reeds were stuck on the landing gear. Kingston Flying Club CFI Doug Wagner was not impressed.
"Low flying today, Jack?"
"Yeah, over Wolfe Island"
"How low?"
"I dunno, 'bout 500 feet I guess."
"Marsh reeds grow pretty high over there, eh?"
Grounded. But all was forgiven later and he few again. And much later, he taught me how to fly.
Besides the ability to sell, dad also possessed an uncanny sense of direction – some people are born with this. Dad had it threefold, be it land, sea or air. Learning to drive on the dark, rural roads of Wolfe Island, he later wouldn't consult a road map and we still made it to Florida one year at Christmas. Another time, the two of us were flying back from Peterborough in a four seater Piper Cherokee 140. Approaching Varty Lake we ran into a sudden, blinding snow squall. For 15 minutes or so we were flying blind. "I got 'er," he said calmly. "Just keep an eye when we clear." It wasn't until much later that I realized how serious our situation was. Dad was not IFR (instrument) rated!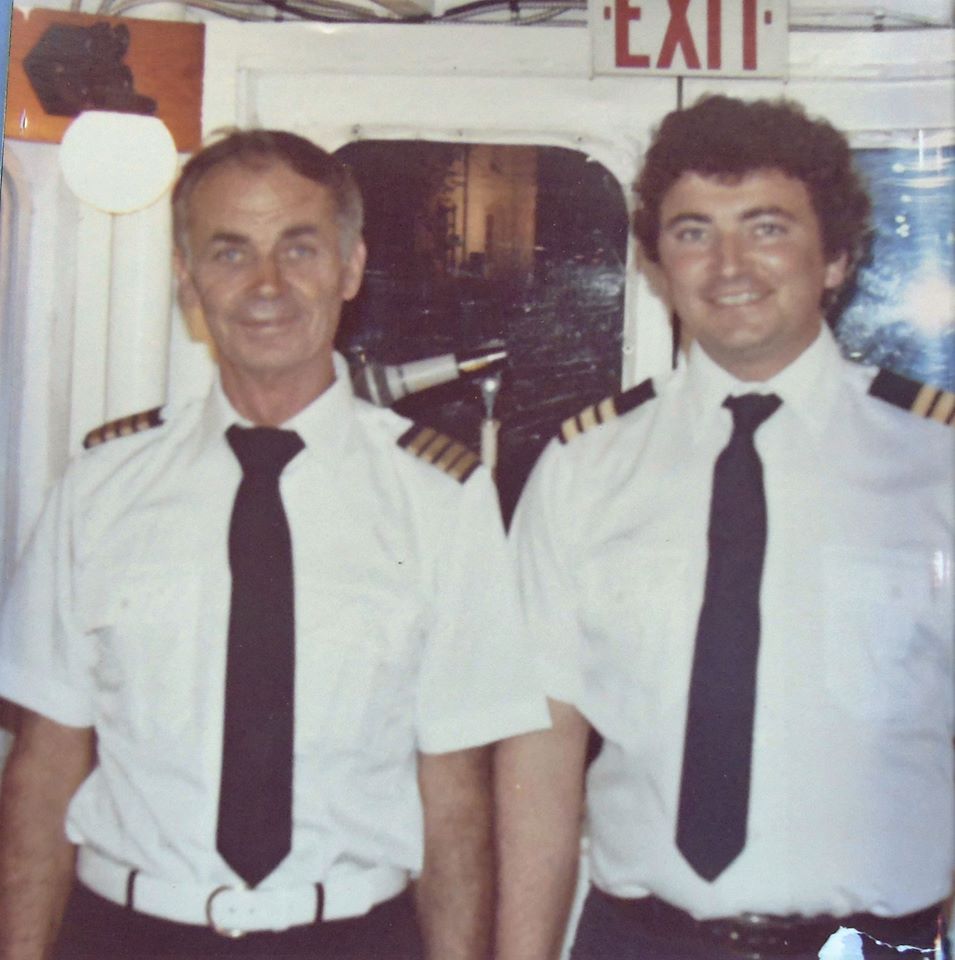 Later, the two of us, now licensed boat captains, were guiding the tour boat Island Princess on a special charter on Big Rideau Lake from Rideau Ferry to Westport. Neither of us had ever been through here before.
It was nighttime, dark – no, very dark, and moonless. No radar, light buoys or shore lights to speak of. I'm watching the charts and whatever I can make out of the shoreline. Dad's at the wheel. Our passengers, local to the area are coming back from a party and everyone knows where we are. Someone comes to the door about every two minutes and, mumbling almost coherently, says something about a tree over a certain barn, pointing out the landmark in the pitch black dark, no less. The ol' man, cool as a cucumber, takes it in stride, "I'm ruining the charts with sweat."
Finally, looming out of the darkness is the Narrows Lock. Our destination, right where it should be.
Thirty four years ago this past March, dad was driving down to the Wolfe Island ferry where I now worked, to meet me about something I'll never know. This time he didn't make it. Dad had a massive heart attack at the wheel of his car and hit a house on Division Street. A police officer met the ferry instead.
For a very, very long time, I had this empty feeling. It would stretch into years. Dad and I did almost everything together back in the day. I even polished lot cars during my dock duty at the ferry terminal. Dad would later pick them up and sell them that evening. Then one day mom was suddenly gone and now followed by dad. I avoided the usual haunts at first – the car lots, garages and auto body shops where I would expect to see him at any moment, but wouldn't. It was very hard being around the tour boats for when he wasn't piloting, dad was busy hustling tickets, waving the crowd over and sending us on our way, practising his vocation as a master showman with a used car salesman's magic.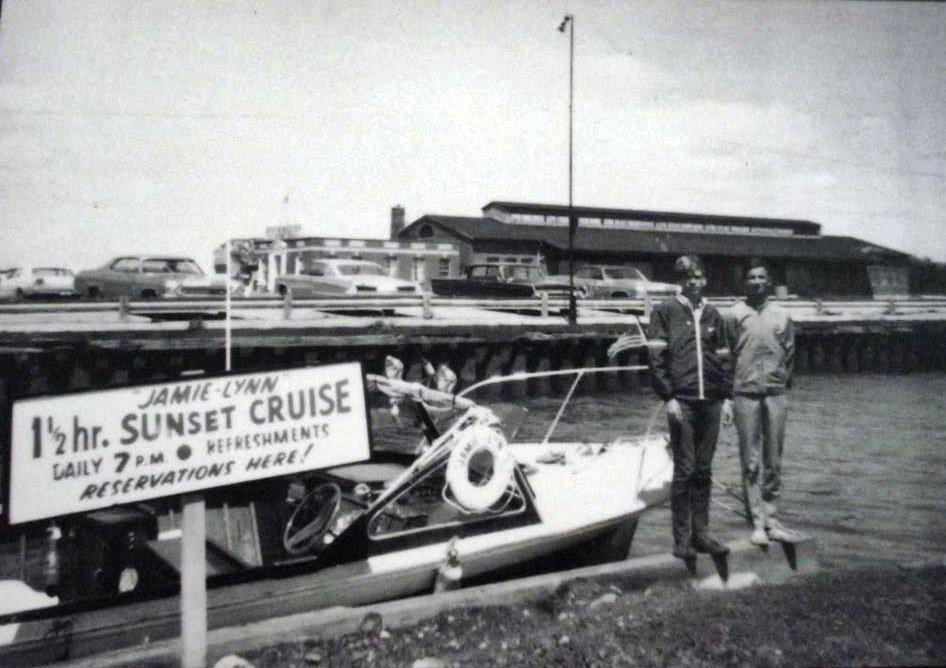 Thankfully, my own family helped resolve these painful memories, turning them into memorable funny moments instead. Stories filled with lovable characters. Those places I earlier avoided because of the sad memories became instead a nostalgic walk-back in time when Kingston really was a small town where dad knew just about everybody. Instead, these memories slowly became a lifetime of pleasant, often funny situations I wouldn't trade for the world. I didn't say goodbye to Dad then, and now I realize I didn't have to.
The used car lots of Princess Street are pretty much gone now, replaced by the much bigger, super car stores where one goes in, places their order and leaves with their new vehicle. Gone are the card players, the guys stopping in for a chat, the ol' folksy way of kicking tires and the new thrill of sitting in the seat of that first car. Oh, that still happens but it's not exactly the way I remember it.
Daughter April and son Patrick were with Cathy and me several years back driving up Regent Street toward Princess. We stopped where the car lot used to be. I was pointing out where the little office was and the different rows of cars that no longer exist. It's a very small parking lot today. New buildings cover the rest. "Is this where that story happened?" asked April. Patrick started laughing.
"Which one? There were countless tales," I said. We got out. And for almost a minute I was back in time to 1963.
"You know the one," Patrick said.
"I can still see them," I said. "I was standing over here, I guess, I was about nine years old, pretending to polish one of the cars when I saw the commotion. Dad was coming out of the building and looking out, "over there," I said, pointing. "The old Ford blocking Princess Street, Marv, Hon and ol' Sparky dancing up to the car lot, Marv shouting: 'It's a lemon, I ain't takin it. It's a lemon."
By Brian Johnson
Brian Johnson is a former captain of the Wolfe Islander III and a proud
used car dealer's son.
Be sure to read Capt. Brian Johnson's other TI Life articles and stories - will appreciate each one:  
June 2009 - 2019 - 46 articles:  Brian Johnson | Thousand Islands Life Magazine (tilife.org)
2019-: Brian Johnson - Thousand Islands Life Magazine & April Johnson DiRinaldo & Brian Johnson - Thousand Islands Life Magazine

Posted in: Volume 16, Issue 7, July 2021, People, Places, History
---
---
---