It's always the same, a painful pleasure. Pleasure seeing new views of the River through so many others' eyes. Painful because I well know how much time and effort goes into capturing a great shot, so it really hurts to make cuts, particularly when it gets down to the last couple of rounds. In the end, however, there are just three medal certificate winners, so agonizing decisions must be made.
This year a total of 82 photos were entered and the whittling down process went through six rounds to arrive at the final three. 51 images made it into the second round, 35 made the third, 24 to the fourth, 15 through to the fifth, 7 into the sixth before finally selecting from them the three winners.
I could share details as to why I made the choices I did, but perhaps it's best simply to share the dozen remaining "honorable mentions" from the fifth round as they are all winners to my eye. You can make your own conclusions and I won't feel hard done by should you have selected differently.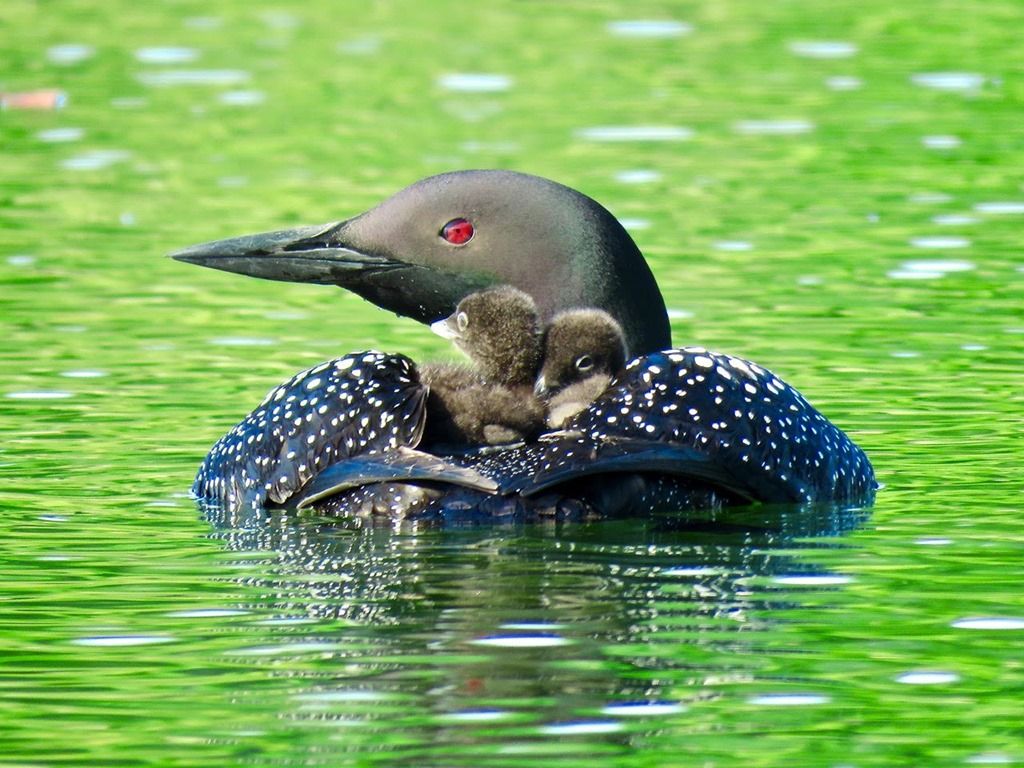 ---
Gold simply has to go to the shot of the mother loon with her twins on board. I've spent 23 years trying to capture loons well, particularly carrying babies. In that time I've only actually seen a mother carrying her baby perhaps a half dozen times, and never carrying two. They are incredibly challenging to capture, particularly without harassing them because they are very easily stressed. I believe this photographer was being respectful, because while Mom is clearly watching, the babies seem entirely undisturbed, snuggling contentedly together, seemingly without a care in the world. To see such a moment, never mind capture it with the challenges of a telephoto lens in perfect focus is nothing short of amazing.
"Family Time" by Karen Schaack
"While out in our fishing boat, we came across a loon sitting on a nest. Keeping a respectful distance so as not to disturb her, we would check from time to time to see if she was still okay. One day we noticed her missing and the eggs had hatched. We went around the island and before we headed across the open water spotted the mom with her babies on her back. I think she had gotten used to seeing us nearby because she didn't seem to get stressed by us watching her with her babies."
Bio: Karen Schaack acquired her love of nature and art early in life growing up on her family's dairy farm north of Kingston. She now enjoys watching for wildlife and birds near Gananoque where she resides with her husband Edgar of nearly 35-years. They spend much of their free time on the St. Lawrence River in their little fishing boat. It was Edgar who gave her a camera for Christmas three years ago.  Karen is a professional gardener for others and works part-time at a grocery store in Gananoque. This year her photography was featured on CKWS and Global News in Kingston, ON.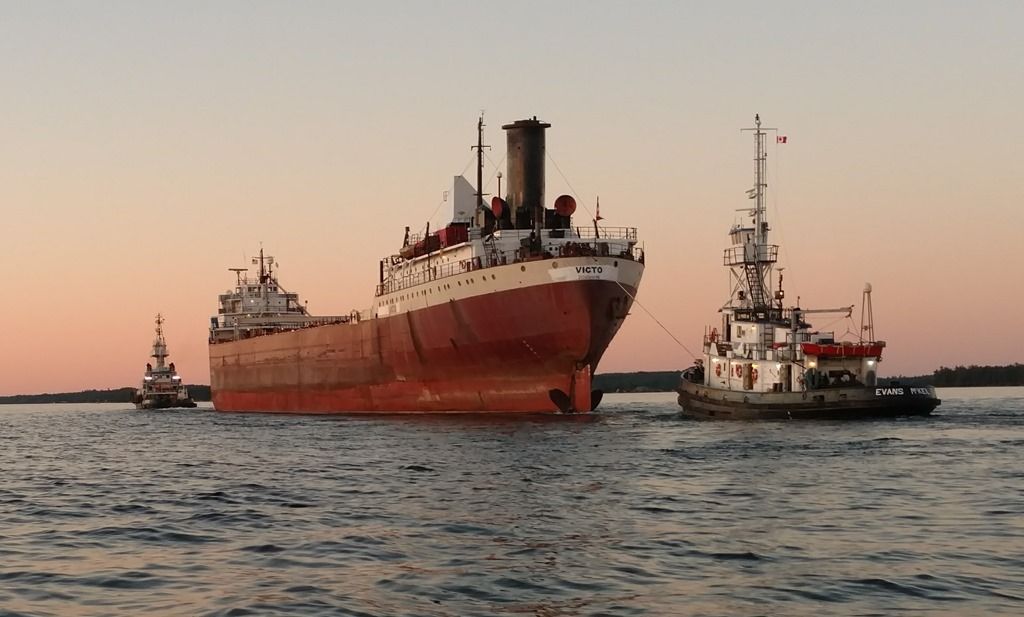 ---
The shot of an old freighter being skillfully persuaded down the channel by leading and trailing tugboats wins our 2018 silver medal. I'm guessing this shot was taken fairly close to our island (downstream from Singer Castle and Chippewa Bay) as I saw and photographed the moment, though not nearly as well, just after sunset. The contortions the tugboats went through to persuade this behemoth to make the turn at Crossover Island Light were impressive, but probably not as impressive as the countless other challenges they would have faced herding the ship to the ocean and then to an overseas scrapyard.
"American Victory" by John Kunz
"The double ended Lakers have been part of my memory since the beginning. My Aunt Margaret would hold me on her lap and let me look at them from her terrace through an old Argus spotting glass, that I still have. We learned the names and lines together. I noticed this old girl coming through the Lakes en-route to a scrap yard in Turkey on a website called "I Love Sault St. Marie. I was just lucky enough to be at the River the evening she passed by. For me, the image evokes a certain sadness warmed by the treasured times I spent with my Aunt."
Bio: John Kunz and his wife Kelly, are summer residents of Chippewa Bay. They winter in Watertown, NY. along with their three sons. The whole family enjoys the River on a four-season basis - Sailing, Rock Climbing, and Skijoring.  John has written several articles for TI Life, we recommend you read the February 2016 article when John took us Skijoring in the Thousand Islands; it will get you ready for Winter 2019!
John writes, "I am embarrassed to report that I do not have any higher resolution photos. I take all my pictures on a Motorola Droid, which I always have with me."
---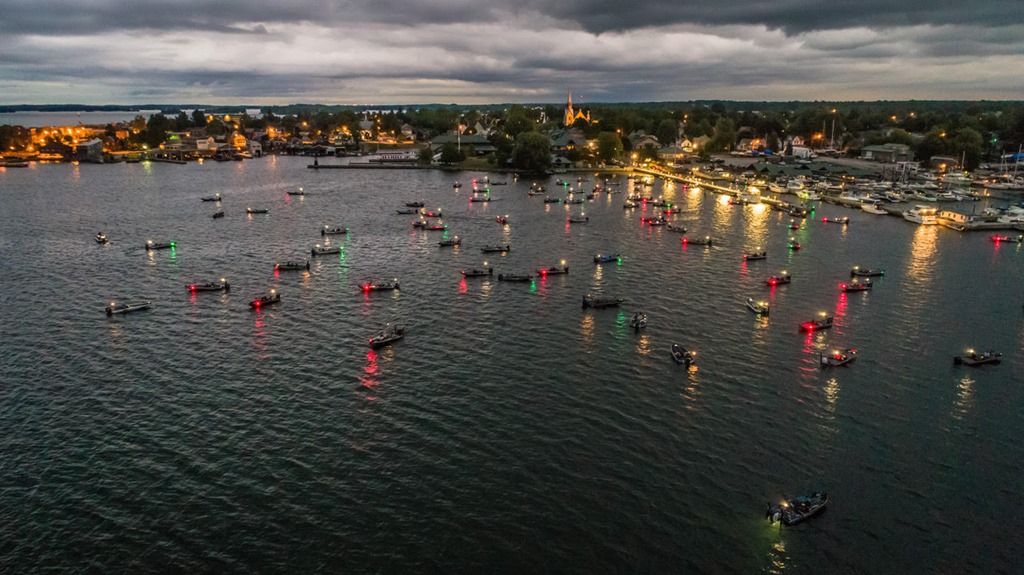 Bronze goes to this fascinating image of something close to a hundred boats swarming in French Creek Bay. I'm not sure what the event was, but with all the navigation, mooring lights, reflections, and St. Mary's Church's illuminated spire, it gives more of a sense of Christmas than the summer evening when it was taken. It's also an astonishing technical achievement that has only become possible within the last year, as drone technology has become sophisticated enough to keep the camera still enough in the sky for a long exposure, low light shot. This would not be possible from any plane or helicopter, no matter how good the camera.
"Early Morning Start" by Jason DesJardins
"One of the events I have captured for a couple of years is the Costa Bass Masters Tournament in Clayton NY. This past year the weather was not that nice, which made for a cool sky.
It is also cool seeing more than 100 boats seamlessly launching and getting ready to take off in the morning. Once they are all in the water they gather for final instructions and the playing of the National Anthem with the Flag waving from the judge's boat before taking off for the day, one at a time."
Bio: "My love of the River and photography started about the same time as our business (Horizon Aerial Media Services). As a lifelong upstate resident, I never truly appreciated the River until a few years ago. Drones opened a creative/artist outlet for me that I never knew existed. I love getting up early or staying out late on the River. Nothing beats a St Lawrence Sunrise/Sunset.  I didn't spend nearly as much time this past year taking pictures for fun as I have in the past but still enjoy it just as much. The Real Estate photography portion of our business really took off this past year. My wife Amanda and I hope to spend more time running around the River in Summer 2019."
---
Jason shares photographs with TI Life throughout the year. One favorite is  found in the TI Life Happenings, August 2016. Both Jason and Amanda's photographs have received Honorable Mentions in past TI Life contests.
My sincere thanks and congratulations to all who submitted images. We truly appreciate your Christmas gift of River.
By Ian Coristine, Raleigh Island
Ian Coristine has been active in aerial photography for over 25 years and has written extensively for U.S. and Canadian aviation publications. The demands of air-to-air photography proved ideal training for an unexpected career of delighting residents of the Thousand Islands with seven books that showcase the region's beauty.
His books have collectively sold over 120,000 copies and his Thousand Islands photographs have been featured internationally.  DxO Labs of Paris, France, award winning publishers of revolutionary high-end camera and lens correction software, selected Coristine as one of the their 12 founding "Image Masters." from professional photographers around the world.
Ian Coristine's seventh book, "Ian Coristine's 1000 Islands," is the culmination of his twenty years of work.  He says, "These are my top picks, from the over 50,000 images I've captured since the River became my life's work. To not share these is unthinkable."
Since Paul Malo created "Thousand Islands Life Magazine," Ian has generously shared his photography in each issue as well as providing our special "page headers."
A copy of "Volume VII," with its companion tri-fold pocket map, and my book, "First Summer People, Thousand Islands 1650-1910,"  goes to each of our medal winners, along with the official award certificates and our thanks for cerebrating the River in this way. It's always a very special Christmas gift to the River community.
---
Comments
Comment by: Dennis Honeywell
Left at: 2:47 PM Sunday, December 16, 2018
Wonderful stuff...thanks TI Life.
Means even more seeing it here in Sarasota, Florida
Comment by: Dick Withington
Left at: 7:52 PM Sunday, December 16, 2018
Susie and Ian,
Thank you so much for all your efforts to bring us the joy of exquisite River photos just in time for Christmas. The happiness the annual contest brings to the countless readers more than justifies the project. We all thank you both.
Comment by: Jean Palmer
Left at: 7:48 AM Monday, December 17, 2018
Oh, I love the Gold Medal winner. It is not just a visual treat, but it
touches my heart.
Comment by: Jane Taylor
Left at: 4:15 PM Monday, December 17, 2018
Congratulations Karen. Your talent is evident in your photo, your crafts and your gardens.
Comment by: Jane Taylor
Left at: 4:20 PM Monday, December 17, 2018
Congratulations Karen, your talent is evident in your photo, but also your crafts and gardens. Keep it up!!
Comment by: janet smith staples
Left at: 6:57 AM Saturday, December 22, 2018
Beautiful photos!
Posted in: Volume 13, Issue 12, December 2018, Photography
---
---
---