In the Thousand Islands, boats and boating families are fiercely connected. Some families have owned and operated the same boat for generations, and these vessels become members of the family.

One such wooden classic is a 1953 Chris Craft 28 Express named "Muskie". The Garnsey family has fished, cruised, operated, and maintained "Muskie" for a few generations, and no amount of money could separate Jeff Garnsey from his heritage on the St. Lawrence River. This model of Chris Craft Express has been a favorite of fishing guides in the Thousand Islands for many years, including the Garnsey family.
Jeff Garnsey's father Joe, and grandfather Roly, ran "Muskie" for years, as fishing guides. Therefore, she was a common sight taking anglers out to fish for Great Northern Pike, Muskellunge, Walleyes, and such. Her distinctive blue hardtop was easy to spot on the river.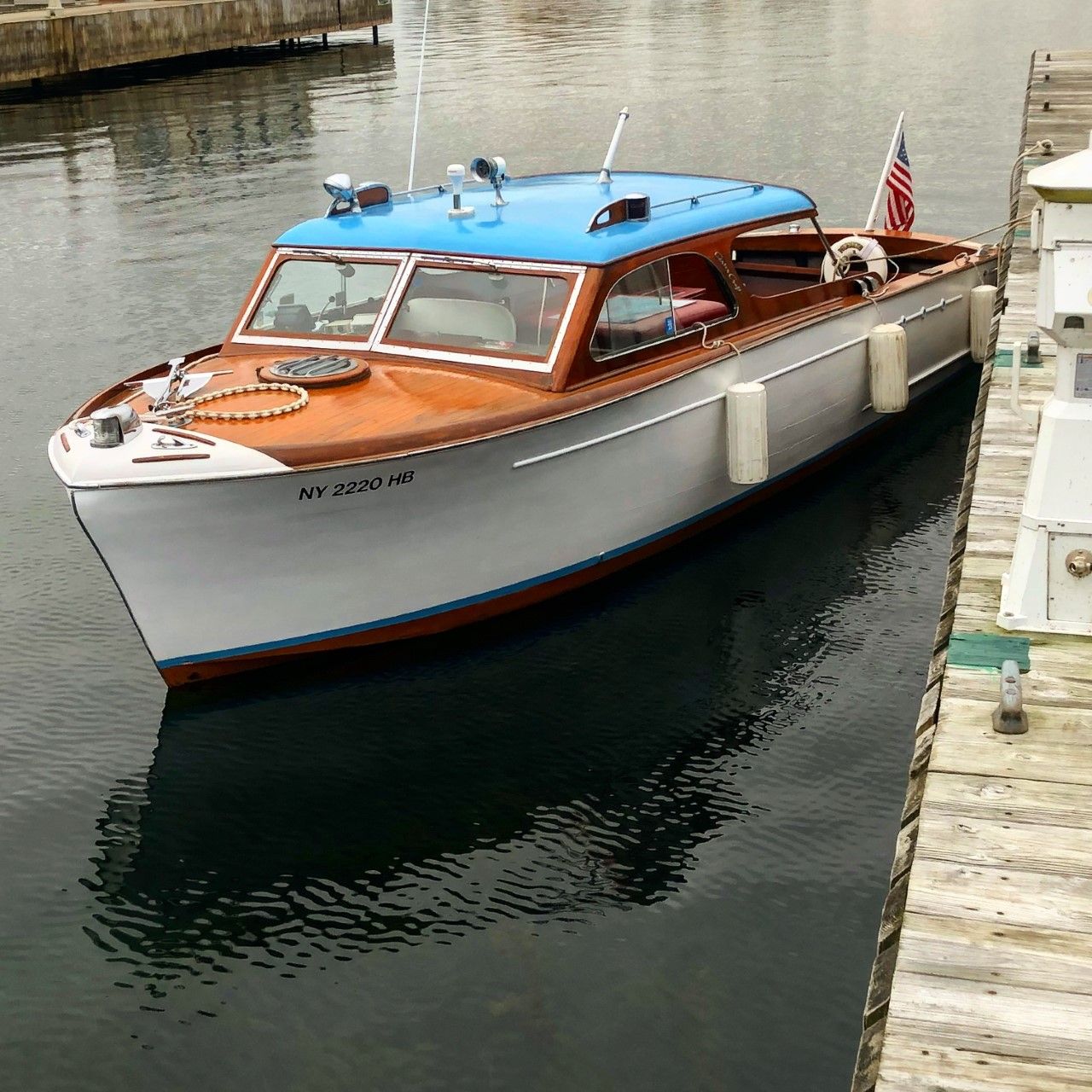 Jeff had planned to continue the family tradition, but while deployed in the Persian Gulf, his father Joe passed away, and Muskie was given away. On his return, Jeff searched for the family vessel, and only 20 years later did he discover that a local man had stripped her of her running gear and buried the hull at a local gravel pit. Sad but undeterred, Jeff kept up his search for a suitable guide boat, and finally heard of one that could pass for a double of "Muskie." The Chris Craft was in a barn, and she was in fact a dead ringer for his father and grandfather's prized boat. Upon closer inspection, Jeff saw that this model had lovely teak decks, and he was smitten.
Although this Chris Craft was not for sale, Jeff convinced the owner to sell her, and the rest is history! While the Muskie that his family had owned was now part of nautical history, this "new" Muskie was a perfect substitute.
"Muskie" is powered by a pair of 283 cubic-inch Chevy V- 8's. Having twin engines makes docking and getting in and out of the boathouse much easier. The engine boxes are perfect seats for passengers and anglers, and feature charts of the Thousand Islands under plexiglass covers. Jeff has replaced the original engines during his ownership. The anchor can be lowered and raised from the helm, which is a real convenience for charter captains. A fish-finder/depth sounder is at the captain's side, for spotting any action under the water.
What makes this model unique is that the horizontal topside planks were made from imported teak on the twin-screw Chris Craft 28's. This is different from the oak planks and keel used on the single engine models. There were three identical boats built by Chris Craft, and the other 28 is now part of the Antique Boat Museum's collection in Clayton.
This particular Chris Craft 28 was purchased new by the Hineman family of Picton Island. She was originally named "Picton", and I can remember seeing this pretty boat from our home on nearby Grindstone Island.
When ordered, the fishing package was specified, which included a live bait-well, as well as a copper-lined fish box. Also among her original equipment is a cabin heater which is a welcome source of warmth in colder weather. It takes the warm cooling water from the engines, where an electric fan forces air through the heater, and into the cabin and wheelhouse. This so-called bus heater is popular among fishing guides in the Great Lakes, as well as lobstermen in Maine and New England.
When Mr. Hineman passed away, Picton was sold to Mickey Augustine, who lived on board for a few seasons at a marina in the Clayton, NY, area. When he passed away, the Chris Craft was left to his daughter Barb Phinney, who enjoyed her for a few seasons, before putting her into mothballs in her husband Larry's barn. And in 2009, this is about where Jeff Garnsey entered the picture in the life of this 1952 Chris Craft.
Over the years, Jeff has had to replace and upgrade "Muskie." He has invested countless hours in refinishing, sanding, varnishing and replacing any worn or damaged parts. Jeff also owns and operates a 1962 Chris Craft 37 Sea Skiff named "Fin & Feather" for river cruises, fishing, and outings. That boat is a  flybridge model with both an upper and lower helm and offers a larger cockpit than on "Muskie."
Today, Mr. Garnsey operates his classic Chris Crafts for fishing charters like his father and grandfather, as well for sightseeing and wine and cheese cruises. It is not unusual to see Captain Jeff taking passengers up and down the American Channel for sunset cruises. He has also hosted newlywed couples for post-nuptial cruises on the St. Lawrence River. Seeing the bride in her wedding dress is a real contrast to the casually dressed anglers who also frequent "Muskie." Other events include family reunions, outings that Jeff captains in Muskie. We feel that his father and grandfather are looking down from heaven with smiles of approval that the tradition continues in Jeff's able hands.
Muskie has been the subject of paintings by Michael Ringer and the late Mary Randazzo. It is a fitting tribute that this classic Chris Craft has been memorialized by two of the best-known artists in the Thousand Islands. We have to agree that Muskie and the Garnsey family are true icons of the region.
by Rick Casali
Posted in: Volume 18, Issue 10, October 2023, People, Sports
---
---
---