Happy 90th, Skippy. We go back awhile. Here's a 1945 photo of Street family members on the Street family dock at the Street Cottage.
78 years of friendships, life-long friendships and still going strong.
Skippy, our cottages go back a lot further than 78 years, and I wondered if there might be an untold story here that could be created for you on this birthday. So, with the help of two Gananoque researchers, here is the story of our two grandfathers, their common history and friendship that likely contributed to their building neighboring cottages.
It turns out that our grandfathers, Robert G Graham and J.R. Street, worked together back in 1891 & 1892, 130 years ago, likely before either had ever been to the Thousand islands. And they shared an unbelievable amount of commonality in their personal histories.
They were born into Methodist families in small farming villages
They were both university oriented, in fact both getting degrees from the same university, Victoria University, in Cobourg, ON. Graham's degree was a 4-year honors degree in math with distinction as a medalist. Street, six years older, received BA and MA degrees.
Upon graduation, both men had common career aspirations . . . high school teaching.
Soon after graduation, they both were married . . .  to women from Belleville.
Their early work history was identical, teaching for one year in their first high school after graduation, and then for two years in a second high school and then, then in year four, pursuing High School principal positions.
They could not have had more common personal histories. Their paths first crossed when Graham graduated from Victoria University and became the math teacher at the High School in Caledonia, ON, the school at which Street was principal. Picture these two University men, working closely together in this small town, with all their common history and interests . . . they likely developed a close, respectful friendship.
When Graham completed his year at Caledonia and was ready to move on to another school, he asked Street for a letter of reference, to complete his resume documentation. Street wrote this very supportive letter on July 6th, 1892, stating
"I am acquainted with Mr. R. G. Graham, a young man with outstanding character. Mr. Graham has held the position of Mathematics & Science Master in our High School during the past year and has proven himself to be a careful, zealous, and painstaking teacher . . . who will win the confidence of all those placed under his care. I cordially recommend him to all concerned."
Graham then taught for two years at Kincardine District High School, northwest on Lake Huron.
While all this was going on in Caledonia and Kincardine, Gananoque officially became a town in 1890 and made plans to establish its first High School starting in the 1894 – 95 school year. There were two efforts: 1) Creating the education programs, clubs, and activities, and 2) Building the building.
In August 1894, the Kingston News Standard, a precursor paper to the The Whig Standard, published the following article:
"Gananoque, Aug 28, The public schools and High School opened yesterday with a large attendance. The high school staff, which is an entirely new one, is composed of R. G. Graham, of Kincardine, principal, J.H. Seaton, of Elgin, first assistant, and Miss Bradbury as English teacher."
Graham was principal on day 1. But it appears that his first-year position was one of creating a high school instead of managing an existing high school. A booklet created by the Gananoque Reporter in 1907 describes the school in depth with high praise for every dimension of the High School Graham created. An inspector's statement said he did not know of another school in the province with such excellence.
The new High School building, built by Mitchell & Wilson was on Stone Street where the parking lot of St John's Catholic Church is now. There is a marble plaque on the grass between the sidewalk & the parking lot stating: "ON THIS SITE FROM 1895 TO 1949 STOOD GANANOQUE HIGH SCHOOL."
1901
In 1901, seven years after coming to Gan, Robert & Mary Graham bought an island . . . this island. The deed is in Mary's name and in naming the island, perhaps they knew that in 1750, a Prussian King had named his summer palace in Potsdam, Sans Souci. And that name was chosen for the Graham's summer palace. Robert and Mary built this cottage as it is still stands today, including this veranda upon which we are now standing. An inscription on the stone fireplace reads 1906. Equally amazing is all of the infrastructure that they built. A sea-wall across the front giving permanence to the cottage site in high water years, a swimming bay, steps cut into a major granite outcropping allowing cottage access to the second floor. The island had tremendous style & beauty and was the result of undoubtedly tireless work.
1903:
Their daughter, Dorothy Lingham Graham was born on July 19th, starting the tradition of July birthday celebrations on Sans Souci which we are now continuing at this very moment. She grew up in Gananoque and possibly spent a year in her father's High School before they moved to Ottawa when she was 14 years old. She would have learned all the details of Sans Souci and the boats which she would manage the rest of her life. When Dorothy had her own children, she gave them her father's names. Robert Graham became Robert & Graham. Skippy first took "Graham" to be Graham Armstrong for his life. Dinty chose Robert, a good name from my perspective (as my name is also Robert).
1906:
Five years after Graham left Caledonia, Street had moved to the US. He got a PhD, was a lecturer and author and became the first dean of the Teachers College of Syracuse University when it opened in 1906. They also decided to establish a permanent summer "camp" as they would call it and the Thousand Islands was a logical choice given train access from Syracuse and Belleville. They likely counseled with their previous friends, the Grahams, about the pros & cons of summer retreats near Gan and selected a neighboring lot on Bostwick. These were not random neighbors; they were friends from 15 years prior, and desired to have summer retreats near to each other… my view.
The Graham – Street neighboring summer life continued for another decade. However, the Streets days on Bostwick ended in 1915 for health reasons and the Graham's left Gananoque in January 1918 after 24 years, to take a new executive posting in Ottawa in the Department of Revenue.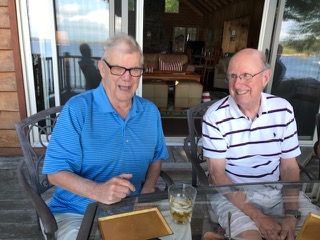 Fast Forward 100 years
The friendships of the Armstrongs and Streets carries on as it has existed for the past 130 years. HAPPY BIRTHDAY, SKIPPY,
By Robert H. Street, Bostwick Island
Bob Street was born in 1937 to a rubber company scientist/executive in Akron, Ohio.  He studied engineering at Ohio State and MBA at Northwestern.  He had a 32 year career at IBM in marketing with postings in Akron Ohio, White Plains, NY, Hong Kong and Tokyo.  Bob retired when leaving Tokyo, 31 years ago and has focused energy on expanding the 116 year old Street family cottage properties and buildings on Bostwick Island. He has donated the majority of his land to the Thousand Islands Watershed Land Trust, including a small addition in 2023 to help preserve the Half Moon Bay neighboring environment.  Bob & Paula have 4 children, two of whom are principals in neighboring cottages on Bostwick.  Bob's ancestors came to Canada as loyalists after the US Revolutionary War and his father was born in Belleville.  Based on that history, Bob Proudly displays his Certificate of Canadian Citizenship."
Editor's Note: Birthdays are often celebrated by family and friends, but this summer Robert (Bob) Street decided to provide Graham (Skip) Armstrong with a special gift of history. Many of us in the Admiralty Islands, and all over the River, will recognize Skip as the past secretary of the Thousand Islands Association (TIA). Together with a small group of like-minded individuals, Skip has helped to keep us off the rocks and given us the TIA that we all appreciate. Skip is now a retired pubic servant of 36 years with the Government of Canada and living in Gananoque. So, from members on both sides of the River, we salute you, Graham Armstrong, and we thank you, Robert Street, for capturing this wonderful piece of Island history.
Posted in: Volume 18, Issue 10, October 2023, History, People, Places
---
---
---