The Thousand Islands Fine Art Association (TIFAA) is having its annual September show at the Mallorytown Community Centre at 76 County Road 5 in Mallorytown, September 15 to 17.
There will be 20 local artists from the TIFAA group, showing paintings in a wide variety of styles and sizes, and a special guest artist, Mance Granberg.
Mance Granberg is a Wolastoqiyik/Abenaki artist who paints in the Woodland Art style. "Woodland Art, also known as Legend Painting or Medicine Painting, is a distinct style of Native art that blends traditional legends and myths with contemporary mediums. It explores the relationships between people, animals, and plants and is rich with spiritual imagery and symbolism.
With its bright colours, bold lines, and 2-dimensional design, Woodland Art is one of the most recognizable forms of Native art. The visionary style emphasizes heavy black form lines and x-ray views of colourful, figurative images. The perspective is strictly frontal, profile, or aerial, lacking ground lines and indications of horizons. Norval Morrisseau, an Ojibway artist from Northern Ontario, is considered to be the founder of the Woodland School of Art."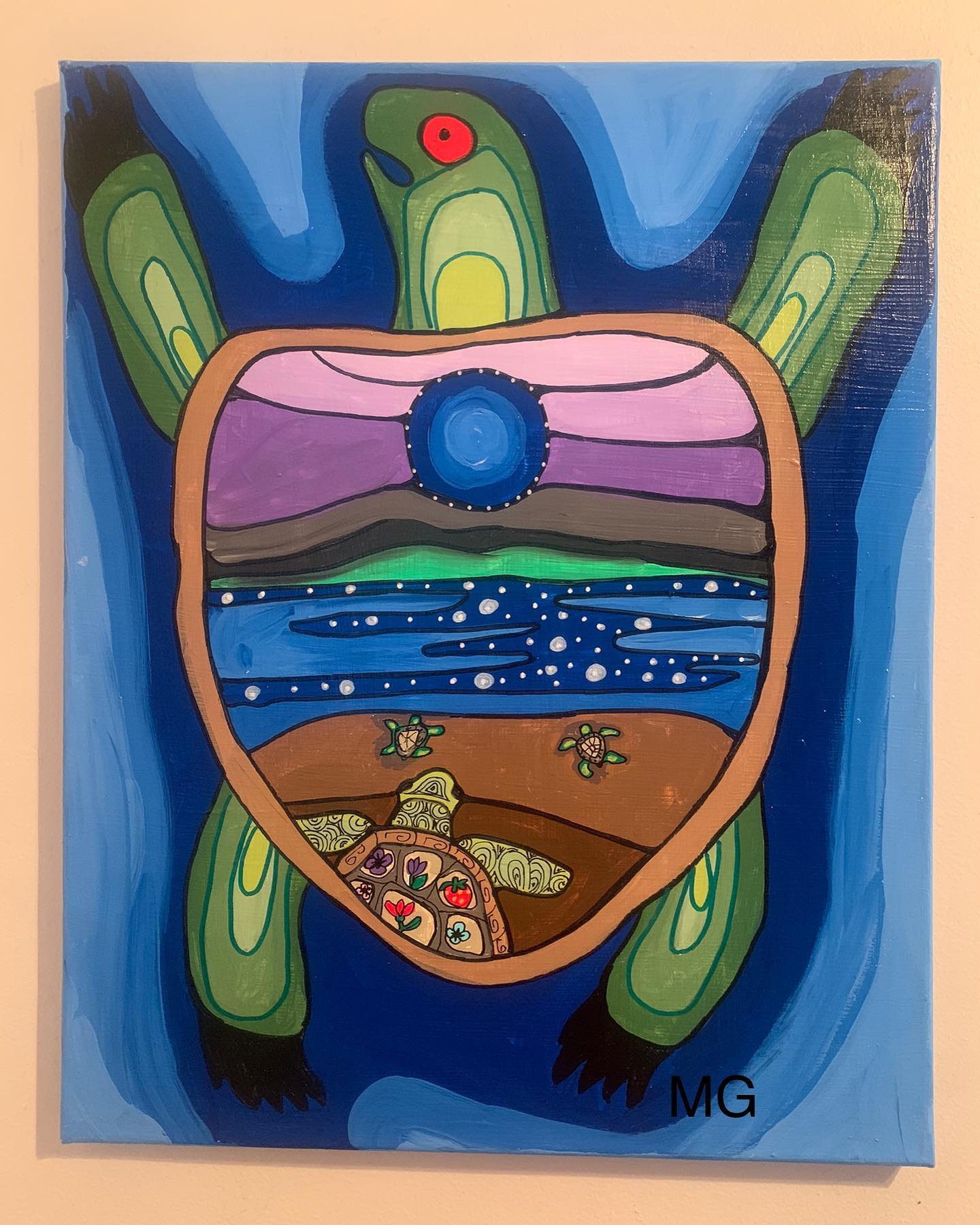 Mance is a direct descendant of the St-Aubin, from a Wolustugiyik community, which was once called Viger, in the province of Quebec. Following a land cession of the community in 1869, many Wolustugiyik families had to live in other First Nation communities. Some members of the St-Aubin family moved to Wôlinak among the Abenaki and intermarried. Later, his family also intermarried with the Gill in Odanak and other non-native people from whom he carries his current name. Mance identifies as a Wolustugey, in honour of his St-Aubin family, from the shores of the Wolustuk River. His current name is Mance Granberg St-Aubin, and he operates as an artist under the name of Aben Wliwni.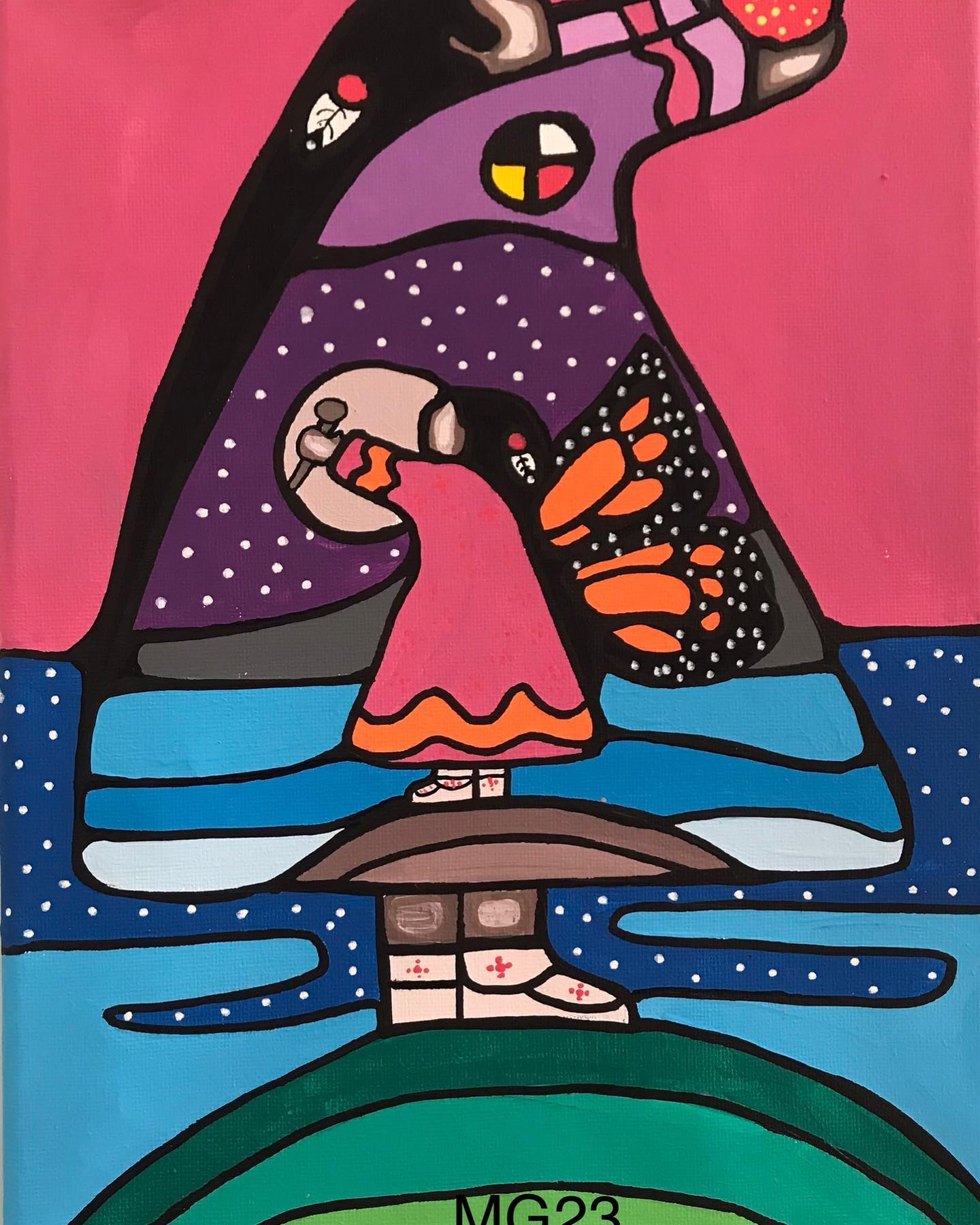 Mance has been a member of the Canadian Armed Forces and worked as a psychiatric nurse. He lives in Kingston and now devotes his time to his painting. "I find inspiration for my art on my morning walks while laying tobacco down. When I return home, I draw images that I have formulated in my mind on canvas. Once the drawing is done, I think about the colours that I will add to it. I am often just inspired by the nature I see and how it relates to my cultural teachings."
You can follow Mance on Facebook under Aben Wliwni.
For more information about the show, check the TIFAA website http://www.tifaa.weebly.com or follow TIFAA on Instagram https://www.instagram.com/p/Cu0MMwQvuky/?utm_source=ig_web_copy_link&igshid=MzRlODBiNWFlZA==
By Martha Stroud,
Martha Stroud's family emigrated from Ireland around 1908, to live first in Gananoque, then Kingston, and finally Toronto, where she was born. She has lived and worked on three continents but is very happy to have retired back to Kingston and the Thousand Islands area, where she tries to capture nature ever-changing on canvas. See Martha's past articles and the work of her many artist friends here and here!
Note:  Thousand Islands Fine Art Association (TIFAA) September show at the Mallorytown Community Centre at 76 County Road 5 in Mallorytown, September 15 to 17. The show opens at 1 pm on Friday, with a vernissage from 5 pm to 7 pm. On Saturday, it is open from 10 to 5 and on Sunday from 10 to 4.
Posted in: 'Volume 18, Issue 8, August 2023, Artists
---
---
---