Over the last couple months, you may have seen many Canadian conversations about something called Bill 23. It is a new Bill announced as part of Ontario's Premier Doug Ford's promise to build 1.5 million new homes across the province within ten years, with a focus on the GTA (Greater Toronto Area) and the Greenbelt (a protected area of over 8000 km of forests, wetlands, and watersheds). Generally, the goal of this Bill is to reduce barriers to the housing development process so that homes can be built faster.
Bill 23 was first announced on October 25, 2022, and was officially passed a quick 34 days later on November 28th, becoming the More Homes Built Faster Act. While the Bill did receive official approval, many of its changes will not come into effect until later dates.
One of the changes of most interest to members is that Bill 23 introduced a series of legislative and proposed regulatory changes affecting conservation authorities with the goal of accelerating housing development approvals. These changes will consolidate the individual regulations of conservation authorities into a single regulation and limit their role in granting development permissions.  The full effect of the changes will be known later when regulations are made to implement the new legislation.  
However, there are some important changes now:
The removal of conservation authorities' ability to review development applications: Before Bill 23, a developer would require a permit from their local conservation authority before building on a floodplain, wetland, or other potential natural hazard. Now, the decision to approve a development in any given area falls on municipalities and there are some concerns that municipalities typically do not have the same level of environmental expertise. These changes leave many confused about conservation authorities' role, particularly following the conversations many of our TIA members participated in with the Cataraqui Conservation Authority at the end of this last summer.
Changes to Site Plan Control, the framework used to review proposed developments: This process may now only be used to review developments of more than ten units. Municipalities will not be able to require regulation of issues such as the quantity or quality of surface runoff coming from new developments or review flooding and erosion impacts from new buildings.
There are very different views on the value and jurisdiction of local conservation authorities as we discovered with the Ontario Conservation Authorities Act's (CRCA) recent proposed changes to policy.
The Thousand Islands Association(TIA) is acutely aware that these issues are of critical importance to our members regardless of where members stand on the issues.  The TIA will be following these developments closely for our membership and will update members as the legal framework unfolds.  In the meantime, there are some links below for more reading on this subject: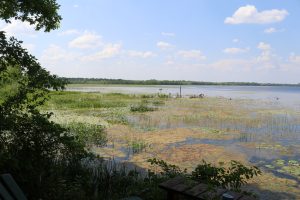 By Annabel Cowan
Annabel Cowan comes from a long line of River Rats, dating back to the 1890s. A sixth generation island dweller, Annabel has been on the River since she was a month old and she has been hooked on island life ever since. A recent graduate from McGill University in Environmental Studies, Annabel is passionate about advocating for the St. Lawrence so that another six generations may continue to live, work and play on the River.
Editor's Note:  This article was published in the January/February issue of RIVERTALK, the newsletter published by the Thousand Islands Association (TIA) which is a nonprofit founded on the River in 1934 with their shoal marking program. This new online publication provides the latest boating safety and environment information for members - so we highly recommend that you join this month to ensure you too get this news.]
Posted in: Volume 18, Issue 2, February 2023, Essay
---
---
---