July 2021 and the Thousand Islands Life Magazine is now online.
https://thousandislandslife.com
Articles about artists, a cook, birds, dock chairs, a chapel, school houses and a lighthouse, then there are  ships, Sudoku, even a used car lot and yes, you are reading correctly - Island septic systems. Fourteen in total - and something for all interests.  
Glennis Newton Trainor captures what we all want to do right now. Yes, jump right in!
---
TI Life News From the Editor by Susan W Smith – Marilyn Neulieb's short essay, "8 minutes, 20 seconds"; Theodore Too Visits; Boat Show in Chippewa Bay, Tom French's Wind Water Waves wins award . . .
Kirsten Swanson Bowen, Artist by Susan W. Smith - How often do you see a painting and say, WOW — nothing else, just WOW. Of course, you can say it softly, or in a normal voice, or very loudly.  I did the latter . . .
Greg Lago - Getting to the Point! by Sarah Ellen Smith - Many River folk will remember "Winged Bull Studio" in Clayton, NY, where Greg ran a gallery and frame shop for many years. This summer his work will be on display at the Thousand Islands Art Center . . .
The Ovenbird Song by Gerry Smith – One of the most familiar warbler songs, as well as one of the easiest to learn, is the loud, ringing song of the Ovenbird. Well described as "Teacher, Teacher, Teacher," in the north or "Teach, Teach, Teach," in the southern part of their breeding range  . . .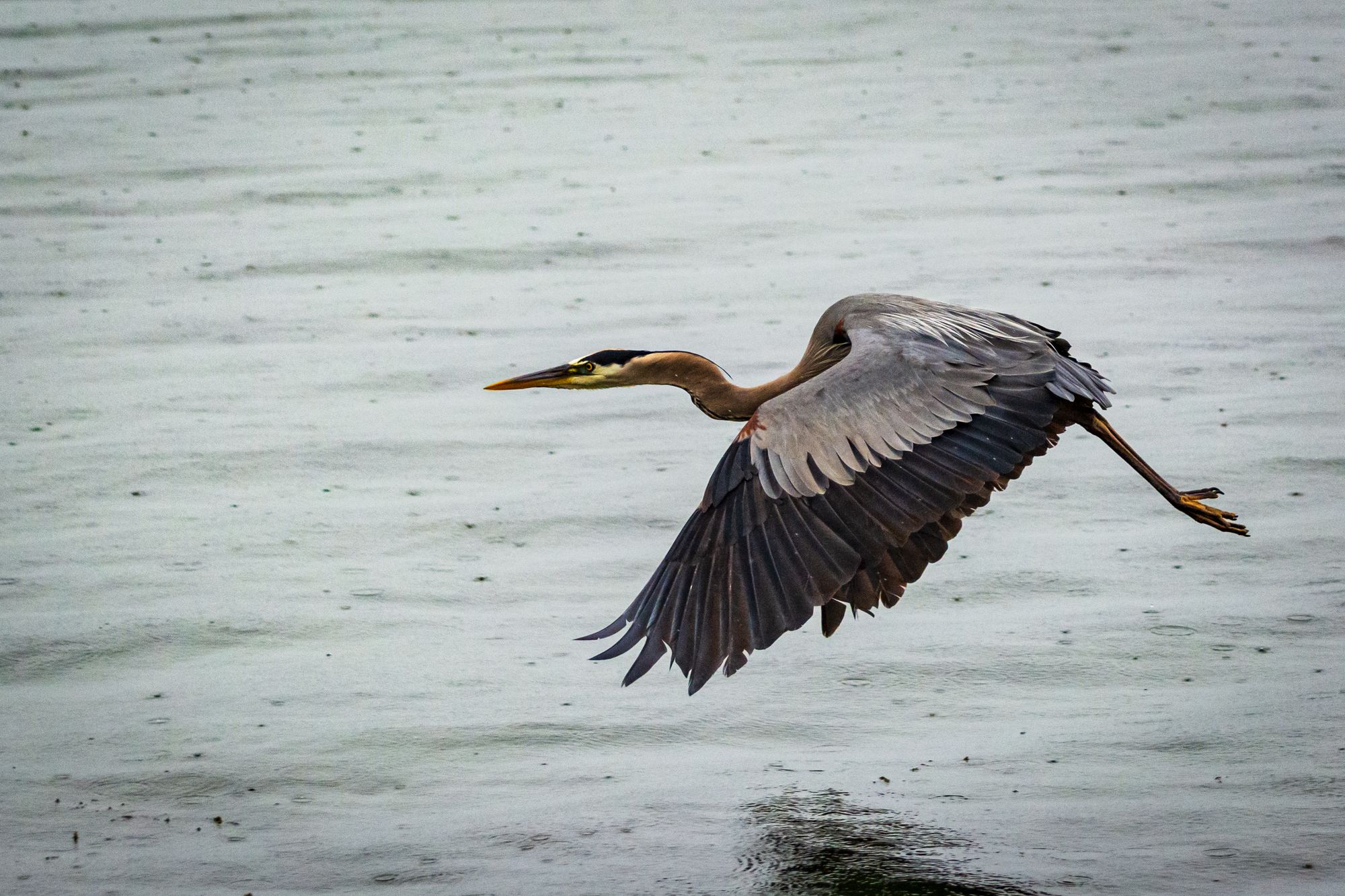 I love our herons and seeing them in flight. This photo was taken by Nick Ferrie on Canada Day weekend near Pinecrest Resort just west of Gananoque.
The Mystery Boat of Cape Vincent by Stephen Shay - Stories, long told with apparent authority, becomes the grist for myth, and myth becomes legend. Legend spiced with a modicum of truth, lasts. ANNA has taken on all these monikers and survived well . . .
The Ship's Cook by Wayne Strauss - Meet Catherine Schmuck, who has cooked aboard 19 ships since starting in the early 1980's . . .
Cottage Chairs by Tom King - Nothing embodies the art of relaxation more than sliding back into a comfortable, wooden, cottage chair, with your favourite beverage resting on the wide armrest . . .
The Westminster Chapel by Linda Twichell - In 2002, Westminster Park residents Randy and Mary Hannah Arnot envisioned a chapel for Westminster Park and the greater River community . . .
The Story of District #15, the Upper Schoolhouse by Liz Raisbeck - The upper school house  (District #15) was built at the corner of Base Line Road and Cross Island Road, to serve the children at the upper end of Grindstone Island . . .
Crossover Island Lighthouse by Mary Alice Snetsinger - Crossover Island is located a bare 1/5th of a mile south of the border, close to the point where the shipping channel crosses the international boundary.  The lighthouse was needed to safely guide ships through the cluster of shoals and islands . . .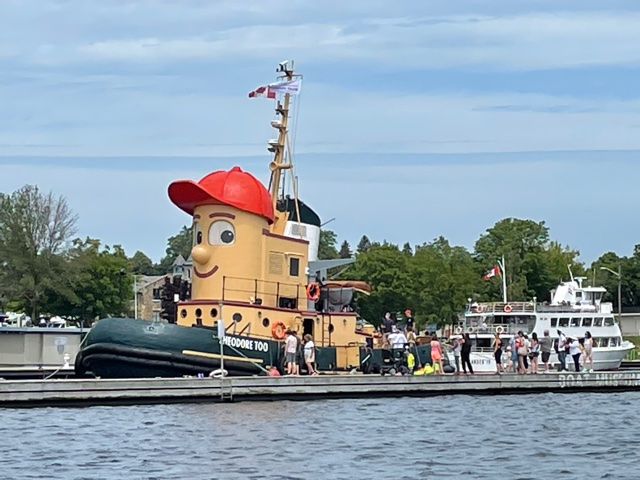 Definitely, the most photographed ship on the St. Lawrence River this year! "Theodore Too", makes his way to his new home in Hamilton, ON. [Photo by Jan Staples]
A Father's Day Tale or Lifelong Memories of a Used Car Lot by Brian Johnson - "No, you got a deal," said Jack Johnson, laughing, taking the man's hand, feeling the spittle. "I got robbed Marv. You took advantage of this poor boy from Wolfe Island. I can't feed my family on this." . . .
Recording History - Schooner Days and the "Picton" by C.H.J. Snider, compiled by Richard Palmer - Author Richard Palmer shares the "Schooner Days Project", with C.H.J. Snider's history of the Schooner "Picton" . . .
Save The River's Kingfisher Septic Tank Monitoring Program by John Peach - We all remember that Saturday morning when we voted, I think unanimously, that starting the Kingfisher Septic Tank Monitoring Program was not only a good thing to do, but that it was vital to the health of the River . . .
Sudoku Puzzle #86 & #87 by Dan LeKander - The "Impossible" Series continues with Puzzle #87, the feature puzzle for July . . .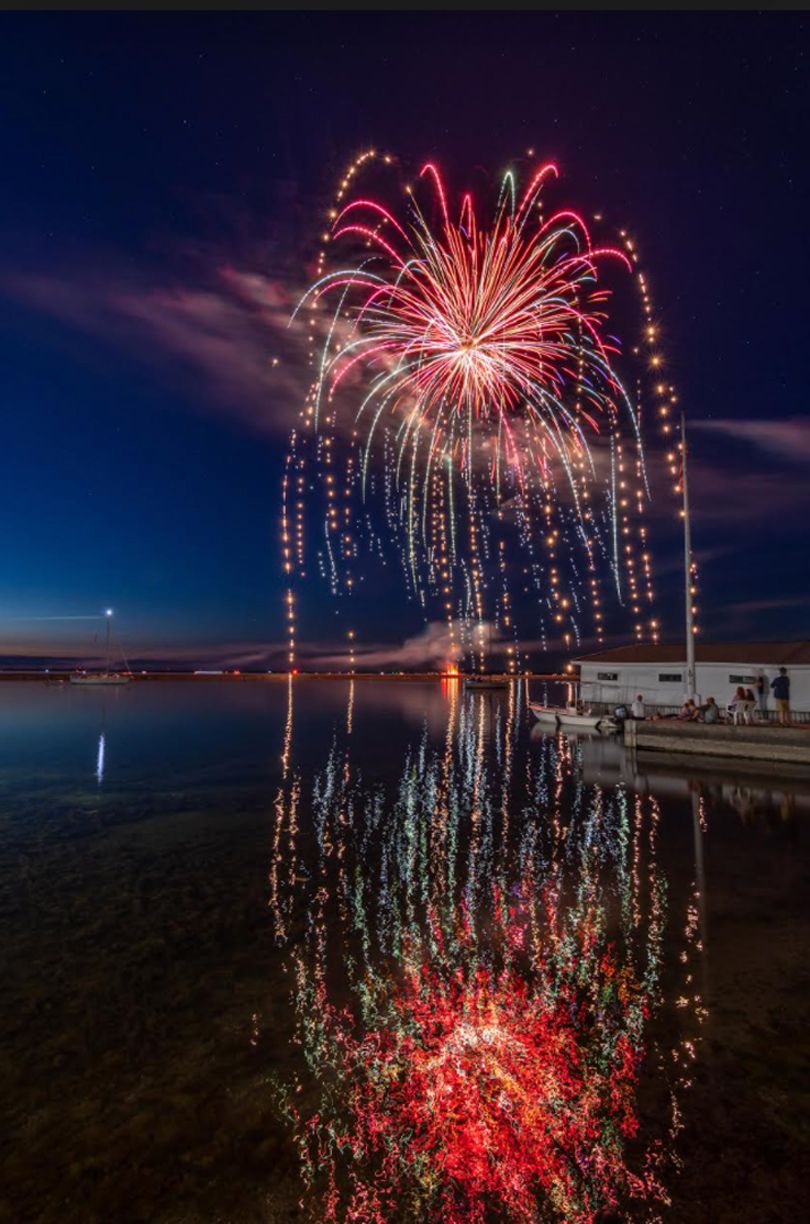 Karen Millspaugh captures and shares Cape Vincent French Festival firewords!
Have some time?
This month we are looking for someone who loves to do Instagram and Facebook! The pay is non-existent but the appreciation will be overwhelming.
Enjoy the weather, the holiday with family and friends and most of all, please stay safe.
Susan W. Smith, Editor , info@thousandislandslife.com