What is on your mind this month? Winter activities? Fishing? Beach parties? The Weather? For those of us in the North - it's the latter for sure. Extreme cold, freezing rain, snow showers, above freezing? You want it, we have it.
However, February 15 makes the beginning of the end of winter in my mind, as we notice the days are getting longer!
Great issue with 15 articles this month - meet new authors, enjoy memories of the olden days, make discoveries and most of all leave comments, please.
www.thousandislandslife.com - volume 18, Issue 2, February 2023.
Andy Kane shows us what the 2023 winter is like in the Thousand Islands.
From the Editor - by Susan W. Smith
The weather, more winter storm stories, Remembering Ian Coristine, tribute to Dean Honeywell, winter events, photographs and a special Wolfe Island video by Aerosnapper.
'Irish Bard' Finds Family Roots on Wolfe Island – by Brian Johnson
In the wee hours before Christmas Eve, Jannet Walsh suddenly bolted upright in her bed. Or what she believed was her bed . . .
Canadian and US Government News – by the Editor
This month, we received several inquiries about various news items regarding three important aspects of island living . . . we recommend you review the applicable websites . . .
Sunshine, Coffee and Shoelaces: Keys to Immortality – by Paul Hetzler
While telomeres all shrink over time, things like air pollution, chronic stress, obesity, and using alcohol and tobacco are known to hasten the process . . . surprisingly, coffee is good for telomere health as well.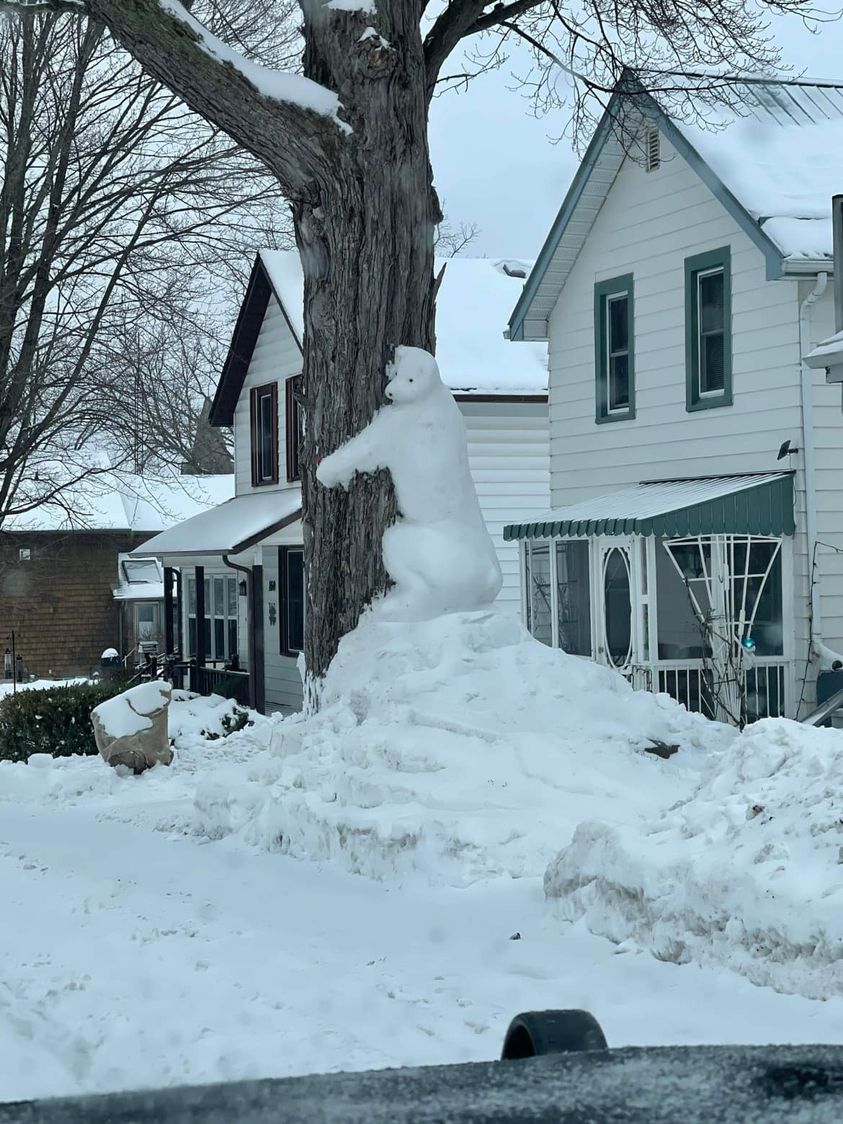 The Gananoque Police Department placed announcement on their Facebook page, saying,"29 January 2032 · Police received a report of a polar bear on South Street, investigation revealed he was friendly and will most likely disappear when the weather gets warmer."
Memorial Rink in Gananoque - a Legacy of Gord Brown – By Carole Moult
"An important legacy element of the Canada 150 skating rink was that it be donated to a nearby community after it closed. . . In November 2018 Gananoque, ON was chosen as the recipient."
"Bringing Camp to Dad… One Last Time" – By Bruce Mallett
It was February 2005. My 83-year-old Dad and I sat in the sunroom at my parents' cottage in a tiered living retirement community in NC. As always, Dad's thoughts turned to the family's seasonal camp on Chippewa Bay, NY.
Why Patty Doesn't Fish from her Kayak – By Patty Mondore
. . . But as I got closer, I saw it move. The "thing" suddenly and intentionally dipped below the surface. It was alive!
Doc to the Rock – by Manley L. Rusho
My Aunt Eleanor (Calhoun), my father's sister, was pregnant; we were told that she was having trouble with the pregnancy, and she needed a doctor.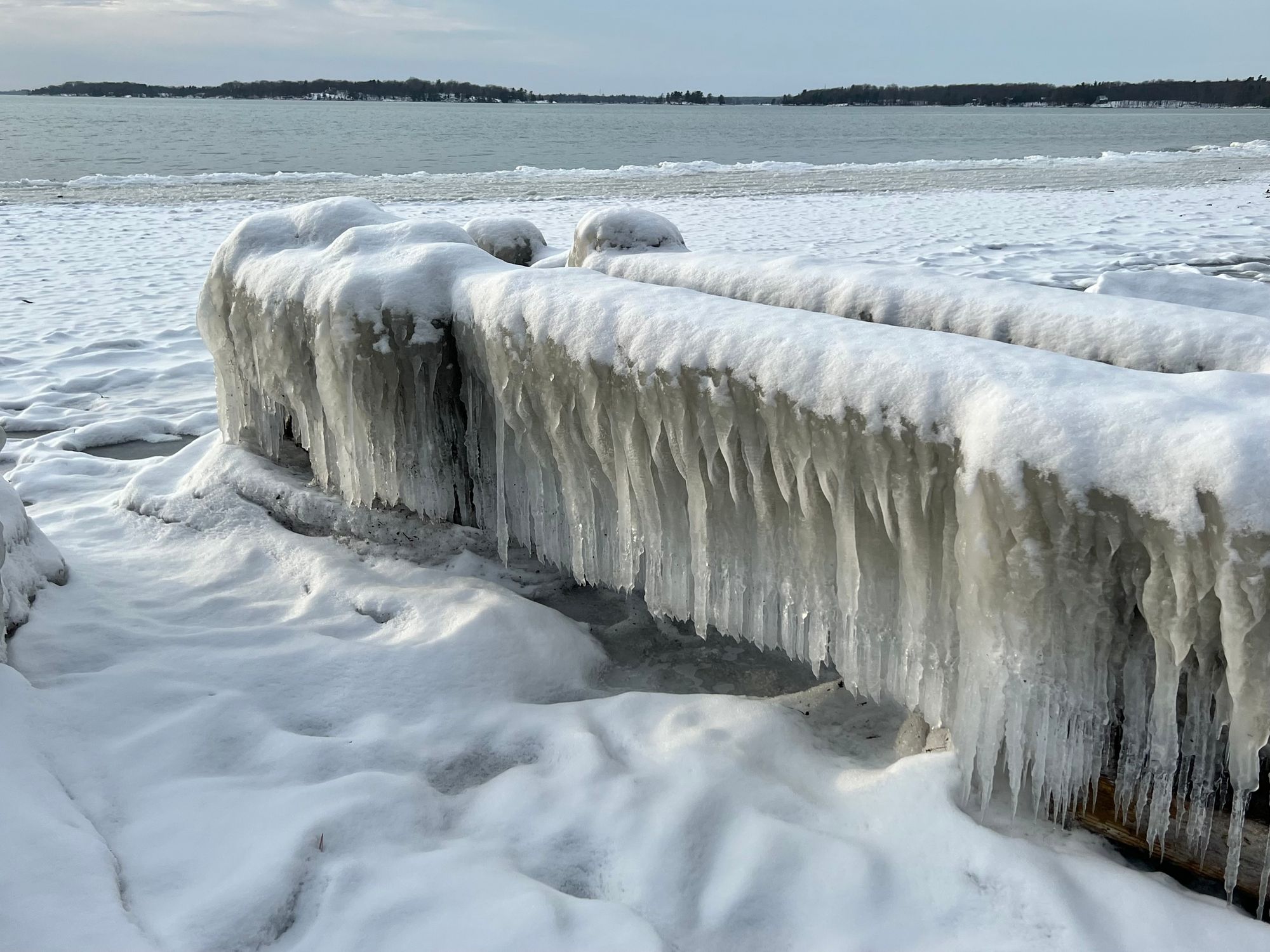 Melanie Hertzog captured this on Wellesley Island, near Eel Bay, shortly after the December 23rd storm.
The Book, The Pilot and his Drone – by Susan W. Smith
We start with the Book – written by Mike Hill (known as Aerosnapper) and Paul Wash – which will be published and on sale in March 2023. Then we ask questions to the Pilot. . .
Visit Len Senecal and Mr. Tout's Magical Forest – by Susan W. Smith
. . . Of course, the first thing I did was google the name Len Senecal and suddenly, I was led down a lovely path of discovery . . .
"A Near-Fatal Case of Mistaken Identity" and a John Fielding Tribute – by John Stencell
With all the discussion about guns in America, I started to reflect on my own close call. While I was teaching high school in Brockville in the '70s . . .
While the Women Only Wept: Loyalist Refugee Women in Eastern Ontario, by Janice Potter-MacKinnon – by Sherry L.B. Johnson
I chased down this book a few years ago, while researching the first wife of Joel Stone, the founder of Gananoque. What a fascinating read it turned out to be!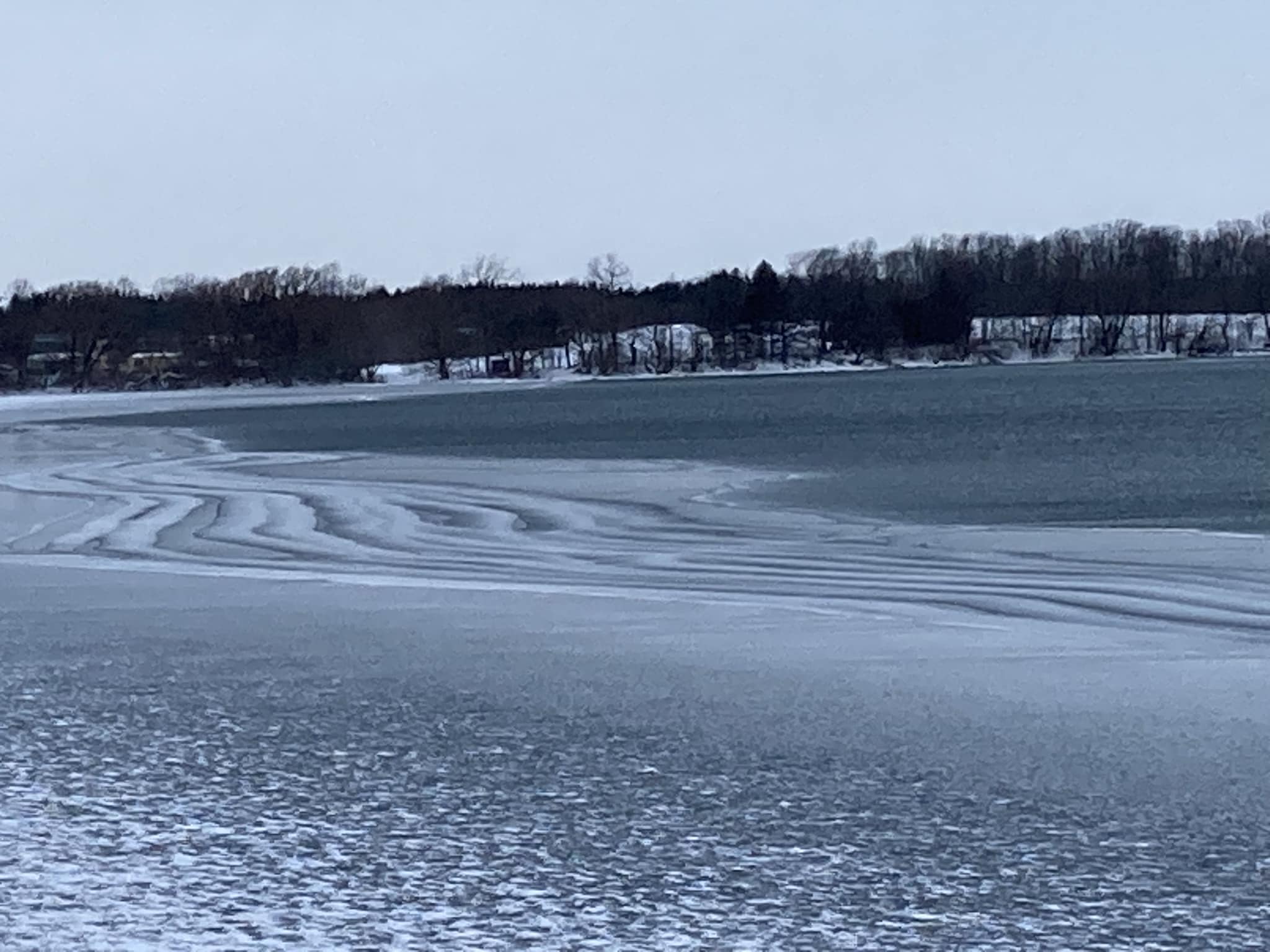 Valerie Kubera shared her photograph on 1000 Islands River Rats Now and Then Facebook page saying, "Ice and wind making art!"
Lucia and the Egyptian Amulet by M.A. Erki – by Susan W. Smith
MA. Erki will be familiar to TI Life readers as our official online artist and illustrator. Recently, we learned that she has published a book – one that is certainly interesting . . .
Bill 23 – What is it? – Annabel Cowan
Over the last couple months, you may have seen many Canadian conversations about something called Bill 23. It is a new Bill announced as part of Ontario's Premier Doug Ford's promise to build 1.5 million new homes . . .
Sudoku Puzzles #137, #138, #139, & #140 – by Dan LeKander
Forrest Gump might say, "Sudoku is like a box of chocolates; you never know what you're going to get".
Enjoy and stay safe on the River or on a beach.
Susan W. Smith, Editor, info@thousandislandslife.com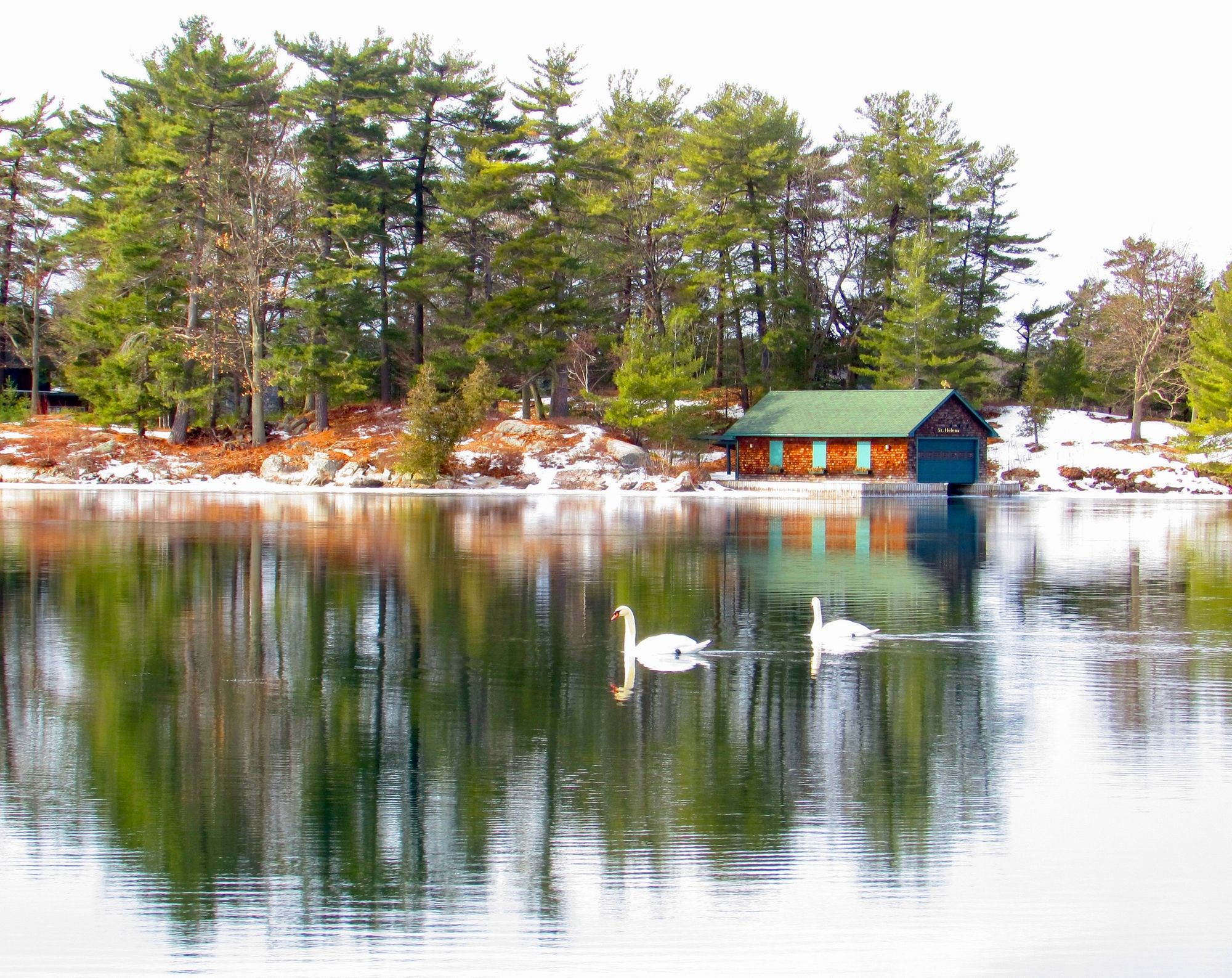 James R. Miller captures a winter's day at the end of January on the our River.