It is mid-August – the glass is half empty. Why is that?
1) the corn season is here and if you blink it will be over?
2) the Antique Boat Show has come and gone?
3) walk into any store and the biggest sign you see will be: School Supplies . . .
But no, rather than be depressed, I honestly think that the glass is half full. Why is that?
1) we still have so many wonderful weekends to go, before the end of the season;
2) there are so many activities planned, on both sides of the border;
3) and, we have the August edition of TI Life to enjoy!
13 Articles this month  
https://thousandislandslife.com
---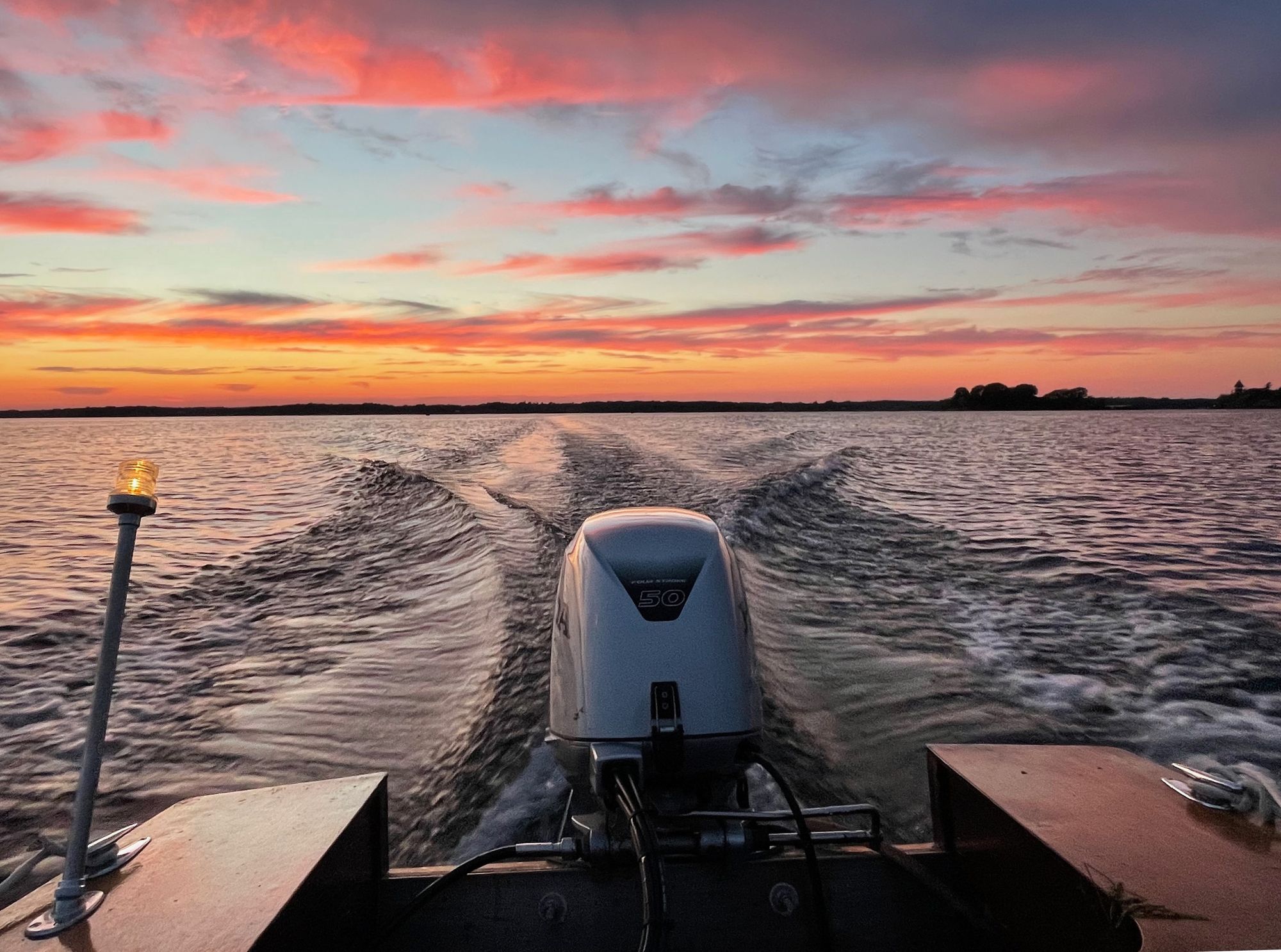 Summer 2022 sunset cruise [Photo by Janet Smith Staples]
From the Editor, August 2022 – by Susan W. Smith
News Items, Arrive Can, Cataraqui Conservation proposed changes, poetry, AMB photos by Rick Casali and a thanks to the TI Life team.
Will Salisbury, We Will Miss You – by Susan W. Smith
There will be many tributes given in the future, but this editor was fortunate as TI Life was able to highlight Will Salisbury's work many times over the years. I am pleased to share them again today.
Daycare Forests – by Paul Hetzler
Research on the health benefits of being in a forest environment is so compelling that urban daycares in Finland "built" forests for kids to use.
1940's Summer Haying – by Manley L. Rusho
Starting in late June and usually the entire month of July, daylight was consumed with the hay harvest on the farm. The fields that had been set aside for growing hay were cut and the hay was placed on wagons and hauled into the barn.
Doug Drumm "Each piece created has no equal" – by Susan W. Smith
For those of us summering in the Thousand Islands, any day seems special; but on the day I invited Doug Drumm for lunch, and I started to ask questions, I realized that it was a special day indeed.
2022 Antique Boat Museum Parade: the 1910 Number Boat "Night Rider" driven by Teddy McNally. [Photo by Rick Casali]
River Dog, a short story – by Tom French
The place was filled with the usual crowd for a Sunday afternoon, two different games on the TVs, and the dog was at the bar. I'll never forget the image of the dog, sitting on a stool, lapping up a beer like he was a regular customer.
Pandemic Vultures, a short story – by Chris Brock
It is now early April and we're still in isolation. They tell us not to leave our homes. The virus, they say, is highly contagious. They're not sure what's causing it. But here's the thing: it only infects people who live within 1,000 feet, basically the shoreline, of the St. Lawrence River.
A Grand Day at the Thousand Islands Boat Museum – By Tom R. King
On July 16th, the Grand Opening ceremonies for the Thousand Islands Boat Museum's new waterfront Boathouse facility were held in Gananoque.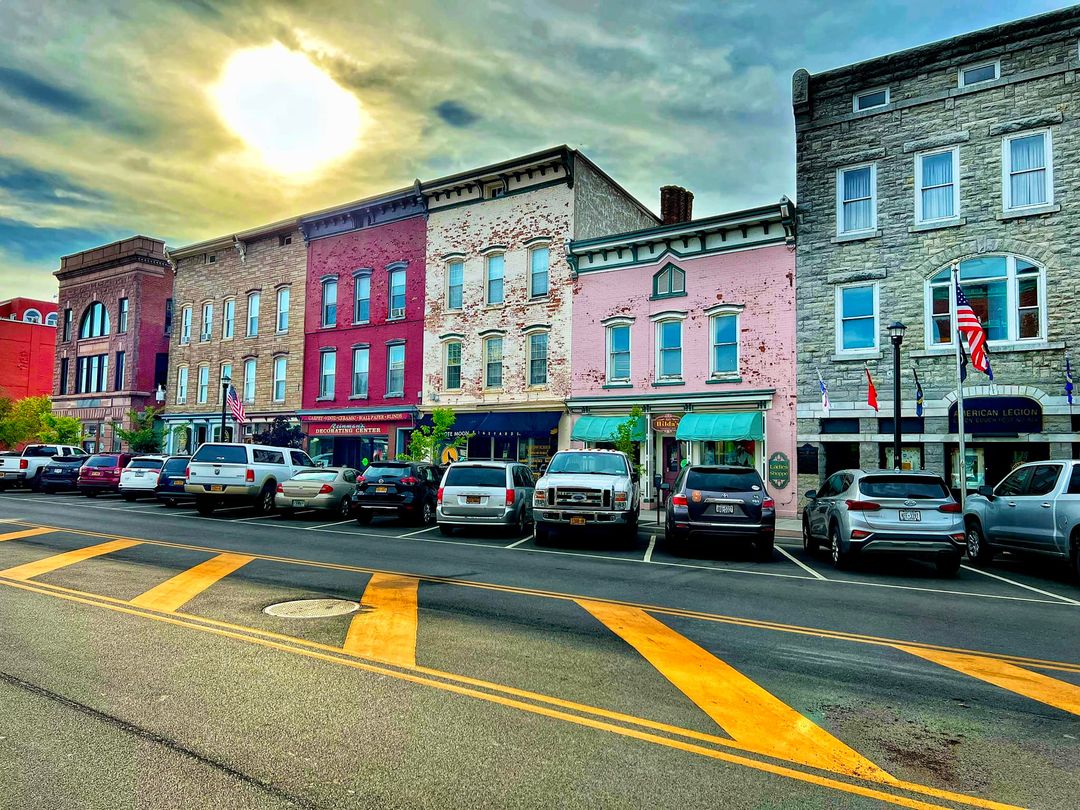 Clayton NY, on a summer's afternoon. [Photo by Arthur H. Rees]
Walking Tour App! – by Mathew Thivierge
Using archival photos, mainly from the Town of Gananoque Civic Collection, the walking Tour App allows participants to see the shifting or constant use of Gananoque's built heritage over the last 200 years.
Guilty As Charged! – by Michael Laprade
Crossing the northern border is no laughing matter. Some time ago, I had an experience that has really stayed with me . . .
Pies for God's Sake – by Susan W. Smith
In 2011 – at the beginning of "Pies for God's Sake" project, someone said they should call it "Pies for God." However, Peggy said, "No, let's call it "Pies for God's Sake."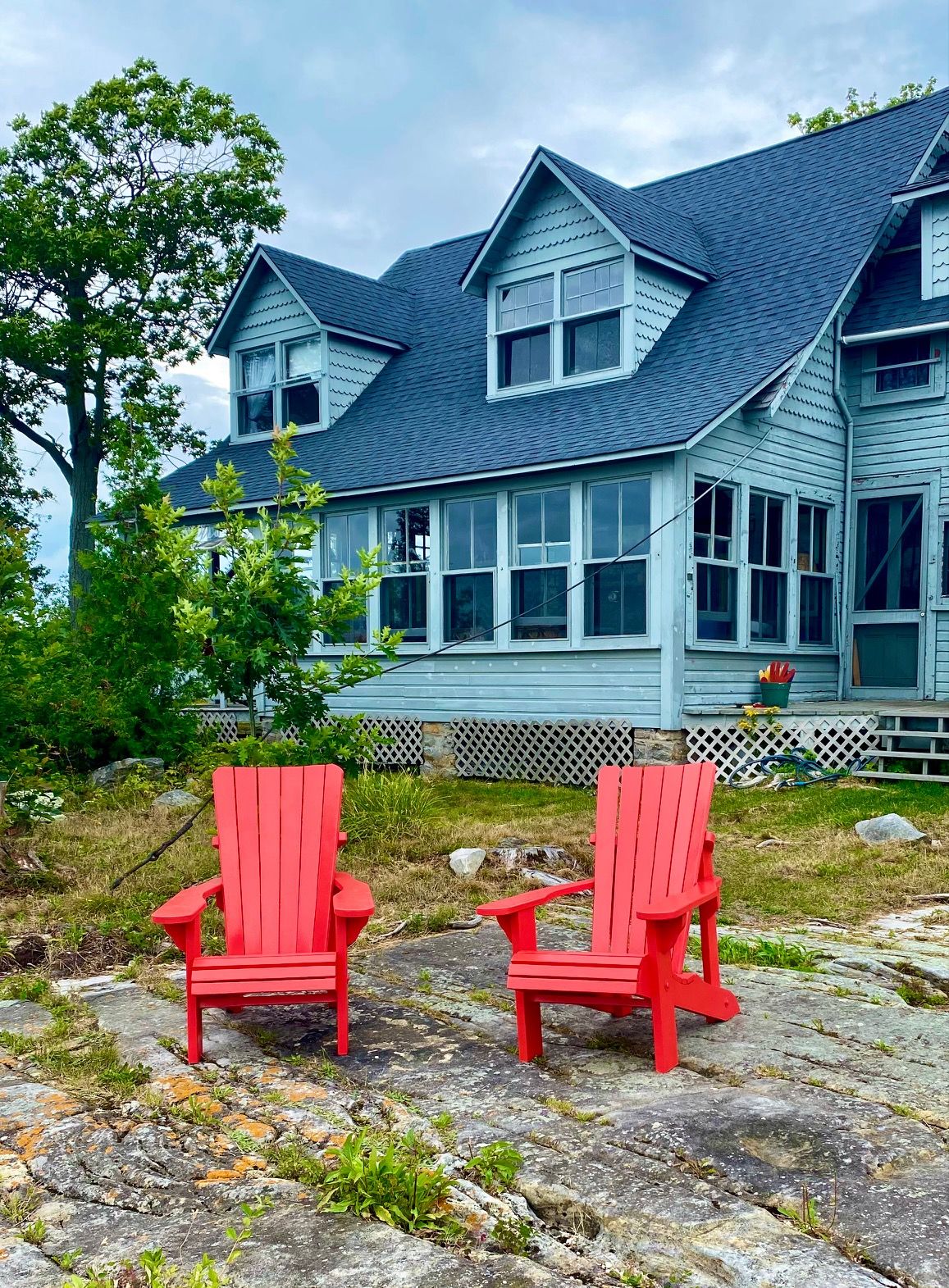 Tom King built these two iconic red wooden chairs on his two-week holiday while on Kalaria Island. What a great way to the view 40 Acres on a summer's afternoon.
Thanks TI Park – Great Idea! – by Thousand Island Park Landmark Society
Press Release: Thousand Island Park Landmark Society Launches Local History Project – a release that makes Editor Susie Smith very happy, indeed.
Sudoku Puzzles #116, #117, & #118 – by Dan LeKander
We start with a Sudoku puzzle in progress, where it appears that there are no more obvious or not-so-obvious clues.  Can you find the hidden clue in Puzzle #116?
by Susan W. Smith, Editor, info@thousandislandslife.com